Program Donors
The Hill-Lopes Scholars Program is made possible by the generosity of Barbara Hill and Ancelmo Lopes.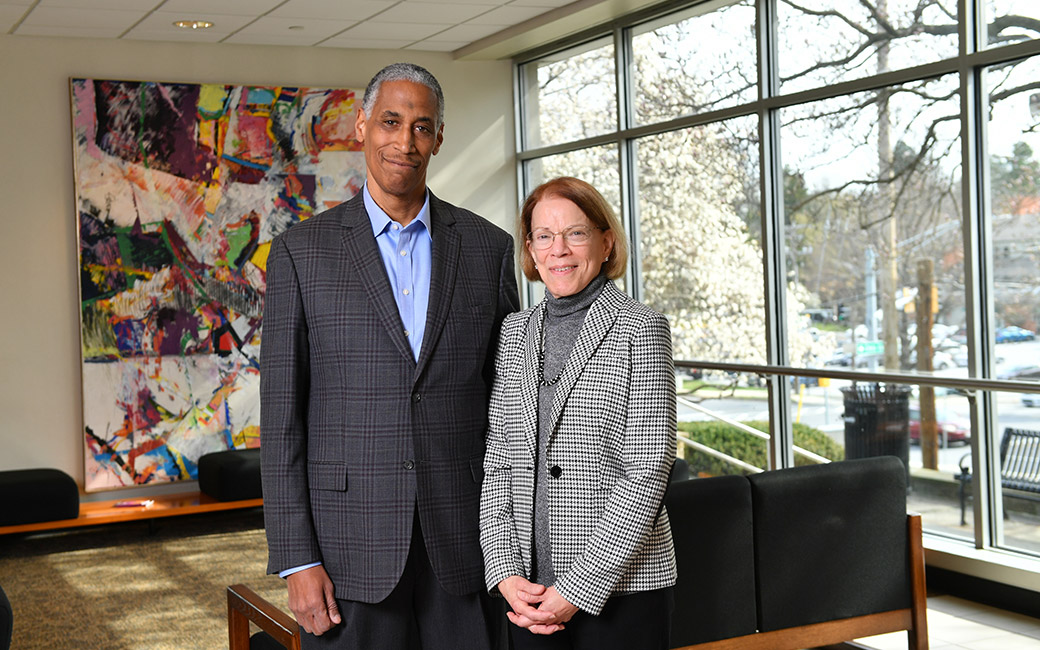 Barbara Hill
Operating Partner, NexPhase Capital
Born in Baltimore, Barbara Hill was raised in a family of scientists. Although she pursued a different career path, her early life was filled with opportunities to explore and experience nature.
Barbara is currently an operating partner of NexPhase Capital (formerly Moelis Capital Partners), a private equity firm, where she focuses on healthcare-related investments and providing strategic and operating support for the fund's healthcare portfolio companies. She sits on the boards of all the healthcare portfolio companies, and chairs most of those boards.
Until 2010, Barbara served as chief executive officer and a director of ValueOptions, Inc., a national managed behavioral health company. Prior to that, she served as president and a director of Express Scripts, Inc., a Fortune 100 pharmacy benefits management company. In previous positions, Barbara was responsible for operations nationally for Cigna HealthCare, and also served as the CEO of health plans owned by Prudential, Aetna, and the Johns Hopkins Health System.
Barbara serves as a board member of Integra LifeSciences Corporation, a publicly traded medical technology company, and of Omega Healthcare Investors, a publicly traded REIT holding over 1,000 skilled nursing facilities in the U.S. and England. Previously, she served on the boards of: Owens & Minor, a Fortune 300 healthcare services company; St. Jude Medical, a Fortune 500 medical device company; and Revera Inc., a Canadian company operating over 500 seniors' facilities throughout Canada and the U.S. Barbara obtained her bachelor's degree Phi Beta Kappa and her master's degree from the Johns Hopkins University and lives in Baltimore City.
Ancelmo Lopes
Board Director, PhyMed
Ancelmo Lopes was born in a small town outside of Boston and was the first in his family to graduate from college. He was attracted to healthcare and worked in hospital administration early in his career. He and Barbara Hill met when they worked together to turn around a struggling healthcare services organization in downtown Baltimore.
Ancelmo has over 30 years of experience in building and managing health care companies. He currently serves as board director for PhyMed, an anesthesia provider company and as advisor to Healthwell, a health care SPAC.
Previously, he served as chairperson of Results Physiotherapy, a regional physical therapy company and chairperson at Surgical Solutions, a private equity owned company supporting workflow and inventory management in the hospital and ambulatory facility operating rooms.
Ancelmo was also president and CEO of Ameritox, a national toxicology laboratory. He was also the senior vice president and national leader for Coventry Health Care's Medicaid managed care division and CEO of Health Care USA. Ancelmo was also CEO and founder of Harmony Health Plans of Illinois and Indiana, a venture capital sponsored managed-care company, and Illinois' largest provider of such services. He was also president of the Prudential Health Care Plan of the mid-Atlantic supporting all of Prudential's health care insurance products in the mid-Atlantic. Ancelmo holds a Bachelor of Science degree from the University of Massachusetts, Amherst.