Fall 2023:
"The Dive of a Lifetime to the Deepest Place on Earth" with Dawn Wright, Ph.D.
Thursday, OCTOBER 26, 2023
4 p.m.
Science Commons, Towson University Science Complex
The Hill-Lopes Scholars Program and Jess and Mildred Fisher College of Science and Mathematics at Towson University present Dawn Wright, Ph.D. as she shares the results of her recent mission to Challenger Deep—the deepest place on Earth.
About the Speaker
Dr. Dawn Wright is Chief Scientist of the Environmental Systems Research Institute (aka Esri), a world-leading geographic information system (GIS) software and data science company. Core to Esri's mission is to inspire and enable people to positively impact their future by connecting them with the geoanalytic knowledge needed to make the critical decisions shaping the planet. Hence, Esri believes that geography is at the heart of a more resilient and sustainable future.
Dawn has authored or co-authored over 200 articles and 13 books on geographic information science, as well as deep ocean mapping and conservation. She has participated in over 20 oceanographic research expeditions throughout the Pacific, Atlantic, Indian, and Southern Oceans. In 1991 she became the first Black female to dive to the ocean floor in the deep submersible Alvin. On July 12, 2022 she became the first Black person of any gender to dive to Challenger Deep, the deepest point on Earth, and to successfully operate a portable sidescan sonar at that full-ocean depth.
As Chief Scientist, Dawn is responsible for strengthening the scientific foundation for Esri software and services, while representing Esri to the international scientific community. As such, she has served on many advisory boards including the NOAA and EPA Science Advisory Boards, the National Academy of Sciences Ocean Studies Board, and the Science Advisory Boards of Conservation International, COMPASS Science Communication, and the Ocean Discovery XPRIZE. Dawn is also Professor of Geography and Oceanography at Oregon State University. She has been elected to both the National Academies of Sciences and of Engineering, as well as the American Academy of Arts & Sciences.
Learn more about Dr. Wright and follow her @deepseadawn!
About the Talk:
I'm pleased to present the results of Caladan Oceanic Dive #115 (July 12, 2022) of the 2-person, full-ocean-depth (FOD) deep submergence vehicle (DSV) Limiting Factor (aka Triton 36000/2) to the southern edge of the Western Pool of Challenger Deep (previously unvisited). The maximum observed seafloor depth on the dive was 10,919 m below mean sea level (±6 m at 95% confidence interval), based on short-range altimeter records, vertically referenced using hydrostatic pressure. A major objective of the dive was a technological proof-of-concept operation of the first portable FOD sidescan sonar to be installed and operated on a submersible, and for well beyond the standard commercial limitation of 6000 m.
To accomplish this, the Limiting Factor was outfitted on its starboard side with a custom dual-frequency system, customized for its use by Deep Ocean Search. Two transducers were positioned in a dual array at 45 deg. toward the seafloor in the direction of sideways travel, operating at frequencies of 75 and 410 kHz, with coverage out to ~200 m per transducer. The sidescan had successfully operated a few weeks prior in the Limiting Factor's role in discovering the USS Destroyer Escort Samuel B. Roberts (DE-413), the world's deepest shipwreck at 6895 ±15 m. But on Dive #115 we were successful in capturing six lines of quality data at depths ranging from 10909 to 10,680 m, while traversing steeply dipping slopes along the south wall of the Western pool. We also noted by visual inspection massive talus piles of angular, blocky basalt and serpentinized peridotite boulders indicative of tectonic erosion, all amply coated with sediments, likely funneled in from multiple fault lineaments and fault-controlled canyons. Hadal anemones (Galatheanthemum sp.) and hydroids were also sighted often.
In addition, the mission included the deployment of two of Caladan Oceanic's autonomous, free-fall lander vehicles, Flere and Closp, both rated to FOD. Their cameras captured footage of various biota at ~7369 m (e.g., the snail fish Pseuodoliparis swirei, as well as decapods and amphipods) and ~10,900 m (amphipods) respectively. More detailed findings from the video cameras, baited traps, and water samplers are in preparation by other authors.
About the Event
This event is hosted by the Hill-Lopes Scholars Program. Funded by the generosity of Barbara Hill and Ancelmo Lopes, the program supports women in STEM at Towson University and aims to retain women in the STEM workforce.
Attendance is free and open to the entire TU campus and community. Parking is available in the Glen Garage across from the Science Complex. A dessert reception will follow Dr. Wright's talk.
For questions or special accommodations, please contact the Hill-Lopes Scholars Program at hill-lopes@towson.edu or 410-704-2275.
---
Past Events:
Spring 2023: She's in CTRL with Dr. Anne Marie Imafidon MBE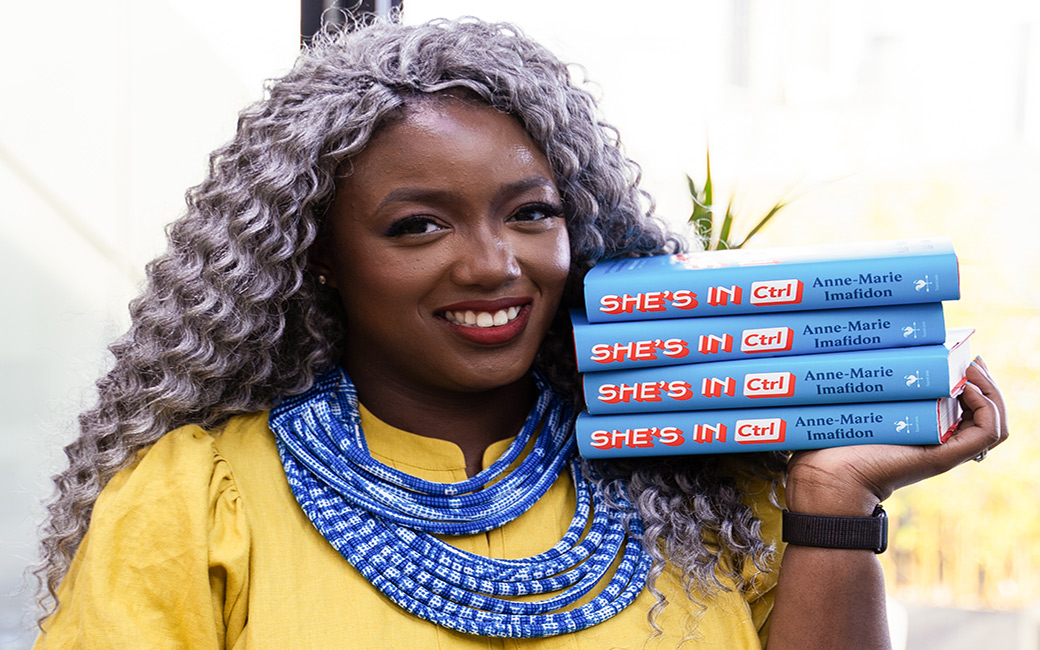 Thursday, april 6, 2023
6 p.m.
UNIVERSITY UNION ballrooms de
Join the Hill-Lopes Scholars Program for an evening with Dr. Anne-Marie Imafidon MBE for a keynote about her book She's in CTRL, a guidebook for women to take back tech.
Dr. Imafidon is the co-founder of Stemettes, an award-winning social initiative dedicated to inspiring and promoting the next generation of young women in the STEM sectors. Since its inception 10 years ago, it has exposed more than 60,000 girls across Europe to her vision for a more diverse and balanced science and tech community.
Deemed a prodigy, Dr. Imafidon was the youngest girl ever to pass A-level Computing at age 11, and was just 20 years old when she received her Master's Degree in Mathematics and Computer Science from the University of Oxford.
This event is hosted by the Hill-Lopes Scholars Program, with the support of student organization Sister Scripters and a grant from BGE. Dr. Imafidon will be available for a book signing after the event and copies of She's in CTRL will be available for purchase by the UStore.
---
Picture a Scientist Film Screening & Panel Discussion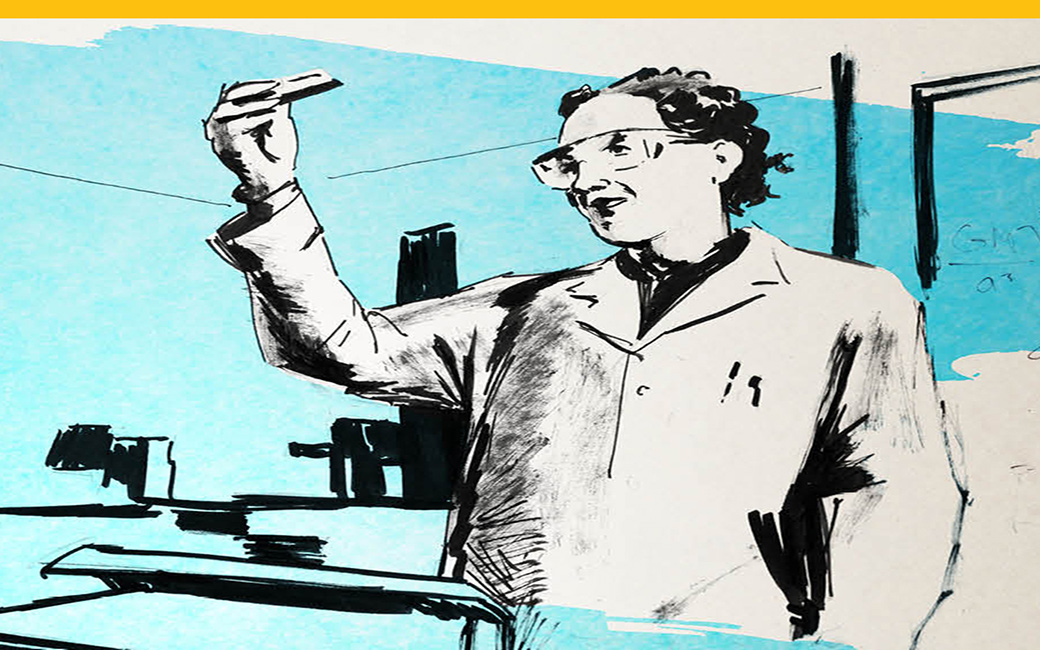 Thursday, March 2, 2023
6 p.m.
UNIVERSITY UNION THEATRE
Join the Hill-Lopes Scholars Program for a screening of Picture a Scientist - a feature-length documentary film that chronicles the groundswell of researchers who are writing a new chapter for women scientists. A biologist, a chemist and a geologist lead viewers on a journey deep into their own experiences in the sciences, overcoming brutal harassment, institutional discrimination, and years of subtle slights to revolutionize the culture of science. From cramped laboratories to spectacular field stations, viewers also encounter scientific luminaries who provide new perspectives on how to make science itself more diverse, equitable, and open to all. View the trailer to the film.
Content Warning: This film contains descriptions of sexual harrassment.
After the film, there will be a talk-back panel featuring the following faculty and staff members from the Fisher College of Science & Mathematics, College of Liberal Arts and The Office of Inclusion and Institutional Equity:
---
Fall 2022: "Highlights of Career Research Experiences at the EPA: Developing and Applying Aquatic Toxicity Test Methods for Wastewater, Contaminated Sediments and Problem Pollutants to Regulatory Programs" with Teresa Norberg-King, M.S.
Thursday, October 27, 2022
4 p.m.
Towson University Science Complex, room 2133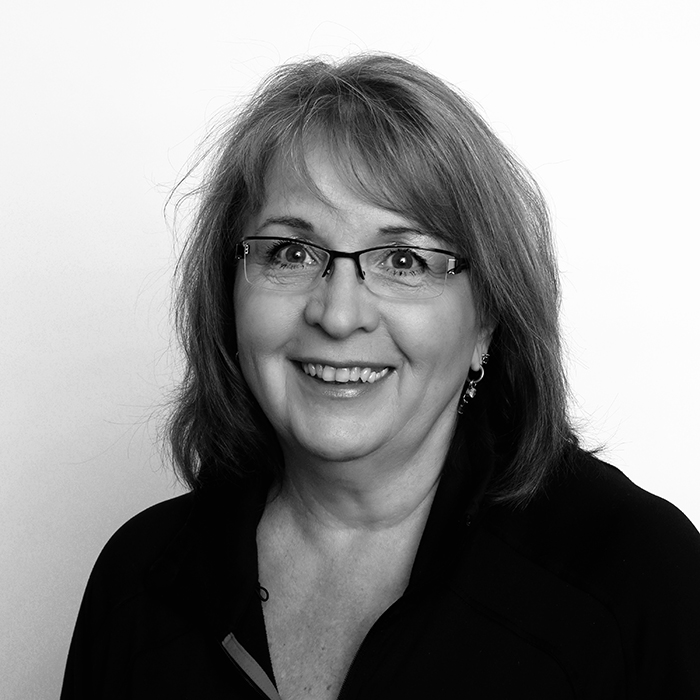 The Hill-Lopes Scholars Program and Jess and Mildred Fisher College of Science and Mathematics at Towson University present Teresa Norberg-King, M.S., as she shares her experience as a subject matter expert and researcher with the US Environmental Protection Agency (EPA) and former president of the Society of Environmental Toxicology and Chemistry (SETAC).
About the Talk:
The Clean Water Act (CWA) establishes the structure for regulating discharges of pollutants into the United States and regulating quality standards for surface waters. With updates in 1972, the CWA gave EPA the authority to implement pollution control programs, such as setting wastewater standards for industry and water quality standards for contaminants in surface waters. Applying water quality criteria to control the release of chemicals into water bodies was quickly identified as insufficient to manage all potentially toxic pollutants in an effluent, nor did it predict biological effects in the receiving waters. Increased production, use, and ultimately, environmental releases of synthetic industrial chemicals and a growing public awareness of environmental issues made the application of aquatic toxicity analyses to discharges a natural step. The updated CWA also stipulated that it is unlawful to discharge any pollutant from a point source into navigable waters unless a permit is obtained through the National Pollutant Discharge Elimination System (NPDES) permit program. And in 1984, EPA issued the Policy for the Development of Water Quality-Based Permit Limitations for Toxic Pollutants, which proposed the use of toxicity data to assess and control the discharge of toxic substances to surface waters. With that policy, whole effluent toxicity (WET) testing became a major component of USEPAs integrated approach to water-quality–based toxics control, and a complement to aquatic-life–chemical-specific criteria and biological assessments.
The use of acute toxicity tests (≤96 h mortality) for effluents testing had become routine, as the tests provide a more direct estimate of the safe concentration of effluents in receiving water. During my tenure at EPA, we recognized the need for methods to estimate chronic toxicity (growth, reproduction, development) for effluent testing, which had to be validated with interlaboratory studies and in field studies that demonstrated the connection between effluent/ambient water toxicity and effects on instream communities. Next, we developed techniques to identify the cause(s) of toxicity and EPA created a technology transfer center for the water-quality–based permits, technical assistance, Toxicity Identification Evaluations (TIEs), and training for the nation. During this time, we identified many chemicals that were not covered under the chemical-specific limits included in NPDES permits or were not expected to cause toxicity at concentrations present. Following this, we developed methods for contaminated sediments that followed the steps of the WET program by developing sediment toxicity methods to address the causes of toxicity and developed numerical criteria for specific sediment toxicants to address the challenge of bioavailability of sediment contaminants, and research on major ion toxicity to develop sensible risk assessments.
In this talk, Teresa will weave her personal and professional experiences with how she developed methods, discuss some of the technical challenges, and highlight scientific accomplishments, as well as link how the methods and most importantly, how these approaches were vetted through the Society of Environmental Toxicology and Chemistry (SETAC) journals and scientific conferences, which was essential for environmental management decisions within EPA.
About the Speaker:
Teresa Norberg-King is an expert in the development and application of effective methods to identify significant stressors and effects in aquatic systems where effluent and sediment contamination are of concern. She obtained a bachelor's degree in biology from the University of Minnesota Duluth and a master's degree from the University of Wyoming while working for the US Environmental Protection Agency (EPA).
At EPA, Teresa conducted research in the Office of Research and Development, where her research interests included chemical testing, mixtures, bioaccumulation, effluent and sediment toxicology, toxicity identification evaluations, toxicity of major ions (TDS), early life stage fish testing, and animal alternatives. During her career at the EPA, Teresa focused on various biological approaches to assessing the effects of chemicals and chemicals on aquatic ecosystems.
Teresa co-authored the documents on toxicity identification and sediment toxicity testing methods for invertebrates. Her efforts have contributed to major improvements in water quality by working to identify environmental contaminants, and developing and validating toxicity tests to predict their effects on the environment.
Teresa has been awarded the highest honor of the EPA, a Gold Medal, for the expert analysis of the toxicity and toxicity identification evaluation for technical expertise in the enforcement case of the EPA, as well as the Agency's prestigious Statesmanship Award from the ORD for her continued expertise and support for the EPA Regional Offices. Teresa is also the former President of the Society of Environmental Toxicology and Chemistry (SETAC) was honored with the organization's Herb Ward Award as recognition of the long-term, exceptionally high-quality service to the Society.
Teresa Norberg-King is now self-employed and continues to pursue HER research interests. She continues to have a strong commitment to mentoring professionals in environmental toxicology and chemistry, leading training courses, such as "How to find a job in Environmental Toxicology" for many years, and serving as an academic mentor to several students while at EPA.
---
Spring 2022: Malika Grayson, Ph.D
Founder of STEMinist Empowered and Author of Hooded: A Black Girl's Guide to the Ph.D
Thursday, April 7, 2022
6 p.m.
Science Commons, Towson University Science Complex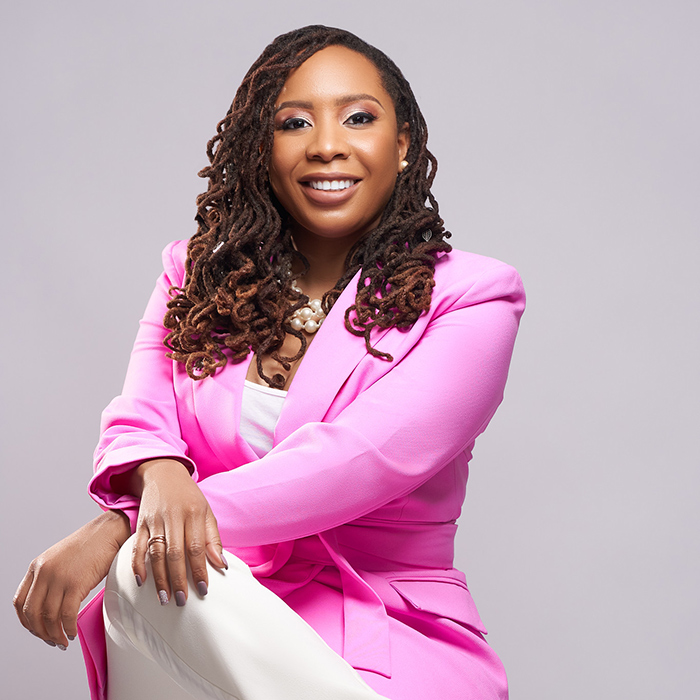 The Hill-Lopes Scholars Program and the Jess and Mildred Fisher College of Science & Mathematics present Malika Grayson, Ph.D., as she shares her "ABCs of STEM Success" and speaks about her book Hooded: A Black Girl's Guide to the Ph.D.
Grayson is the founder of STEMinist Empowered LLC—an organization focused on the empowerment of women of color who pursue graduate degrees, through consultancy and mentorship.
Dr. Grayson is a Fortune 100 global speaker, mechanical engineer and bestselling author. Her passion for increasing the number of women who graduate through the STEM pipeline motivated her to create ASPIRE STEM, which focuses on providing financial assistance to young women from high school and secondary school who aspire to pursue STEM at the university level. In 2021, Grayson was awarded the inaugural scholarship to three young women from Trinidad.
Currently, Dr. Grayson is a program manager at Northrop Grumman Corporation in the IT organization. Over the past few years, she has had industry experience in systems engineering, software development, R&D portfolio management, IT management and strategy. Her work in STEM has led to her being named one of Trinidad and Tobago's 40 Under 40 Youth Influencers by the country's Ministry of Youth and Sports Affairs.
---
Fall 2021: "Black Holes, Galaxies and the Evolution of the Universe" by Meg Urry, Ph.D
Friday, October 22, 2021
Science Commons
Towson University Science Complex
The Hill-Lopes Scholars Program and Jess and Mildred Fisher College of Science and Mathematics at Towson University present Meg Urry, Ph.D. as she shares her research of black holes and advocacy for advancing women in STEM.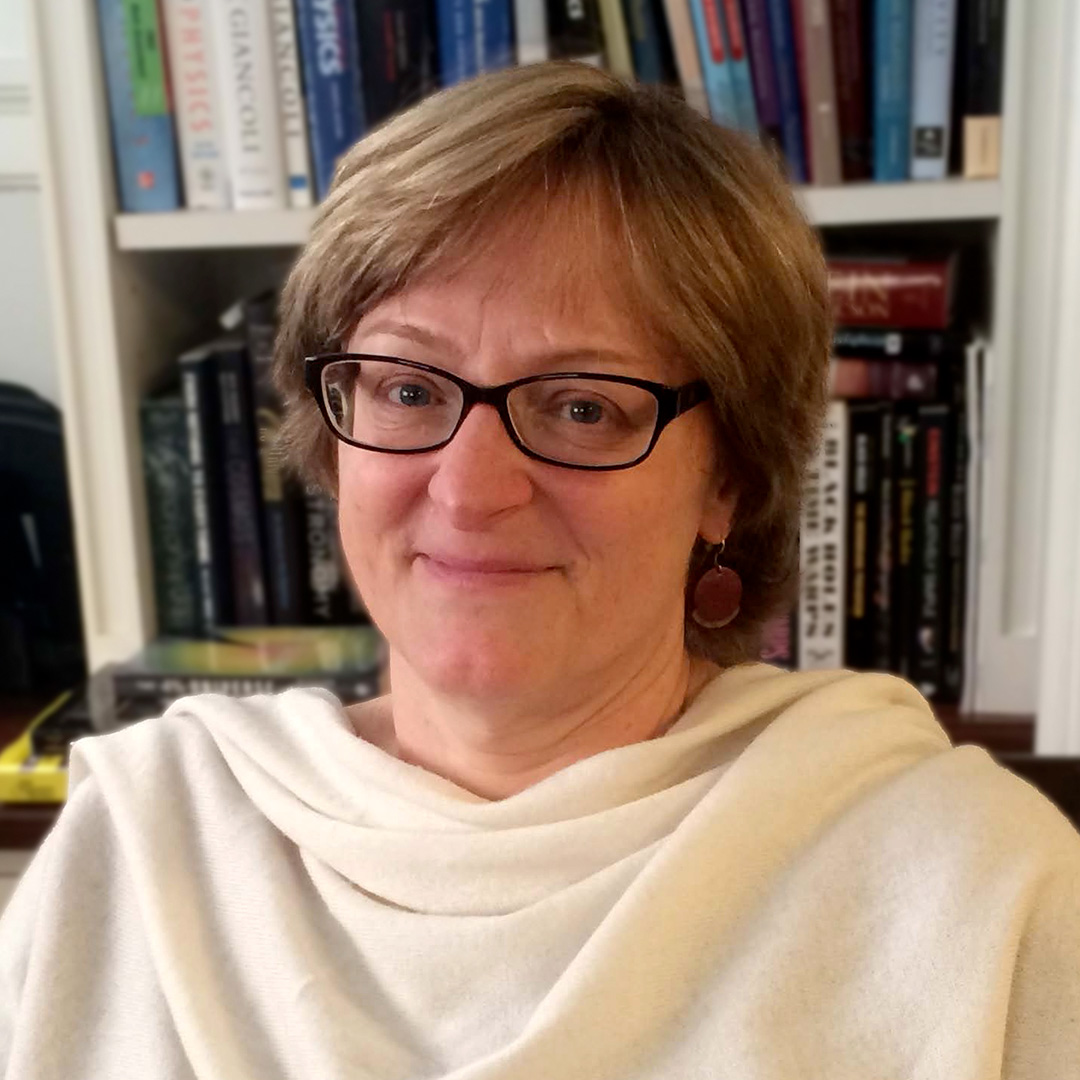 Black holes form at the centers of galaxies in the young Universe and, over the next 13 billion years, they grow together by factors of a million or more in mass. This growth generates energy that affects galaxy evolution, including that of the Milky Way galaxy in which we live. In this talk, Urry will give several alternative descriptions of a black hole, explain how recent multi-wavelength surveys of the sky have provided a census of black hole growth, and show computer simulations that illustrate galaxy mergers and the evolution of the universe across cosmic time – all of which explains how the present-day universe came to be.
Meg Urry is the Israel Munson Professor of Physics and Astronomy at Yale University, Director of the Yale Center for Astronomy & Astrophysics, former Chair of the Yale Physics Department, and former President of the American Astronomical Society. Dr. Urry earned her Ph.D. in Physics from the Johns Hopkins University and her B.S. in Physics and Mathematics from Tufts University. Her scientific research on active galaxies appears in over 330 refereed research papers, including one of the most highly cited review papers in astronomy. She is a Fellow of the American Academy of Arts and Sciences and National Academy of Sciences, and received the Annie Jump Cannon and George van Biesbroeck prizes from the American Astronomical Society.
Prior to moving to Yale in 2001, Dr. Urry was a senior astronomer at the Space Telescope Science Institute, which runs the Hubble Space Telescope for NASA. Professor Urry is known for her efforts to increase the participation of women and minorities in science, for which she won the 2015 Edward A. Bouchet Leadership Award from Yale University and the 2010 Women in Space Science Award from the Adler Planetarium. She is the founding Physics instructor for the Global Teaching Project, which provides advanced courses to promising high school students in under-served areas, beginning with a pilot program in rural Mississippi. She also writes about science for CNN.com.
---
Fall 2020: "A Lab of One's Own: One Woman's Personal Journey Through Sexism in Science" by Rita Colwell, Ph.D.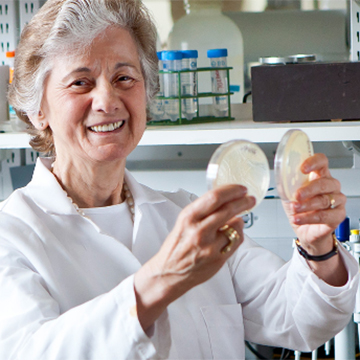 Friday, October 23, 2020 | 3 p.m. EDT via Zoom
The Hill-Lopes Scholars Program and Jess and Mildred Fisher College of Science and Mathematics at Towson University present Rita Colwell, Ph.D. as she shares stories from her new memoir, "A Lab of One's Own: One Woman's Personal Journey Through Sexism in Science."
"A Lab of One's Own" documents Colwell's journey through six decades in science, from sexual harassment in the lab to obscure systems blocking women from leading professional organizations or publishing their work. "A Lab of One's Own" shares the sheer joy a scientist feels when moving toward a breakthrough, and the thrill of uncovering a whole new generation of female pioneers. Colwell's writing offers an astute diagnosis of how to fix the problem of sexism in science, and celebrates the women who push back.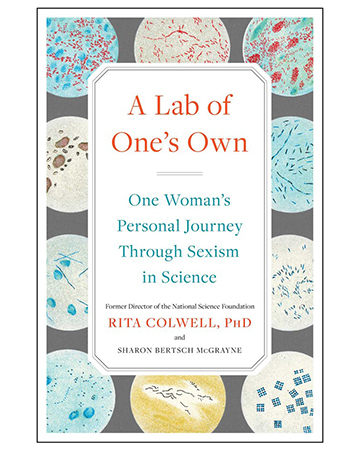 Colwell is a groundbreaking microbiologist and the first woman to lead the National Science Foundation, where she served as the director from 1998 to 2004. She is a distinguished professor at the University of Maryland at College Park and at Johns Hopkins University's Bloomberg School of Public Health.