TU's beloved photographer is hanging up his Nikon.
By Kyle Hobstetter
If you've had your picture taken on Towson University's campus in the past 23 years, it was probably snapped by Kanji Takeno.

Since starting at TU in 1996, the man universally known simply as Kanji has seen an abundance of changes. In that time, there have been new buildings, five university presidents, a doubling of the student enrollment and even a name change from Towson State University.

But there has only been one photographer—until now. This term is Kanji's last as the university's director of photographic services.

"Every morning I look forward to coming to work," he says. "Every day I look forward to making students smile with my camera. At the end of the day I am exhausted but very happy, and I know I have done what I could do each day."

Growing up in Kogushi, a sleepy fishing village at the western end of the main island of Japan, Kanji was a self-admitted beach bum. But in 1973, a commercial featuring American fashion photographer Richard Avedon piqued his interest. He thought the photographer looked cool.

So, with photography on his mind, he travelled to an Ansel Adams photo exhibit in a nearby city.

"His prints were so amazing," Kanji says. "My interest in photography became more serious. I thought I could express myself in the form of photography."

While he discovered a passion for the craft, he had another dream: to learn English and study photography in America. His parents were hesitant to sign off on sending their son across the world, but a scholarship from Loyola University in New Orleans helped convince them.

On August 22, 1979, Kanji boarded Pan Am Flight 002 at Narita International Airport and flew to Los Angeles, where he caught a Delta connection to New Orleans. It was only the second time he had left Japan, and it was his first trip to America.

"I still remember vividly, in well-saturated Kodachrome colors, the blue sky and huge white clouds in the morning," he says.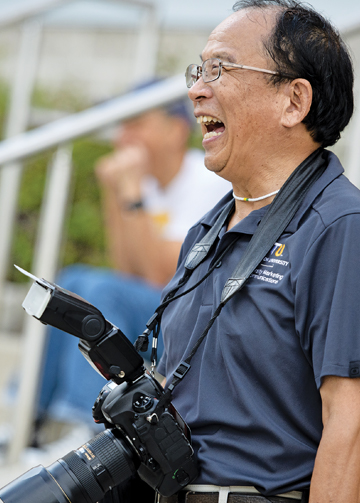 Kanji graduated from Loyola in 1983 with a bachelor's degree in printmaking and photography, but he wasn't ready for his education to end. So he enrolled in the Master of Fine Arts program at the Maryland Institute College of Art (MICA).

He packed his Chevy Caprice station wagon with "dreams, hopes and photo equipment," and headed to Baltimore, where he's been ever since. He graduated from MICA in 1987 and started working as a freelance photographer.

Kanji was hired as TU's photographer the same year Bill Clinton was reelected president. His photos have been published on TU's website and social media and used in its marketing materials and the pages of this magazine.

"Kanji's images have been the face TU shows the public for 20-plus years," says Rick Pallansch, TU's assistant vice president of Creative Services. He's worked with Kanji for more than two decades. "Generations of students have been attracted to Towson University due to one man's efforts."

And it's a lot of effort. He usually gets to the office around 7 a.m. each morning, and leaves around 7 p.m. (If there is an event that night, he stays later.) He also works weekends when needed.

During the university's commencement ceremonies, Kanji photographs each ceremony. He leaves campus well after dark having recorded over 10,000 steps on his pedometer each day.

"I think that if we ever accurately tracked his time, no one would believe it," Pallansch says. "I never have to worry if Kanji will show up for an event—chances are he's already there. He has given a very large chunk of his life to Towson University."

Since 1997, Kanji also has taught Japanese as an adjunct professor in TU's Department of Foreign Languages. When he initially came to America, he planned to return to Japan to teach English after completing his education at Loyola. So when TU needed a substitute Japanese teacher, he jumped at the chance to stand in front the classroom, where he's earned the affectionate nickname "Sensei" from his students.

"I remember one comment I received from a professor who observed my class during the first semester. In his report he wrote, 'Kanji was born to be a teacher,'" he says. "I still love each class. During each summer when students are not on campus, I feel like a fish in a pond which is drying up."

In his classes, "Sensei," who will continue teaching after leaving his photographer position, uses various methods to help students understand the Japanese language. This includes bringing Beanie Babies or drawing every animal at the zoo to help with understanding sentence structure.

But he also wants his students to understand Japanese culture. So he frequently tells stories about his childhood, which are tied into his lesson plan.

"Sensei's teaching style is what some may call rough and demanding, but still soft and gentle," says David Jahangiri '20, an exercise science major who has taken several of Kanji's Japanese classes.

Kanji's friendly demeanor and willingness to snap a quick picture has made him a TU celebrity. When walking around campus, he always has his camera ready.

"If we're talking about the most recognizable figures on TU's campus, it's between Doc the Tiger and Sensei," Jahangiri says, laughing.

His notoriety on campus even inspired a social media contest called "Where's Kanji?" in which students tried to snap a selfie with him to win a prize. The contest garnered hundreds of entries.

"I did not realize how popular he was until I started my position here," says Lauren Castellana '13, TU's assistant director of photography for the past four years. "When we walk around campus to take photos there are always students yelling his name and asking to get a photo."

At this year's new student convocation, the Towson University Marching Band started a very loud "Kanji" chant.

"No matter where we go on campus, students are calling his name and posing for the camera," says Lexi Thompson '20, a photography major from Baltimore who also works as Kanji's assistant. "He's easily the most well-known person on TU's campus. It makes sense when you see not only the students' reactions to seeing him, but his reaction to seeing the students."

Growing up Kanji would stare at passing ships in the ocean until they sailed out of sight. He knew there was much more beyond the horizon than what he could see. Kanji always considered his mind a vessel, and education the wind that would take him anywhere in the world.

After spending more than two decades at TU, he's hoping he set an example for future generations.

"I am a professional photographer and a teacher. So two dreams of mine came true at Towson University," he says. "I thought I could share my belief that working hard is important and education will make it possible for anyone to make their dreams come true."

Kyle Hobstetter is a communications strategist in University Marketing and Communications.

Kanji's taken hundreds of thousands of photos during his TU career. These are among his favorites.