Former CEO Diane Richardson is now in the business of winning basketball games and molding student-athletes.
By Matt Palmer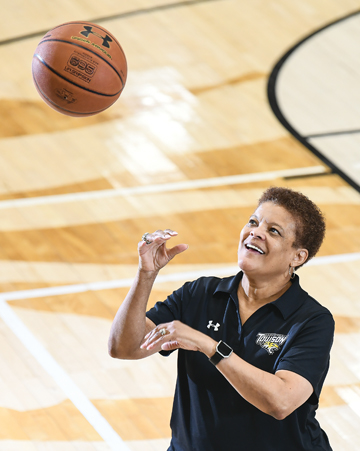 Few people seem to forget the moment they laid eyes on Towson University women's basketball coach Diane Richardson.

For senior guard Ryan Holder, it was a sudden embrace during a recruiting visit. For Director of Athletics Tim Leonard, it was at an interview. For associate head coach Zach Kancher, it was once trying to recruit some of her elite high school basketball players. All of them came to the same conclusion: Diane Richardson is a force of nature with a tractor beam of a personality that pulls you in forever.

"It kind of catches you off guard because it's like, 'Who is this woman?'" Holder says. "But, after talking with her, I could believe what she was telling me."

"Once you have Coach Rich, you have her for life," Kancher adds.

In just two years at the helm, Richardson has turned the women's basketball program around. The Tigers won the 2018-19 Colonial Athletic Association championship with a 20-13 record and earned their first berth in the NCAA tournament. It didn't matter that they lost to Connecticut, arguably the greatest college basketball program in history, in the first round. The season was a resounding success, and Leonard signed Richardson to a contract extension through the 2023-24 season.

The national attention that came with the appearance in the Big Dance, despite the result, has given the program a significant boost heading into this season.

"I was proud they never gave up," Richardson says of her team's effort against UConn. "It was everybody's realization that we've come close. Now we know what to expect. We've been to the dance—now we gotta work on our dance moves."

Sitting in her office at the Towson Center in August, Richardson, 61, couldn't help but reflect on how far she's come.

"Growing up, I didn't have the best of circumstances from an economic standpoint," the Largo, Maryland, native says. "But basketball got me out of that."

In high school in the 1970s, Richardson excelled on the court and the track. A coach changed her life, telling her that she could get a scholarship thanks to recent Title IX amendments. At Frostburg State University, she won 1979 NCAA regional track titles in the 200 and 400 meters. She even qualified for the 1980 U.S. Olympic track team, which boycotted the games because of global political issues.

Yet athletics would take a backseat in her life for a while. She earned a master's degree from Central Michigan University and started a successful business career and eventually a family. She had a daughter and two sons with husband Larry.

But through it all, she stayed connected to basketball.

"I knew that it had changed my life, so I did a lot of stuff with boys and girls clubs, and AAU (Amateur Athletic Union) clubs, talking to young ladies and telling them you can get a scholarship," she says.

In the early 2000s, she was bitten by the bug to coach fulltime. Her teams excelled at Maryland's Riverdale Baptist High School during stints from 2001 to 2006 and 2009 to 2012. In between, she was a key assistant coach for one season at the University of Maryland, helping develop Crystal Langhorne, Marissa Coleman and Kristi Tolliver, all eventual WNBA All-Stars.
While at Riverdale Baptist, Richardson became Jonquel Jones' legal guardian. She coached her there and at George Washington University, where she served as an assistant. Jones is now a two-time WNBA All-Star for the Connecticut Sun.

When Leonard was looking for someone to revive the women's basketball program in the summer of 2017, he received several standout applications, including one from a nationally proven college head coach.

Richardson's resumé was different. Yes, she coached five national championship teams at Riverdale Baptist. Yes she'd also been an assistant at Maryland, George Washington, American University and West Virginia University. But she had also been vice president of the National Neighborhood Lending Marketing Team at Bank of America. She even started her own business, serving as president and CEO of RCI Financial.

Compared to the other candidates, Leonard thought Richardson brought something beyond Xs and Os.

"The head coach is the CEO of her program," Leonard says. "It all ties together. You've got to be able to communicate to your team. She's running the whole thing as she would an organization."

Richardson had a vision and communicated it well. Above all, Leonard says, "she wanted to be at Towson.

"She just blew me away. As soon as she walked out the door, I said, 'That's my head coach.'"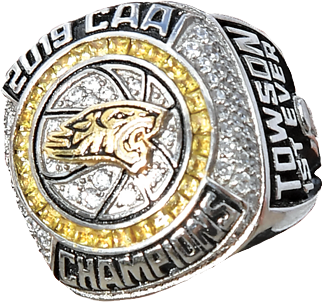 Richardson learned early about the opportunities basketball provides, and she enjoys seeing newer generations blossom.

"Back when I started in high school, you had a couple of players that could play," she says. "Now you've got stacked teams. You've got lots of women's basketball players aspiring to be professionals."

Richardson has always felt an obligation to mentor young women, taking a chance on them the way her former coaches did with her. That includes her players at TU.

"My conversations with my team now are about the next level, whether it be in the WNBA or overseas," she says. "Just my experience trying to claw my way out of that cycle I was in, I knew that took a lot of determination. I can dig a little deeper. I know what they have inside. Other people may not be able to see it, but I've got those tinted glasses. Sometimes it takes a little extra love."

Kancher calls her the best mentor of 18-to-22-year-olds he's ever seen. Richardson even sometimes refers to the players as her "16 babies."

"She's a woman who is not just a coach, but also there for you when you need her," Holder says. "You can talk with her about life situations. You can bring it to her and she's got advice beyond just basketball and the court."

Richardson says that while her life as a coach is completely different from her days as a CEO, she often uses what she learned from those experiences.

"I came from 'I'm never going to college,' to graduating with honors and being one of the top executives in the world," she says. "It shows them you can be whatever you want to be."

The D.C., Maryland and Virginia area is often shortened to the "DMV." And in the women's basketball scene, there is clearly a matriarch.

"She's known as the 'Queen of the DMV,'" Kancher says. "I joke that when we go out recruiting, I've got to take one of those bungee cords that you use for toddlers at the mall so they don't run off. I've got to put it on her because every three paces, someone wants to talk to her."

Upon her hire, Richardson looked at the CAA rosters and saw a significant number of Baltimore-Washington players on other teams.

"Every single team in the CAA, 20 percent of their roster was DMV kids," Richardson says. "I'm like, why are they leaving here and coming back and kicking our butt? That's not going to happen. We concentrated on keeping the best kids home. That's what we're doing right now."

Seven players on the 2019-20 Tigers roster are from the DMV. Kancher said there's a reason it's happening: Richardson's long-term commitment to basketball in the region.

She used her professional success to help support local AAU and recreational basketball programs financially well before she coached. Developing the next multifaceted stars at TU is her mission.

"We're planning for life. It's not just about basketball," she says. "We let them know that. I'm going to be your mom away from home. I'm going to push you, but I'm going to love you, too."

Holder, who went to Roland Park Country School in Baltimore, says playing in front of home crowds means the world to her and fellow local teammates.

"Honestly, it's an honor," she says. "The people who have watched you grow up can see you. Towson has always felt like home."

Richardson has focused on changing the culture not just of the basketball program, but of the fans as well. SECU Arena crowds increased 41 percent in 2018-19 over the previous season. The Tigers went 8-4 at home last year, and buzz built on and off campus.

"We appreciate so much that people care about women's basketball," Holder says. "It's our lives and it's important to us. It's nice to know it's important to them, too."

The Tigers are defined by Richardson's up-and-down-the-court style that demands players bring every last bit of themselves to the court.

"Her energy and her want-to gives us energy," Holder says. "For us, she's more than just a coach. She's a teacher. We will be able to navigate life better."

The Tigers dealt with adversity in Richardson's first year, as the team went 9-21. Richardson, Kancher and the rest of the coaching staff focused on team unity.

"In order to be confident, we had to teach them to be better basketball players," Richardson says.

On a late summer afternoon, just days before the start of the school year, Holder stopped by Richardson's office and was again embraced by the coach. Practice was a little more than a month away. The players have their eyes on something more than a CAA title now.

"She knows we are capable of so much more than we think we are," Holder says. "Coach Rich and the whole coaching staff are just continuing to push us further. Yes, we did it last year, but we've got to do it again."

Richardson has even bigger plans. As the new season looms, last year's success is still at the forefront. Team members received their CAA championship rings in late August.

"I don't want people to think this was luck or a flash in the pan," Richardson says. "I want them to believe this program is going to be sustainable. Our goal is going to be to continue to win, every year."

Matt Palmer is TU's director of media relations and news, and formerly covered the Ravens and Orioles for the Baltimore Examiner and PressBox.