Chris Herbert '13 couldn't get peanut butter out of the jar fast enough, so he invented a utensil to help.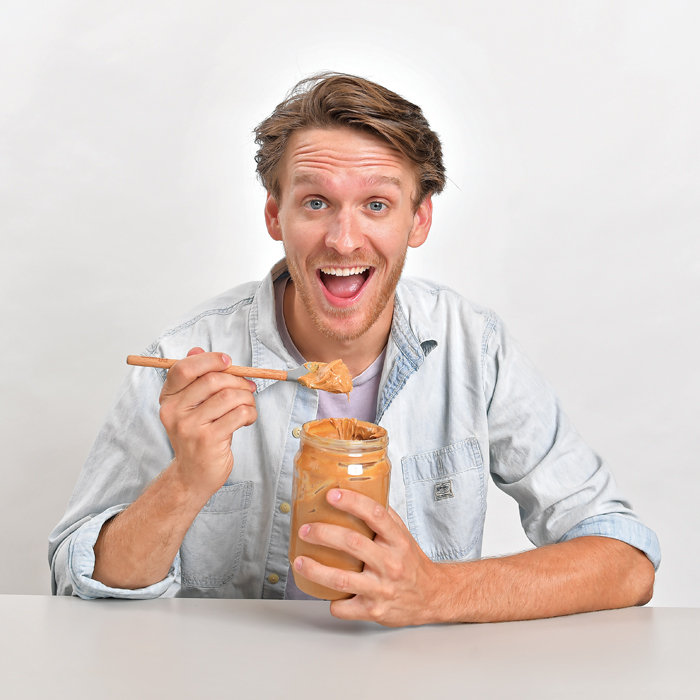 Through trial, error and grit, Chris Herbert got to the bottom of a problem we've all faced: how to extract that last dab of peanut butter from the jar.
An admitted "borderline peanut butter addict," Herbert says he consumes it at least three times a day. While camping in 2017 he found himself wondering if there was a better way to get it out of the jar and into his mouth.
"Spoons were too short, knives were too stiff, and spatulas scraped but didn't scoop," he says.
So he began experimenting with peanut butter-specific spoons. "Like all woodworkers, I like to carve," he explains. "I made myself a long-handled wooden spoon, but it was too rigid to scrape the jar's sides and bottom."
Herbert returned to Baltimore and began tinkering. He turned to 3-D printing to develop a hybrid utensil that could scoop, scrape and spread. Once he'd settled on a design, he did injection-mold tests with silicone to produce a prototype.
Herbert's final creation, the PB Spoon, was ingeniously simple. No moving parts, no electronics, no flashy colors—just a flexible BPA-free, dishwasher-safe silicone tip attached to a 9-inch beechwood handle. Though designed for peanut butter, it performed well with many other spreadable foods. Herbert was convinced there was a market for it.
In December 2017 he launched a Kickstarter campaign that raised $17,000 in 30 days, enabling him to solicit bids from manufacturers. (The packaging explaining that while the PB Spoon is made in China, it was designed in Baltimore.)
Herbert also partnered with two popular online retailers—UncommonGoods and The Grommet—to sell his invention. To date, he's sold over 6,000 PB Spoons at $12 each, with overwhelmingly favorable product reviews.
Nina from Tulsa, Oklahoma, reported: "My boyfriend is always scraping the peanut butter jar with his fingers, spoons, knives, whatever he can find. Now he can get every morsel. [The PB Spoon] is perfect for him."
And for peanut butter lovers everywhere.