Runnin' Down a Dream
In the summer of 2003, Carrie Evans was driving down Route 3 in Bowie, Maryland, when an announcement came on the radio: 103.1 WRNR, one of her favorite stations, was holding open auditions for an overnight DJ. Anyone interested could send in a CD with recordings of their voice and a handful of songs they liked.

Evans had been passionate about music from an early age—singing in bands, performing in musical theater—but she'd never considered radio. At the time, she was raising her two young daughters and waiting tables at a restaurant in Davidsonville. But she was intrigued enough to buy a microphone and some CD burning gear at Radio Shack to record a demo. A few weeks after mailing in her submission, she got the job.

"I really didn't think it would amount to anything, but it ended up becoming such a huge part of my life," she says. "I was just swept up in it."

It was the beginning of a 16-year career in radio, which ultimately landed Evans a coveted drive-time shift at 89.7 WTMD. She joined Towson University's listener-supported radio station in mid-August and has been warmly welcomed by music lovers in Baltimore, Annapolis and beyond.

"Carrie has a lifelong passion for music and the natural ability to convey that to our listeners," says Scott Mullins, WTMD's station manager and program director. "She is likable, knowledgeable, professional, and her enthusiasm comes across the airwaves and really resonates with people."

As one of a small but growing number of professional female DJs, Evans says it's important for her to host a radio show where all listeners feel welcome and included.

"It's not just about me," Evans says. "It's about this bigger picture of being a woman in the afternoon drive shift, showing that is not just possible but it can be great radio."

Carrie Evans hosts WTMD's afternoon drive from 3 p.m. to 7 p.m. Mondays through Fridays at 89.7-FM and online at wtmd.org.
---
Tales From The Wall
Among the hodgepodge of amps, drums and chairs backstage at WTMD's performance studio is a long stretch of white wall covered in more than a thousand signatures. Called WTMD's Wall of Scrawl, it bears the name of nearly every musician or band who has played a show or given an interview at the station in the past four and a half years. These are their stories.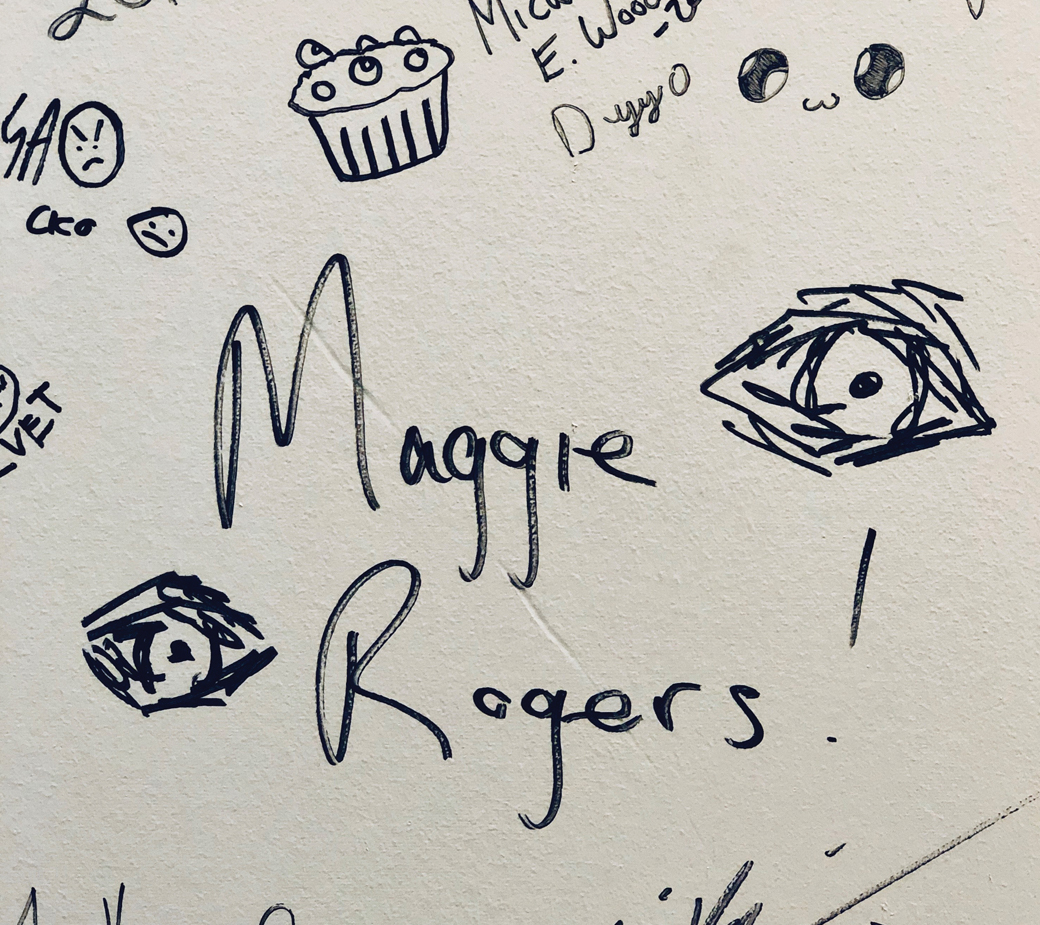 January 13, 2017, was a day of firsts for Maggie Rogers. Her inaugural tour kicked off that night, and she and her band had played their first live concert together in WTMD's intimate performance studio that morning. The previous summer, a video of Rogers playing one of her songs for Pharrell Williams went viral, catapulting the recent college graduate—an unknown Eastern Shore native—to indie music stardom. She went on to play Saturday Night Live and Ellen, sell out huge venues like The Anthem, a 6,000-person capacity space in Washington, D.C., and amass more than 300 million Spotify streams. That day at WTMD, Rogers was a fresh-faced 22-year-old who, even then, had a sense of the wild journey awaiting her. That might explain why, next to her signature on the wall, she drew two wide-open eyes and an exclamation point. Maggie Rogers had arrived.