Forensic anthropologist and TU professor Dana Kollmann deployed to New York City at the height of the pandemic.
By Rebecca Kirkman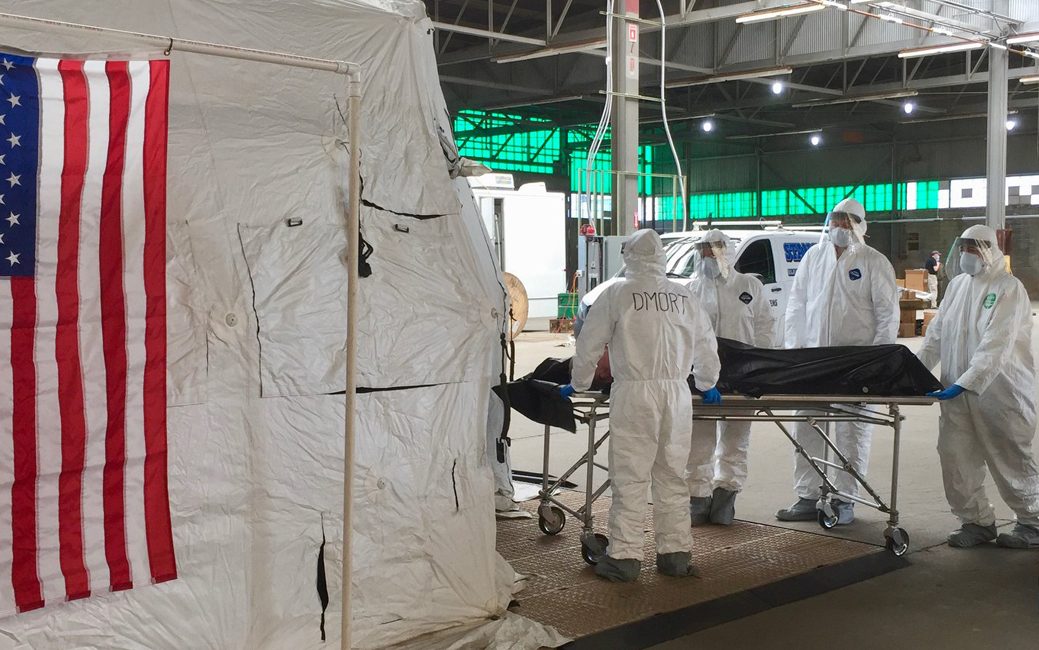 As Dana Kollmann '90 prepared to board a flight from Baltimore to New York City in early April, she was scared. The number of those infected with COVID-19 in the city was on an upward climb, with about 5,000 new cases reported each day. While most of the U.S. sheltered in place, Kollmann—a member of the National Disaster Medical System's Disaster Mortuary Operational Response Team (DMORT)—was heading to the epicenter of the pandemic.
Before she was an anthropology professor at TU, Kollmann worked as a forensic services technician in the Baltimore County Police Department's crime lab for more than a decade. After joining DMORT in 2009, her first mission was to assist in the identification of Americans killed in the 2010 Haiti earthquake. As the faculty adviser for the Forensic Science Student Organization at TU, Kollmann continues to assist U.S. law enforcement in searches for human remains and associated evidence, giving undergraduates firsthand experience in the process.
Kollmann had already completed COVID-19 response missions with DMORT earlier this year at Travis Air Force Base in northern California and Dobbins Air Force Base in Georgia before her deployment to New York. In mid-February, when she was part of the team evaluating passengers who had been quarantined on the Diamond Princess cruise ship in Japan, her personal fear of the novel coronavirus was still relatively low.
In the weeks since her first COVID-19-related deployments, however, the virus had overtaken the nation. As the death rate climbed, hospitals, morgues and funeral homes became overwhelmed.
"Over the months, as I went from California to Georgia, I felt my personal-safety threat level rise," Kollmann recalls. "And by the time I went to New York, I was afraid. But it didn't stop me, because I feel that, as a last responder, we have a dutiful obligation to put these people to rest."
DMORT members quickly and accurately identify victims and support local mortuary services in a mass casualty event. They have been deployed after catastrophic events such as Hurricane Katrina and 9/11, as well as large-scale accidents like commercial jetliner crashes. Among her DMORT colleagues are medical examiners, pathologists, radiologists, forensic odonatologists, DNA and fingerprint specialists and funeral directors.
Kollmann says she felt called to apply to DMORT, which falls under the U.S. Department of Health and Human Services, to put her skills to use for the greater good.
"I have trained my whole life and have done work in the forensic field, and if I can apply it to something big, I want to be a part of it," she says. "I want to help."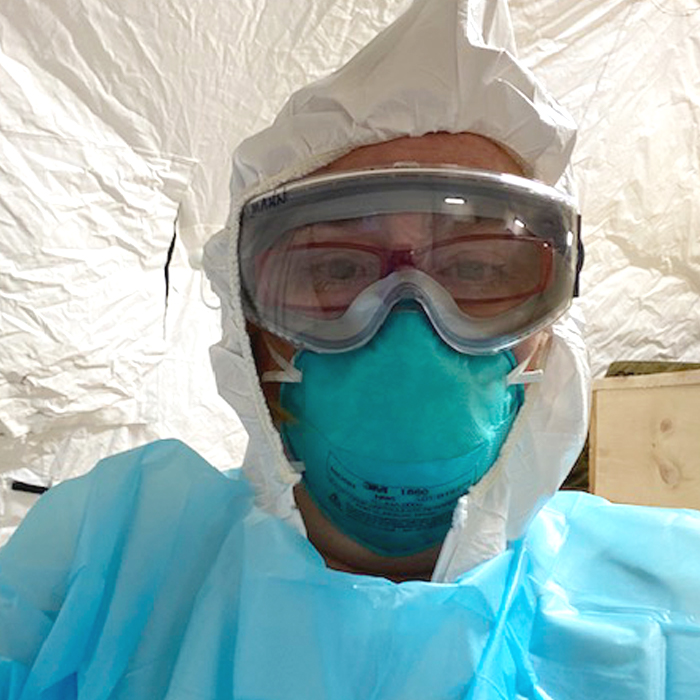 In New York City, Kollmann joined a team of about 40 professionals from across the U.S. to address several challenges, including storage and logistical issues arising from the exponential rate of COVID-19 deaths.
With more than 20,000 novel coronavirus-related deaths in the city from March to May, funeral homes and hospital morgues quickly hit capacity. Cemeteries and crematoriums found themselves overbooked. The challenges were compounded by stay-at-home orders and gathering-size restrictions, which prevented families from holding funerals and prolonged the amount of time the deceased needed to be stored. The disease's ability to infect members of the same household posed an additional challenge in instances when the deceased's spouse and/or executor, who has the responsibility of claiming the body, were also hospitalized, intubated or unresponsive and unable to make arrangements.
"The issue in New York City is, if you have 150 bodies that are being released in a day, there are not enough funeral homes to handle them," she says. "So that created a storage issue."
To assist, DMORT worked with funeral directors and the New York City Office of Chief Medical Examiner to ease the stress placed on overwhelmed funeral homes and morgues.
Initially, the team was stationed at the medical examiner's morgue in Manhattan. Later, it moved to a temporary disaster morgue on Pier 39 in Brooklyn, one of four created by the city to ease the burden on funeral homes and extend the window during which bodies could be retrieved before they were buried at Hart Island.
The Brooklyn pier morgue is part of a complex system developed by the medical examiner's office for the collection, transportation and storage of the deceased. Bodies brought to the facility by hearse or from hospitals in temperature-controlled trucks are processed into freezer trailers for longer-term storage.
Kollmann says despite everything she knew going in, she was still shocked by the sheer number of bodies they processed each day.
"I was a crime scene investigator for 12 years. But in one day in New York I probably saw more bodies than I saw in those 12 years," she says. "It was like an assembly line of bodies, and it was heartbreaking."
At the end of each 12-hour shift, Kollmann returned to her room in the early morning mentally and physically exhausted.
"I would get off the elevator and wash my gloves and take my gloves off, and then I threw the gloves in the trash can, so I would wash the trash can," she recalls. She bleached her leather boots so many times that the leather turned pink. The skin on her face, ears and chin was raw from constantly rubbing against her facemask.
Due to a global shortage, initially Kollmann wore the same personal protective equipment (PPE) for days in a row, only getting replacements if items were damaged.
Throughout her deployment, Kollmann stayed in touch with a few of her TU colleagues. When Mark Profili, director of TU's forensic science program, heard about the need for protective equipment, he rallied the chemistry department for help.
"We've been able to get PPE for her—masks, gloves, lab goggles, some Tyvek suits from our crime scene classes in the graduate program, and I'm pretty sure they had some head covers too," Profili says.
"You see some of what's going on there on TV, but she's seeing it firsthand," he adds. "When you see death after death and you know you're going in the next day to see the same circumstances, it's a great deal of anxiety and stress, even though it's what she does. If anybody could do this, though, it's Dana."
Kollmann says support from the TU community helped her get through some of the toughest times. When the chemistry department sent care packages, she excitedly shared the contents with her DMORT colleagues.
Throughout her deployments, Kollmann continued teaching two sections of Intro to Forensic Crime Analysis and one section of Advanced Forensic Investigation while mentoring six research students. After her shifts, she recorded asynchronous lectures and uploaded them to Blackboard.
"In my syllabus I always say there's a potential that I could be deployed, and on the first day of class I talk about DMORT and how we can't predict when things like this are going to happen," she says. "I always tell students 'if it does happen, I promise I'll come back with good field stories for you to show how anthropology is relevant.'"
When Introduction to Forensic Crime Analysis moved from in-person instruction to online in the spring, Fanta Kondeh '22 wondered how the hands-on class, where students analyze real crime scene photos that can't be released over the internet, would translate to remote instruction.
"She made everything work seamlessly, revised the syllabus, she told us how everything would go," says Kondeh, a forensic chemistry major minoring in molecular biology, biochemistry and bioinformatics. "Even though we were online, I gained as much knowledge as I would for this course even if we were in person."
In March, Kollmann received the University System of Maryland Board of Regents' Faculty Award for public service. The award recognized her for creatively combining the roles of faculty member, teacher and scholar with ongoing local, national and international public service while deftly including students in archaeological and crime scene investigations.
Kondeh, who hopes to one day be a forensic chemist for the DEA, was in awe of Kollmann's ability to balance her deployment with teaching. "I really admire her because she was doing something major and still taking the time to give us what we needed out of the course."
Like many of Kollmann's students, Kondeh says she appreciates her professor's no-holds-barred approach to teaching, eccentric personality and enthusiasm for forensics, likening her to a superhero. "She's really fierce."
Kollmann developed an interest in forensic anthropology when she was just 6 years old.
"I was bringing dead animals out of the woods, and my mother made me see a psychiatrist," recalls the Harford County, Maryland, native with a laugh. "I saw a psychiatrist my whole childhood, and I kept getting dead things. And I kept getting them and I kept getting them, and I kept seeing a psychiatrist." After a failed attempt at nursing school—a career choice her mother supported—Kollmann finally enrolled at Towson University as an anthropology major.
"I would have been the worst nurse, but I loved the anatomy and physiology," she says. Kollmann earned her master's in forensic science from George Washington University and a master's and doctorate in anthropology from American University. She joined the faculty of TU's College of Liberal Arts in 2007.
"Follow your passion, I guess is the message in my story," she says. "I knew what I liked, and I liked it my whole life."
When her two-week deployment in New York ended, Kollmann re-upped, staying for an additional two weeks. While she missed her husband, Bob Wall, also a TU faculty member, and four children, she was happy to know they were safe at home. She offered to extend a third time, but DMORT regulations didn't allow it without an extended break.
"I didn't want to come home," she recalls. "When you're in that mentality of working and helping, it's hard to shut that off."
Since the start of the pandemic, health care workers and first responders have been heralded as heroes. Last responders, as Kollmann refers to herself and her colleagues who deal with the end of life, often operate in the background.
While their work can be gruesome, it's equally important.
"As last responders, we're the ones that see them to the end. We're the ones that place them in the coffins or casket, we're the ones that have chaplains pray over them. We give them the respect that they need at the end of their life," she says. "And if one of my family members died of COVID in New York City, I would be proud knowing that they were treated with the respect that we treated these people."