Bridget Lloyd '00 has co-owned the Bel Air cheesesteak factory for 14 years.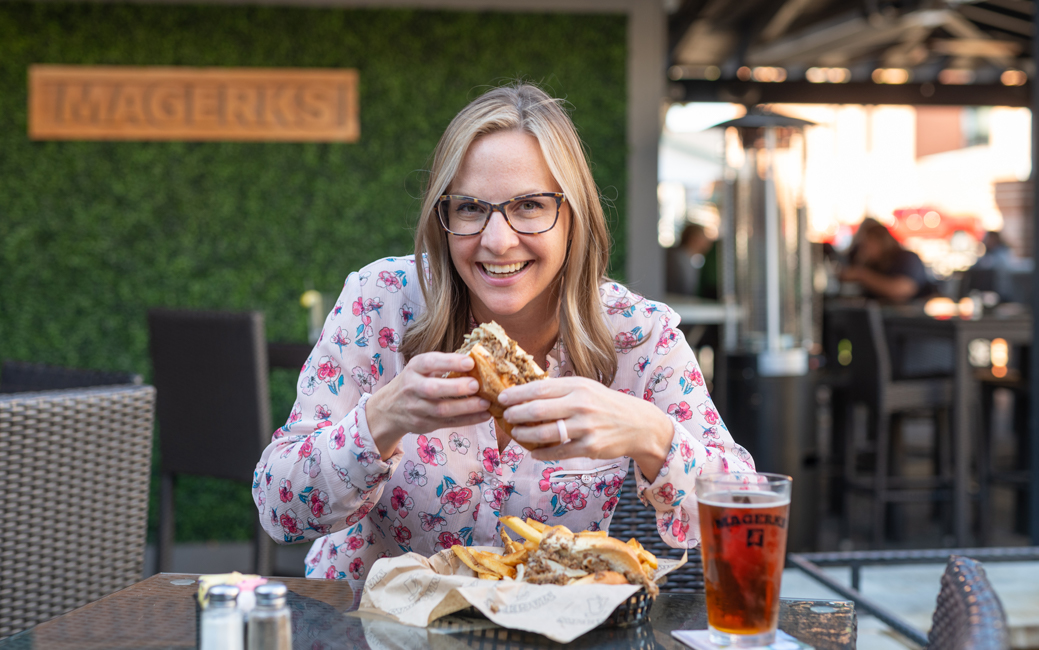 It would be impossible to calculate the number of cheesesteaks Bridget Lloyd has consumed in her lifetime. She was an original employee at the original MaGerk's, in Federal Hill in Baltimore, and became co-owner of the famous-for-its-cheesesteaks bar and grill in Bel Air in 2006. The restaurant business, she says, is in her blood. Good thing, too.
"It has to be if you're going to do this. It's like running a marathon every other week."
But the race was halted when the pandemic hit in March. All five MaGerk's closed for 10 weeks, a dark period Lloyd calls difficult both emotionally and financially.
"It was crushing at first," she says. "But it was a great decision. It kept the customers safe, it kept the staff safe. Everybody was able to get unemployment, which was even better because then we didn't feel financially obligated to make any decisions about reopening in a pandemic."
When MaGerk's did reopen—for carryout at first, then for outside dining, and as of October, at 75% capacity inside—its loyal customers came back. Despite the challenges presented by the pandemic, Lloyd is optimistic about the future.
"I think this is just a little bump in the road, and that happens," she says. "We've been through the housing crisis in '08, that was pretty bumpy. We're in this for the long haul."
For the record, her favorite cheesesteak is the MaGerk, made with American cheese, fried onions, cooked salami, tomatoes and Russian dressing. It's pictured above, and it's as delicious as it looks.