Amid this ongoing pandemic, we have so much to be thankful for.
I am grateful for the health providers and the first responders—so many of them graduates of our College of Health Professions—who continue to serve their communities amid the COVID-19 pandemic.
I am grateful for our students, faculty and staff who time and again this year have shown that Tigers indeed care.
I'm grateful for our community of philanthropists, who in the midst of the financial crisis created by this pandemic, have found ways to support their fellow Tigers. Through the Big Give, more than 1,300 donors contributed more than $180,000 to the Student Emergency and Food Insecurity Fund, helping Tigers in crisis pay for groceries or necessities.
I am grateful for the support of our elected officials, Chancellor Perman and the USM Board of Regents. With their help, we've completed the Science Complex and the women's soccer complex and plan to break ground soon on another new building, which for the first time will provide the College of Health Professions dedicated space of its own.
I am grateful for the entrepreneurs and our partnerships through BTU that will benefit from the new StarTUp at the Armory and the neighboring space at 401 Washington in uptown Towson. Work is underway in both buildings right now.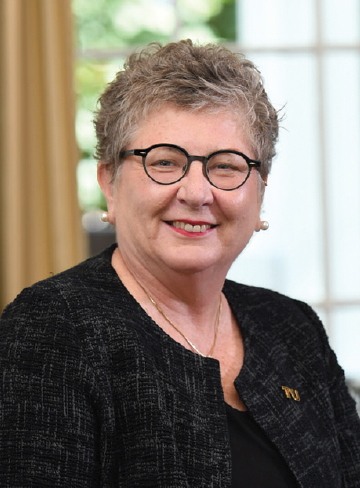 I'm grateful for our students, faculty, staff and university leaders who this fall are working on our campus master plan and university strategic plan. Both will lay forth strategy for years to come.
I am grateful for our community, which is addressing head-on the issues of structural racism and hate, coming together to demonstrate for social justice and in solidarity to insist that Black Lives Matter.
I'm grateful for our university's leaders, who have worked alongside that call to action to establish TU's first strategic plan for diversity and inclusion, which informs and aligns directly with our university strategic plan.
I am grateful for the more than 85% of our students who registered to vote—placing TU among just nine institutions nationwide to have such an engaged student body. Civic engagement is a call to action answered by so many at TU.
As we enter the holiday season, it is important to remember all for which we give thanks. No matter how you choose to gather, make sure you plan ahead and do it safely. Showing care this season is the best way to give thanks for those you love.
It is imperative we continue our commitment to wearing face coverings, maintaining physical distance and washing our hands. That's how we show that Tigers Care.
There is much to be proud of at Towson University, and working together, there are truly great things ahead!
Kim Schatzel, Ph.D.
President