An die Musik is helping keep live music alive in Baltimore during the pandemic.
By Mike Unger
Photos by Lauren Castellana '13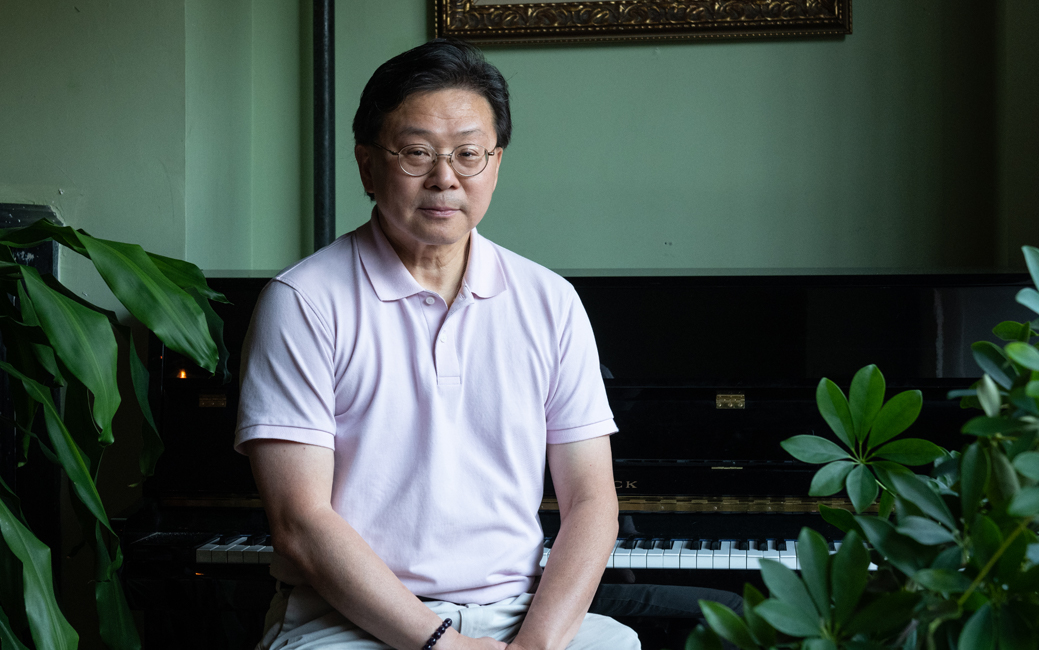 On stage minutes before their gig is scheduled to begin, Mike Kuhl '16 tinkers with his drum set, John Lee plucks at the strings on his guitar and Dave Ballou blows trial notes from his trumpet. The members of the Mike Kuhl Trio are all music instructors at TU, but on this late July night they're performers preparing for a show at one of Baltimore's most venerable jazz clubs, An die Musik Live.
A floor below the second-story concert hall, the venue's owner, Henry Wong, is getting ready as well. Seated behind a desk in his office in the back of the Mount Vernon rowhouse that houses the business, Wong is helping the audience with technical issues. On show nights these days, it's a trouble-shooting center of sorts. And he's the whole IT department.
Upstairs, the 75-seat auditorium is empty, save for two employees setting up video and audio equipment. Also absent is the pre-show buzz of anticipation that excites both artists and audiences before concerts. This is a live streaming show, and the people the trio will be playing for are in their living rooms, dens, and bedrooms, spread out across the country and around the globe. Some may be wearing their pajamas. Others may be wearing less.
Welcome to live music, 2020-style.
"I think that music has healing power," says Wong, a non-degreed TU alum. "To me it's not physically healing, but it's mentally healing. I find that if we provide music to people, I think people will find their life much more rewarding."
That's been a challenge since COVID-19 silenced most live music venues in March. Packing people in to hear heavy metal, rock and roll, classical or jazz isn't safe during a pandemic. But as he has been since he opened An die Musik for live performances in 2002, Wong is determined to keep the city's music scene groovin'.
From late March through Oct. 6, An die Musik Live hosted 111 live streaming shows, and until audiences can return safely, Wong has no plans to stop.
"Henry has become a vital person for the music scene in Baltimore," says Ballou, a professor in TU's Department of Music and co-director of the Towson University Jazz Orchestra. "For many years, he has been a champion of local, mainly acoustic, music. From classical to jazz to roots music, he has presented it all and continues to in the current situation. In fact, his role is even more important now as he has turned An die into one of the only venues that can offer live streaming at such a high quality. We all owe Henry a great deal of gratitude for his courage and support of the Baltimore music community."
At eight o'clock, the club's manager, Jed Peterman, stands in front of a video camera that's facing the 25-by-42-foot, slightly elevated stage.
"Welcome to An die Musik for our 69th live stream concert," he says to the camera and virtually empty room. "Tonight we have the Mike Kuhl Trio back again for an encore performance…Everyone it's Mike Kuhl, John Lee and Dave Ballou."
With that, the trio, who have played together just once since the pandemic started, launch into a searing version of Dewey Redman's "Dewey's Tune." At least to the untrained and live-music-starved ear, they don't seem to have missed a beat. But when the song ends, there's no rousing round of applause. An die Musik is largely silent.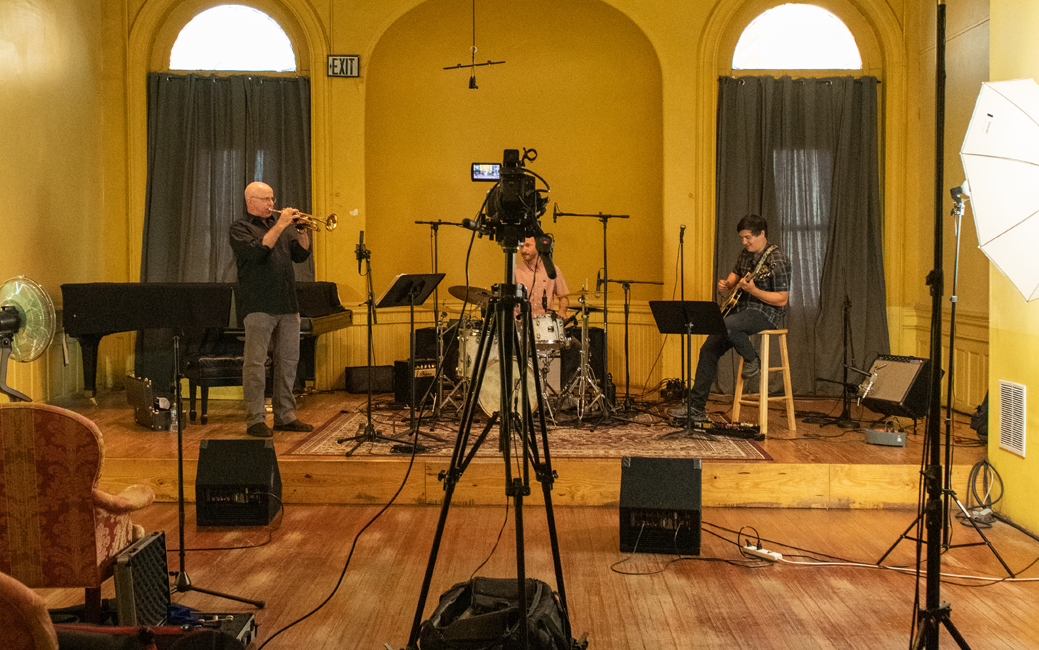 Henry Wong, 62, was born in Hong Kong, and moved to Minnesota for high school. He transferred from Penn State to TU, where he studied chemistry and befriended several music majors whose piano practice often accompanied his studying.
He got a job in a neurogenetics lab at Johns Hopkins, where long days and nights doing research were soothed by the sounds of classical music. His mother was a Chinese opera star, and he's always enjoyed various forms of classical compositions. So much so that friends of his working in the record industry talked him into opening a record store with them in 1990.
An die Musik, which means "to the music" in German, opened in downtown Towson, near where WTMD stands today. It was one of the first stores to allow customers to listen to CDs before they bought them.
"There was a time when people would line up six or seven deep behind each listening station," Wong recalls.
Local musicians held CD release parties there, and classical stars like Yo-Yo Ma came for signings. Wong sold CDs at the Lyric Opera House and Kennedy Center. It was a soul fulfilling, if not bank account padding, endeavor.
"This is not like a Fortune 500 company," Wong says, chuckling. "I never studied business. I had lots of friends that wanted to be my partners. Most of them were working partners with a small investment. Most of what they got was just a paycheck. Needless to say they all left."
In the mid-'90s, Barnes and Noble, Borders, and other larger chains started moving into Towson, putting pressure on the little guys like An die Musik. So when the store's lease expired, Wong decided to move the store to its current home on North Charles Street in Mount Vernon, near the Peabody Music Conservatory.
The new An die Musik closed its pop section and focused on selling classical and jazz CDs. But soon the business was forced to evolve again. As digital music began to render CDs obsolete, Wong opened the store's second story space as a concert hall.
He painted the walls yellow, bought 75 chairs from a hotel that was getting rid of them, hung some curtains—and voila!—one of Baltimore's most beloved music spaces was born. Wong likes to describe it as a "salon." Since 2002, An die Musik has hosted more than 4,500 concerts. It's a no-frills spot where a music lover can pay a few bucks to watch a Peabody student perform or a few more to catch bold-name jazz stars like Christian McBride, Warren Wolf or Cyrus Chestnut, all of whom have played there.
"When I walk into a club like the Village Vanguard in New York City or the Meyerhoff here in Baltimore, I can sense the whispers of all the legendary performances from the past," Kuhl says. "An die shares that same vibe. It is a fantastic-sounding room and it has hosted some unforgettable performances over the years. Some of the most memorable concerts I have seen in my life have taken place at An die. It's a special place."
But not a profitable one, Wong is quick to point out. An die doesn't sell food, offers only limited drink options and most importantly to its bottom line (or lack thereof), books jazz and classical acts that aren't exactly overly commercial. Wong, who benefited from an inheritance, doesn't make any money off An die Musik, he says.
"I want people to learn more about music," he says. "I want people to say 'I really enjoyed it. I'm going to come back and I'm going to bring a friend.'"
Of course, when the novel coronavirus landed, it quickly became apparent that no one was going anywhere.
After getting the go ahead from Maryland Gov. Larry Hogan's office, Wong staged An die Musik's first live streaming concert on March 20. The cost for that show, like most of the others that have followed, was $5 plus whatever donation listeners wanted to give to the band.
Some shows have sold 20 tickets; others 200. Purchasers can watch the show live or online for up to a week later. People have listened from New York, Alaska and Europe.
On that steamy night in July, Kuhl, Ballou and Lee couldn't have cared less about how many people paid for their performance. They were ecstatic just to be playing in public. As they motored through a set that included original works by Lee and Ballou and ones from legends like Ornette Coleman and Thelonious Monk, the strangeness of playing to an empty house faded, and the joy of making music together took over.
"I don't think you can truly substitute a live audience," Kuhl says. "The whole experience between the listener and the performer is like one battery charging another. But you get used to it and you just have to shift your mindset to the fact that you still have an audience, albeit virtual for which I am supremely grateful for. I applaud all the venues, especially Henry and the guys at An die, for shifting their entire model in an extremely short period of time in order to still have a place for the musicians to perform. Thank God for the technology to do this."
Baltimore musicians and music lovers have echoed something similar for years: Thank God for An die Musik.