TU Athletics faces a new opponent: COVID-19.
By Megan Bradshaw
Photos by Lauren Castellana '13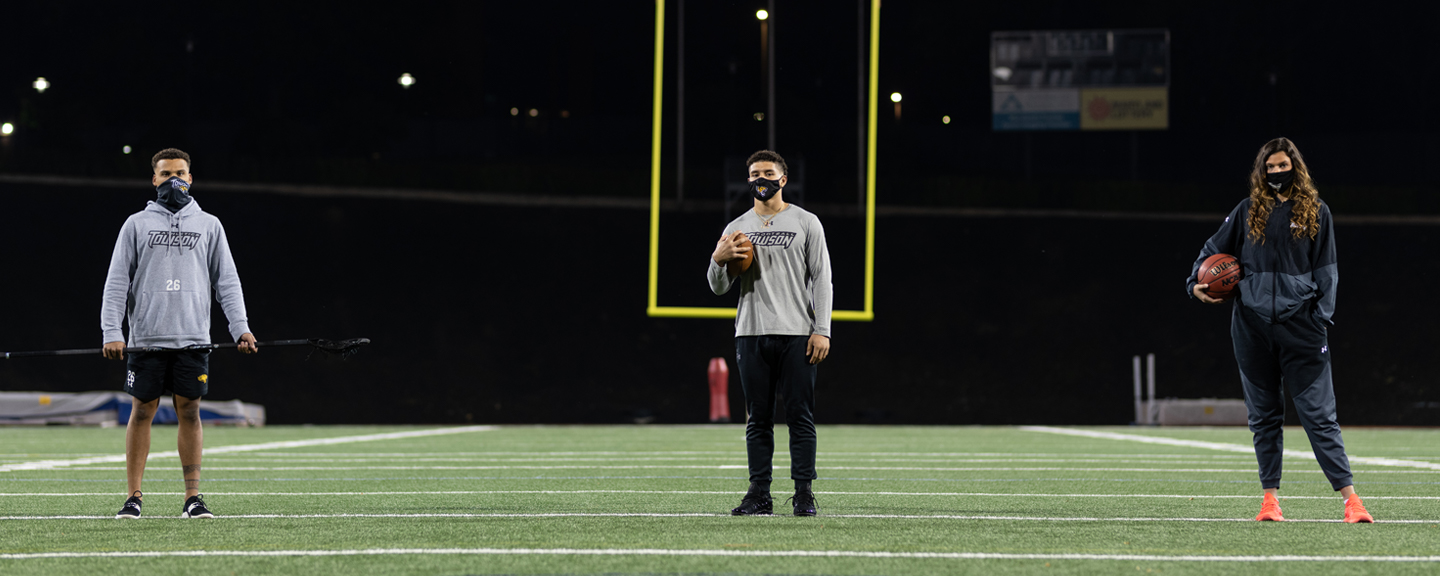 In college sports, time is measured to the hundredth of a second. Nearly every moment in a student-athlete's life is accounted for year-round. So what happens when everything stops?
March 12, 12:14 p.m.: The Colonial Athletic Association (CAA) cancels the women's basketball conference tournament and suspends all spring sports.
March 12, 4:07 p.m.: The NCAA cancels the Division I basketball tournaments as well as the remaining winter and spring NCAA championships.
TU's women's basketball team was in the locker room at Elon University in North Carolina preparing to defend its league tournament title when players and coaches received word of the tournament's cancellation.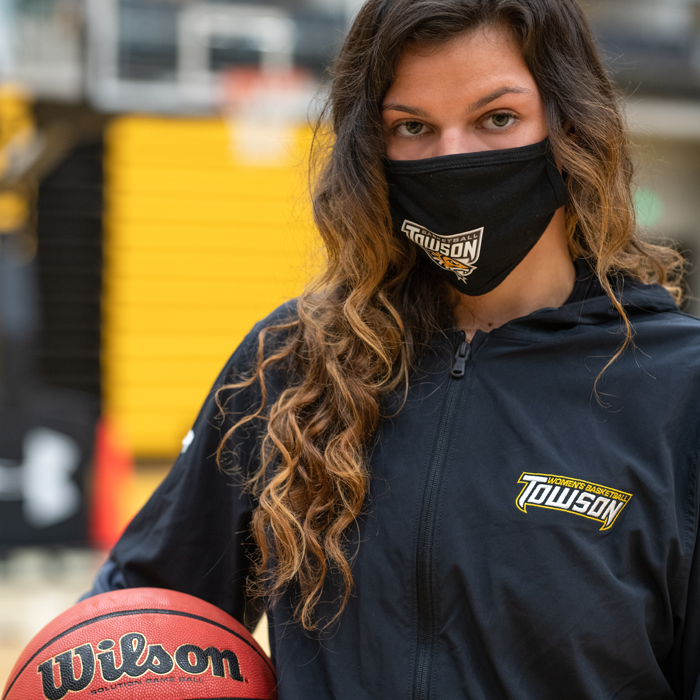 "I was getting taped," senior forward Tess Borgosz says. "Our point guard texted us that our tournament was canceled. We didn't know if it was fake. Obviously, it was very real. We didn't really have an idea of what we were going to do, when we were going to start back up, nothing. It was just over."
For her coach, Diane Richardson, the memory is still raw six months later.
"It was a big, emotional letdown for our girls," Richardson says. "To have it just end like that was probably some of the toughest news I've had to bring to any team I've ever coached. There were tears everywhere. Obviously, that was the correct decision for our health. But it was a long bus ride home."
March 18, 1:58 p.m.: The NCAA bans all in-person recruiting by Division I coaches until April 15 and advises all prospect visits be canceled. The organization extends the ban until Jan. 1, 2021 in an announcement on Sept. 16.
Each year, coaching staffs fan out across the world looking for their teams' future student-athletes. But this year, travel limitations imposed by TU and state and foreign governments have had repercussions for coaches and high school athletes alike.
"How do you evaluate the growth of an individual from his junior year to his senior year without seeing them?" head football coach Rob Ambrose says. "Now add to the fact that [the NCAA has] added a year of eligibility to every kid that's in college who played a fall or spring sport. They're not changing my scholarship numbers, so I can either keep the guys that I have, or I can recruit someone who is coming out of high school. On the whole, the high school class of 2021 is going to have the most limited opportunities in the history of recruiting."
Men's lacrosse head coach Shawn Nadelen and his staff have taken the virtual route, bypassing their usual two months on the road. Soccer head coach Katherine Vettori has also opted for onscreen recruiting.
"The last time I saw a lot of these prospects play was last November, December. A lot changes from 16 years old to 17 years old," Vettori says. "I think, across the board, for 2022s we're just in a holding pattern. It's very unfortunate for them."
May 22, 4:30 p.m.: The NCAA rules all sports may return to voluntary, on-campus athletic activities starting June 1.
Despite the NCAA's announcement, TU student-athletes remained at home until at least early July. That meant figuring out how to work out without the university's facilities and resources.
Cross country and track and field coach Mike Jackson uses the end of his spring season to calibrate summer workouts for his student-athletes. The loss of the outdoor track and field season forced a change in plans.
"I think the challenge with this is after a full season, you're better able to consider what kind of shape they've been in and then you prepare for the summer," says Jackson. "We tried to be a little bit more flexible and give them a lot of options. We're quite often forced to innovate in my sports. But this is another level."
Student-athletes stayed connected, despite being scattered across the country.
"We have these Tiger Accountability Program (TAP) teams, each with about 10 players," says S.J. Brown, a safety on the football team. "We would FaceTime, have a group chat saying motivational stuff, send each other food, shakes, workouts, just to see what we were all doing."
Brown purchased gym equipment while at home in California—a first for him. But the novelty wore off.
"It was just different not working out and being with my brothers on my team," he says.
Junior defenseman Koby Smith is one of many men's lacrosse players who work or intern in addition to working out over the summer. The struggling, restricted economy meant work was scarce and workout facilities were frequently unavailable.
"We have a weight room in our garage," Smith says. "We never had to miss any beats physically, but it is kind of demoralizing when you can't get on the field and play lacrosse with your teammates."
Sophomore women's soccer player Jacey Miller found a workout partner in her younger brother, each using sibling rivalry to improve. In expectation of a fall season, Miller signed a lease for an apartment near TU with two teammates.
"In my apartment complex, this one little gym had some different dumbbells, treadmills and things like that. It was more than enough, but it would have been better to have our facility to stay on top of our work," Miller says.
July 16, 12:29 p.m.: The NCAA Sport Science Institute releases updated guidance on protecting the health and safety of student-athletes, recommending daily self-health checks, face coverings when appropriate, testing strategies and a timeframe for results.
The NCAA updated its guidance several times over the following months. But each university was responsible for creating its own health and safety plan for its athletics department. TU athletic department administrators, university officials and medical and performance professionals worked tirelessly over the spring and summer to balance sports and safety.
As part of TU's five-phase plan, teams were to be brought back to campus in stages beginning in early July, receiving intensive education via a Blackboard course and Zoom calls on what to expect before returning and how to proceed once they were there.
TU's plan centered on student-athletes and department staff maintaining constant vigilance regarding protocols and symptoms. The department developed an enhanced monitoring strategy carried out by 12 certified athletic trainers who make their decisions based on best practices and the student-athletes' health metrics.
The plan also called for teams to be broken into cohorts that spent all their time together. Student-athletes were required to complete a Tigers Care QuickScan reporting any symptoms. Additionally, medical personnel temperature tested them when they arrived for practice. Initially, everyone remained outside for all workouts. They began moving indoors to train in late October.
Over the last several months, department staff adapted the plan as needed, and going into November, all student-athletes and coaches have been complying with protocols the best they can.
"I give sports medicine a ton of credit," Vettori says. "They've worked around the clock since March 13 and put in a lot effort to figure out how a return could look and how we could do it safely."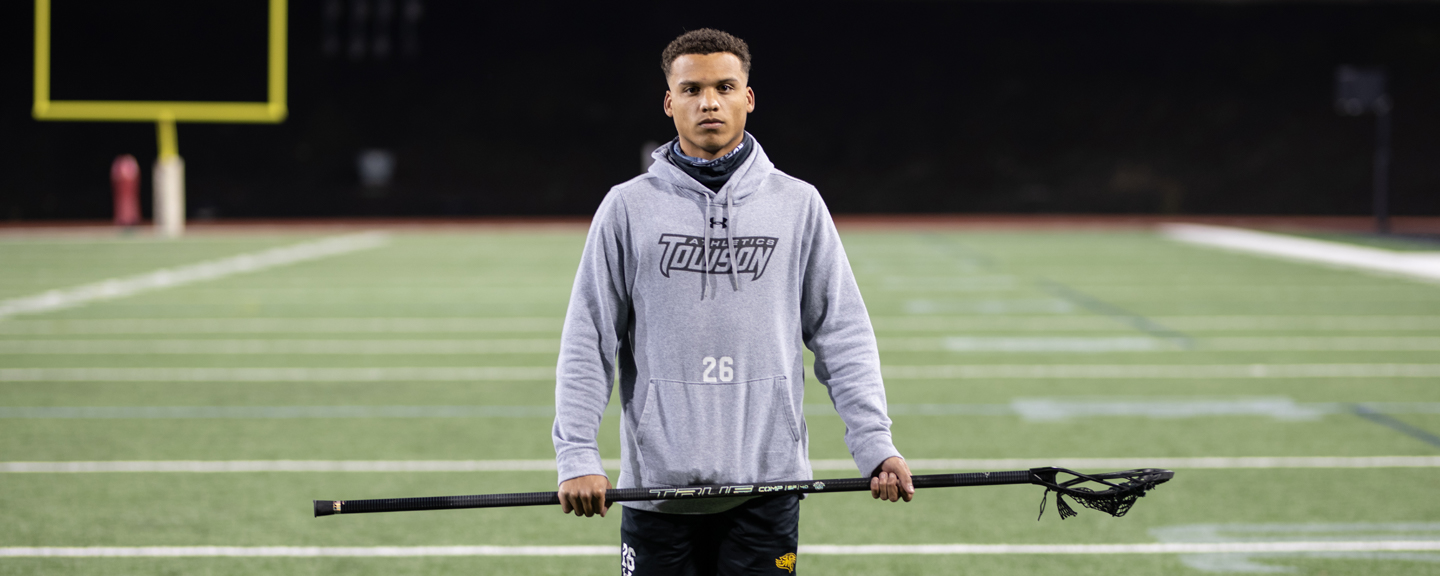 July 17, 12:59 p.m.: CAA Football votes to suspend competition in 2020.
July 17, 1:16 p.m.: TU postpones all fall sports competition for football, field hockey, volleyball, soccer and cross country as well as offseason competition for all other teams.
Fall sports usually begin in late August, with teams traveling all over the country to play in nonconference games and tournaments. While the CAA and the university gave plenty of notice, that didn't ease the pain felt by student-athletes who had spent the summer hoping to play.
"It definitely hit me hard, because I have my mind set on this season, the goals and aspirations that I have with the team," says Brown. "My life is centered around football. Everything that I do is football. It's like a full-time job. I don't have a full-time job no more. What do I do with my time?"
Vettori is trying to stay positive after her soccer team's season was postponed.
"I think with every disappointment the key is trying to find silver linings," she says. "It was heartbreaking to deliver the news. We tried to make the best of it and have a positive attitude. It's an extra six to 12 months that we get to get stronger and faster and become better soccer players."
What's next?
If 2020 has proven anything, it's that a curveball can break at any time. TU athletic staff, coaches and student-athletes have applied their determination and discipline to each of the obstacles they've faced this year, and they're ready to face what's next—whatever it is.
For right now, intercollegiate basketball has the green light for a delayed start to the season. As of Sept. 25, Richardson and her staff had not yet seen their entire team on the court at the same time. They are set to play their first game on Jan. 1, 2021. A few months from the start of the season, many plans that are normally locked in by now are still fluid.
"I've been on conference calls with the CAA, making sure that we're safe and the teams that we play are safe. Because if one of the players on a team tests positive, then that team will be shut down for two weeks," Richardson says.
No details are left to chance.
"Each player has their own ball," she says. "Nobody else can touch their ball, so they're rebounding for themselves. Those balls are cleaned after each practice. Any apparatus or equipment that they use is just for them. And they have to wipe it down after every practice and put it away."
Borgosz is more than willing to do what's asked to keep playing her sport.
"We practice with masks on. In the weight room we always have masks on," she says. "We get COVID tested every week. Our trainers are always telling us six is safer, to socially distance. We have to keep in mind that we are still in the middle of a pandemic, so we have to abide by the rules that were set in place."
Other TU student-athletes feel the same.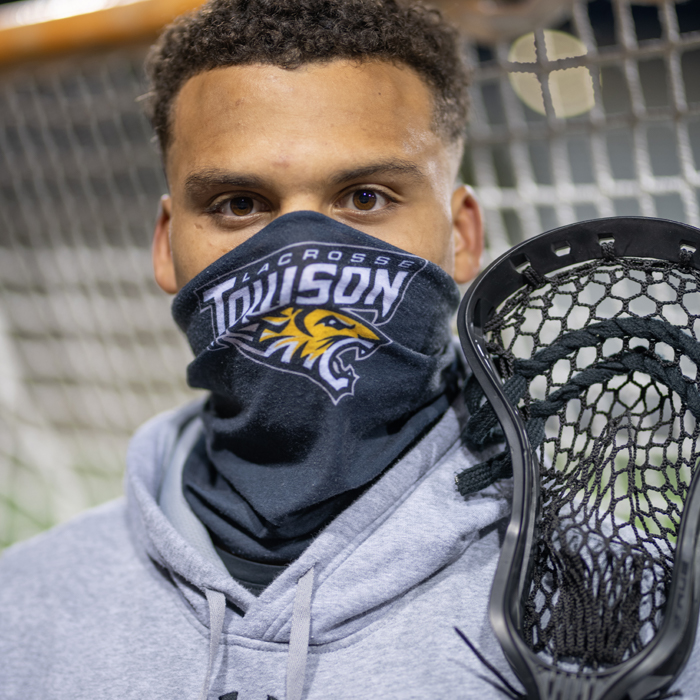 "Nobody really knows what's going to happen, but we all have our spirits high that everything goes well in the spring," Smith says. "It will be great to go do what we came here for: playing lacrosse, getting a good education and hanging out with guys that are like our brothers. For athletes, you don't see many people going through the same things that you do day in and day out. When you have 50 guys sitting right next to you that are going through the same thing, it's kinda cool to know they're there for you."
Especially this year.