After winning two World Series, John Schuerholz '62, '07 is embarking on a new mission on behalf of his alma mater.
By Mike Unger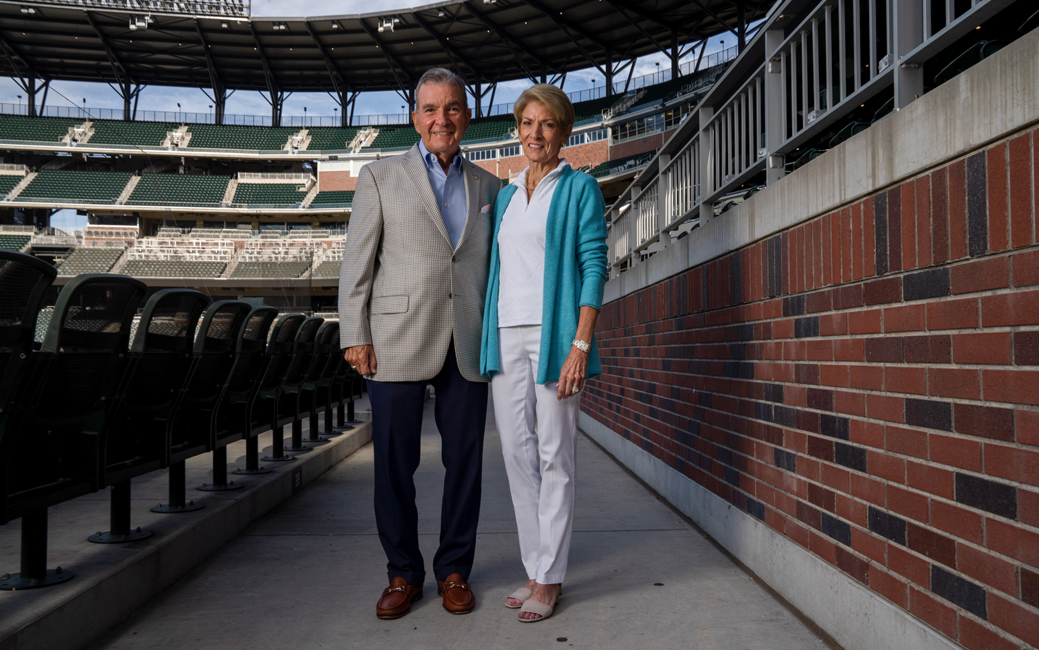 John Schuerholz is sitting on the back porch of his home in the hills of Highlands, North Carolina, gazing at picturesque Whiteside Mountain. His local golf course, where he tees it up a few times a week, is just a five-minute drive from here—by golf cart. He plays as often as he can when he's not spending time with his two children and four grandchildren or at Truist Park, home of the Atlanta Braves, the Major League Baseball franchise he helped guide to record-setting success during his 17-year run as general manager and then president. Evenings often include dinners out with friends and his beloved wife of 43 years, Karen.
Ahhh, the life of a (mostly) retired baseball executive.
It's a lovely August morning, about four years after Schuerholz, 80, reached baseball's mountaintop—induction into the sport's Hall of Fame. When he delivered his acceptance speech that summer afternoon in Cooperstown, New York, he mentioned his hometown no less than a dozen times. It revealed the depth of his connection to a city in which he hasn't lived for decades, but one that shaped who he is today.
"I love the city, I love what it meant to me," he says. "It provided the circumstances that helped me grow."
The first general manager to lead franchises to a World Series title in both the American and National leagues, Schuerholz's place in baseball history is secure. Yet his legacy continues to grow. John and Karen Schuerholz are the honorary co-chairs of RISE, TU's $100 million comprehensive campaign. The reason they got involved is simple, John says: His alma mater asked.
"I could easily have mentioned Towson University every bit as much in that speech," he says. "It helped me grow, it prepared me for life and it was remarkable to me how confident and strong and prepared I felt coming out of that environment. It really built up my self-esteem, self-confidence and willingness to work through what needed to be done to get to become part of a first-place organization.
"Baltimore is in my blood, and Towson is in my blood, and happily so."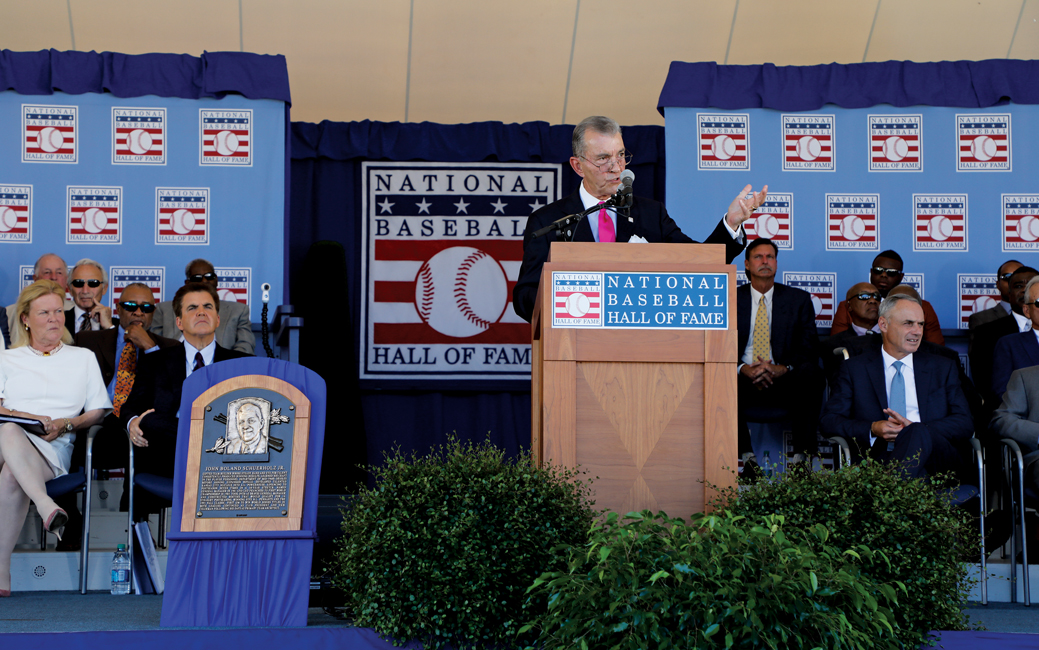 John Boland Schuerholz Jr. was born into a family that was considered Baltimore athletic royalty. His grandfather William was the first men's basketball coach at Loyola College (now university), where he coached five of his sons, including Schuerholz's father, John Sr. One brother, John Jr.'s uncle Gilbert, was a goalkeeper on the 1932 U.S. Olympic soccer team.
"Growing up in that family of sportsmen and athletes introduced me early on in my life to the joys and the challenges of competitive sports. Especially baseball," he said in his Hall of Fame speech, in which he thanked everyone from his administrative assistants to the Hall of Fame personnel who made the weekend so special for him and his family.
While the Schuerholzes excelled in seemingly every sport, it was baseball that most captured John Jr.'s imagination. His father played minor league ball for three seasons before a broken leg, suffered while turning a double play, ended his career. He went on to work for Bethlehem Steel for 50 years.
Schuerholz wasn't the biggest or strongest ballplayer, but he wielded a slick glove, could run and understood the nuances of the game. After graduating from Baltimore City College High School, he enrolled at TU, where he was a four-year starter on the baseball and soccer teams.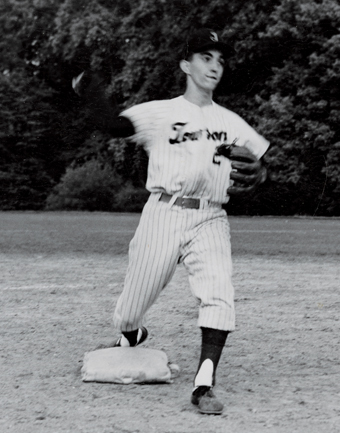 "He was a heady ballplayer. He didn't make mistakes," says Schuerholz's TU teammate and
lifelong friend, George Henderson '62, who was a longtime scout with the Baltimore Orioles. "He was a good fielder and a base hit kind of guy. He didn't have a lot of power."
"I won't say every once in a while I hit one out, because it was every great once in a while I hit one out," Schuerholz says, chuckling. His prowess at second base on the diamond and as a halfback for coach Doc Minnegan's soccer team earned him all-conference accolades in both sports. As a senior, he was named TU's Athlete of the Year.
"I think it was a tribute not only to his ability, but to his popularity," Henderson says.
Despite his success, Schuerholz's athletic ceiling ruled out a career as a pro ballplayer, so he taught eighth-grade world geography at North Point Junior High School in Baltimore County. He enjoyed the kids and the job, but something kept gnawing at him.
"In the midst of that love that I had for being an educator, there was nothing in my brain or in my soul or in my heart that drew me more to it than baseball," he says. "I loved baseball."
So one day during a break at school, he wrote a letter to Jerold Hoffberger, then the owner of the Orioles. It found its way to team president Frank Cashen, a former sportswriter who recognized the Schuerholz name. That landed John an interview, and eventually a position with the club as assistant director of player development beginning in 1966.
There was only one problem: Almost as soon as he started with the O's, Schuerholz received a draft notice. He joined the Army Reserve, which sent him to Fort Knox in Kentucky for basic training. While he subsequently was serving his country, the Orioles were busy winning the
1966 World Series. Schuerholz didn't get a ring that year, but there would be plenty of jewelry in his future.
In 1969, Schuerholz's boss, Lou Gorman, walked into his office.
"He was a real ebullient guy," Schuerholz recalls. "He said, 'John, I have good news: We are going to Kansas City.' The city had just been given an expansion franchise by Major League Baseball. I said, 'Lou, what's this we business? I'm a native Baltimorean, my entire family's here. I've got 50 or 60 relatives here. I went to high school across the street, all of my friends are here.' But I thought about it and I said, 'You know what? I'm going to do it.' It was a tough decision."
Soon after relocating, Schuerholz was driving around looking for a place to live. At the end of a long, fruitless Saturday of apartment hunting, he saw a "beautiful, beautiful woman" standing on the corner.
"I was out for a walk and he was driving through my apartment complex," Karen recalls. "He stopped to allow me to cross the street, and then he rolled down his window and started talking to me. He was looking for a new apartment, and he asked me how I enjoyed living there and whether I was listed in the book. When I finished my walk, there he was calling me on the phone."
That was just one instance (the most important one) of "divine providence," as Schuerholz likes to say, that has blessed him throughout his life. In 1981, he was named general manager of the Royals. He was 40 years old, making him at that time the youngest GM in Major League Baseball history. Just four years later, the franchise won its first World Series.
Schuerholz remained with Kansas City for another six seasons before embarking on a new challenge: reversing the fortunes of the hapless Atlanta Braves. When he became the team's general manager prior to the 1991 season, the Braves had finished last in the National League East division three straight years. Worse, apathy had set in among the fans. They were the only major league team to draw less than 1 million people the year before.
"I couldn't have drawn up a better candidate, but I never thought he was going to leave Kansas City," says Stan Kasten, then the president of the Braves and now the president and CEO of the Los Angeles Dodgers. "His background was in scouting. He had been successful in a smaller market. The way he carried himself, the way he spoke, I thought he could energize our front office and our city, in addition to just doing the things that we needed done with the team. I thought we were ready to take off."
Kasten was right on several levels. The Braves went from worst to first in 1991, beginning an unprecedented run of 14 straight division titles. In 1995, they beat Cleveland to win their first World Series since 1957.
"He has confidence in his ability to get it done, no matter what it is, and I think it rubs off on everybody underneath him," former Braves great Terry Pendleton said in a video produced by the team.
At the Braves' spring training facility in North Port, Florida, there's a phrase painted on the wall for all players and team personnel to see. "Winners make commitments, losers make excuses." It's a Schuerholzism that John believes perfectly embodies his leadership philosophy.
"I think that concisely says what we in this business all understand," he says. "If you can place that in the hearts and the minds and the wills of the people who are working for you or playing for you, as they walk through the clubhouse and see that quote on the wall, it grows. Some may toss it aside as poppycock or smooth talking, but that statement says it all about
our business. About our sport. About the kind of people we need to wear our uniform."
Schuerholz never buttoned up a big league jersey, but he's made an indelible mark on the sport nonetheless. At all levels. In 2001, John B. Schuerholz Park was dedicated in the heart of TU's campus. Schuerholz provided the lead gift for the project and served as chair of the fundraising drive for the ballpark, which is named for him and his father.
Although he's enjoying retired life, Schuerholz (who still holds the title vice chairman, emeritus with the Braves) misses the sport, Karen says. He still goes to the ballpark almost every day when the team is at home, and he watches every game on TV. The foundation that he helped to lay has situated the Braves as one of baseball's most consistent winners. This season, they won yet another N.L. East crown before winning the franchise's fourth World Series on Nov. 2, topping Houston in six games.
"Nobody has ever done the things he's done," Henderson says. "I'm talking about the big boys like [Branch] Rickey and guys like that. They never won 14 [division titles] in a row, they never won the World Series in two different leagues. And he never got bigheaded. He's never changed. Baltimore is in his heart, and that's never changed either."