Distinguished Young Alumni Award winner Darius Christian '11 performs with music's biggest names.
By Rebecca Kirkman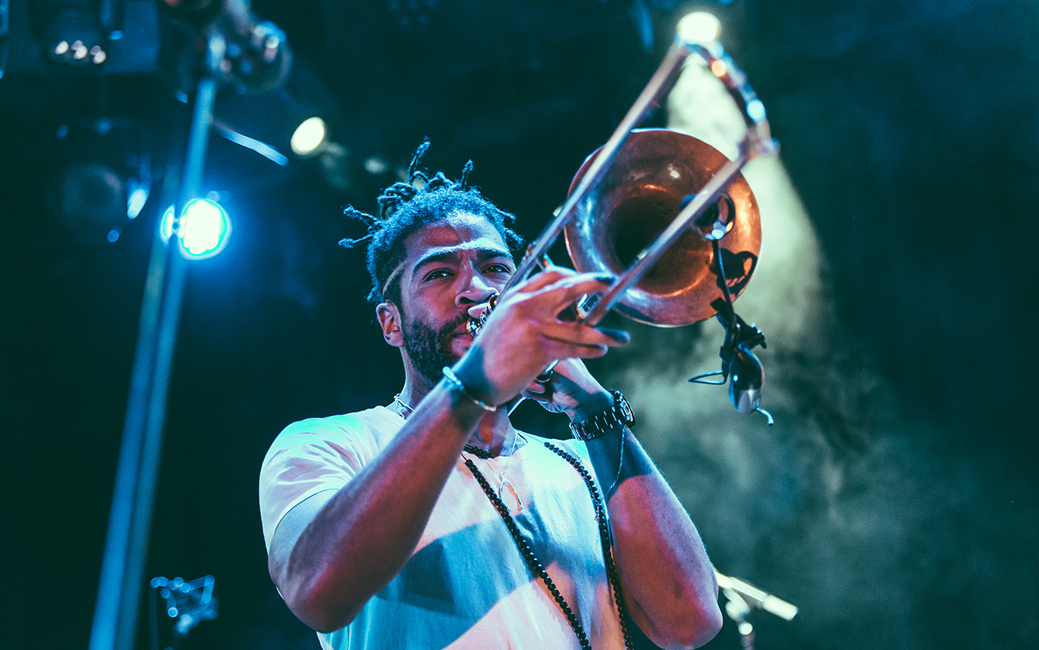 Raw talent and a decade of hard work have landed trombonist Darius Christian on stage with the likes of Miley Cyrus, Kelly Clarkson, Seal, Gwen Stefani, Rhianna, Adele—the list goes on.
When the pandemic put a stop to live performances for more than a year—Christian
was on tour with Gwen Stefani in Puerto Rico when the world shut down—the Baltimore native
used the time to record and "write incessantly."
"I wrote anywhere from one to three ideas per day," says Christian, who earned a bachelor's degree from TU in music with a concentration in jazz/commercial performance.
By July, he had more than 175 original songs sitting on his hard drive. He released a handful of the songs on his Bandcamp page every few weeks, leading up to the Oct. 18 debut of his first solo album, SCARYUS.
"Now to kind of just switch the brain to sharing and performing live—I've been looking forward to it," says Christian, who performed with Tony Bennett and Lady Gaga at Radio City Music Hall in New York City this summer and embarked on a reunion tour with Macklemore this fall.
In October, Christian was honored with the 2021 TU Distinguished Young Alumni Award for his success. He credits faculty in the music department and the TU Honors College for helping him develop the skills to succeed as a professional musician.
"I found the education at Towson to be incredibly hands on, incredibly brilliant. It's a blessing to have significant one-on-one time with some very successful educators," Christian says, pointing to faculty mentors like David Ballou, James McFalls and music department chair Phillip Collister. "The truth is, you don't get that everywhere."