Celebrating Top Tigers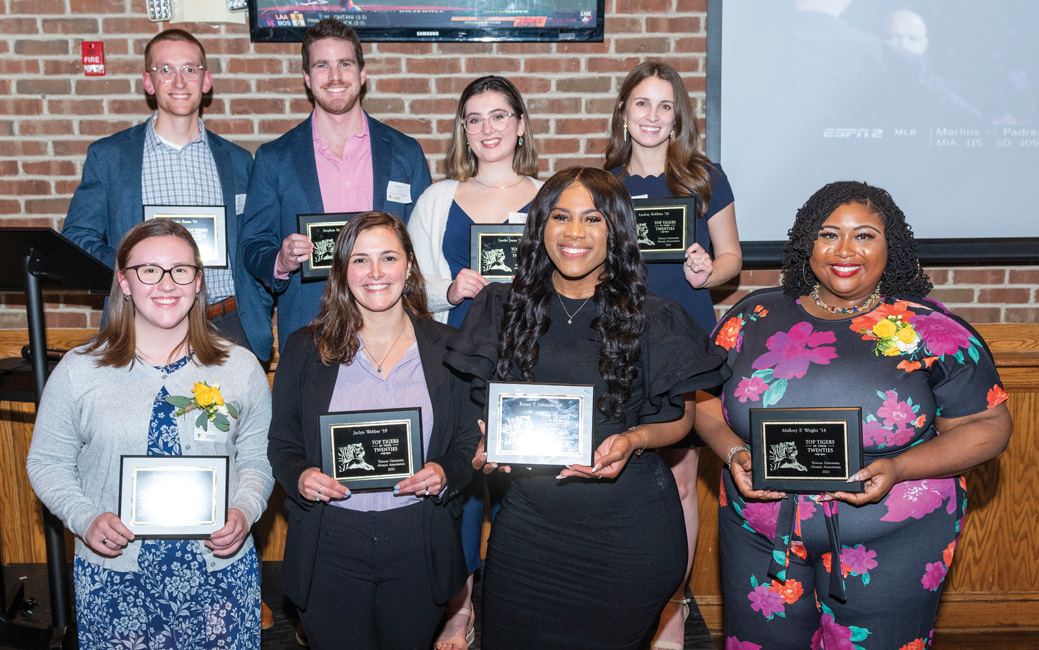 Eight exceptional young alumni were honored during our Top Tigers in Their 20s Awards & Senior Celebration at Charles Village Pub & Patio in Towson May 5. This competitive awards program recognizes alumni in their 20s who have had a positive impact on their communities and made significant contributions in their workplaces. This year's impressive recipients have excelled in a wide range of fields, including education, business development, government, counseling and information technology.
Korey T. Johnson '16, College of Fine Arts & Communication
Lyndsi Jones '17, College of Fine Arts & Communication
Luke Penne '14, College of Business & Economics
Lindsay Robbins '18, College of Liberal Arts
Stephen M. Torres '14, College of Business & Economics
Jaclyn Webber '19, College of Liberal Arts
Mallory P. Wright '14, College of Education
Paige Zaleppa '19, '21, Jess and Mildred Fisher College of Science & Mathematics
---
Tigers for Good
At our Alumni Volunteer Appreciation Cookout April 30, we thanked generous alumni for all the ways they have given back to (and with) Towson University the past two years—whether volunteering at quarterly service projects, assisting with Commencement, serving on the alumni association board, leading an alliance, speaking at an in-person class or webinar, writing postcards to accepted students or promoting TU through our Social Tigers program. We also presented Thomas Slemp '14 with the 2022 Alumni Volunteer of the Year Award. Slemp has been a constant presence at quarterly service projects in addition to supporting the alumni postcard initiative. He truly embodies a giving Tiger spirit.
---
Alumni Events
California
The TU Alumni Association had an action-packed adventure visiting Tigers in Southern California April 21–24. The trip began with a reception at Top of the Market in San Diego. From there, we headed to Newport Coast where Glenn Stearns '87 and his wife, Mindy, graciously hosted a reception at their home. Finally, we stopped in San Francisco where alumni were treated to a private wine and cheese pairing event at The Cheese School of San Francisco.
Atlanta
On June 3, Tigers in the Atlanta area met for a fun night at Gypsy Kitchen in Buckhead.
Let's Hear It for the Graduates
Last May we welcomed more than 3,500 new members to the TU alumni family. As part of Senior Week May 2–6, the Office of Alumni Relations hosted several events leading up to the celebrations, including free, professional photo sessions for graduating seniors.
Harry Potter in Philadelphia
Nearly 200 Tigers traveled to Philadelphia for the world premiere of Harry Potter: The Exhibition. The popular event drew alumni from Maryland, Pennsylvania, New York and New Jersey and gave participants an inside glimpse into the iconic moments, characters, settings and beasts of the beloved series' stories and films.