Department of Art + Design, Art History, Art Education faculty Jenn Figg and Matthew McCormack push for the impossible in their large-scale art installations.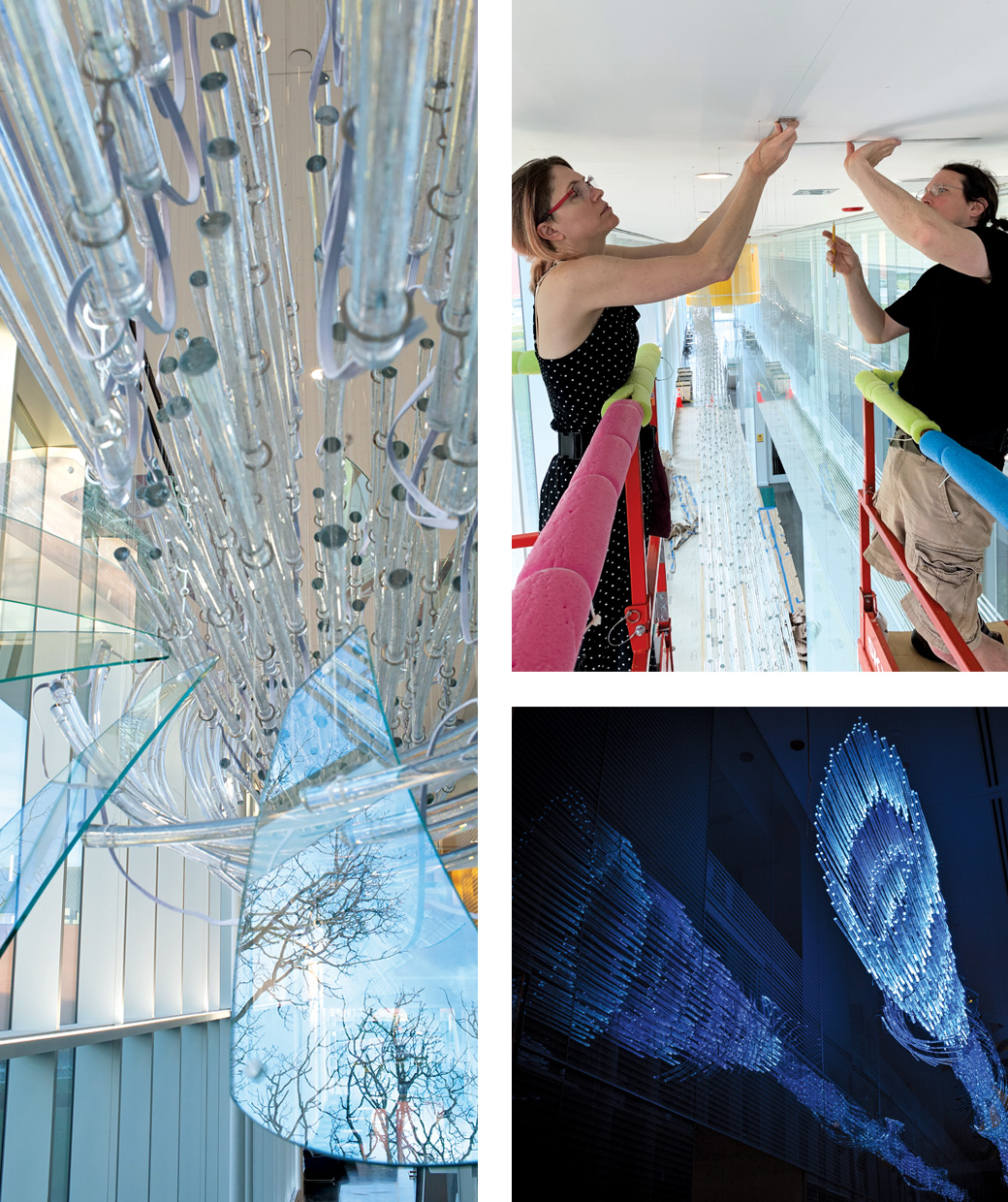 At sunset, the 1,650 pieces of mica embedded in the glass composing "Light Pressure," a 100-foot-long sculpture suspended from the ceiling of the Fascitelli Center for Advanced Engineering at the University of Rhode Island, begin to sparkle.
After dark, 2,000 individual LEDs illuminate it with gently fading, colorful light patterns inspired by the transmission of energy.
The internet-connected sculpture reads the time of day, temperature, certain aspects of weather and the tides in real time. The result is data-fed drama.
It is the largest of four works commissioned by the Rhode Island State Council on the Arts and the University of Rhode Island from Jenn Figg and Matthew McCormack, associate and adjunct professors, respectively, in TU's College of Fine Arts & Communication. "Droplets," a series of three site-specific sculptures also suspended from the ceiling, are constructed from mold-blown and kiln-formed glass and fitted with light nodes.
Working on such large-scale commissions informs Figg's approach in the classroom. She also shares her extensive research process. "They have their idea, but what is informing their idea? We don't make art in a vacuum."
She says it takes a nimble mind to combine taught skills with a great idea. "That's what I ask my students: to be very agile and to take risks. And that can be really scary."
Figg and McCormack push past that fear to reach for the unimaginable.
"We've imagined more and more impossibility," Figg says. "We ask, 'What is impossible? Let's run toward that.'"