Fallen But Never Forgotten
Officer Amy Caprio '10 was a wife, sister, aunt, godmother, friend, animal lover and Garry and Debbie Sorrells' youngest child.
By Mike Unger
Photos By Lauren Castellana '13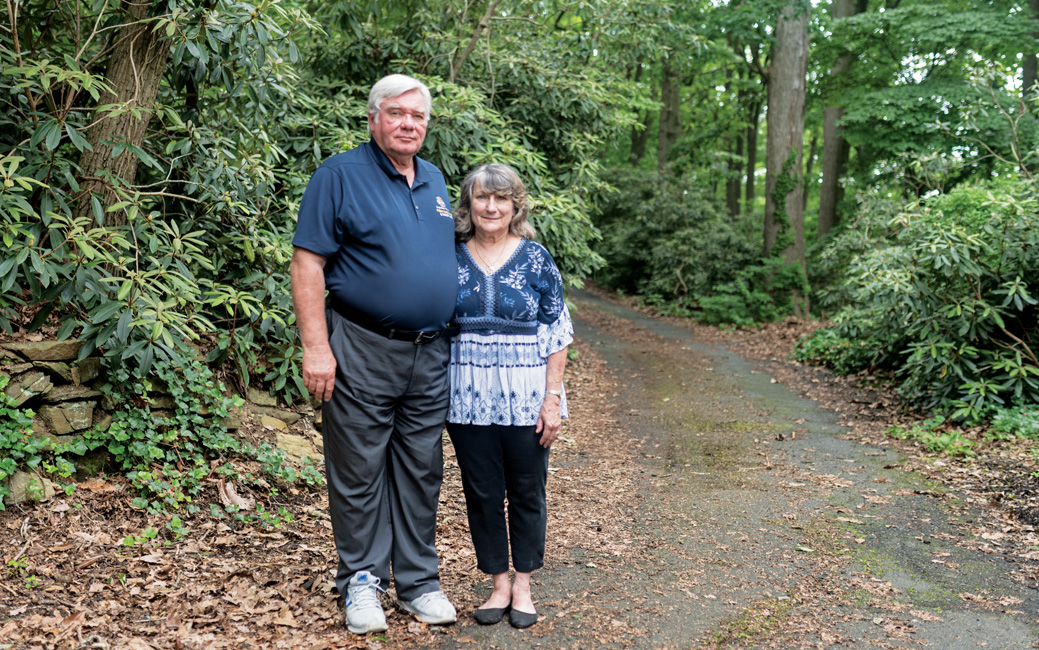 In many ways, she still lives in the old house at the end of the driveway that winds through the woods. Outside the garage sits her blue 1993 Jeep Cherokee, the one in which she learned to drive. The car looks different now—much different—but its frame is the same as when she first adjusted the mirrors, buckled her seat belt and cautiously turned the key in the ignition.
On a wall near a side door hangs a flat wooden American flag, its white stars on a blue background, her name written on one of the stripes, 5785—her badge number—on another.
Inside, her image is everywhere. On a table near the staircase is a formal school photo of her wearing a black dress and a thin necklace. In one picture that hangs on a wall she's dressed in her police uniform, smiling proudly if reservedly, having just graduated from the academy. In another she's wearing her white wedding gown, holding a bouquet of flowers, her hair flowing over her shoulders. Above the television in the living room is a portrait of her, an unsolicited gift from an artist whose name her parents, Garry and Debbie, can't remember.
"It's Amy," Debbie says, beaming. "I love it."
Mementos are scattered throughout the home in Glen Arm. Her framed Loch Raven High School soccer jersey rests on the floor, leaning against an end table. Her No. 24 is now retired. A teddy bear wearing a police uniform with her last name and badge number on a patch sewn to the chest sits on an armchair. A quilt, made by a stranger, is draped over the couch. It's a favorite lounging spot for the family cat, Chase.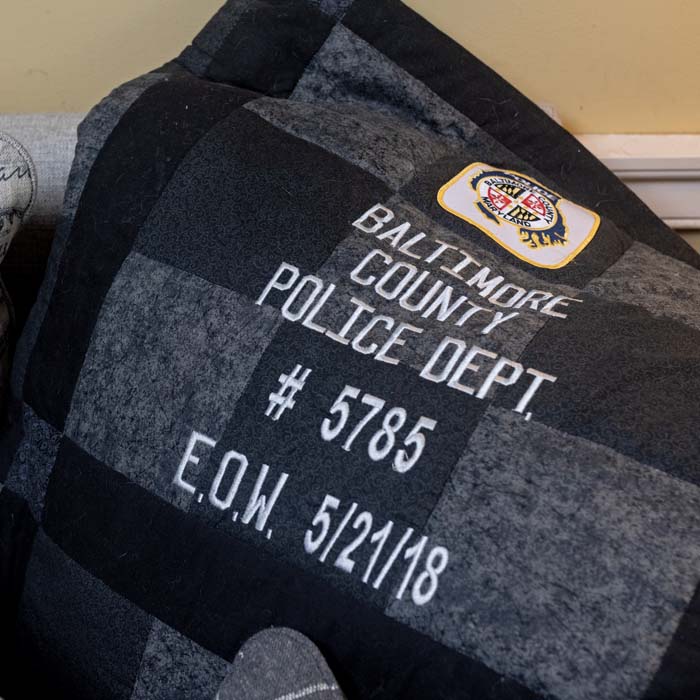 "We got so many wonderful things from people we didn't even know," Debbie says. "We were getting so much that I don't know what to do with all of these things. I don't want my house to look like a morgue. But…"
Her voice trails off as she looks around. It's been more than four years since Baltimore County Police Officer Amy Caprio '10—wife, sister, aunt, godmother, friend, animal lover and Garry and Debbie Sorrells' youngest child—was killed in the line of duty.
"It's not every minute of every waking moment, but the thought occurs to me many times during a day that Amy's not here," Garry says. "It's kind of like a flash—all that transpired gets pushed into a quick thought. It can either make you happy or sad, but it's a day-in, day-out, never-ending story."
For Debbie, the triggers can come from anywhere. A song on the radio. The profile of a woman at the grocery store who, for a split second, looks like Amy. She doesn't fight these thoughts and feelings. She embraces them.
"That was one of my biggest fears, that she'd be forgotten," Debbie says. "That she's not gives me a sense of peace."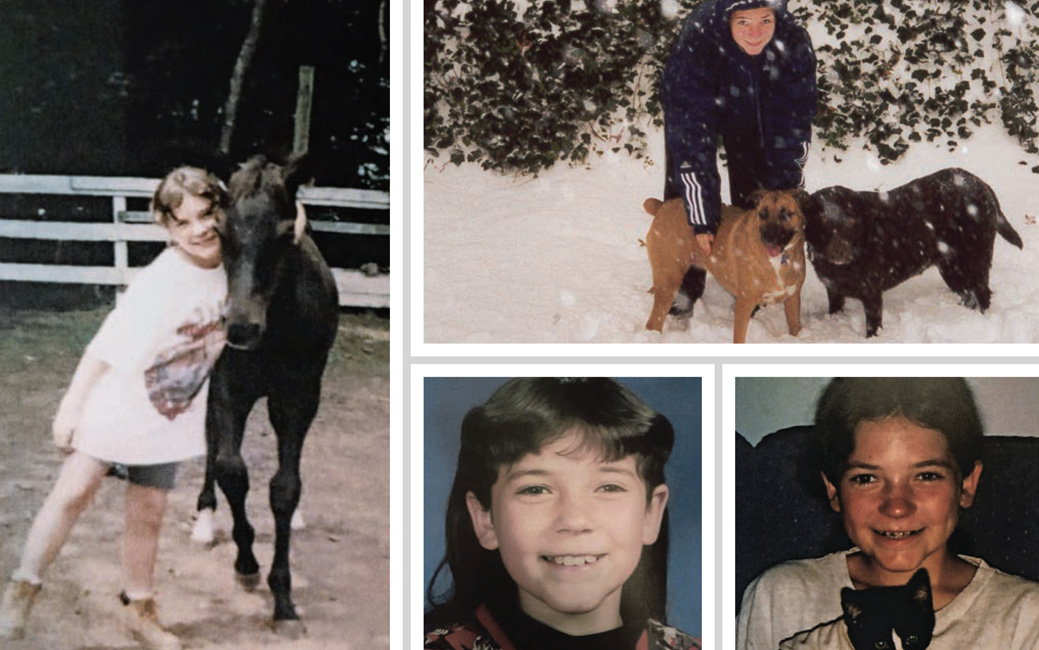 Debbie felt strongly that her third child would be a girl. She didn't have a clue about her first, who turned out to be Kristin '08. Her second pregnancy was so different that she swore Laura '10 was going to be a boy. Despite that shaky prognostication record, she was so sure about her third's gender that she let her two young daughters pick their little sister's name. It was a long and somewhat disjointed list—Godzilla was among the girls' contenders—but eventually they settled on Amy, an anagram of the month in which she was born.
Amy was, shall we say, a chubby baby.
"She was just rolls of fat," Debbie says, laughing. "She looked like the Michelin Man."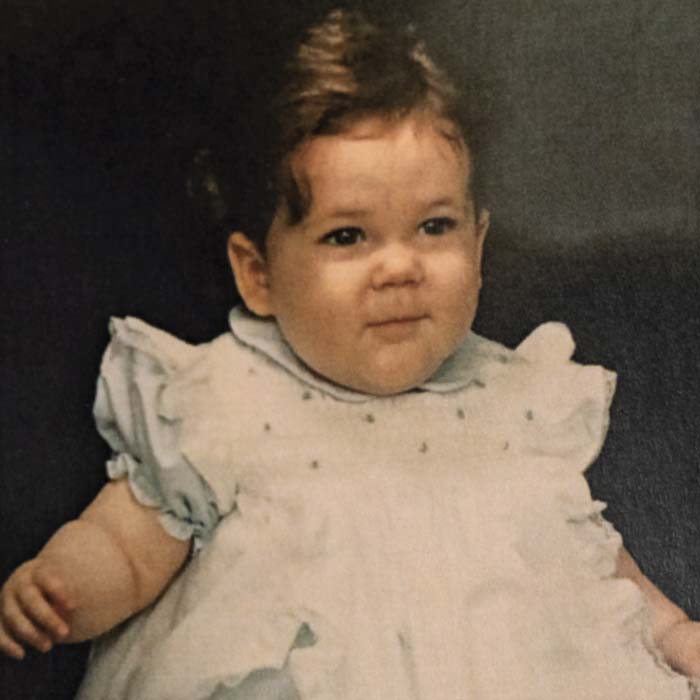 After much parental consternation, she began to walk just before her second birthday. She had help. Months after Kristin was born, the family got a dog named Jacqueline. Part Newfoundland, part retriever, the pooch was every bit a member of the family as the kids.
"Amy used the dog to pull up and hang onto," Garry says. "[Jacqueline] was long haired, so there was a lot to grab hold of. The kids used the dog to basically learn to walk."Once Amy started moving, she rarely stopped. She began playing soccer in first grade. Her reasoning for becoming goalie didn't include a romantic notion of leading the defense.
"She hated running," Debbie says. "'Running's dumb.' That was her famous quote. I think because she was the third child, she was very possessive of what was hers. When she was in goal, I think she felt like, 'This is my space. Don't invade it.'"
Over the course of her career, she broke her clavicle, arm and wrist. But Amy was tough. After each injury, she came back stronger. Always a good student, she later picked up the saxophone and, like soccer, kept with it through high school.
When it came time to pick a college, she looked at the University of Delaware, but really, there was little doubt she'd attend TU. Towson roots run deep in the Sorrells family. Debbie's mother and father graduated from TU, and she and Garry took classes at the school. Both Amy's
sisters are alums: Kristin earned a master's in speech pathology and audiology and Laura a bachelor's in art education.
It was in a research methods class where Amy met Tim Caprio '10. The two hit it off, and a month later he took her to a movie and to get a snowball.
"She was quiet but seemed to have her stuff together," he says.
She graduated with a degree in exercise science and began working at St. Joseph's. Three and a half years after they met, Tim proposed while they were kayaking on Loch Raven Reservoir. They got married in 2015 at Rocks State Park in Harford County. It was a simple, rustic wedding. The guests ate barbecue and played cornhole. After a short honeymoon at Deep Creek Lake in western Maryland, they settled into a quiet life with their pit bull rescue, Doodle.
Things were good, but Amy had an itch. She wanted something more, a job in which she could make what she felt like was a greater impact on the community. She began researching police departments in the area and set her sights on becoming a cop. She was 24 when she applied to the Baltimore County Police Department.
"Once she made up her mind about something, that was it," Debbie says. "She seemed really passionate about being a police officer. She had researched it, she had talked to various people about it. She had done a ride along. You want your kids to find something that they're happy about, so I supported her."
The mental and physical demands of the police academy were not easy. For one, there was a lot of running, which somehow, she accomplished. In the end, it was her poor vision that torpedoed her. But Amy was not to be denied. She underwent Lasik surgery and re-enrolled.
"During the final personal training test, she had to go over a wall, and she couldn't do it," Tim says. "But she had a second chance, and she did it. I think it was kind of ironic. A wall was your biggest obstacle. I was happy to see her achieve that goal."
Debbie was in the kitchen of the family home, steps from where she's now recounting this story, when Amy called in 2015 to tell her the news.
"She was so excited; you could just hear it in her voice," Debbie recalls. "I was glad she wasn't in front of me because I just had this sinking feeling in my stomach. I said, 'I can tell that you're really happy, and I can't protect you anymore. I just pray that you have a guardian angel.'"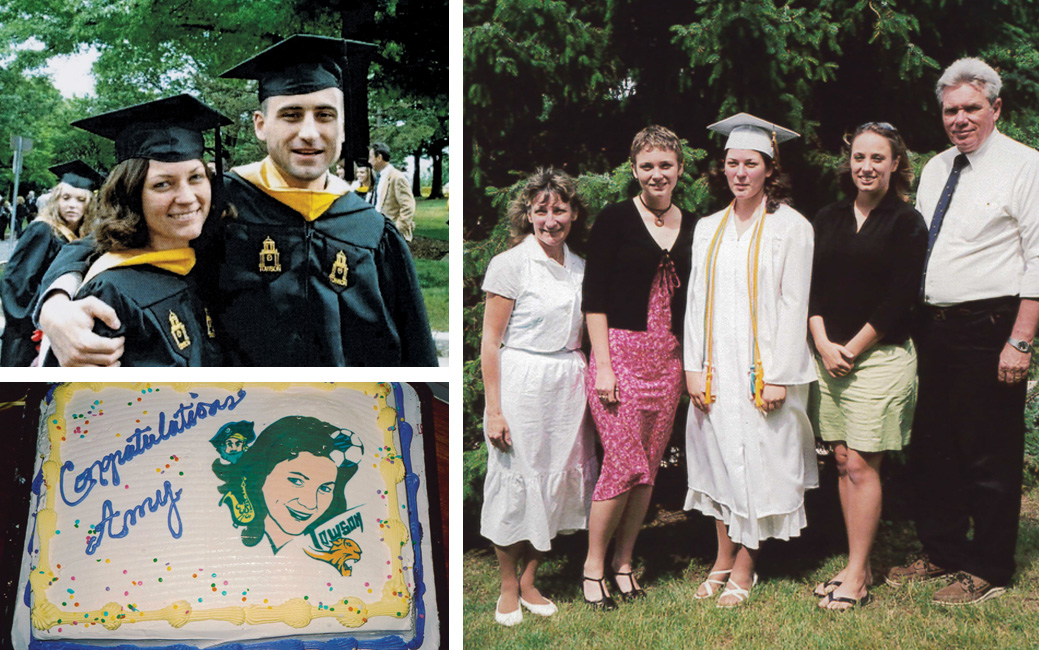 The man was standing in an alley, holding a gun. He was agitated, speaking in Spanish. Amy was the first officer on the scene.
"He was swinging it around, and it was a hard line for her to figure out what to do," recalls Cara Ensor, who became close friends with Amy when they were five years old. "I remember her saying, 'My instincts said to try to talk to him.'"
Despite the language barrier, it worked. She deescalated the situation safely and arrested the man, who was armed with a BB gun.
"She specifically told me that the lawyer of that kid told her, 'Thank you for not shooting my client,'" Tim says.
Victoria Hawkins '13 is a Baltimore County officer who became friends with Amy on the job.
"Her best trait was how she treated people," Hawkins says. "She would be able to lock somebody up, fight with them if she had to and then be friends with them by the time she's leaving the precinct. I was a field training officer—you can't teach that. No matter how good of an officer they are, you can't instill that in somebody."
The job was dangerous, for sure, but a normal day was more mundane. Amy would stop by schools in her district and play with students at recess. Once, she responded to a call about a bunch of packages on the side of the road. She discovered that they had been stolen and dumped and began the monotonous work of tracking down their rightful owners.
Eventually suspects were identified and accused of stealing packages in other counties as well. One of the items that was taken was a handmade quilt. When the suspects were arrested, the quilt was recovered.
"It meant so much to that family to have this keepsake," says Deanna Chemelli, captain of the Towson precinct. She was Amy's lieutenant when they worked in Parkville. "Had Amy not really pushed the case and exhausted all of her leads, they probably never would have recovered that. She was a young officer, and I found her to be extremely mature
and capable. The way she carried herself, the way she handled calls, the way she treated people—she possessed the qualities of a much more tenured officer."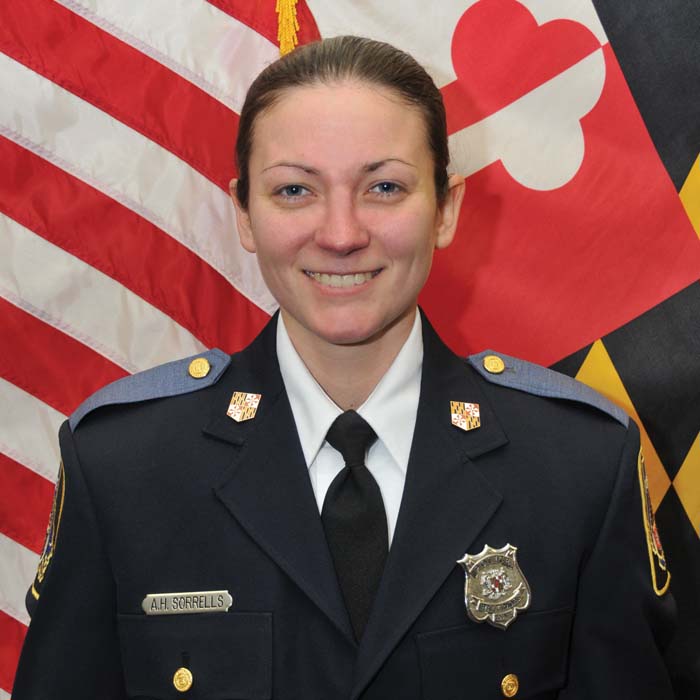 Nothing got Amy as excited as responding to a call about a lost dog. She kept treats and leashes in her police cruiser and delighted in finding pets and returning them to their
owners before animal control got involved. Once, she and Hawkins tried to track down a runaway pit bull and a shepherd.
"Everybody's scared of them, but she just opens her door and the one runs right into her car," Hawkins says. "I'd been chasing this one around for 15 minutes."
Amy just had a way with animals. She cried when something happened to one in a movie. As a kid, she would run through the woods to gaze at the neighbors' horses. On the job, she once returned a lost pot-bellied pig to its home. If she saw a turtle in the road, Debbie says, she'd stop her car, get out and move it.
"She liked the unconditional love of dogs," Tim says, as Doodle lounges next to him. "Compared to humans, they're less evil, I think."
On May 21, 2018, Amy responded to a call about a suspicious vehicle in Perry Hall. When she arrived, she found a 17-year-old behind the wheel of a Jeep. According to The Sun, she blocked his way out with her patrol car, jumped out and ordered him to stop. The Jeep sped toward her, and she drew her gun, screaming, "Stop! Stop!" The teen stopped the Jeep and cracked the door as if to surrender. Then he ducked down and pressed the gas. Amy fired once before he ran her over. The entire scene was captured by her body camera.
Chemelli lives about a mile and half from where it happened. She had just gotten home from work when she was called. She rushed to the scene and arrived as the paramedics did. She rode with Amy to Medstar Franklin Square Medical Center and was in the room when Amy was declared dead.
Amy Caprio was 29 years old.
"I leaned down and I gave Amy a kiss on her forehead, and I told her that we all loved her, and she would forever be our hero," Chemelli says. "Her mom wasn't there. This was someone's daughter. I think I was more of a mom in that moment than a police officer. And I think that's
what Amy needed."
Officers contacted Amy's family and took them to the hospital. They told them only that something had happened to her. When they arrived, police cars were everywhere. Information was hard to come by. Inside, Debbie took a seat in a waiting room between two people she didn't know.
"An officer said, 'I guess everybody knows why we're here,'" Debbie recalls. "I remember looking around thinking, 'I don't know why we're here.' He just came out and said, 'Officer Amy Caprio has been killed.' I remember putting my book down, and I honestly don't remember what else he said."
When Debbie was finally allowed to see Amy, she was told not to touch her. A sheet covered Amy from her feet to her shoulders.
"I was wondering what she would look like, whether there would be a face of fear or anger or pain," Debbie says. "She looked so quiet and so peaceful and so beautiful. I think this was one of the best gifts she gave me. She looked angelic."


Everyone who knew her agrees that Amy, a private person in life, would have hated all the attention that came her way in death. She was a T-shirt and jeans kind of woman who was more comfortable hanging out with a few friends than in a big group.
Thousands of people, including contingents from police departments from other states, attended her funeral. Maryland Gov. Larry Hogan spoke. Ensor, her best friend, sang "Turn, Turn, Turn." Hundreds of officers lined the parking lot while a color guard transported her American-flag-draped casket to the hearse.
As the procession made its way from the church to the cemetery where some of her ashes were interred, media helicopters hovered above. Onlookers gathered on an overpass above I-95 to pay their respects. Firefighters raised an American flag at the top of their extended ladder.
Amy's parents are people of faith. In the days, months and years following her death, they found that theirs was tested.
"A lot of times people have a falling out [with religion] because they go, 'How can this be done to me?' Or, 'Why did this happen?'" Garry says. "I don't go there. As you get older your vision of what God is [changes]. There was no revelation. What happens happens."
More than a year later, the 17-year-old was convicted of murdering Amy and was sentenced to life in prison. Three other teens who were with him at the time, burglarizing nearby homes, had earlier pled guilty to felony murder and were sentenced to 30 years each.
"I just kind of looked at it as, this is not a closure but an end of a phase," Garry says. "As far as the four guys, it will go on as long as I'm alive. It will be emotional turmoil because they're still alive. Amy's not. Whatever you want to call their existence of life, they've got it."
Debbie's perspective is slightly different.
"To be perfectly honest, I only remember one name of the young men that were involved," she says. "You can't bring Amy back regardless of what the sentence is. And these young people have ruined their lives. So there's no win."
Still, Debbie is determined to see the light in life. She wrote a children's book about Amy called The Story of the Dragonfly. It was illustrated by Laura. She read it for students at Gunpowder Elementary School, where Amy used to stop while she was on patrol.
"I was afraid that if I dwelled on the negativity of everything and tried to understand all of it, I would go down into this deep, dark hole," Debbie says. "I didn't want to hate people, and I didn't want to be afraid to leave my house. I didn't want to turn into a bitter person."
The Jeep in the driveway, the one Amy learned to drive in, is covered with large photos of her. It was refurbished by Krawlin' for COPS, an organization that helps the families of slain officers. There are pictures of Amy and her family on the day she graduated from TU. There's one of Amy and Doodle. One of Amy and Tim.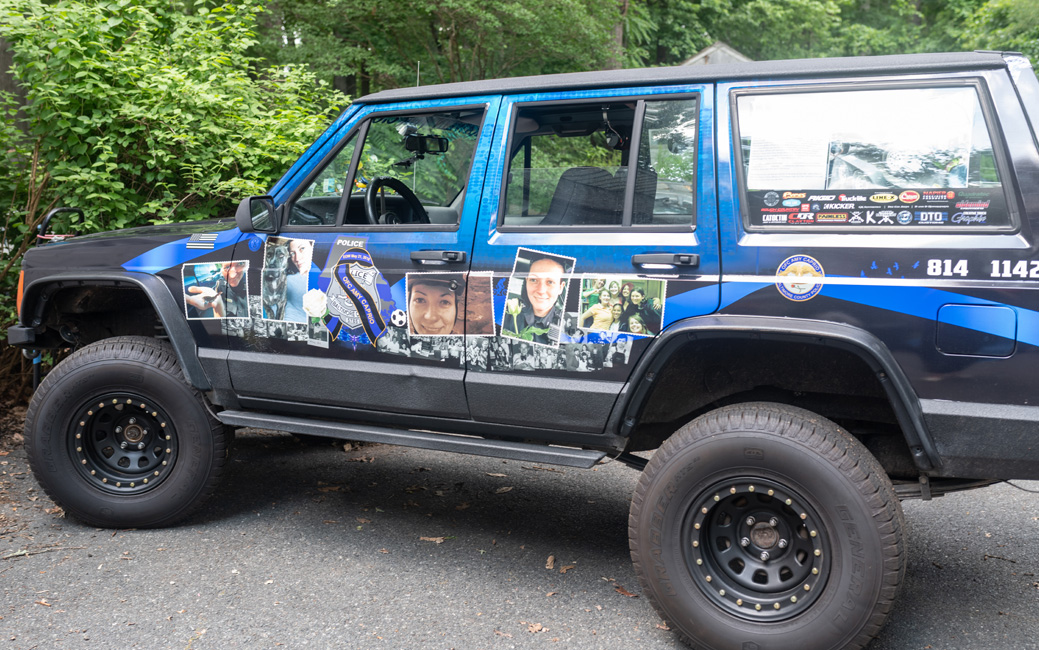 Tim sold the house they used to live in, and he now lives close to Garry and Debbie in Glen Arm. He says he's doing well, though he doesn't think he would have made it through without Doodle.
"I never got to say goodbye," says Tim, who has a tattoo of Amy's badge and her name on his calf. "We were best friends."
Chemelli says she still thinks about Amy every day. She wears a necklace with Amy's badge number to work and keeps a laminated note from Debbie in her vest.
"As a shift commander, I look at a lot of the officers like I do my children," says the 28-year veteran of the force. "My goal is that all my officers go home every night. With Amy, that didn't happen. For me, there's a lot of guilt that I wasn't able to protect her. That's just something I have to cope with. The kindness and the compassion that she displayed, I wish everyone had. Police officers and citizens."
Sitting in his recliner in the living room of the house where he grew up, raised his three children and where he still spends his days and nights, Garry reflects on what he's lost.
What's been taken from him.
"If you had to list what you would like to have as a good child—I won't say the perfect child—she had pretty much checked off all the boxes," he says. "She understood the concepts of right and wrong. There were not gray areas. There was not situational ethics. If I'm driving too fast, she would fuss at me. It was enjoyable just to sit down and talk to her or just be in the same room with her. She was a child, a friend and a confidante at some times. The biggest gift Amy perpetuated with Debbie and I was that she was always around. She never lost the concept of family."
Beside the high school photo of her on the table near the staircase is another photo, of a little girl named Cadence. When she was born seven years ago, there was no question whom her mother, Cara Ensor, was going to ask to be her godmother.
"I wanted her to have that connection not only with me but with my kid," she says. "Amy and I were supposed to grow old together, so I figured that it would be Amy, Cadence and I growing old together."
Cadence still has some faint memories of Amy, like eating pizza together on girl getaways. She loves showing people a photo on her mom's phone of Amy at the hospital after she was born.
"[Amy] fully accepted me for every bit of who I am. It's hard to picture life without her," Ensor says over the phone, as she starts to cry. "She was supposed to always be here. She was a little bit of my caretaker. She was always the person who made sure I was okay."
In the background, a little voice chirps up. "Yeah, and me too," Cadence says.