The One Job that Changed My Life
Rasul Wright '22
TU history major from College Park, Maryland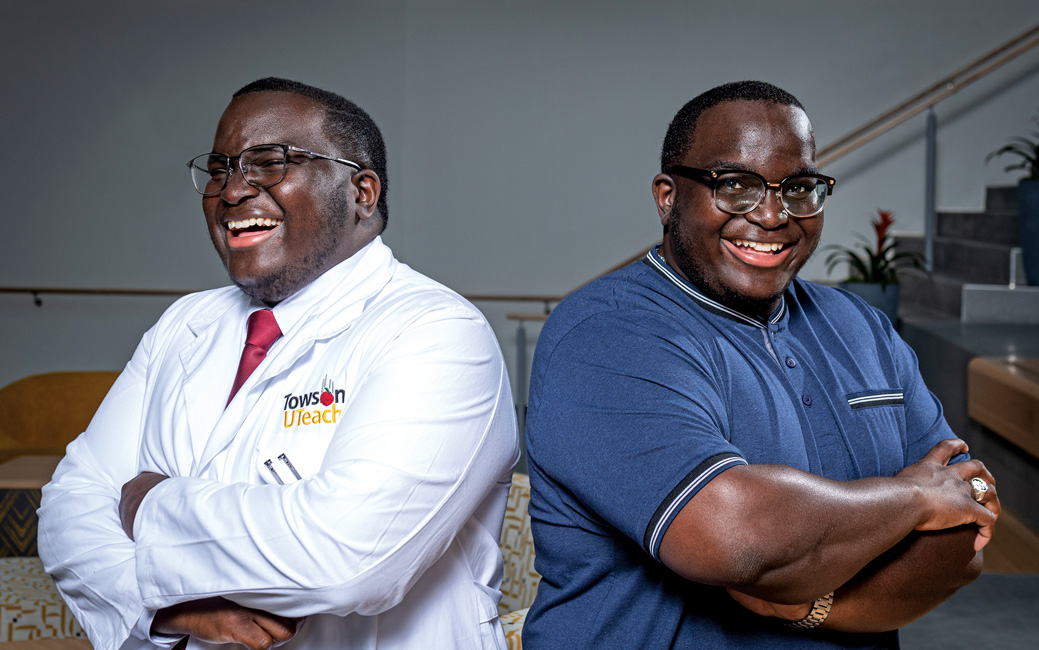 After my brother, Malachi (pictured wearing white), and I graduated high school, we transitioned right into working at BJ's Wholesale Club. I worked in the tire bay, changing tires and performing routine car maintenance, while he worked in the grocery department as a cashier.
We were planning to stay at BJ's, thinking that was the last stop in our careers. Malachi, my identical twin, likes to remind me he is 15 minutes older. We are the second and third of nine children.
Our dad was a schoolteacher, and our mom stayed at home with us. Money was scarce, so we didn't know if we would be able to afford college. Thanks to a scholarship, we were able to start our higher education journey at Prince George's Community College (PGCC). We enrolled because many of our co-workers at BJ's would tell us that we have all the potential in
the world, but we needed to get our college education.
During our first semester at PGCC, we realized how lucky we were. We always complained that we had to be up at 7:30 for an 8 a.m. class. One day after again hearing us complain about our early morning, one of our older co-workers, Donald, pulled us aside. Donald, who is 60, told us that he wished he was in our shoes. He told us that his future was decided, but we could choose what we wanted to do with ours. After that conversation, we knew that we had an opportunity few people get.
We realized that if we wanted to do something for ourselves to propel our futures, we needed to make sure that we were in the best position to achieve. After that first term at PGCC, we buckled down and earned 4.0 grade point averages during the rest of our time there. We also took on leadership positions in multiple student organizations.
Through our majors, we have a focused concentration on secondary education, which we plan to use to help the next generation. This fall, we will be teaching in local middle schools, and Malachi was also part of the UTeach program, which helped him better understand how to bring project- and evidence-based learning into the classroom.
All the hard work and dedication, everything that went into working at BJ's, we took the same fundamentals and applied them to school. It's not always about being the smartest but having a great work ethic. If you have that great work ethic, you will be able to succeed and excel in any endeavor you choose.
I am now entering my final term and will graduate with a bachelor's degree in history. I plan to go to law school. Malachi is in his final term and will graduate with a degree in biology and has been accepted to several prestigious dental schools. TU gave us a chance to achieve our dreams of higher education and our co-workers gave us the inspiration to pursue those dreams.