Preservation and Perseverance
Her family's search for a better life in America inspired Lone Azola '68 to build a legacy in education and historic preservation.
By Rebecca Kirkman
Photos by Lauren Castellana '13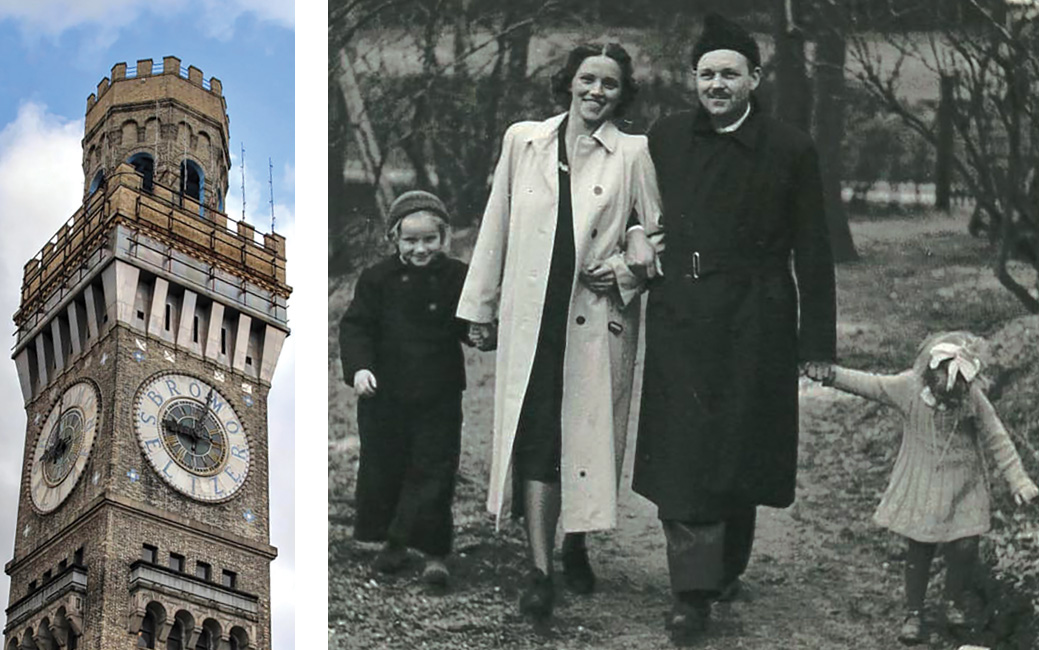 By the time Lone Azola '68 began her studies at then-Towson State College in 1964, she had already called dozens of places home.
The first was Copenhagen, where her father, Odin Tidemand, worked for the Danish Ministry of Fisheries and, with her mother, Blanca, saved hundreds of Jewish lives during the Nazi occupation of Denmark in World War II.
"They hid in the Tuborg beer factory in Copenhagen," says Lone, now 76, from the living room of the dairy barn-turned-home near Lake Roland in Towson where she lives with her husband, Martin Azola. "The brewery was right by the waterway that they used to ferry the Jewish families in little fishing boats across to Sweden in the dead of night."
Like her Danish family's perseverance through dozens of moves—at first on the run from German soldiers and then to America in search of a better life—the Azola family home is a symbol of resilience.
The family took refuge in an old dairy barn in the holdings of the Azola Companies—the family's restoration and renovation business—that was deemed worthless by the bank when the Azolas were forced to declare bankruptcy in the late 1980s. It has been lovingly restored over 30 years into a shining example of the family business' principles: historic preservation and adaptive reuse.
As business director for the Azola Cos., which has led the renovation of some of the region's most well-known historic properties—including the Bromo Seltzer Tower, The Ivy Hotel and the Mansion House at the Maryland Zoo in Baltimore—Lone has helped to shape the fabric of the greater Baltimore region. And, she says, her success is due in a large degree to her close relationship with Towson University, which has spanned more than 60 years.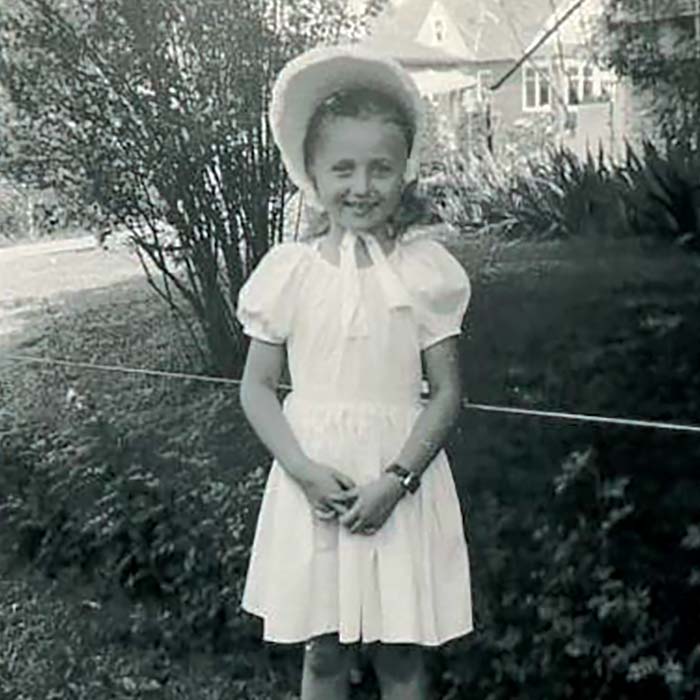 Lone was born in Copenhagen a year after VE Day. World War II and her parents' work in the Danish Resistance deeply impacted the rest of her life.
"I grew up with it because my dad would tell us all his stories and my mom, too," she recalls, noting that her father, rumored to be at the top of the Gestapo hit list, maintained a false identity in case an escape to Sweden was necessary.
During Gestapo raids, Blanca would schmooze the German soldiers while Odin escaped out the back door—prompting the family to quickly and frequently relocate in search of safety.
"My mom saw her friends shot down in front of her in the street," Lone says.
Once, Lone says, a member of the Gestapo smashed the butt of a rifle into her father's chest and gave her oldest sister, Yvonne—then a toddler—a loaded gun to play with. Another time, her father was arrested but ultimately released after convincing the soldiers they had the wrong man.
During the war, the family lost its first-born son at 1 year old to pneumonia because the German occupation prevented access to the necessary treatment.
A few months after Lone was born, the family moved to the 850-acre Danish prison island of Livø, where her father oversaw operations and about 100 inmates. But fear of a Russian invasion of Denmark prompted the family's biggest move yet—an 11-day journey across the Atlantic to New York City in 1951.
"It was scary to fall asleep at night," Lone says. "I always used to think, 'Oh my God, the Russians are coming. I know they're going to come here and find us.'"
The Tidemands, including Yvonne, 8, Lone, 5, and Odin, 2, arrived in America speaking no English and with just a few trunks of possessions and $200 in savings. The family took a Greyhound bus to Laurel, Maryland, where they had arranged to meet their sponsor, a Danish physician. The family waited for hours, but he didn't show.
"My father called his home on a payphone at the Greyhound station," Lone says, recalling that his wife answered the call. "Our sponsor had been in D.C. for the day and hadn't told his American wife anything about us. Finally, she said she would take us in if my mother would do all the cooking."
Despite holding a master's license in navigation and serving as an officer in the Danish government, Odin's credentials were not honored in the U.S. So he worked a series of odd jobs, moving the family to Annapolis and Baltimore before eventually ending up on the campus of then-Towson State Teachers College in 1958.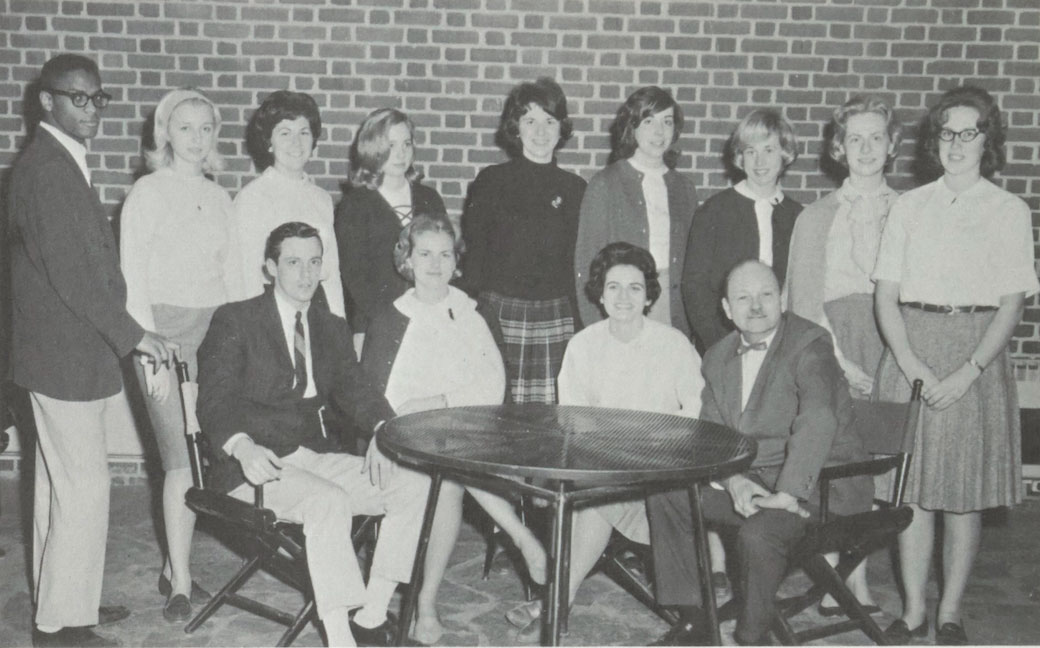 When Lone was 12 years old, her father was hired as the university's maintenance superintendent and the family moved into a small, white farmhouse on campus near where Bosley Avenue and Towsontown Boulevard intersect today.
Lone enjoyed the vibrancy of campus life.
"I always thought it was an exciting place for my father to work," she says. "My dad used to take us to staff picnics, and I remember we roamed all over campus and played tennis on the tennis courts."
Working out of Newell Hall, Odin was profiled in a May 1960 issue of The Tower Light student newspaper for his "outstanding personality."
"He was friends with so many students. They adored him and his scrappy Danish accent," Lone says.
She served as an interpreter when there were language barriers. "He always had a little stub of a cigar hanging out of his mouth."
The family lived on campus for less than a year (the farmhouse was demolished during a time of rapid growth for the university that made way for the construction of Scarborough, Smith, Linthicum and Burdick halls), but the Tidemands remained in Baltimore County.
Odin continued in the role for more than eight years, including when Lone enrolled in Towson State College to study French in 1964.
Lone worked several jobs as a student, including as a switchboard operator at O'Conor & Flynn Realtors, a college model for Hutzler's department store and on campus in the undergraduate evening office.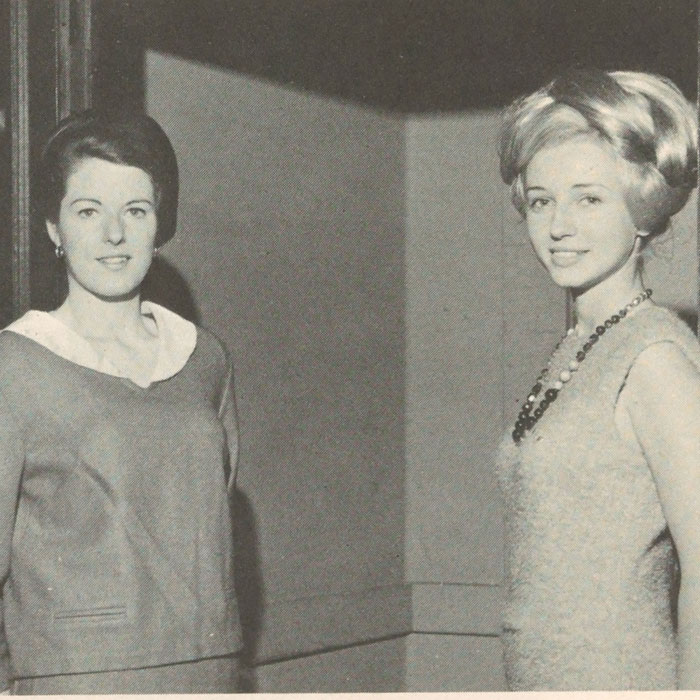 She was a member of the French Club, Student Government Association, Orientation Leaders and the Civil Defense Group founded by her father, where students practiced disaster preparedness.
Read an article in a March 1965 Tower Light issue about Lone Tidemand (Azola)
"Those were the days of the Cold War," she says. "We learned how to use a Geiger counter to detect radioactivity," among other skills, including first aid certification.
After graduation, Lone moved with her new husband, whom she had met as a student at Towson High School, to southwestern Virginia. There, the 23-year-old taught fifth grade at Mayfield, a rural schoolhouse in the Blue Ridge Mountains, while her husband attended graduate school at Virginia Tech.
The couple moved again in 1969 when the Air Force assigned Marty to an airbase in Alaska, 26 miles southeast of Fairbanks and 110 miles south of the Arctic Circle. Again, her education and experience came in handy, and Lone was hired by the high school on Eielson Air Force Base.
The closest town—North Pole, Alaska, population 1,500—was nine miles away. The Azolas adjusted to life in a place where the summers brought days of up to 22 hours of sunlight and
winters dipped to just four hours of it per day. Often, the day's high and low temperatures were all well below zero degrees Fahrenheit. Teachers commuted by dog sleds, and, on
several occasions, snow nearly buried the high school.
At Ben Eielson High School, 24-year-old Lone taught French.
"All of a sudden, everybody wanted to take French," she recalls. "There were some slackers; they weren't there to learn, they were there to goof off. And I kicked them out the first day—down to the office."
Her tough love approach with the students, however, worked.
"The first year I was there, the students made me Teacher of the Year," she says. "I don't quite know why because I had to be so mean."
Before long, her success prompted requests from school administration to take on more subjects.
"They needed someone to teach Spanish, and I had taken one semester of Spanish in college, so they asked, 'Would you teach it?'" Over the course of four years, Lone taught four levels of French in addition to Spanish, remedial reading, English and mythology.
"They piled it on," she says with a smile. "All I did for the four years we were up there was lesson plan, grade papers, work out syllabi and meet with the kids—the kids were so wonderful."
Lone credits her TU education for her success.
"I had these wonderful experiences that never would have happened without my degree," she says. "And I'm so grateful."
The couple returned to Baltimore in 1973 and started a family. Marty joined his father's construction and development business, and, when their children were older, Lone worked as a travel agent and in real estate.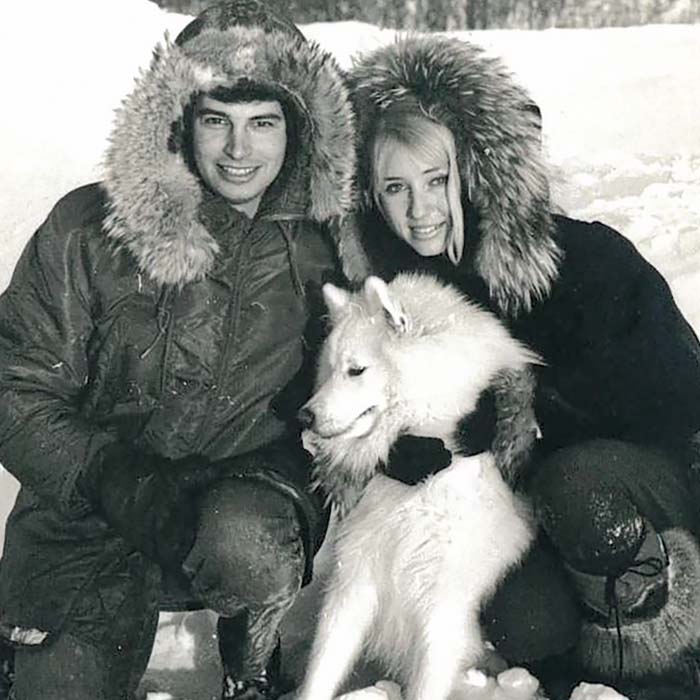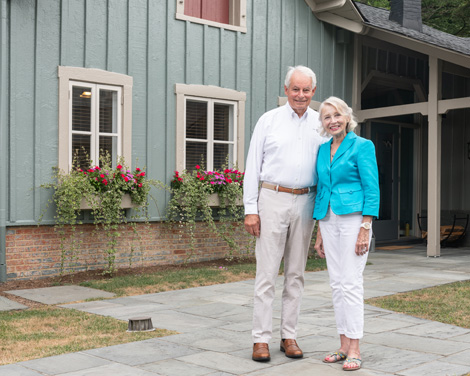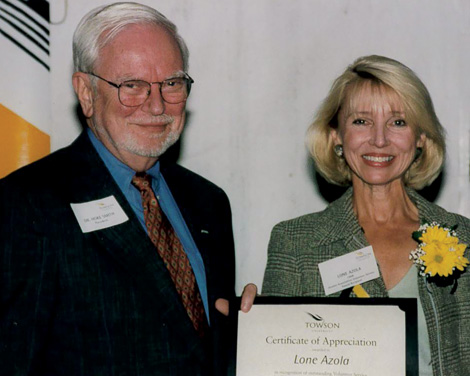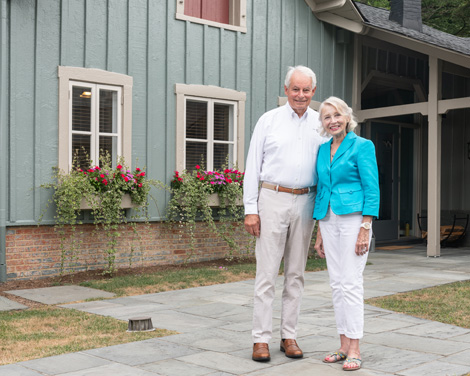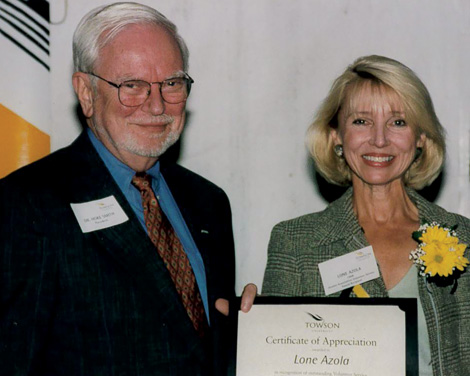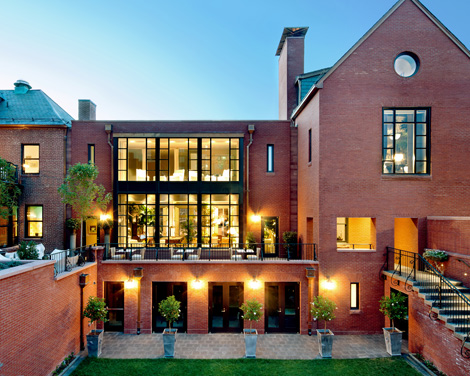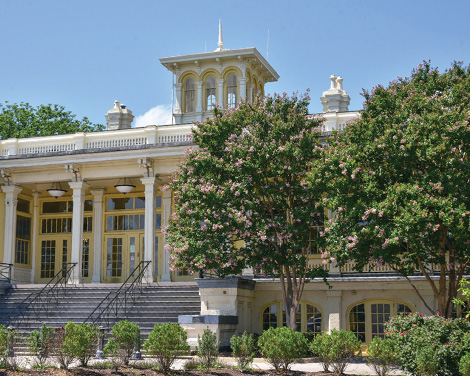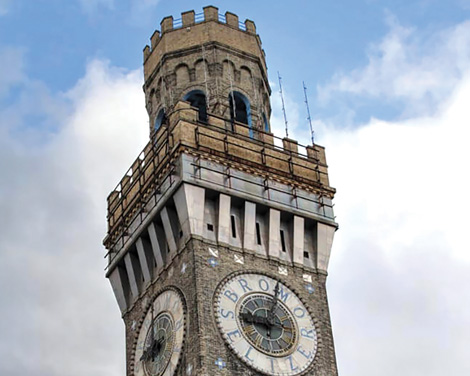 Lone's path crossed with TU again in the late '90s when her son Matthew attended TU for a year before joining the family business and her daughter, Kirsten '02, enrolled to study graphic design. Around this same time, Lone indicated interest in volunteering with the alumni association when she returned her annual giving contribution. The move set the stage for a 12-year seat on the Towson University Alumni Board, on which she served as president from 2004–07.
Through the alumni association, Lone fostered camaraderie among generations of Tigers and remained connected to the university during its rapid growth under presidents like Hoke Smith (1979–2001) and Robert Caret (2003–11).
Her work with the board connected her with a Tiger 30 years her junior: Bryan Thaler '97, who served as alumni board president immediately before Lone from 2001–04. The age difference was not an obstacle.
"Bob [Caret] brought this great energy, and he was really externally focused," says Thaler. "Lone, I think, was the perfect person to lead the charge with the alumni association under Bob's vision.
"Because the university has changed over the years, having the differences in experience and age on the board is hugely important because you get different perspectives," he says.
"We were able to work together, and our focus was helping to make a difference and to give back—it didn't matter whether we graduated in '68 or '97."
After seeing Lone at a recent alumni association event, Thaler was struck by her signature gentle spirit and positive attitude. "She's still Lone. She's still got this amazing smile on her face. She's a great leader for an organization like the alumni association. She was a perfect
fit at the right time."
"It was so much fun, and I met some of the most wonderful people," Lone says. "I traveled all over the country—out to California, up to New York, down to Florida and everywhere in between just to talk about Towson with the alums."
During her tenure as board president, she was named Woman of the Year by Baltimore County in 2006 and oversaw the dedication of the bronze Tiger statue in front of Stephens Hall in 2007. In 2012, she received the College of Liberal Arts Dean's Recognition Award for her contributions to the university, and she remains involved in the TU Foundation.
"I just wanted to do something for my alma mater," Lone says. "The appreciation for what I had been able to do because of that degree made me feel like I should give back a little bit of my time. And it was so fun."
At the same time, Lone became more involved in the family business. When the company was forced to lay off large numbers of staff during bankruptcy, she took over bookkeeping and business operations, eventually becoming president until her oldest son, Tony, assumed the role in 2014. For a time, every member of the Azola family held a role in the business, with Kirsten heading up design and marketing while their second child, Matthew, brought his masterful carpentry skills to the family business. Tragically, he died in 2011 at 34.
"She's been supporting us when we were down and always in good spirits," Marty says. "Yet she was never out front. When there was an award or something like that, I was the one who went up. The truth is it was a joint effort. The bookkeeping is the heart of the operation. None of our businesses would have been successful without her, and she never expressed
disappointment that the spotlight didn't go that way."
At its peak, the third-generation family business had 250 employees and saved hundreds of important buildings, encompassing more than 5 million square feet of space.
"There's a lot of pride because it is a family business and a business that is unique in saving old buildings," Lone says.
One of the Azola Cos.' most widely praised projects is the Ivy Hotel, an 18-room boutique Relais & Château hotel in an 1885-era Romanesque Revival mansion at Calvert and Biddle streets in Baltimore's Mount Vernon neighborhood.
Baltimore-based investment firm Brown Capital Management was just across Biddle Street from the mansion. Its owners, Eddie and Sylvia Brown, saw potential in the property and brought on the Azolas to help decide the best adaptive reuse of the building that would invest in and support the city of Baltimore.
Seeing an opening for a world-class hotel, they partnered with Garrett Hotel Consultants and Baltimore-based Ziger/Snead Architects and brought in more than 60 local artisans and specialists to salvage floors and do restoration work on the property.
A historically compatible addition in the rear parking lot of the mansion and adjoining rowhomes enclosed an interior courtyard garden of lush green space for guests and diners.
"My very first day on the Ivy job in 2012, I had been diagnosed with lymphoma," Marty recalls. "So we worked through that."
Eventually, doctors found a cancerous tumor on his spine. "He underwent 10 months of heavy chemo, and I took care of him," Lone says. After several years of treatment, he's in remission.
The project was completed in 2015 and has earned design and preservation awards from the Victorian Society of America, American Institute of Architects and Preservation Maryland. Deemed one of the "best hotels on the planet" by Travel + Leisure, the hotel and its restaurant, Magdalena, continue to be recognized by publications like Conde Nast Traveler, Vogue, Architectural Digest, The New York Times and more.
Despite facing numerous challenges, Lone is "bubbly and positive and happy all the time," Marty says. When asked how she maintains her spirits, she points to her parents' ability to stay hopeful despite the many challenges they faced.
"Someone else could have folded up through a lot of the stuff we've been through, but life goes on," Lone says. "I always see something good on the horizon. And I have faith. I have hope. My mother had hope, and so did my dad. It's from them that I got it. Because I don't stay down for long."
Through her continued involvement with TU and her role in the Azola Cos., Lone is continuing her family's legacy.
"I am the last man standing from that little Tidemand family that came over," says Lone, whose sister, Yvonne, passed away at 78 in 2021 of COVID-19 and whose brother, Odin, died at 73 in May.
This attitude enabled Lone and her family to help shape a better future for Tigers and preserve the architectural history of the greater Baltimore area.
"I'm so proud of the legacy on both ends—the education and the business," Lone says. "I feel that we're so fortunate to make impacts in our different areas."
---
Rebecca Kirkman is assistant director of strategic communications in University Marketing &
Communications and a contributing writer at Baltimore magazine.