Fostering institutional equity has been a leading priority of my administration since I came to Towson University in January 2016. In the years since, thanks to the commitment of the entire Tiger community, TU has become a nationally recognized leader for diversity and inclusion—a reputation we are proud to honor and strive to advance every single day.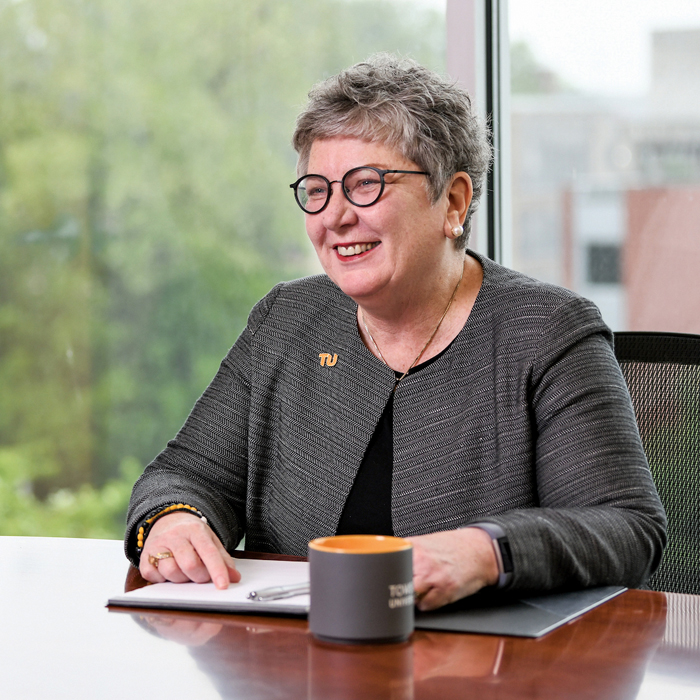 This fall, we celebrated a major milestone for this most important mission. In August, we welcomed 4,941 new students between our incoming freshmen, transfer and graduate students. Fifty-one percent of these newcomers identify as an under-represented racial or ethnic minority.
With this incoming class, Towson University now has its most diverse student body ever—one that truly reflects the demographics of Maryland, which became a minority–majority state during the last census.
This diversity enriches TU's academic excellence and prepares graduates to lead in a global workforce. I am truly proud of the strides we continue to make when it comes to equity and inclusion on our campus—and our work is never done.
This term, we will honor several notable alumni who hold a special place in our institution's history and have done much to impact the TU community.
We will celebrate the nine historically Black fraternities and sororities that make up the National Pan-Hellenic Council (NPHC) with the unveiling of our new NPHC tribute walkway—a project that was largely funded through the generosity of dozens of TU alumni and their supporters—located in Chapman Quad.
We also named two residence halls in West Village in honor of TU's first Black graduates, Ms. Marvis Barnes and Ms. Myra Harris—a pair of remarkable women who had inspiring careers as K–12 educators and leaders in Maryland schools for more than 40 years.
In this edition of TU Magazine, you will read about these incredible alumnae who paved the way for the tens of thousands of students who have followed in their footsteps. This includes Tonee Lawson '07, who founded an organization that focuses on providing local youth with educational opportunities to help shape their own futures.
You will also see stories about alumni who have changed our community with their public service. Like Amy Caprio '10, a dedicated police officer who died tragically in 2018. And Lone Azola '68, who has built a legacy in bettering TU and preserving the history of greater Baltimore.
All these stories reflect what makes Towson University a most special place.
Today and every day, we celebrate our people. It is truly a great time to be a Tiger, and the future of TU is brighter than ever.
Kim Schatzel
Towson University President