Celebrating TU's Best and Brightest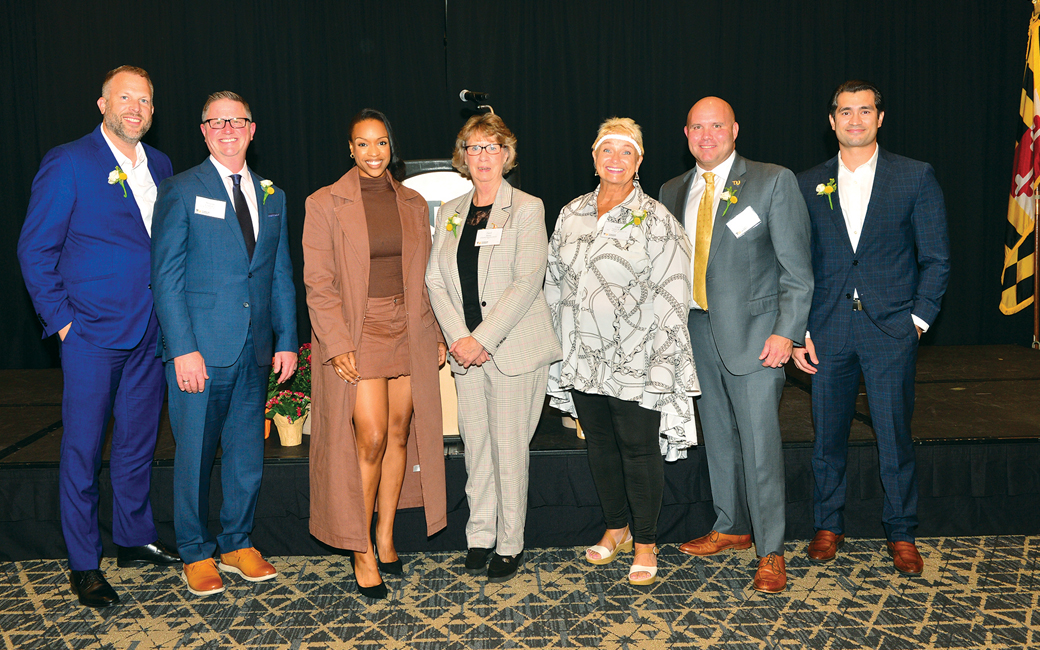 On Oct. 5, eight impressive alumni were honored by the TU Alumni Association at the 2023 Distinguished Alumni and Deans' Recognition Awards banquet. The annual event, held during Homecoming week, pays tribute to Towson University's most accomplished Tigers, recognizing them for extraordinary professional achievements throughout their remarkable careers. We are #TUproud to share this year's recipients:
Distinguished Alumni Award:
Carol Beatty '75, College of Liberal Arts
Distinguished Young Alumni Award:
Gabby Gaudet '13, College of Fine Arts and Communication
Deans' Recognition Awards:
Gregory Resh '01, College of Business and Economics
Douglas Elmendorf '12, College of Education
Michelle Mitchenor '10, College of Fine Arts and Communication
Cindi Lamb Wiley '94, '07, College of Health Professions
Brendan Curran '07, College of Liberal Arts
Hisham Valiuddin '11, Jess and Mildred Fisher College of Science and Mathematics
---
Tigers Give Back
During the Volunteer Appreciation Cookout April 29, we thanked generous Tigers who have given their time and talents to TU in a number of ways throughout the year. Some alumni have graciously volunteered as mentors, board members, alliance leaders or classroom speakers.
Others have participated in quarterly service projects, assisted with Commencement or welcomed accepted students with personalized postcards. At the spring cookout, we recognized Ashena Sparrow '18 with the 2023 Volunteer of the Year Award. Sparrow is an all-star Commencement volunteer who participates regularly in the annual postcard program and has assisted on service projects like our Maryland Food Bank and First Fruits Farm events. Sparrow's joyful disposition and giving nature exemplify the true Tiger spirit.
---
2023-24 TU Alumni Association Board of Directors
President
Jonas Jacobson '90
Vice Presidents
Courtney Cox '12, '14
Tiana Wells-Lawson '98
Brandon Wharton '17
At-Large Members
Amanda Allen '14
Duncan Brooks '03
Van Brooks '12
John Dragunas '97
Dennis Ferrell '74
Susan Hall '96
Migara Jayawardena '93
Christine Johnson '06
Yesim Karaman '11
Jordan Montoya '14
Joseph O'Rourke '11
Mia Romeo '19
Tom Slemp '14
Bill Steka '77
Jun Tao '09
---
Alumni Events
Bountiful Summer
Tigers, friends and family members came together August 5 to harvest nutritious vegetables at First Fruits Farm in Freeland, Maryland. The event marked our largest volunteer turnout to date, and together our group picked over 13,000 pounds of corn to be distributed to families in need.
Celebrating Top Tigers
On May 4, we honored 16 outstanding young alumni who have positively impacted their workplaces or communities at this year's Top Tigers in their 20s and Senior Celebration. The annual event, held in conjunction with senior week, also applauded the graduating class of 2023.
Alumni Crab Feast
More than 100 alumni and guests enjoyed an evening of delicious food and great company at the crab feast held in South Campus Pavilion on August 19. Attendees were treated to an all-you-can-eat spread that included Maryland's favorite crustaceans and a buffet of popular cookout cuisine.
Welcome Home
It was a rain and shine event for Homecoming 2023. Despite a dismal start to the day, fog and drizzle quickly turned to afternoon sun and smiles across campus on October 7.