Coffee With...Boyd Bradshaw
We met TU's vice president for enrollment management on the August morning students began arriving on campus for the fall semester.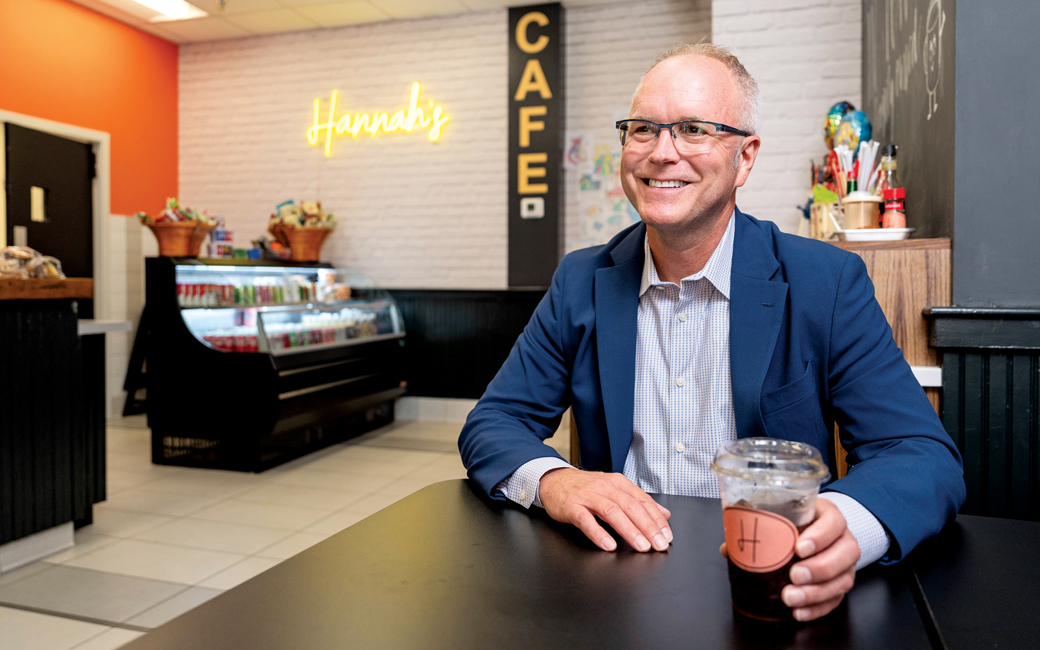 Q: You are TU's inaugural vice president for enrollment management. What does
the position entail?
A: It's an honor to be first. TU has had wonderful enrollment growth the past decade or two, but with the pandemic and the changing landscape of higher education, enrollment strategy is more crucial than ever. My job is to create that campus-wide strategy. As a result, TU created my position and a new Division of Enrollment Management. The division includes admissions; financial aid; the registrar; academic advising, retention and completion office; and the tutoring and learning center. These are key offices that help attract, retain and graduate students. Enrollment management is all about student success and making sure we are providing the necessary resources to recruit and graduate students.
Q: What have you learned about TU during your first year-plus here?
A: It's a very welcoming environment with outstanding facilities. The infrastructure makes you feel like you're at a destination. I wasn't necessarily looking to leave my prior position as associate vice chancellor for enrollment management at IUPUI (in Indianapolis), but something captured me when I was here on campus. You hear that a lot from students—once they're on campus it feels like home. That's how I feel at TU.
Q: Why is admitting a diverse class important to the success of the university?
A: When you talk about diversity, it's about inclusivity. It means being welcoming to all. The experiences students have on a college campus are lifetime experiences, so what we want to do is bring as many students from different backgrounds to campus so they can learn from one another. In addition, the faculty and staff embrace diversity and are really engaged with the students inside and outside the classroom. It's part of the whole college experience and is life changing for many students.
Q: TU became a member of the American Talent Initiative this year. What is that, and
how will it impact our enrollment?
A: The American Talent Initiative seeks to substantially expand access and opportunity for talented low- and moderate-income students at the nation's colleges and universities with the highest graduation rates. It's why we're honored to be named one of 28 "high-flier" institutions in the American Talent Initiative, recognized by Bloomberg Philanthropies for leadership in expanding access and opportunities for talented students from low- and moderate-income backgrounds. That work is more important than ever in the wake of the recent Supreme Court decision on affirmative action.
Q: We're welcoming a freshman class of more than 3,000. What strategies did we use to achieve that?
A: I am so proud of my team for this accomplishment. It's about establishing realistic goals, finding the right opportunities and executing a plan. We are targeting new groups of students for enrollment. Baltimore City has become an expanded focus beyond Baltimore County. The launch of the TU4Balt program this summer provided additional services and financial aid to Baltimore City students living on campus.
The other piece is outside Maryland. We looked at our neighboring states, and we targeted and added some additional scholarship dollars. That has helped us grow our out-of-state enrollment. Our move to R2 (Carnegie Classification:
High Research Activity) has helped. I believe graduate programs attract undergraduate students because it's all about reputation. We had more visitors this year. Once a student visits the campus, the likelihood of them enrolling doubles. So, a lot of effort was getting students on campus. The beauty of our campus is a huge asset to our enrollment success.
Q: What challenges do all universities face in coming years when it comes to admitting diverse and talented classes?
A: You come out of the pandemic; you see a decrease in college-going students. Then you hear future students are not prepared, and the value of education is being questioned. There is a lot of pressure on universities to make sure we have the right student programming and support in place, so our students are successful. It is our responsibility to reinforce that college is worth the investment. You'll buy a car and not question it, right? I think it's all about how we communicate the value and make sure that it's outcome focused. Towson graduates do well, whether it's going on to graduate school or getting that first job. Our stats back it up.
Q: What impact, if any, will the Supreme Court decision on affirmative action in higher education have on TU?
A: The court's decision does not impact TU's admissions practices. TU conducts holistic review practices to determine first-year admission. The primary factors in the evaluation process include high school grades, curricular options and academic rigor and the Common App essay and activity list. We consider the student's application within the context of the high school environment to offer admission to students who will be successful and engaged members of the TU community. This comprehensive review process allows each student to highlight their work in the classroom and dedication to the school community. This will not change.