Jenny Steffens '17 proves it's never too late to find your purpose and make a difference.
By Chandler Vicchio '24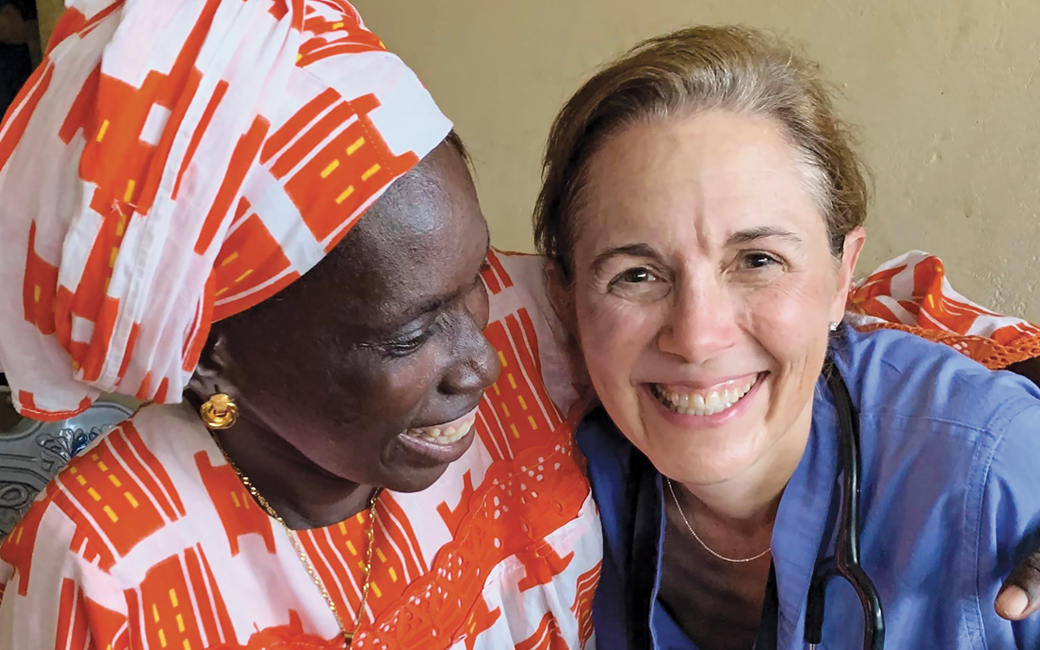 In 2010, Jenny Steffens '17 wrote a story for an Annapolis hospital publication about an oral maxillofacial surgeon who did mission trips in his free time.
As a freelance writer and editor, Steffens was used to interviewing medical professionals, but what she didn't realize at the time was she was about to become one herself.
The next year, that same surgeon embarked on a surgical trip to Bangladesh, and he invited her to go along as a non-medical volunteer. Although Steffens wasn't sure how she would contribute, she was eager to help and decided to go as part of the nine-member team.
Over the course of the 10-day cleft lip and palate mission during which 70 surgeries were performed, Steffens spent time unpacking supplies, stocking the operating rooms, cleaning instruments and watching every minute of the detailed surgeries. She also transported patients to and from the OR and recovery room, sat with patients' family members and brought parents back to see their children after surgery.
Witnessing how a simple operation could correct a major disfigurement and instantly change a child's life was deeply meaningful for her. She also saw how simple gestures of kindness could provide immeasurable comfort. Sitting with a young mother who began crying when her baby was taken in for surgery, Steffens pulled out a photo of her own children, showed it to the woman and pointed to herself. Despite not knowing each other's language, the woman, clearly moved by the gesture, smiled.
"She understood that I was saying, 'I'm a mom too, and these are my kids,'" Steffens says. "She gave me this big hug and held on to me."
Throughout the week Steffens put in 12- to 14-hour days, watching as fear melted into joy when mothers saw their children's repaired lips for the first time.
"Despite being physically exhausted, I felt emotionally renewed and energized," she says. "This work was truly making a difference in people's lives, and that was what I was missing in my work at that time.
After assisting on the mission, she knew that her professional life was about to change. She just didn't know how.
When Steffens returned home, she immediately signed up for an anatomy and physiology class at Howard County Community College. It was the first college class she had taken in over a decade. She didn't know whether she'd become a nurse, physician assistant or something else—she only knew that she desperately wanted to pursue a career in the medical profession.
Although the mission trip to Bangladesh was the final impetus, an inkling had been building in Steffens for several years. When her son, A.J., was born two months premature in 2006, he spent 35 days in the neonatal intensive care unit (NICU) at Shady Grove Adventist Hospital in Rockville, Maryland. Steffens was inspired by the incredible work of the NICU nurses, and as she became more involved in her son's care, she thought maybe she could be a nurse herself.
But with a newborn and 3-year-old at home, her family couldn't afford for her to quit her job, so she continued writing and editing—often interviewing doctors and nurses she admired about the important work they were doing.
When Steffens returned to the classroom at age 40 in January 2012, she started slowly, maintaining her full-time job and taking one class at night with labs on weekends.
"I had all those self-doubts," Steffens says. "Do I like science? Can I pass these courses? Am I smart enough to do it?"
After four or five semesters, she had enough credits under her belt and a desire to keep going that gave her the confidence to quit her job, finish her prerequisites and apply to physician assistant programs.
She was one of 36 candidates out of more than 400 applicants accepted to the, at the time, joint Towson University-CCBC Essex physician assistant studies program. Her two-year cohort spent the first year in the classroom and the second year on a series of clinical rotations—requiring long hours in which Steffens juggled the stresses of a demanding program with the challenges of motherhood.
"I embraced the saying, 'It takes a village to raise a child,'" she says. Her parents and neighbors stepped in to support Steffens and her husband, Doug, to get the kids to school, drop them off at sports practices and help them with homework when the rotations were tough.
"It wasn't easy," Steffens says. "And I couldn't have done it without the support of my family."
Throughout her academic journey, Steffens kept a photo on her desk—a snapshot of her assisting the surgeon in Bangladesh—as inspiration. She also remembered how much she loved the hands-on nature of surgery and how tangible the outcomes could be.
"I must have looked at that picture thousands of times when I doubted myself, when the classes were hard and when I felt like a terrible mother because I was going back to school with two kids at home and missing events in their lives," she says.
She also repeated to herself a motto that kept her motivated: You're never too old to reinvent yourself.
"Even if I'm mid-40s when I start this career," she remembers thinking, "I can give a good 20 years to this profession before I'm retirement age, and who knows if I'll want to retire."
Over the past five years, Steffens has volunteered for seven medical missions with six nonprofit organizations.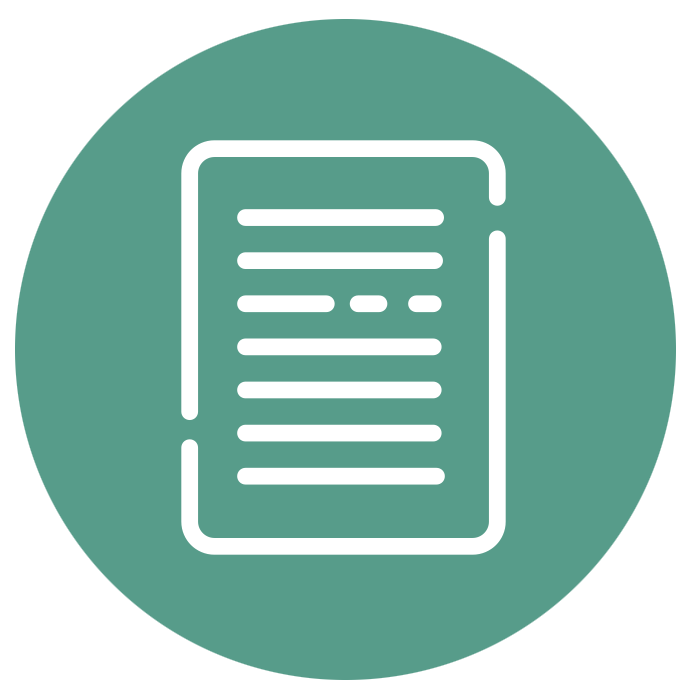 2010
Worked as a freelance writer and editor, interviewing medical professionals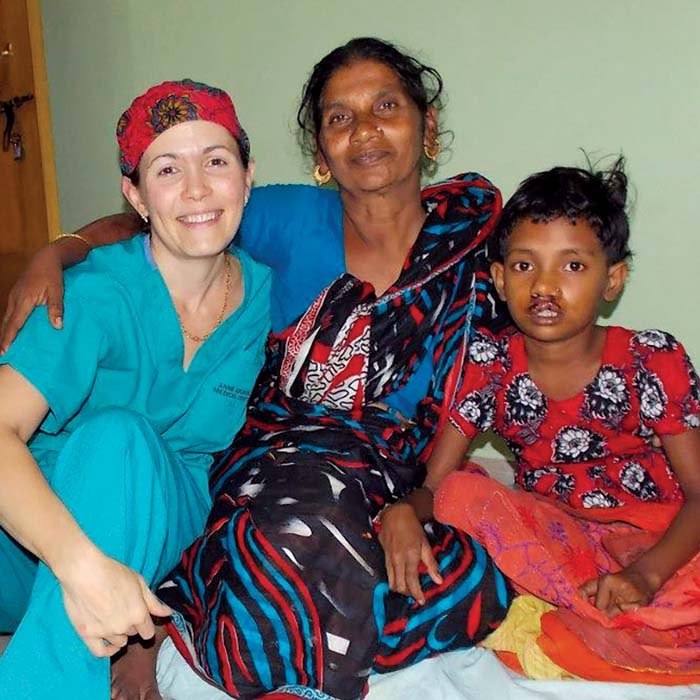 2011
Took a surgical trip to Bangladesh as a non-medical volunteer
2012
Returned to the classroom and was later accepted to the Towson University–CCBC Essex physician assistant program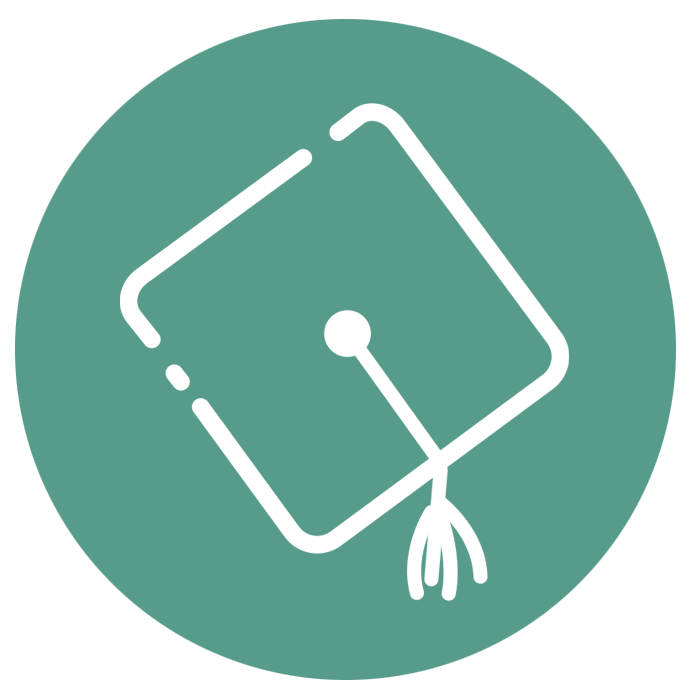 2017
Graduated from TU with a master's in physician assistant studies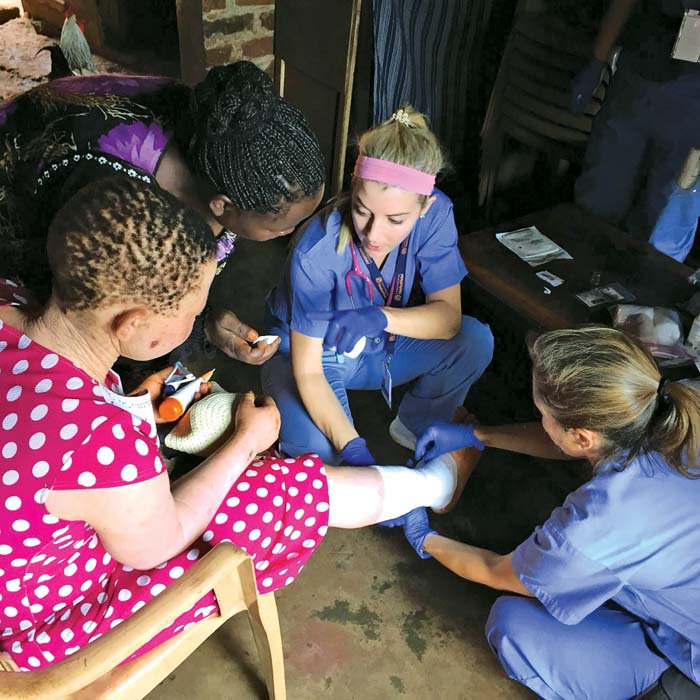 2018
Treated a teenage girl with albinism who had a leg wound on a medical trip to Uganda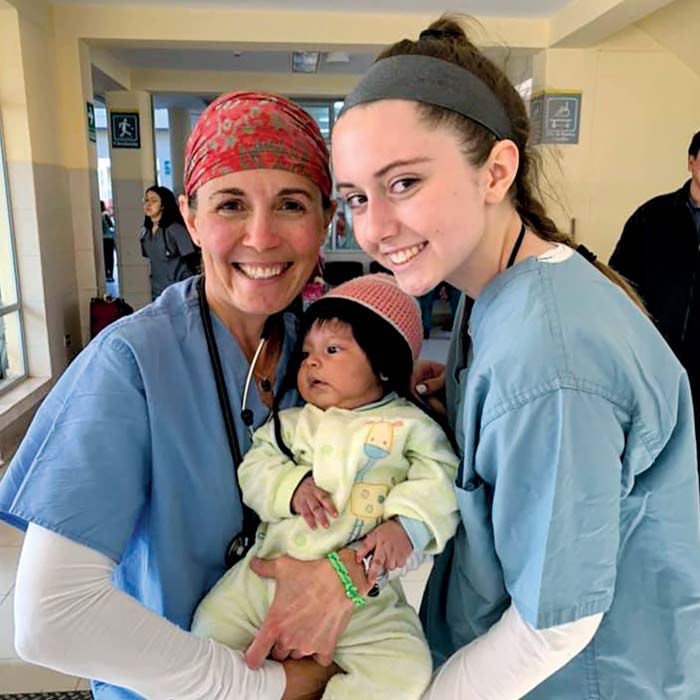 2019
Shared a memorable trip to Peru with her daughter, Ellen, who is now studying nursing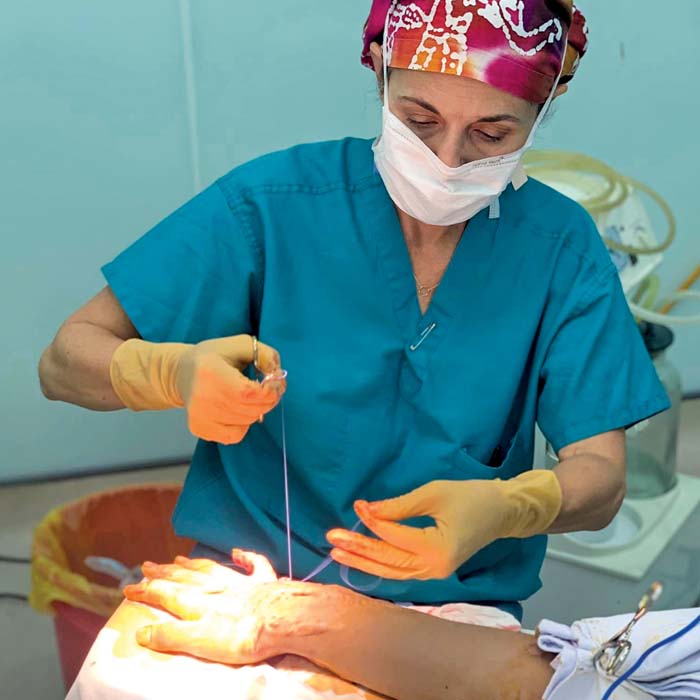 2022
Traveled to Vietnam as part of a 28-person team that performed 74 life-changing surgeries
It took nearly six years from her first anatomy class, but Steffens graduated from TU in 2017 with a Master of Science in physician assistant studies. Today, she is the lead inpatient surgical physician assistant at MedStar Harbor Hospital in Baltimore, where she assists in general, GYN, vascular, spine and orthopedic surgeries. She also sees consults in the emergency department and takes care of surgical patients.
But what's just as incredible as the job Steffens gets paid to do is the medical work she does for free.
Over the past five years, Steffens has volunteered for seven medical missions with six nonprofit organizations, bringing much-needed health care and supplies to people in Uganda, Haiti, Peru, Honduras, Senegal, Vietnam and Zambia. Each mission varies in size (anywhere from 10 to 30 health professionals) and scope. Some focus on primary, vision and dental care while others are surgical: cleft lip and palate, gynecologic, orthopedic, burn scar contracture release, hand and plastics.
In addition to donating time, volunteers purchase their own flights and pay a fee to the sponsoring organization—usually a couple thousand dollars—to cover food, lodging, transportation and interpreters, as well as offset the cost of supplies needed for the mission.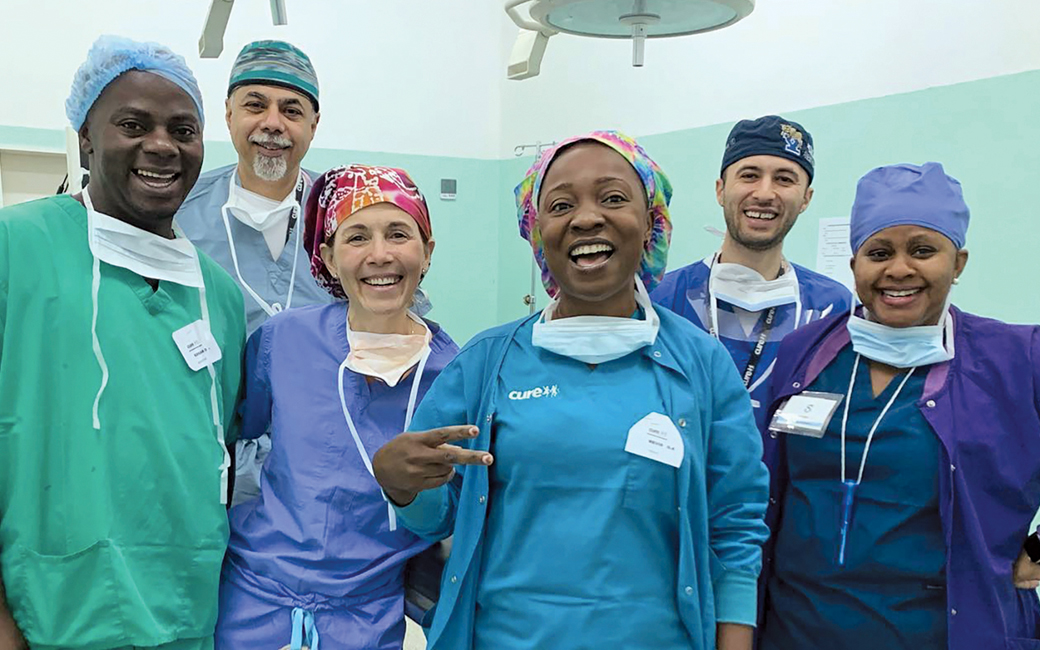 But no matter the size of the donation each time, Steffens says she always gets more out of it than she gives.
During her medical trip to villages in Uganda in October 2018, many mornings there were between 500 and 700 people lined up waiting to be evaluated and treated. Steffens often saw 40 to 50 patients in a day. Conditions treated included ringworm, scabies, malaria, gastroesophageal reflux disease and back pain, among others.
The team also saw many patients with albinism—a rare, genetic condition that causes lack of pigment in skin that makes them prone to sunburn, skin wounds and infections. One day Steffens was assigned with a nurse and interpreter to do a home visit for a girl with albinism who had a leg wound and no way to get to the clinic. Steffens met the mom and her teenage daughter in their modest hut, and after cleaning and wrapping the girl's leg, the mom wouldn't let the group leave.
"She went out in her back yard and picked us an avocado from her avocado tree that was literally the size of an eggplant," Steffens says. "It made guacamole for days. This probably would have fed her family for a week and yet she gave it to us. It was her way of thanking us and a gift we needed to accept."
Sometimes volunteers are met with gratitude before a mission even begins. Last year in Vietnam, patients and families lined up to welcome Steffens' 28-person team as it arrived at the hospital for the first day of triage. Steffens almost cried walking through the line of people who were cheering and clapping. "They're just so appreciative it gives you goosebumps," she says.
In the week that followed, the team performed 74 life-changing surgeries on patients with severe burn scars—many from cooking accidents, kerosene explosions and intentional acid attacks—as well as cleft lips, cleft palates and other congenital deformities.
In some cases, surgeries do far more than simply correct disfigurements. In countries where many people believe a deformity indicates wrongdoing in a past life, an operation can be the difference between a child being accepted or shunned, receiving an education or being hidden away.
A medical and vision trip to Peru in 2019 had many memorable moments for Steffens. She communicated with a deaf patient using American Sign Language—a topic she has always been interested in and learned through continuing education courses. She also helped several elderly patients suffering from complex medical issues. But what made the mission extra special was that Steffens' daughter, Ellen, 16 years old at the time, was on it with her.
"Ellen spoke Spanish, helped triage patients and would play with the kids while parents waited to be seen. I think that was life-changing for her," says Steffens, noting that Ellen is now a college junior studying nursing outside of Boston.
While mission trips are filled with long hours, lots of patients and a ton of work, Steffens almost always extends her stay by a few days to have a little fun exploring each country. She went gorilla trekking in Uganda and visited Machu Picchu with Ellen in Peru. After Zambia, Steffens traveled to Zimbabwe to swim atop Victoria Falls and then to Botswana for a safari in Chobe National Park.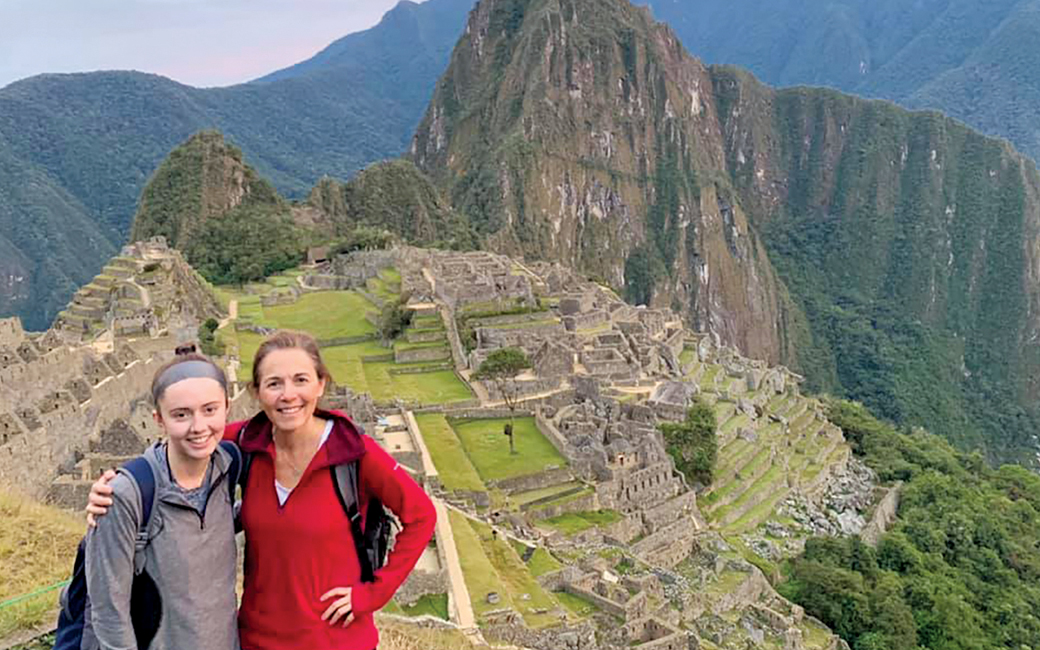 Steffens' volunteer work isn't limited to international mission trips. Back home at MedStar Harbor Hospital, she is a preceptor for 2nd-year PA students, supervising their general surgery rotations, in addition to volunteering every year at the hospital's free, community drive-through flu vaccine clinic. She also created a lecture about her passion for medical volunteering that she has presented to TU students in the physician assistant studies program. In September, she shared the presentation at the annual Maryland Academy of Physician Assistants CME (Continuing Medical Education) Conference in Ocean City, Maryland.
Steffens believes any type of volunteering can do the soul good and often tells people, "If you've thought about it, or if you're on the fence, just take the leap of faith and do it, because you will be so rewarded in the end."
These days, that rewarding feeling is an itch Steffens scratches twice a year through her mission trips. Although she loves her job tremendously, she admits there are moments it can be stressful and hard, as was the case during COVID.
"We have patients that can be very demanding or don't appreciate what you do," she says. "I've been spit at, I've been swung at, and I've been called some not-so-nice names."
When Steffens starts to feel burnt out from working at home, she knows practicing medicine overseas is the antidote that will renew her faith in humanity. The satisfaction she feels comes partly from helping people who cannot repay her (except with genuine gratitude) and from forming friendships with other volunteers across the country.
"I've met some incredible human beings on these trips," she says. "We are all there for the same purpose, and it's just amazing what a group of like-minded individuals with a common goal can accomplish."
Steffens' next surgical trip is to Kenya alongside volunteers from Seattle, Detroit, Chicago and Boston. During the mission the team expects to complete 50 to 70 general and gynecologic surgeries.
Including her two trips to Bangladesh as a non-medical volunteer, this will be Steffens' 10th mission. She's already applied to a surgical mission in Guatemala and has been accepted to a medical mission in India as potential trips in 2024, but where she goes doesn't matter all that much to Steffens, as long as she can help people and make a meaningful difference in their lives.
"I'll go wherever," she says. "I wish I could do it more. If I won the Mega Millions, I'd do 12 trips a year and call that a life."