Welcome to Our Neighborhood
New TU President Mark Ginsberg brings his relational leadership style to Towson.
By Mike Unger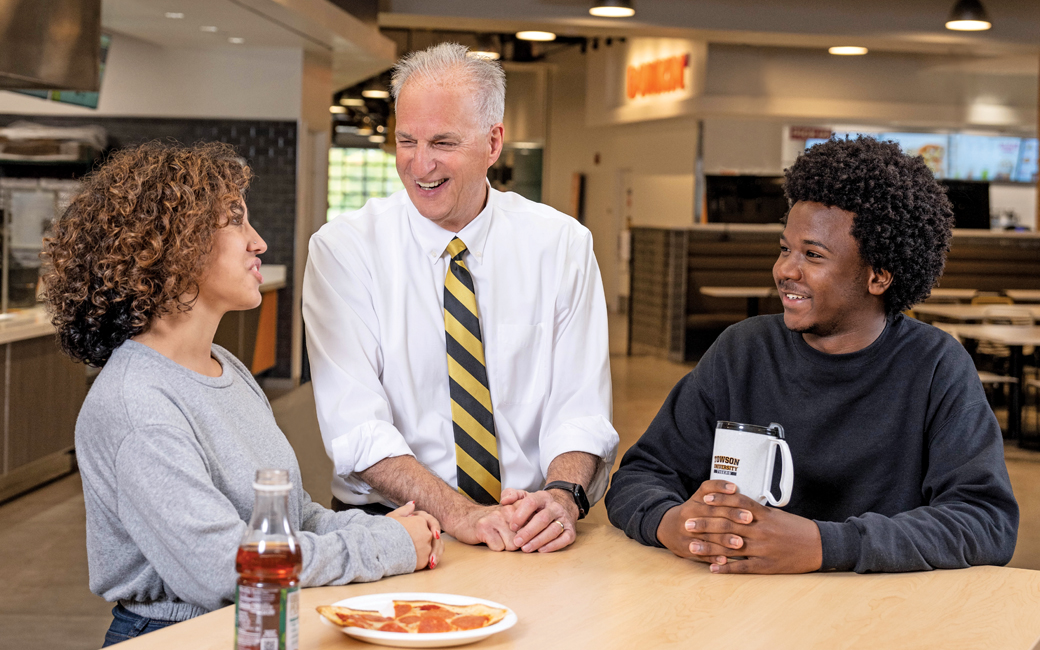 Nestled on a shelf in Mark Ginsberg's office, alongside books like "The Innovative University" and "The Wiley-Blackwell Handbook of Family Psychology," is a hardcover copy of "You Are Special." If the title doesn't ring a bell, the author certainly will: It's written by Fred Rogers.
Ginsberg, a professor, clinician, dean, provost—and now the 15th president of Towson University—has spent much of his decorated 40-year career as a psychologist and educator. In 1998, as he was preparing to become the CEO of the National Association for the Education of Young Children (NAEYC), he met Mr. Rogers at the organization's annual conference. The iconic television personality invited Ginsberg to his neighborhood in Pittsburgh, where he gave him a miniature replica of the cable car on his set. It still sits proudly on his office bookshelf.
"He was a dear man and a dear friend," says Ginsberg, who assumed TU's presidency on Oct. 30. "He was exactly who you saw on TV. Fred Rogers was the gentlest, nicest, most unpretentious man you could ever imagine."
Many would say the same of Ginsberg. At George Mason University in Fairfax, Virginia, where he served as dean of the College of Education and Human Development for a decade before becoming provost, he'd drop by the student union for informal conversations with students over lunch. It's a practice he plans to continue at TU. He's as passionate discussing the changing nature of higher education as he is last night's Orioles game. When people address him as Dr. Ginsberg, he often replies, "Call me Mark."
"He's visible, he's approachable and he rarely says no to a student," says Rose Pascarell, vice president for university life at Mason. "Mark used to be the sole dean who would show up at every single family event during orientation. He would go from table to table to meet family after family regardless of whether their kids were in the College of Education or not. He's an incredibly relational leader."
Ginsberg didn't plan to leave Mason, but the opportunity to lead TU proved too enticing for him to pass up. He's said TU will be the last stop in his career.
"I wasn't looking for a new job," he says. "This is the only job that interested me, and I expressed interest in it because of what the university is about. I've known Towson to be a place that provides access to excellence. I've always believed, and now come to fully understand, that Towson provides access to opportunity to literally thousands of young people who might not otherwise have had the opportunity, because of its culture, its understanding of how to promote success and its ability to create a welcoming environment for students from all walks of life."
Ginsberg was raised in New City, about 30 miles north of New York City. He earned a bachelor's degree in psychology from the State University of New York at Cortland in 1975.
It was there that his interest in psychology was piqued.
"I remember sitting in an undergraduate class and just being enamored by what I was learning, courses on personality theory and human development, even courses on learning," he says. "When I was a junior in college, I took abnormal psychology, which is basically the psychology of behavior and emotions that help to understand mental disorders. The professor in that course mentored me and offered me the opportunity to have a clinical internship working in a school with young kids in a supervised setting. It was through those experiences, and being with mentors who had formative and very generative influences on my career and my life, that led me to want to go into the field."
His next stop was in State College, Pennsylvania, where he earned his master's degree and doctorate from Penn State. In Happy Valley, he met a fellow graduate student named Elaine Anderson. Their first date was to a Nittany Lions-Nebraska football game.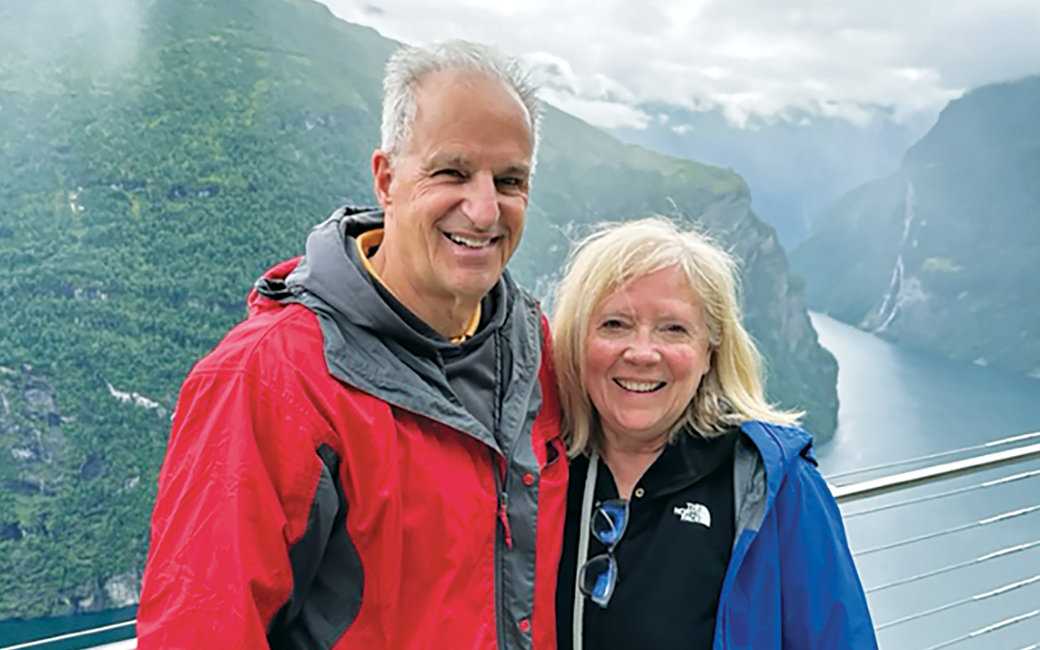 "Mark is a big sports fan," says Elaine, a Nebraska native who, along with the company, enjoyed the Cornhuskers' win that day. The two have been married for 44 years, have two grown sons and three grandchildren. "He's an analytical fan. I think he enjoys the coaching piece of it because he learns from them about different elements of leadership."
After completing a fellowship in clinical psychology at the Yale University School of Medicine, Ginsberg accepted his first academic position at the University of Rochester in upstate New York. He loved the gig, but when Elaine took a professorship at the University of Maryland, he ultimately joined her there. They have lived in Takoma Park for the past four decades.
Ginsberg's first job in this region was as a senior member of the leadership team of the American Psychological Association. Over the ensuing years, he served as the executive director of the American Association for Marriage and Family Therapy and the NAEYC. He also taught at Johns Hopkins University, where he led a clinic and saw patients at the Johns Hopkins Hospital and later served as an academic department chair on the Homewood campus. His positions have always involved leadership or management, which he says prepared him well for higher ed administration.
"I've learned about the importance of clarity and transparency," he says. "I've learned about the importance of relationships, of respecting others. I've learned about the importance of bringing groups together. I often tell this to groups that I lead: I very much want people to feel welcome and invited to express their point of view, to disagree on issues without feeling unwelcome or being disagreeable. And through all the groups that I've had the privilege of leading, that is a conceptual frame that I've always wanted: to be in a group that was diverse from every perspective, including diversity of thought."
In 2010, Ginsberg got a call from a former Hopkins colleague, who informed him that George Mason's College of Education and Human Development was looking for an out-of-the-box candidate to be its next dean. Thanks, but no thanks, Ginsberg said. He was happy at NAEYC.
Two weeks later the friend called again and convinced Ginsberg to meet him and to talk about the position. That's when Ginsberg met then-George Mason President Alan Merten and former Mason Provost Peter Sterns. The rest is history: He joined the university and both men became influential mentors and models for him.
Ginsberg is recounting this story in mid-September in his office on the fifth floor of Merten Hall. As the days ticked down on his tenure at Mason, he reflected on his accomplishments—which include building a student support architecture yielding a first-year retention rate of 87% and a six-year graduation rate of over 70%—and the relationships he made at the school.
"I'm really proud that during the era that I've been here, we grew the university to become the first and only in the history of the Commonwealth of Virginia to have more than 40,000 students," he says. "Last spring, we graduated the largest class ever in the history of Virginia. But what I'm really proud of, aside from all those benchmarks, is what it's like to be on the Mason campus, the commitment to the success of students, the success of our faculty and staff, the vibrancy of the culture, the connectedness of the people."
At Mason, Ginsberg was deeply involved in helping the school become the youngest university in America to achieve R1 status. The designation is given by the Carnegie Classification of Institutions of Higher Education to universities with the highest levels of research activity. At TU, he is charged with leading the university to R2 status as a high research activity institution.
"I think it makes a statement to the world that the institution is committed to the generation of knowledge as well as the education of students," he says. "Towson is on the edge of becoming an R2. Having looked at all the benchmarks and all the performance metrics, I have great confidence that it will occur. I don't think the plan will be to declare victory, but it will be to think about how to leverage that moniker and how to continue to grow the culture of a university that's committed to knowledge, that's committed to innovation and cutting-edge research, that's committed to engaging students in laboratories and other settings where work is taking place that is solving some of the grand challenges of our time. It'll be a benchmark, but it's not going to be an ending. It will be a new beginning."
Throughout his tenure at Mason as dean and later as provost, Ginsberg has continued teaching. It's a passion, his wife says, that keeps him grounded and connected.
"He really enjoys interacting with people," Elaine says. "He's very much a relationship person, and I think you have to be that way if you're going to be a clinical psychologist. He really likes the interaction with the students. He's always saying how he feels like he learns things from them."
In his first days, weeks and months at TU, Ginsberg says his top priority will be listening.
"I always say that there's a difference between listening, hearing and understanding," he says. "I'm now hearing what Towson is about, but the part that I have to get to is really understanding what Towson is and what Towson aspires to be. I want to try to connect directly with students, with faculty and staff, with the greater Towson community, with the greater Baltimore community, with the other units of the University System of Maryland and to be very relationally focused and very directly connected to what Towson is and what Towson can become."
Mark and Elaine are excited to integrate themselves into the Towson community. When his recently broken foot is fully healed, Mark plans to workout regularly at Burdick Hall. You'll also see both him and Elaine at performances at the Center for the Arts and at Tiger sporting events—they're especially excited about lacrosse, which their sons, Andrew and Robert, played in college. During one of his first visits to campus, Mark stopped by the bookstore and bought plenty of TU gear for their grandchildren.
For more than 40 years, Maryland has been their home. Now, Towson is their neighborhood.
"My approach has always been to engage and involve and to invite participation of others," Ginsberg says. "And what I intend to do at Towson is to engender an environment where people are engaged together. I talk about being together as one as a university. Knowing that together as one doesn't mean there's one perspective or one point of view but there's a common sense of mission and purpose. A common vision."