Damien Diggs '98 became the first Black U.S. district attorney in East Texas in early 2023.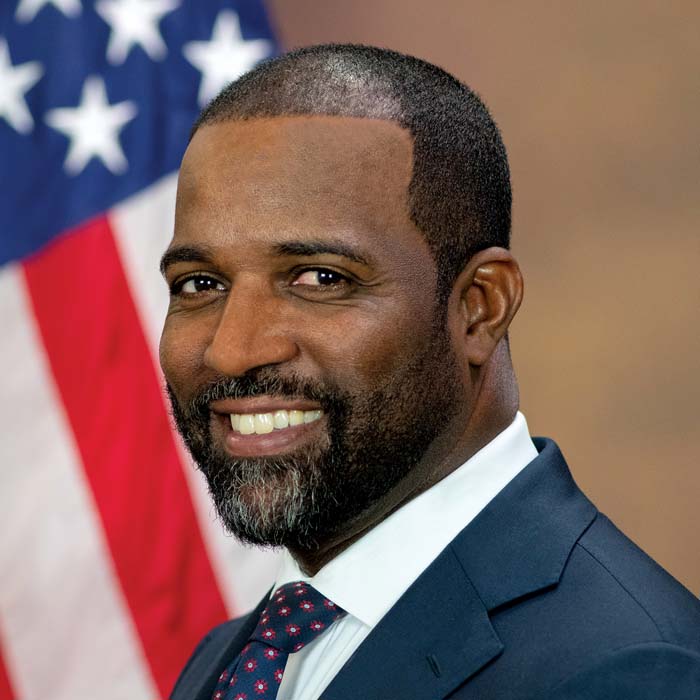 Damien Diggs has been a prosecutor since he was 17 years old. A class called Practical Law taught a high-school-level synthesis of law school courses and used a mock robbery trial as the final exam.
"It goes to show you the importance of exposure in high school to various professions, because being the prosecutor in that mock trial affirmed my career path," he says. "Prior to that, I was going to become a pilot. All the men in my family are Air Force, and I was going to go into the family business. But once I took that class, that was it."
In May 2023, Diggs, who was nominated by President Biden and supported by Texas senators Ted Cruz and John Cornyn (both Republicans), became the first Black U.S. attorney in East Texas, a district comprised of 43 of the state's 254 counties.
"I had an uncle named William Diggs, a historian in Charles County who traced our family's lineage back to slavery at a plantation in Maryland," Diggs says. "When I think about that to where I am now, it is astonishing. I'm the first in my family to go to college, let alone law school. I want to make my family and my country proud."
Diggs learned early during his time at TU the importance of a professional network. He credits professor Jack Fruchtman's use of the Socratic Method for preparing him for law school. And his first internship in the legal profession was with Baltimore lawyer John Wendell Gordon, whom he met through his fraternity, Kappa Alpha Psi. Diggs' clerkship with D.C. judge Rhonda Reid Winston turned into a mentorship, and a colleague from his days at Hogan and Hartson (now Hogan Lovells) hired him as the D.C. U.S. Attorney General's Office's second assistant in 2012.
Diggs transferred as an assistant U.S. attorney to the Dallas-based Northern District of Texas in 2018, where he worked as a line prosecutor and then deputy chief of the office's violent crime section.
"I am a middle-of-the-line prosecutor. I call balls balls and strikes strikes," Diggs says. "I'm here to make sure we are getting justice for victims, keeping our community safe and adhering and upholding the rule of law at all times."