Cleveland Doesn't Only Rock
The Cleveland Classical Guitar Society introduces public school students to music.
BY MIKE UNGER
Photos by Matt shiffler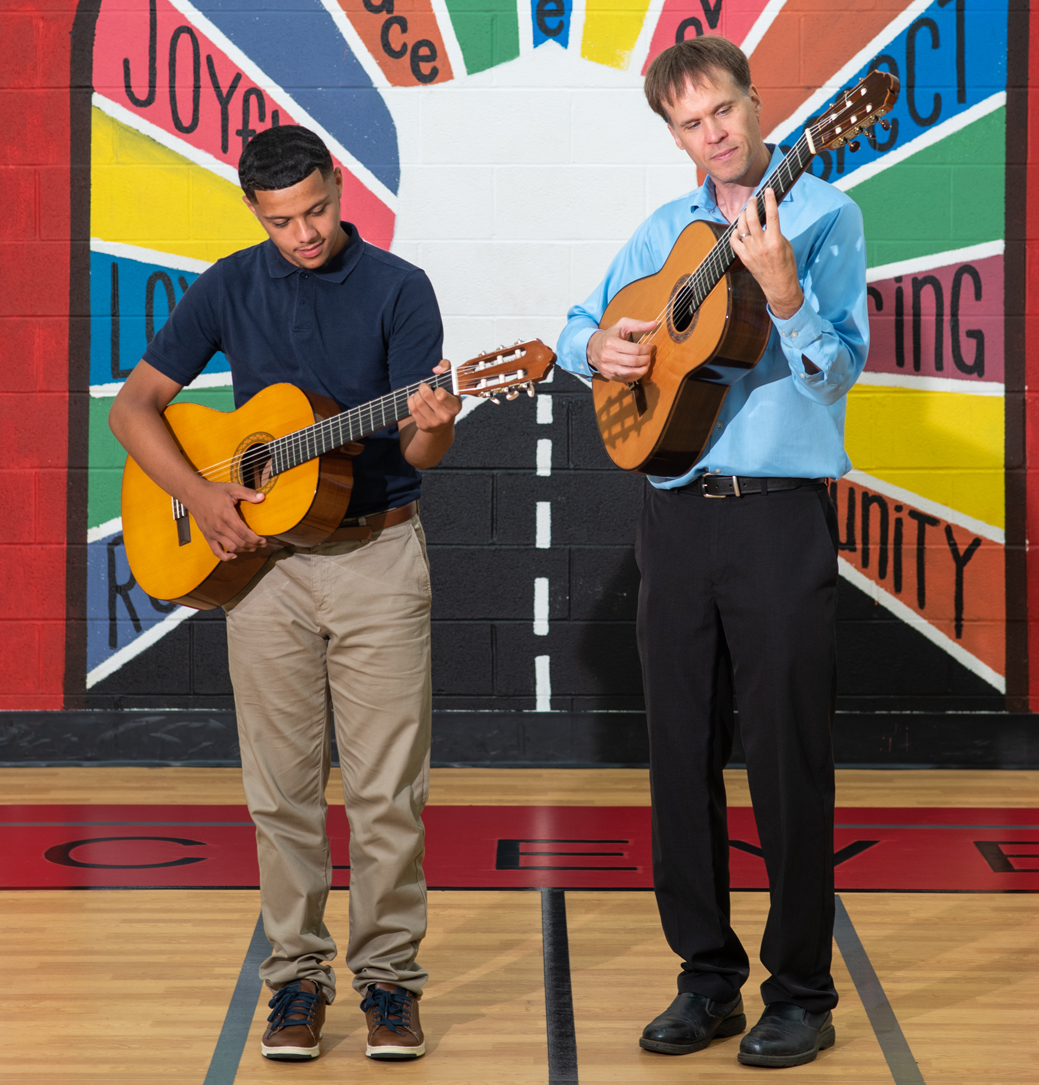 The lesson begins with a review of proper posture.
"Think of yourself as a puppet on a string, and the thread continues through your neck, the top of your head and goes all the way to the ceiling," says the teacher, Erik Mann '96.
The student, 14-year-old Marcello Cirilo, is clutching a guitar, his eyes trained intently
on Mann. He arches his back and puffs his chest forward.
Next, Mann asks Cirilo to play a scale, which he executes flawlessly.
"Wow, that's fantastic," says Mann, who's genuinely impressed.
The two are sitting in a room in the Salvation Army in East Cleveland, Ohio. The building, a shiny jewel nestled in a neighborhood that's seen better times, sits seven miles east of the Rock 'N Roll Hall of Fame, whose members include legendary guitarists Duane Allman, George Harrison and Jimi Hendrix.
They played classic rock. This is classical guitar.
Cirilo sports a patchy mustache he began to grow two years ago, right around the time he started taking free lessons through the Cleveland Classical Guitar Society's (CCGS) education program. His calm demeanor matches the style of music with which he's become enamored. Next, he plays a hauntingly beautiful—but not mistake-free—version of "Spanish Romance," a staple of the genre.
"How were you able to memorize it so well?" asks Mann, the executive director of the CCGS since 2009.
"I think it was because we broke it into smaller pieces so I could work on it at different times," replies Cirilo, who shows Mann a fingering switch that continues to trip him up.
Like most successful teachers, Mann is patient as Cirilo tries the section repeatedly, and like many successful students, Cirilo doesn't lose his cool when he bungles it, nor does he believe that he's mastered it when he hasn't.
"It's kind of like watching little kids play soccer," Mann explains to his pupil. "They all run to wherever the ball is. This [the left hand fingering] is the same kind of thing. Pay attention not just to the finger that you're using at the time, which is like where the soccer ball is, but to where all your other fingers are supposed to be."
Guitar, Mann says, saved his life when he was an angst-ridden teenager. Now, he's working to turn others' lives around as well.
"The arts in general are a way to create beauty in the world—a way to create greater meaning," he says. "I just don't know what I would have done without it."
Growing up in Burtonsville, Maryland, Mann struggled to form friendships.
"I didn't have many social skills," he says. "I was a strong student but definitely ended up slipping by because I really didn't have any way to connect with other people. I was starting to follow the wrong crowd a little bit. When I started taking guitar lessons, the ability to play with other people, or play by myself and kind of close myself off from the world, saved me."
He was drawn to the classical style of guitar because of the variety of moods and emotions in the music.
"Every basic tenet of human existence lives within classical music," he says.
After earning his music degree from TU, he taught at some music stores and performed at restaurants and weddings. In 2000, he enrolled in the Cleveland Institute of Music, from which he earned a master's degree.
"Cleveland has one of the greatest art scenes in the country," says Mann, who fell in love with the city in which he later fell in love with his wife Ellen. "We've got one of the world's best orchestras, one of the country's best art museums. The parks system here is amazing. It's pretty comparable to Baltimore in a lot of ways."
In 2009, he started running the CCGS as a volunteer. Under his stewardship, it has grown such that now he's one of three full-time employees at the nonprofit, which also has full- and part-time teachers. One of them is Andy Poxon '15, who taught Cirilo and Katie Stubblefield, the youngest face transplant recipient in the United States.
"A lot of our students have unique family situations," Poxon says. "The guitar gives them an escape, a way of expressing themselves and something to focus on."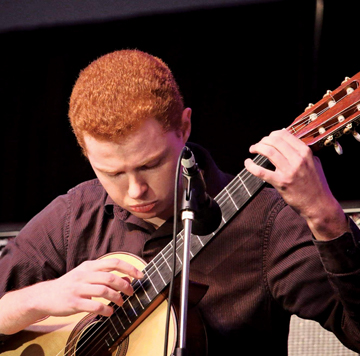 The education program was born in 2012 after Mann and others noticed an alarming
lack of opportunities for kids in Cleveland to make music.
"We've got the second-highest child poverty rate of cities that are 250,000 residents or larger," he says. "The schools mostly don't present opportunities for kids to learn instruments. The kids have a whole lot of barriers. There's the cost of lessons,
the cost of transportation. Basically, we exist to remove all those barriers."
The guitar society provides free lessons and equipment to over 600 middle school students at 18 sites around the city. Cirilo, who listens to Spanish music with a dash of Metallica thrown in, is one of them.
"Mr. Erik invited me one day and I started seeing other people play," the eighth-grader says. "I started liking the guitar more and more. I started getting better. Then he took interest in me and started giving me lessons. I was confused at first, but then he was showing me the notes and keys, so I started liking it. I started hearing different sounds."
The impact on students often goes far beyond music. Andrea Moss is assistant principal at Luis Munoz Main Dual Language Academy, where there's a CCGS residency.
"We've seen grades improve, we've seen behaviors improve," she says in a video produced by Cleveland Metropolitan School District. "We've seen social and emotional development just from participating in this program. They're learning to work together more. You see relationship building. Kids are talking more, sharing more. Discussing music in a different way. We've seen great strides in attendance. We've seen academic growth, because there is a correlation between learning to play a musical instrument and growing in mathematics and science."
Shirley Dillard has noticed that growth in her grandson, Marcello. She credits his
classical guitar lessons for an improvement in his attitude.
"He was headed down the wrong path," she says. "When he took interest in the guitar, his focus changed. He was much happier. It's played a big part in him becoming the young man that he's becoming. He even practices on his own. I'll tell him only to practice for about an hour because he'll get a headache if he practices too much. Sometimes I have to tell him to put it down. I've even seen an improvement in his grades since he's been so involved."
The CCGS, which also sponsors a renowned concert series in Cleveland, receives money for its education program through grants and private donations. Its top funder is the Cleveland Foundation, the first organization of its kind in the world. Founded in 1914, its arts mastery initiative aims to fund organizations, like the CCGS, that provide training for the city's kids in music, dance, theater and other arts.
"I like to say some organizations have magic, and the Cleveland Classical Guitar Society has magic," says Courtenay Barton, program manager for arts and culture at the Cleveland Foundation. "They've figured out how to reach youth, how to instruct them in a way that they demonstrate rapid progress. They become engaged. Youth are, perhaps somewhat contrary to what people may think, good judges of character. I think the reason youth respond to Erik Mann is because he has that sincerity naturally, as well as knowing his craft. Putting those two things together is what I think
makes the magic."
Cirilo is soft spoken, which mirrors the way he plays. But don't mistake that for a lack of confidence. He's measured in the way he approaches the guitar, letting out a slight chuckle when he makes a mistake rather than becoming discouraged.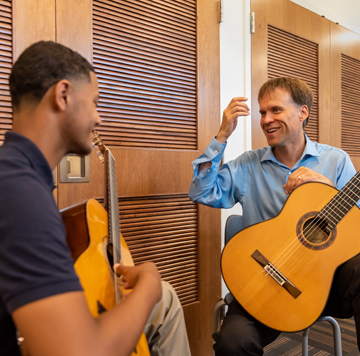 Mann asks Cirilo to play "Spanish Romance" once more, this time with rubato, a form of slowing down the tempo to impart more emotion into the piece.
"To the listener this sounds very expressive," Mann tells him. "It may take a while to work out, but if you try it for a bit you'll be able to do it."
Cirilo says okay, meticulously places eight of his fingers on the guitar in the correct positions, then proceeds to play it perfectly.