Coffee With...Andrew Young '06
We spoke with the owner of Vent Coffee Roasters about sourcing beans, determining product quality and collaborating with a big-name brewery.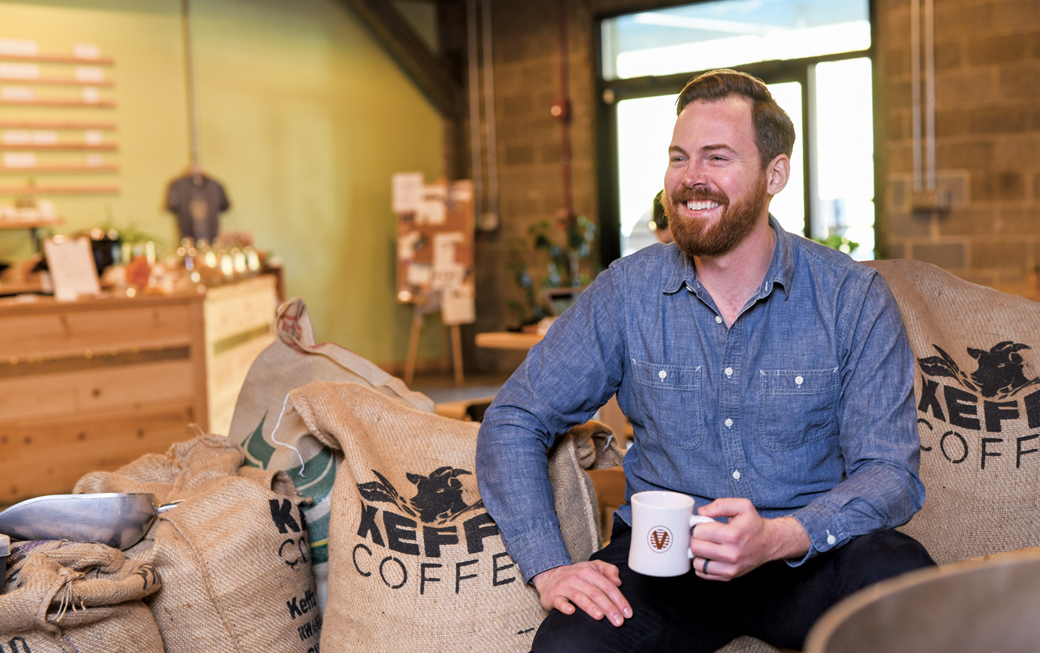 Q: When did you first start drinking coffee?
A: With my parents in the '80s. It was mainly Folgers and Maxwell House, which did not tastelike anything that I wanted to drink.
Q: So when did your love affair with coffee start?
A: It really wasn't until I was an adult that I started realizing that, just like wine or craft
beer, there are a lot of varieties and differences in coffee. I started working as a CPA downtown in 2012, and I became fascinated with the idea of small-batch, craft product. I met my business partner Sarah Walker, who had been roasting coffee on a small scale. We opened in August 2018.
Q: Where did the name come from?
A: The name Vent is the idea of having a time and place to let the s*** out of the day and take in something better. We want this space to encourage people to have a conversation with a friend or take a pause for some self-care.
Q: Where do you source your beans?
A: Colombia and Rwanda are two of my personal favorites. As much as possible we establish direct relationships with the growers. We're looking for high-quality coffees that are sustainably grown and where fair wages are paid to all people involved in the supply chain.
Q: What makes an actual bean or seed high quality?
A: Well, it's complicated. A lot has to do with the altitude needed to maintain mild temperature for slow growth and a denser seed. With temperatures changing worldwide we're seeing more varietals susceptible to pests and disease, so finding that right balance without using chemicals is the key. Even at the best farms it's impossible to have a perfect harvest, so the beans have to be sorted after picking to remove defects. We only buy coffee rated as specialty grade as opposed to commodity grade.
Q: What percentage of your business is supplying other businesses with coffee?
A: Our wholesale is about 20% of our business. That's the area we're looking to grow. Right now, we're roasting about 500 pounds a month for ourselves and others. With our current equipment and floor plan, we have the room to grow to 4,000 pounds a month.
Q: The Guinness Open Gate Brewery near BWI Airport is one of your customers?
A: A friend who works for Guinness recommended us to their head brewer. She
came, tried our coffee, loved it and wanted to work with us, so for a year and a half now they've been ordering for collaboration beers, like coffee stouts, and for serving coffee in their taproom and restaurant.
Q: Have you tried any of the beers?
A: Yeah, all of them. My personal favorite was a double coffee stout because it was nice and strong with extra coffee and 8.8% ABV. It was so smooth and chocolatey. It's really an honor that of all the coffee companies they could pick from, they chose to work with us.