A Conversation on Activism with Nikiya Mitchell and Asia Goins
By Megan Bradshaw
Two Towson University volleyball players speak with us about athletes and social activism.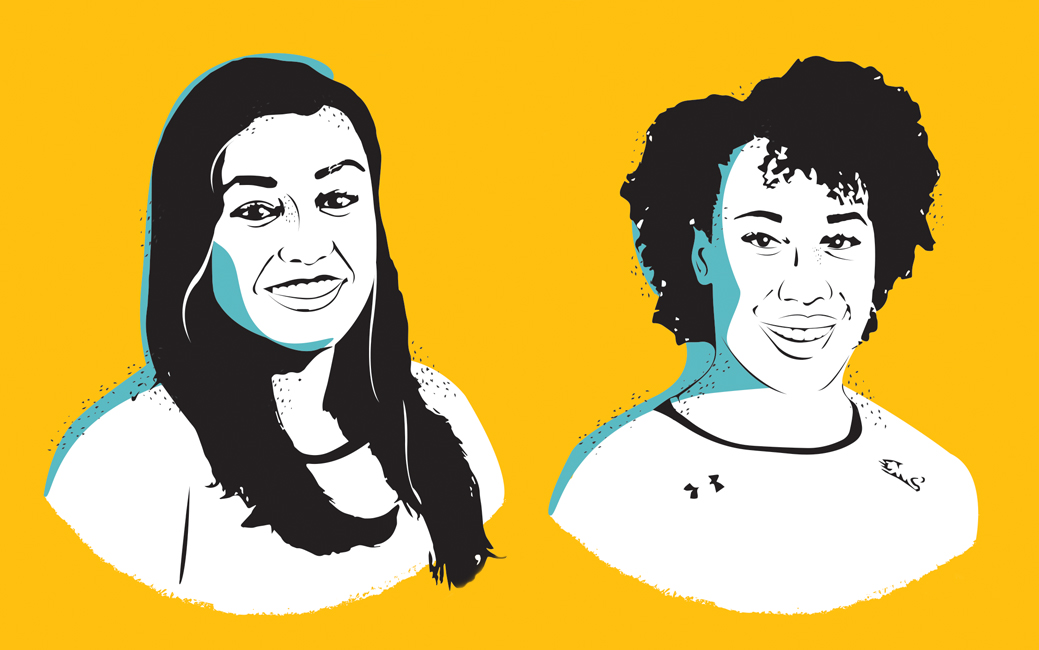 The death of George Floyd on May 25 sparked a summer of nationwide social justice, anti-racism and police reform protests. According to USA Today, in the 10 days following Floyd's death, there were protests in 700 cities and towns across the country. Another map, last updated Sept. 3, shows nearly 4,500 protest locations worldwide in support of Black Lives Matter (BLM).
This reform movement spans ages, genders and racial identities. Some of the loudest voices belong to athletes.
Sport has a long history of using its platform to highlight things some people would rather ignore, whether it was Jackie Robinson playing for the Brooklyn Dodgers, the all-Black Texas Western team beating the all-white Kentucky squad for the 1966 NCAA men's basketball championship or Colin Kaepernick kneeling during the National Anthem on Sept. 1, 2016.
On July 8, Major League Soccer restarted its interrupted season by beginning each game with players, coaches and officials kneeling during a moment of silence—some with fists raised—and teams warming up in BLM T-shirts designed by Warren Creavalle, a Philadelphia Union midfielder. The Union played its July 9 game wearing the names of Black people killed by police violence in place of their own last names on their jerseys.
The WNBA has promoted social justice and responsibility since its inception in 1997. On Aug. 26, the Washington Mystics simply took the next step when players wore white T-shirts with seven bullet holes on the back to protest the police shooting of Jacob Blake—one of many teams that boycotted games during the week following the shooting.
Professional athletes and ESPN commentators may be receiving more headlines, but college-level student-athletes are making themselves heard too.
The Southeastern Conference (SEC) created the SEC Council on Racial Equity and Social Justice on Aug. 17—a league-wide body of student-athletes, administrators, coaches and SEC staff whose goal is to promote racial equity and social justice while fostering diversity, addressing racism and pursuing nondiscrimination in intercollegiate sports.
On an institutional level, the University of Wisconsin's athletic department staff is developing a strategy on inclusion and engagement, tying its brand to social justice.
And individual student-athletes across the country, from powerhouses like the University of Alabama to smaller schools like East Carolina University, have led campus marches to protest police brutality and call for social justice.
We asked Towson University's Asia Goins and Nikiya Mitchell—members of the volleyball team—to share their thoughts on the role Millennials play in driving social change, what activism means to them and how they use their personal platforms to advocate for societal change.
Q: What does being an activist mean to you?
Nikiya Mitchell (NM): Being an activist runs so much deeper than being a protester on the front lines. The hardest thing for me to unlearn was the idea that I cannot be a true activist without being someone who leads marches and chants or someone who holds a sign with a profound message [for Instagram]. I commend every person who marches for justice and uses their First Amendment rights, but we should not limit ourselves to believing this is the only way to use our voice. Being an activist is depicting oppression through art, whether that be paintings, song or poetry. Being an activist is educating your friends and family or checking the microaggressions of the people who claim to be allies. To be an activist is to shed light on the racial injustice embedded in our country's judicial and social systems that others so desperately try to normalize.
Q: Why do you think Millennials (and the generations coming after them) are so well positioned to be change agents?
Asia Goins (AG): We are well positioned because the way to get information out now, more than ever, is easy and accessible to many different types of people. This generation can provide resources and educational topics to help those who do not experience the issue or are curious about what is going on. In this generation, as well, it has become more prevalent to film different scenarios in society. Previous generations did not have instant ways to expose truths that have been hidden in years past.
Q: How would you encourage someone to use their platform(s) (in-person conversation, social media, etc.) for positive change when they don't think they can make a difference?
NM: I have actually heard this question from many friends, and I believe that change starts with them. Challenging your friends and creating allyship within your social groups creates a pyramid of people who spread change in the best way they know how. You may have a profound ability to educate and communicate the importance of combating racial injustice and microaggressions to friends, and one of them may feel more compelled to reshare more content and be a voice on platforms where they feel most comfortable or heard.
Q: Why do you think athletes, in particular student-athletes, have been drivers for change?
NM: Student-athletes are privileged to be in a position where they are socialized with people from such diverse backgrounds, and we are taken out of the bubble that traditional students often socialize themselves in. We become a family with people from different races, countries, and social classes, so we are unconsciously taught to have an understanding of groups we may not necessarily be a part of. People often deflect the conversation of race and social change because they do not understand the experience, but student-athletes have a very unique experience that brings a lot of power behind our voices.
Q: Given the importance of sports in America, what is the potential for athletes to succeed in advocating for social change?
AG: By athletes becoming advocates for change it can lead to a chain reaction from their followers, fans and major organizations. This pressure that athletes cause makes an eruption throughout the world. It can raise awareness in other countries and upcoming candidates for elections, and this year is important now than ever. From the NFL apologizing for its behavior regarding Colin Kapernick and the NBA/WNBA being in full support of BLM, sports have made it very clear to the public where they stand.