The Washington Nationals won the World Series with timely hitting, "Baby Shark" power and TU alums working behind the scenes.
By Matt Palmer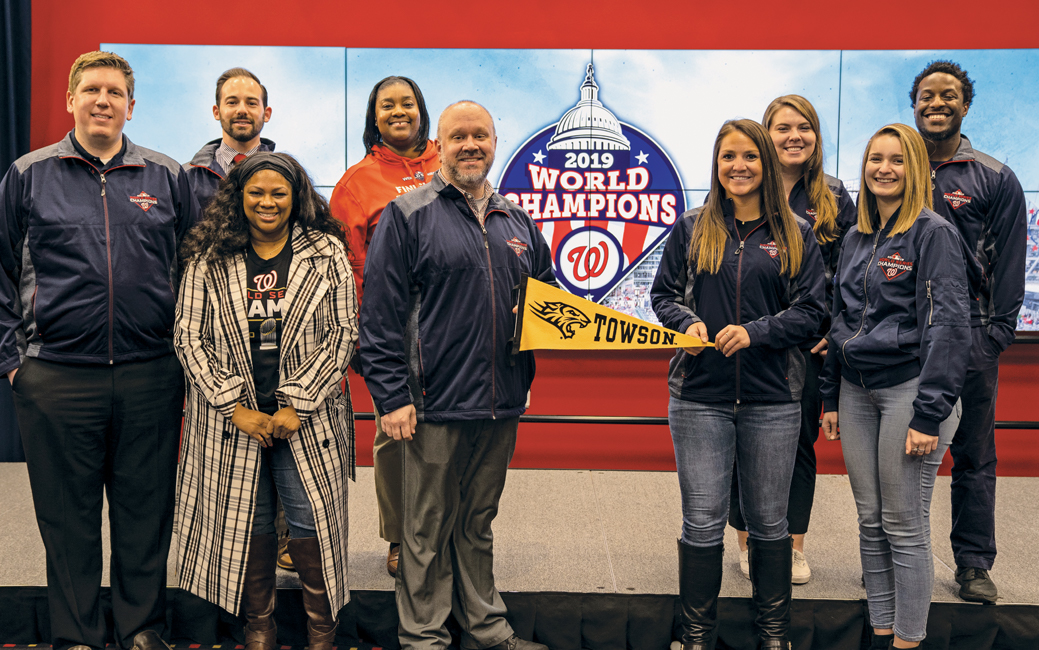 In the midst of a nasty slump last season, Washington Nationals outfielder Gerardo Parra knew he needed to change something. So he asked that when he came up to bat on June 19, "Baby Shark" be played on the ballpark PA system.
Not familiar with the song? You may not have kids—or be a baseball fan. Korean children's entertainment brand Pinkfong turned "Baby Shark" into an earworm that tortured parents worldwide. Parra turned it into an anthem for the Nats and their fans.
When Parra walked to the plate for the first time that afternoon, Dave Lundin's reaction was similar to many in the stadium that day, especially after Parra grounded out.
"My initial response was, really?" says Lundin '99, '03, the Nationals' vice president of broadcasting and production.
The magic started during Parra's next at-bat. He doubled, and later in the victory over the Philadelphia Phillies, he hit a home run. Needless to say he kept the song, which he chose because his 2-year-old daughter loves it, as his walk-up music. The win touched off a run that took the Nats from 33-38 and 8½ games out of first place in the National League East to their first World Series title.
Once Nationals Park organist Matthew Van Hoose played his own rendition on July 4, Lundin realized "Baby Shark" had officially become "a thing." He and his team kicked into action, creating a video featuring an oversize version of Parra's head chomping to the song. It was a hit with the fans, and soon thousands at home games were singing and mimicking the hand gestures when he came to bat.
Lundin, who has been with the organization since 2007, told the Washington Post that the "Baby Shark" singalong during Game 4 of the World Series was the loudest he has heard Nationals Park—beating even Stephen Strasburg's 14-strikeout debut in 2010 and Jayson Werth's walk-off home run in Game 4 of the NL Division Series two years later.
The fans' reaction is "why I got into the business in the first place," Lundin says. "You want to keep giving fans those feelings. There's something special about sports that gives people those memories. I got to be part of that."
As did a handful of other TU alums in sales, fan experience and other departments in the Nationals' front office. Brad Herson '13, a member services account executive, and Zoë Winslow '18, an event planning intern, took a sport management class with associate professor Jessica Minkove; they called the course transformational.
"Her door was always open and she never hesitated to give me feedback on what I was doing in terms of starting my career," Herson says. "Her lessons continue to carry me through my career as I approach working a decade in the sport industry."
Lundin had a similar experience.
"The teachers gave me the connections I needed that I wouldn't have had otherwise," he says. "I thought, 'This is what I'm supposed to do with my career.'"
Lundin arrived at TU in the mid-1990s intending to major in music education but decided that teaching wasn't for him. He adjusted, however, and got his first bachelor's degree in psychology in 1999. Four years later, he graduated with a degree in electronic media and film, with a concentration in television. His two degrees—and initial calling in music—all play a role in his current job.
"It's conducting," he says of steering the fan experience. "You're eliciting an emotional response from the fans in the same way as a piece of music. Your goal is to make an audience feel something and tug at their heartstrings."
When Lundin started working with the NFL's Baltimore Ravens and Minor League Baseball's Aberdeen IronBirds, iPhones didn't exist and social media was confined to Myspace. Still, TU prepared Lundin to evolve in the ever-changing digital landscape. That means tailoring his productions for stadium-sized screens, TV and cell phones.
Lundin oversees gameday audio-visual production for Nationals Park, the Mid-Atlantic Sports Network and 106.7 The Fan. The content appears on the large screens inside the stadium, on television, radio, social media and in commercials. Feedback is instantaneous.
"That is the single biggest change," Lundin says. "Social media tells us how we're doing. Anything can go viral these days."
Case in point: The organization's tweet showing a full Nationals Stadium doing the "Baby Shark" chomp during Game 4 had 6.1 thousand retweets and 1.7 million views. That sort of passion would have been hard to imagine 15 years ago when the Montreal Expos moved to Washington and became the Nationals in 2005. The town hadn't had a team since the early 1970s, when the Senators moved to Texas.
It was not love at first sight. Attendance at games was steady but underwhelming as the team suffered through six straight losing season before winning the National League East in 2012. Lundin was there during the lean years, including 100-plus loss seasons in 2008 and 2009.
"If they're losing, you have to make sure the fans are still into it," he says of the video department's role. "It's entertainment."
Key free agent acquisitions and the drafting of players like Strasburg started to change the Nationals' fortunes. The organization began marketing the team's gritty play as "Natitude." They've won four NL East division titles but prior to the 2019 season, had never advanced to the National League Championship Series (NLCS).
Last year, the Nats beat the St. Louis Cardinals to capture the NLCS. Winslow, who was involved with stadium event planning, had a front row seat for that victory.
"I was part of the team that helped push the stage out for the trophy ceremony," Winslow says. "We were told we had to do it in eight minutes, and I believe we did it in five. We were just waiting for the final out from the Nats and then we had to move. There was no time to think; we just had to push fast. The stage had to be placed in particular spots, and once it was in place, we had to barricade the whole thing. At the moment you are just so laser focused on doing your job. As soon as I finished, I looked up, and I was right behind all the players."
The postseason memories will linger forever, Lundin says.
"Watching the fans go insane, quite honestly, it never sunk in for me," he says. "When we were standing on the stage for the parade a few days later, it finally did. It was so surreal."
Hundreds of thousands of people lined Constitution Avenue as D.C. celebrated its first World Series victory since the Senators won it in 1924.
"It really brought the city together," Winslow says.
But winning had a secondary effect. Even though the 2020 season was suspended in March due to the coronavirus, this was the shortest offseason in franchise history. The team beat the favored Houston Astros in Game 7 of the World Series on October 30 and began spring training in mid-February 2020. The offseason was filled with creative meetings and content production for Nationals Park and the club's television and radio partners. Lundin was in catchup mode for months.
"In some ways, we lost a month," Lundin says. "We were in the midst of the chase. The second we won the World Series, we were planning for spring training."
Herson works with season ticket holders, and throughout the winter, he answered the phone countless times by saying, "Thank you for calling the World Series champion Washington Nationals…"
The greeting hasn't gotten old.
Matt Palmer is TU's director of media relations and news. He formerly covered the Ravens and Orioles for the Baltimore Examiner and PressBox.