Like many of our homes, schools and places of worship, Towson University's campus has changed a lot in the past few weeks. Our Housing and Residence Life staff helped almost 6,000 students move out of our residence halls. Classes on campus pivoted to distance learning under the leadership of our faculty. Almost 4,000 TU staff and faculty members shifted to working from home. Campus is indeed quiet now, but the work of the university continues. Students are learning in their virtual classrooms, faculty members are continuing their research and creative work, alumni are hosting Zoom networking events, employers are interviewing and hiring our students via Webex and student-athletes are conditioning using videos. Even this publication has shifted. You are reading this letter on your computer, phone or tablet because we opted to publish this issue of TU Magazine solely online this spring.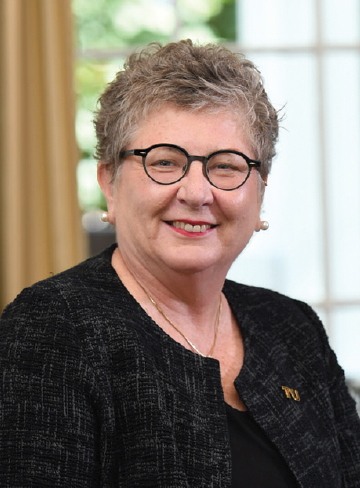 One tradition hasn't changed: Towson University's unwavering commitment to community and excellence. Everyone—faculty, students, staff and alumni—has rallied to support each other and our larger community. We quickly created emergency funds for students, faculty and staff, and, in just a few weeks, over $250,000 in support was generously donated. Our College of Health Professions sent beds and equipment to local hospitals as they prepared for a COVID-19 surge. Many TU departments gathered PPE and sent it to first responders and health care facilities. Faculty research in science, health, technology, counseling, supply chain management and education is impacting how we respond to and recover from the COVID-19 outbreak.
TU prepares and graduates more health care professionals than any university in Maryland, and our alumni are at the forefront of battling the pandemic. I have always been proud of what we do and what we stand for. It is often said that adversity doesn't build character, it reveals it. During these past few weeks, I am very proud to say that Towson University at its best has shown through in so many ways.
Like many cities and states, including Maryland, our next step is to plan for reopening, and we are well on our way. The safety and health of our community will always be our top priority, and, as a first step, I have established a Return to TU Task Force to prepare the university for a safe return to campus when state directives allow. This important work has begun and will continue throughout the summer and fall. I know we are all looking forward to the next time we can see Stephens Hall, hear the marching band play, watch our students play Frisbee on Burdick Field and join our colleagues back on campus.
We all can agree these are exceptional times for our university, our state, our nation and our global community. While this moment requires some physical distance between us, we are all going through this together—as a university and a global community. We are all bound together by this moment and forever will be. I am bolstered by the resolve of our faculty and staff, their dedication to inclusively serving our students and the commitment of our TU community to reaching out and lifting up so many during this most extraordinary moment. I ask you join in me in remembering and celebrating that.
There is much to be proud of at Towson University, and there are great things ahead!
Kim Schatzel
Towson University President