TU student group paints positivity for the TU community.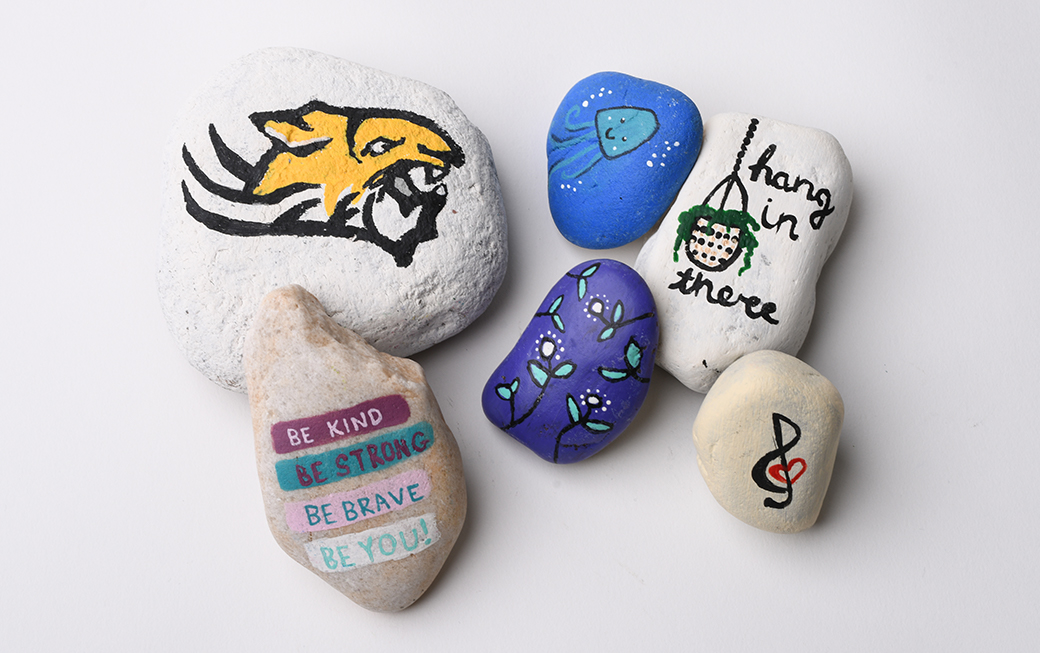 Say you're walking through campus, and a pop of color catches your eye. Closer inspection reveals a rock painted bright yellow with the words "You are my sunshine."
How could you not feel just a bit more cheerful?
That's the goal of Towson Rocks, a student club whose members paint inspirational designs on rocks they then hide around campus and the local community. People who find the rocks can keep them or redistribute them. Each rock is labeled with the club's name and the finder can send a picture to @towsonrocks on Instagram.
Brooke Foundas, her sister Nichole and their best friend Victoria Nicholson founded the club after picking up the hobby during their days at Tuscarora High School in Frederick, Maryland.
"Our goal is to spread kindness and positivity throughout campus and the community," says Brooke, the club's vice president.
That message is resonating with students. Towson Rocks was named TU's Best Student Group by The Towerlight in January.
Every other week 15 to 30 TU students paint rocks while listening to music and chatting. Fall 2019 was Towson Rocks' first semester as a club, and it turned out the jovial atmosphere and eco-friendly paint created more than ornate rocks.
"I think one of our most heartwarming stories is when Brooke painted a rainbow rock," Nicholson says. "A girl on campus found it and shared her story through Instagram about how her sister was part of the LGBTQ+ community and that she wanted to give the rock to her sister to support her."