Lauren Snyder '13 goes all in for Habitat for Humanity.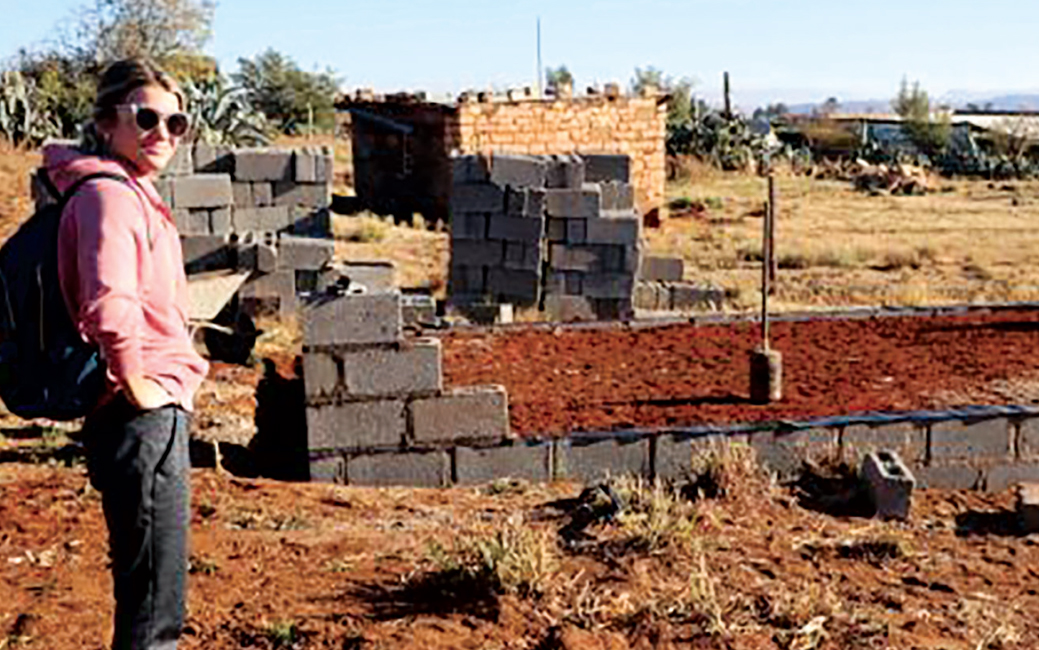 As part of Habitat for Humanity's operating procedure, the family for whom a house is being built typically participates in its construction. By Lauren Snyder's third day in Ha Koali, a small village in the African nation of Lesotho, even the elderly women in the community wanted to pitch in. They began carrying buckets a mile to a well, filling them with water and then carrying them back on their heads so Snyder and her fellow volunteers could mix mortar for bricks.
"They walked with smiles on their faces," Snyder says.
It's memories like those that caused Snyder to fall in love with Habitat, the Atlanta-based nonprofit housing organization that works in all 50 U.S. states and in more than 70 countries around the world. Snyder, 29, took her first Habitat trip as a high school student to New Orleans in the aftermath of Hurricane Katrina.
"Building homes next to families that lost their homes was a huge lesson for someone like me who grew up in Annapolis, super fortunate in a well-off community that's really safe," she says. "It made me want to stay involved."
At TU, she co-founded the campus chapter of Habitat and helped organize alternative spring break trips to places like Miami and Laredo, Texas. There, volunteers worked eight-hour days doing everything from digging a foundation to building a roof to putting up siding. They stayed in churches or camped at state parks. It was hardly glamorous, but immeasurably fulfilling.
By the time she graduated, the chapter had more than 250 members. Snyder wanted to continue her work for Habitat after she graduated, so in 2019 she went to Lesotho, a small, landlocked country within South Africa. There, she spent a week helping to build a safe shelter for a group
of siblings who lost their parents to AIDS. That trip was such a positive experience that she decided to lead one back there this September.
On a whim, Snyder entered a contest earlier this year sponsored by Jetset Magazine. Her application was accepted, and she was in the running to be Miss Jetset, a title that comes with a cover shoot for the magazine and a $50,000 prize that Snyder vowed to use to pay for all the volunteers' expenses on their upcoming trip. (Snyder estimates it will cost each volunteer $2,500 to go.)
She didn't win, but she remains committed to returning to Lesotho in the fall.
"People are all so incredibly appreciative that there are strangers helping them recover from a horrific experience they have had," Snyder says. "It's shaped the person I am today."