Three alums at the company Kiranex were uniquely positioned when the novel coronavirus pandemic hit.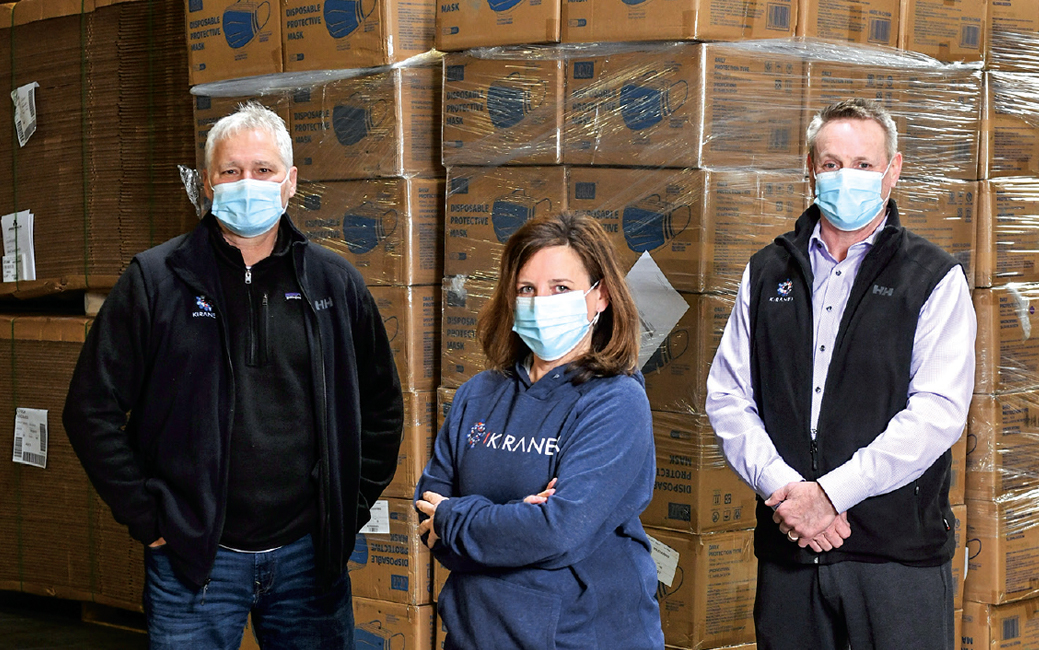 Carl and Lesley Kirts and Bob Andrus have been prepared for a pandemic for 12 years.
The H1N1 outbreak in 2009 inspired Carl—who started working in pharmaceutical sales in the 1990s—to reconnect with Andrus, an apparel representative, and form Pandemic, Inc.
"Carl called me and said, 'Hey, I think there's an opportunity here. A pandemic is going to happen eventually,'" Andrus recalls. "We started with ear-loop face masks then developed a solution for customers explaining why they needed to prepare for something like this, that eventually their reliance on foreign supply chains is going to be jeopardized. In the event of a pandemic, they were going to
need readily accessible product in the U.S."
As the company grew, and the name changed to Kiranex, Andrus and Carl expanded their product lines to include goods like gowns, gloves, hand sanitizer, surface disinfectants, shoe covers, hair caps
and services such as warehouse stockpiling and fulfillment. Lesley has been there since the beginning, providing administrative and management support.
Andrus and Kirts are TU men's soccer alumni, and that tightknit community has played a key role in Kiranex's operations for the last year. The relationships Carl, Lesley and Andrus built with customers have also stood the test of time.
"Around 2009, we were selling PPE kits to family and friends," Lesley recalls. "In spring 2020, we received an email from a friend who had bought a kit 10 years ago and saved it, saying how grateful
he was to still have it when everyone else was going crazy trying to find hand sanitizer."
In the end, it's the friendship between the three that has kept Kiranex on an even keel in a year that threw everyone for a loop.
"I've known Bob and Lesley for decades. There's never a question that they're going to do what's in the best interests of all of us," Carl says. "I think the key to being successful is working with
people that you love and trust."