Through a three-alarm fire and a pandemic, Towson's Charles Village Pub perseveres.
By Rebecca Kirkman
Photography by Alexander Wright '18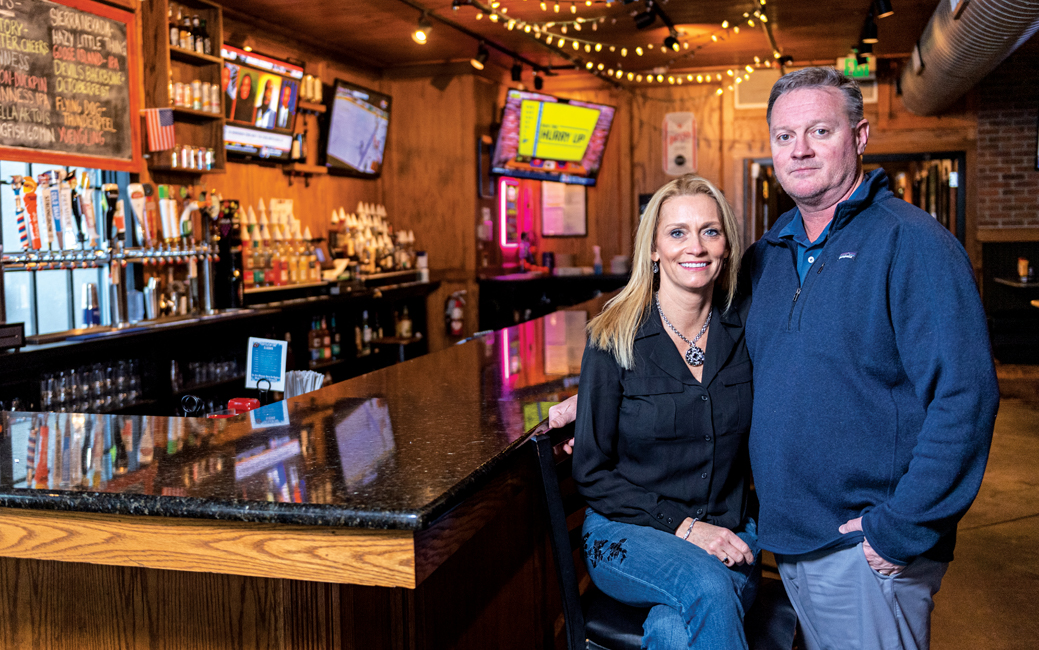 Back in her undergraduate days, Shelby Sirkis '06 and her friends would meet at Charles Village Pub & Patio in uptown Towson most weekends. Known to locals simply as CVP, the pub on West Pennsylvania Avenue has been a favorite for generations of TU students, faculty and staff since it opened in 1985.
For Sirkis, though, the place holds more than collegiate nostalgia. One night in 2004, she and her friends were hanging out by the pool table on the second floor when she got up the courage to introduce herself to Jason Dorich '05, an upperclassman who had caught her eye around campus. They started talking and hit it off.
Seven years later, Sirkis and Dorich married. In the decade since, the Timonium couple has returned to CVP for occasions big and small. They hosted private parties at the pub to celebrate Dorich's 30th birthday in 2012, as well as the first birthdays of their three children—Colby, 7, Madison, 4, and Jordy, 2.
It's a story familiar to many: The Tiger watering hole has a way of bringing people together.
In fact, CVP's current co-owners Eric Wagner '94, Melony Wagner '97 and Rick Bielski '84 met working at the pub in the 1990s.
A Pennsylvania native, Eric transferred to then-Towson State University from Allegheny Community College in 1992 to play shortstop on the baseball team. CVP, he says, was a favorite post-game gathering spot for the players and their families.
After graduating with a sports management degree, Eric worked behind the bar. That's where he met Melony, a TU accounting student, in 1995. They married two years later.
"He wore me down," Melony says of their courtship. "I'm sure Eric remembers it differently, though," she adds with a laugh. Their wedding in Jamaica was planned by CVP DJ Dino Luzzi '87, who also owns Towson-based travel agency Town & Country. Many of their friends and family at the wedding were TU alumni, pub employees or both.
In 1999, the couple paired up with Bielski to purchase the pub that brought them together. Bielski had founded the original Charles Village Pub on St. Paul Street in Baltimore in 1981 with his brother, Randy, and a few other former Tiger student-athletes, and spinoffs in Towson and Catonsville followed. (The Catonsville location has since closed, and the Baltimore location was sold in the early '90s.)
"We saw it as a great opportunity to buy into something we loved and we were interested in," Eric says. While the couple embarked on their professional careers—Eric in building material sales and Melony as a CPA—they continued working a few shifts a week at the restaurant.
In an industry with razor-thin margins, the Wagners have navigated countless challenges, from increased competition to a three-alarm fire in 2011 and the novel coronavirus pandemic in 2020.
Through it all, though, the pub has persevered.
From a seat at CVP's back bar, Eric reflects on the past two decades. "It's been a rocky road," he says. "A lot has happened in these 22 years."
It's mid-day on a Monday in February, nearly a year into the pandemic, and restaurants in Baltimore County remain restricted to 50 percent of their normal occupancy levels in an effort to curb the virus' spread. In reality, the percentage they can accommodate is much lower, Wagner says, due to the spacing of tables to comply with physical distancing regulations. The spot's typical lunchtime crowd has given way to a few in-person diners and a trickling stream of nearby office workers picking up carryout. Next to a sign advertising the daily specials—half-price burgers on Mondays, bottomless brunch on the weekends—another reminds patrons to observe distancing and face covering regulations.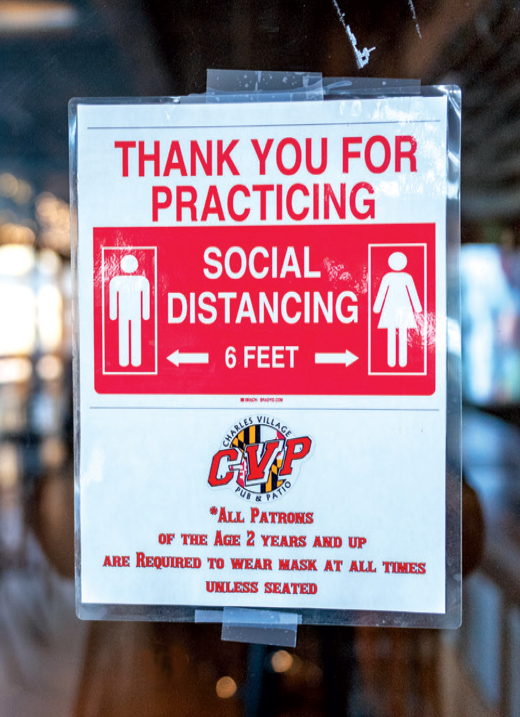 "We have a very big building with a big mortgage that we're not allowed to fill up to pay the bills," Eric says. "So that's really been the most stressful part of all this."
Normally, CVP can accommodate 600 guests across four bars spread over two floors, a back patio and rooftop deck. While in-person dining continues to make up about 60 percent of business, the Wagners quickly pivoted to increase their carryout, curbside pickup and delivery options to stay afloat. More than 30 private parties, which normally would have carried the restaurant through the slower winter months, had to be canceled. Deposits were refunded.
"The biggest hit to us was over the holidays with private events," Eric says. "A lot of our customers are so loyal they are already booking smaller events six months down the road, in hopes that this is over with by that point."
It's just one example of the devoted following CVP has earned over its more than three decades in Towson.
When shutdowns forced the Wagners to lay off dozens of employees last March, Melony leaned on a group of moms from her son's soccer club for support. "We live up in Hunt Valley, and it's more secluded; there's not as many local businesses, so they weren't seeing the impact of the shutdowns firsthand," she says. "But when I opened up to them about it, they really stepped up to help."
One of the moms asked if she could buy 25 meals for the pharmacy at University of Maryland St. Joseph Medical Center in Towson, where her husband worked. "She's like, 'Can you guys deliver?'" Melony says. "We had never done that before, but I was like, 'Sure!'"
After fielding a few similar requests, the group of parents launched "One Team, One Goal," an initiative through which the public could purchase lunches and dinners from CVP to be delivered to Baltimore County police and firefighters as well as staff at St. Joseph, Sheppard Pratt Hospital, University of Maryland Upper Chesapeake Medical Center and GBMC (Greater Baltimore Medical Center). By the summer, they had delivered nearly 4,000 meals.
"That really helped keep us afloat for the first six to eight weeks," she says. "It was wonderful. The Towson community really rallied around us."
The feeling recalled memories of a decade prior, when a three-alarm kitchen fire on Jan. 29, 2011, destroyed the original building. After 18 months of rebuilding, the space reopened to much fanfare from the community. A tip bell, now mounted on the rooftop bar, was one of the only pieces from the original building to survive the fire.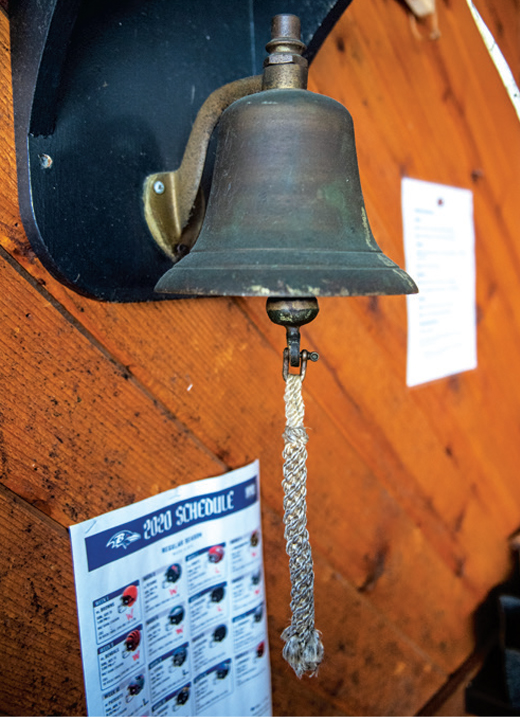 When TU football head coach Rob Ambrose '93 heard about the fire, it was "extremely depressing," he says.
"We all kind of held our breath for a while, hoping and praying that it would get rebuilt," he says. "When it reopened, it felt like a weight was lifted off. You didn't lose what was a big part of your past and so many memories."
Ambrose equates the relationship between CVP and TU to that of family.
"There's been a tie there for as long as I can remember, specifically athletically, because of the people who were involved in the restaurant," says Ambrose, who played quarterback and then wide receiver for the Tigers before returning as a coach in 2009. Ambrose and Eric Wagner met as student-athletes and became closer over their connections to CVP.
"We take care of each other," he says, referencing an annual golf tournament CVP hosts to benefit TU Athletics. "They are invested in the athletic prominence of our university, and we're invested in that place as part of our past and our future."
CVP's tie to local sports goes back even further—Rick Bielski's father, Baltimore native Dick Bielski, played football at Patterson Park High School and the University of Maryland before ending a nine-year NFL career with the Baltimore Colts. He went on to serve as an assistant coach on the team for 14 years. His sons Rick and Randy played football at TU in the early '80s before getting into the restaurant business. A framed green No. 36 jersey, from Dick's time as a running back for the Philadelphia Eagles, hangs next to a Tigers jersey in the hallway to CVP's back bar.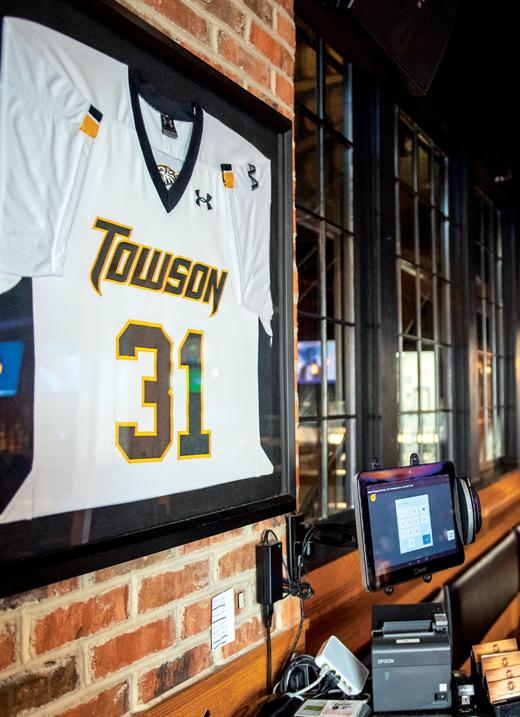 "It might be the most frequented restaurant in the entirety of my life," Ambrose says of CVP. "Some things end up being memorable and pillars of the community, and they can't help but be one."
Dan Crowley '01, senior associate director of TU Athletics, can relate. The former Tiger quarterback has treasured his time at CVP.
"My best memory is probably after our last home football game in 1994," he says. The Tigers beat Morgan State 42-7 that day. "There were about a dozen players, families, several coaches, and we sat on what was then the back patio. My family loved to come up and go there after games."
It's also part of the TU experience he shares with prospective student-athletes and their families when he gives tours on campus. "I always mention CVP as the longest-lasting restaurant owned by not just TU graduates but former athletes," he says. "It's a local staple but also a stomping ground for all TU alumni."
CVP continues to be embraced by the newest generation of Tigers. In fact, Ambrose's daughter, Grace Ambrose '22, who plays soccer at TU, picked up shifts at CVP over the summer. "It's a bit odd for me to have my daughter working at a bar we went to in college," Ambrose says with a laugh. "There are a lot of bars that come and go, but there aren't too many that have been here forever, and I hope it stays that way."
Rebecca Kirkman is a communications strategist in University Marketing & Communications and a Baltimore magazine contributing writer.