Nick Joo '07 shares a taste of Singapore.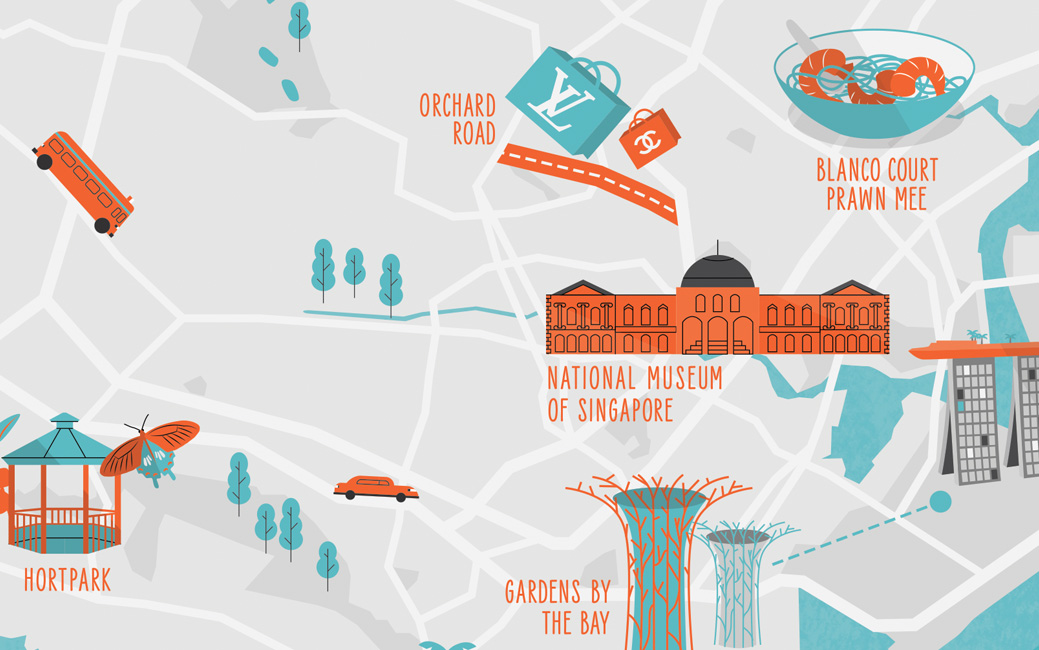 If you find yourself in Southeast Asia with a few days to spare, consider visiting Singapore. Perched on the tip of the Malay Peninsula between Malaysia and Indonesia—85 miles north of the Equator—the city-state is half the size of Rhode Island and home to 5.45 million people—the second-greatest population density in the world.

But where Singapore really packs a punch?

The food.

"I consider us the food capital of the world," says Nick Joo '07. "I take visitors to check out different restaurants or food places to give them a taste of Singapore. [The food area] Newton Hawker Centre is always touted to tourists. I think that's way overrated. So I tend to take them to more of the local haunts where I think it's cheaper, and it's better as well.

"We are a predominantly Chinese culture, so there's plenty of Chinese food around. There is a lot of very, very authentic and good Japanese food. In fact, I dare say that the quality of Japanese food can sometimes be even better than what you find in Japan itself."

But Joo's favorite cuisine is street food.
"I grew up eating prawn noodles at Blanco Court Prawn Mee, because my mom's office used to be literally right opposite the store," he says. "She would always take us kids on the weekends because she had to work."
Joo was born and raised in the western half of the republic and is proud to still live in that region, in an area called Clementi. He and his wife Ng Kai Lyn live five minutes from his parents.
"It's not as densely packed compared to other parts of Singapore," he says. "You still can find your own tiny pockets of peace and quiet here."
Despite saying he's "not really an outdoor person," Joo has become more interested in the parks in his area, taking to the paths with his wife to walk his dog.
"I prefer [places] where there isn't a lot of people," he says. "It's actually quite interesting, because I didn't know we had so much wildlife roaming around in some of these parks. I like HortPark, because there's a lot of floral diversity there. The other one is Labrador Park Nature Reserve because it's right by the sea. We get the nice breeze, the calmness of the sea."
Joo, strategy director for Helen O'Grady Asia, and his wife, a doctor, are very careful when it comes to socializing during COVID-19. In addition to dog walking and strolling Orchard Road—Singapore's retail heart—to see the city lights at night, the pair wander through the Singapore Botanic Gardens as well as the Gardens by the Bay. They also visit Singapore's museums, taking in exhibitions at the National Museum of Singapore, the Asian Civilisations Museum and the National Gallery Singapore.
Joo notes that despite its small size—"I can get end to end within 30 to 45 minutes of driving"—Singapore has something for everyone.
"If you are into wildlife, we have the zoos and aquariums. For kids, there's Eco Park with cycling and watersports. If you're more into architecture, we have the Supreme Court, Asian Civilisations Museum and the neighborhoods where we have preserved the old buildings, to see what Singapore was like 40, 50 years ago.
"But I think if you were to ask what landmark encapsulates Singapore, I'd say the Marina Bay Sands Hotel. [As a high-rise,] it represents Singapore quite well, because we are very densely populated, and the building is an architectural beauty."