Student success at Towson University is one of my favorite stories to tell.
Whether I'm meeting alumni at a crab feast before an O's spring training game in Sarasota, Florida, or parents during Move-In or Commencement, I beam with TU pride whenever I get the opportunity.
Towson University's story is one that continues to evolve, to solve the problems that face our state and our world. From its origins as a teacher preparation school to the anchor institution it is today, TU has always served as a workforce provider for our state. As we endeavor toward attaining a Carnegie Classification of R2—recognizing high research output—TU is merely continuing its natural evolution.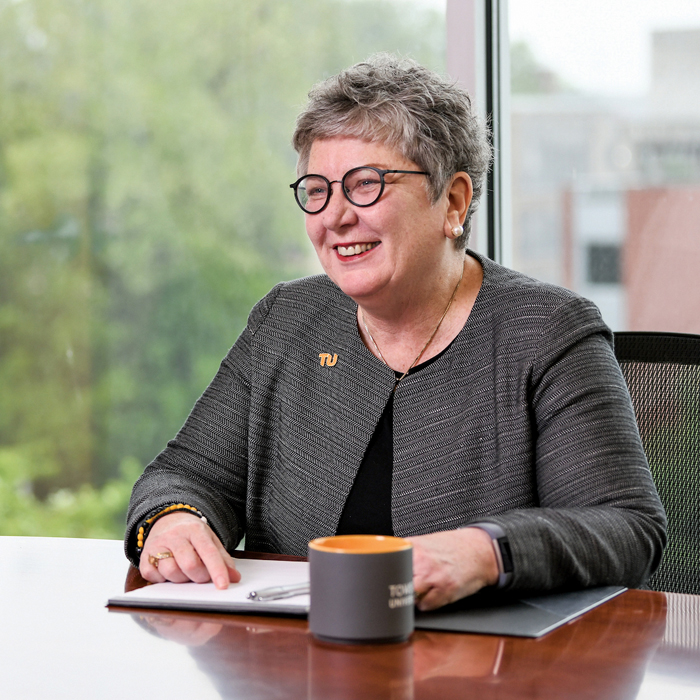 As our community and mission grow, our impact only continues to gain momentum. We're now home to 20,000 focused learners, who are learning and achieving inclusively. TU is one of only a handful of universities nationwide that has zero achievement gap: Our minority student population achieves the same academic success as the entirety of our student population. TU is a national leader in social mobility, helping to change the trajectory of generations of Tigers through an inclusive and excellent learning environment.
That is the impact of a Towson University education.
This edition of TU Magazine captures so much of that. There are news items about student and alumni success, our pair of 20-win basketball teams and how TU Foundation grants are funding interdisciplinary research opportunities for undergraduate students. There's also a glimpse at our Campus Master Plan, which lays forth the blueprint for how the physical campus will continue to evolve to match our promise for our state and our future students.
You'll find stories on those who give of themselves to support the university's success—like inaugural Leader-in-Residence Linda Singh—and those who give philanthropically—like Fran Soistman, co-chair for RISE, the Campaign for Towson University and the benefactor behind the largest alumni gift in TU's history.
You'll meet an alum who is a pioneer among aviators and creates opportunities for other women to fly and faculty and alumni experts who share their insight to help victims of intimate partner violence.
Through those stories, we can see how student success at TU has a national impact. As we enter the time of year where we celebrate our latest graduates, there is so much to celebrate at Towson University, and there are indeed even greater things ahead.
It is a great time to be a Tiger!
Kim Schatzel, Ph.D.
Towson University President