Tigers Give Back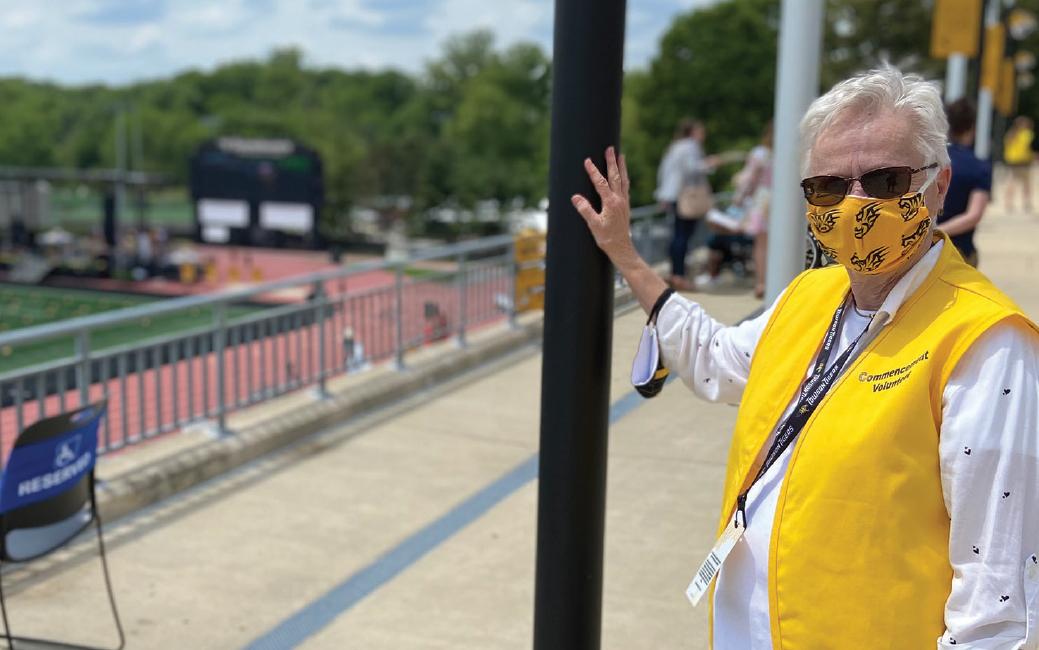 We can always count on our alumni to give back to the TU community, and that was especially true this spring. When the Tiger L.E.A.P. job shadowing program was put on hold last year, the Career Center invited alumni to share a virtual day in the life at their jobs through Instagram takeovers. What began as a weekly series in April quickly grew into an 11-week program spanning April, May and part of June. Participants, who graduated between 2011 and 2020, shared meaningful industry experiences and answered viewer questions across wide-ranging fields. The stories were not only informative but also fun. In one takeover, Los Angeles Rams account executive Stephen Logsdon '12 playfully introduced Rampage, the team's mascot, as his roommate.
Tigers also generously volunteered their time in May at Commencement. Alumni served as enthusiastic greeters, ushers and robing and processional assistants at all 10 ceremonies, making guests feel truly welcome.
Keep an eye out for more alumni volunteer opportunities as we resume quarterly service projects this fall.
Alpha Omega Lambda Brothers Raise Nearly $15,000 in 72 Hours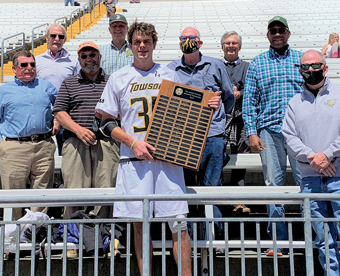 The Alpha Omega Lambda (AOL) brothers are no strangers to fundraising, having established two endowed scholarships at TU—in addition to other funds—in memory or support of fellow members.
In April the AOL brothers raised $14,855 in 72 hours thanks to a generous, double-matching gift challenge initiated via email. It began when John Gilliss '74 proposed to match gifts up to $5,000, and Mark Maloney '80 agreed to do the same.
On May 1, the AOL brothers presented men's lacrosse player Garrett Zungailia with this year's Joseph Ferrante Memorial Scholarship, awarding the junior defenseman $6,300 for the spring term. The scholarship honors the late Joseph Ferrante, the unsung hero of the 1974 championship men's lacrosse team.
In 2020, the AOL brothers celebrated their 50th anniversary. Although they were unable to reunite in person, they have plans to celebrate the milestone together next spring.
Global Alumni Reunion
The Global Alumni Reunion committee is planning virtual and in-person components for its
inaugural reunion in 2022. If you were an international, exchange or study-abroad student, please visit alumni.towson.edu/globalreunion to take a brief survey to help determine activities for the reunion and see updates as we get closer to the event.
---
Alumni Events
Senior Week Graduation Portraits
As part of Senior and Recent Graduate Week May 3–8, the Office of Alumni Relations and University Marketing & Communications sponsored several free, professional photo sessions for members of the classes of 2020 and 2021.
Olive Oil History and Tasting
More than 50 alumni and friends took part in a special online tasting and history lesson led by Konstantinos "Gus" Kosmakos '07, his mother Kalliopi (owner of Stefania Extra Virgin Olive Oil) and TU professor Jennifer Ballengee on May 26.
2020 and 2021 Commencement Volunteers
Alumni stepped up in a big way May 17–21, volunteering at Commencement as greeters, ushers and robing assistants at 10 ceremonies over five days. The excitement was palpable, and we loved seeing so many enthusiastic Tigers on campus welcoming new alumni and their families.
Alumni Night at Basignani Winery
More than 100 alumni and guests traveled to Sparks Glencoe, Maryland, on June 12 for a relaxing night filled with good food, great wine and even better company. Local band Ebb & Nova serenaded the crowd with a blend of indie rock and Americana as everyone enjoyed delicious artisan pizzas.