Bringing Lena Back to Life
A box of forgotten music spanned three countries and connected four people over nine decades. TU piano professor Eva Mengelkoch helped share the treasures with the world.
By Megan Bradshaw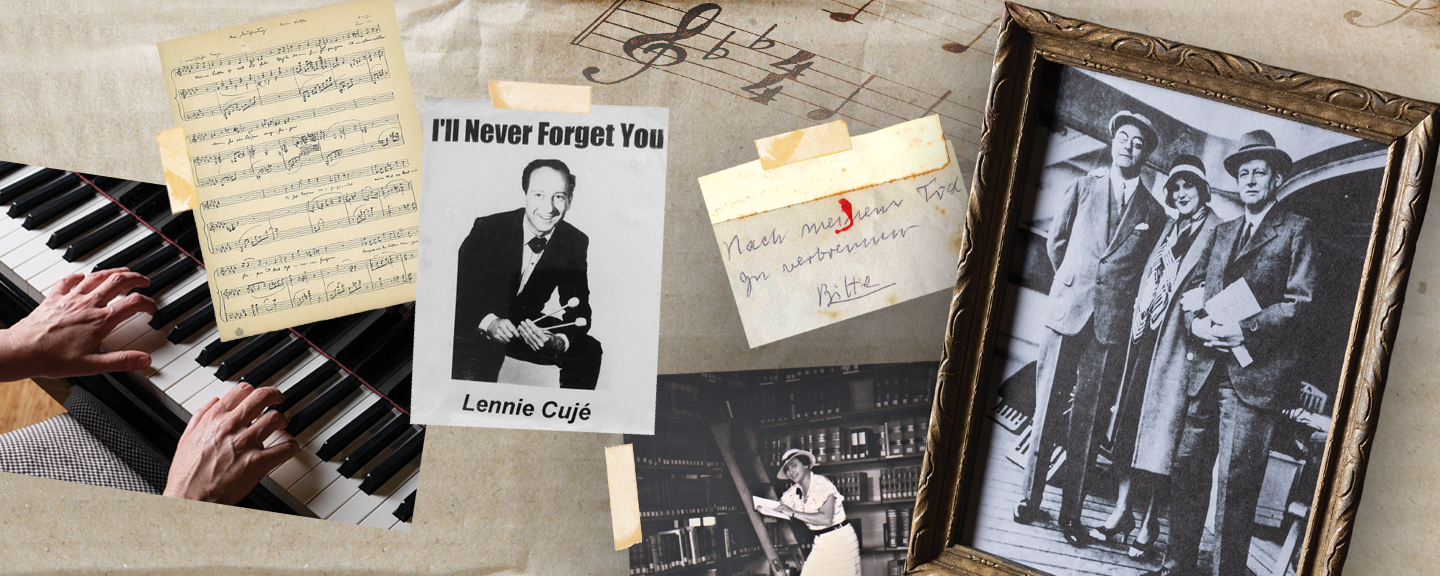 Nach meinem Tod
zu verbrennen. Bitte.
[ Burn after my death. Please. ]
Could you follow those instructions without peeking in the box on which they were written?
The resurrection of the decades-old music manuscripts begins, appropriately enough, in the past.
In 2008, jazz musician Leonhard "Lennie" Cuje walked into 1752 Swann Street in Northwest Washington, D.C., and felt the years drop away.
From the 1930s to the 1960s, the rowhome doubled as Lindsay's, an after-hours jazz club unlicensed to sell liquor after midnight. Patrons entered through a discreet staircase in the backyard, through the basement's kitchen and into the lounge, where they heard the likes of Nat King Cole, Cab Calloway, Ella Fitzgerald—and Cuje himself.
Cuje, a vibraphonist, was there that night in 2008 at the invitation of the home's new owner, who, after discovering his address's place in jazz lore, threw a party feting the living musicians who had the club jumping from 2 to 7 a.m. nightly.

It was there Cuje met TU piano professor Eva Mengelkoch.
The previous year, Cuje had descended the stairs to the basement of his aunt Lena Schoch's home in Arlington, Virginia. The room is surrounded by wood paneling; covered in framed photos; lined with shelves of VHS tapes, audio equipment and stacks of CDs; and holds desks laden with documents. Cuje sifted through decades of possessions, unearthing a box containing dozens of poems and classical music manuscripts signed "Mendelssohn."
Despite that famous name, Cuje couldn't find anyone interested in his discovery. Until that night at the home formerly known as Lindsay's.
"At this jazz club reunion, Lennie said, 'You know what? You are a classical pianist. You accompany a lot. You know about German literature. You know how to read this old script. Would you be interested in looking into this music and make it alive again?'" says Mengelkoch, a native of western Germany.

That chance meeting began a more than decade-long journey to transcribe, translate and, in some cases, correct or finish manuscripts composed and dedicated 90 years before. It ended with an album released by Naxos in May called Songs for Lena.
---
Listen to "Song from Arabian Nights" from "Songs for Lena" (A Naxos recording listing of catalogue number 8.579093, courtesy of Naxos Records).
---
Mengelkoch, baritone Ryan de Ryke and soprano Julianne Baird recorded the songs in Kaplan Hall, with Mengelkoch playing on the university's Bösendorfer piano. She met de Ryke when he was an adjunct professor at TU in the early 2000s and Baird through Pro Musica Rara, then an artist-in-residence program hosted by the College of Fine Arts & Communication. They began performing the songs in 2012 but kept fine-tuning them over the next seven years.
"You have to live with a piece for a long time just to find an interpretation that makes sense. And that's what we did over the last 10, 12 years," Mengelkoch says. "It's very exciting. At the same time, introducing newly discovered music to audiences comes with a great responsibility."
Cuje, now 88, first heard the songs performed at a lecture recital at Rutgers University, where he provided commentary to the pieces.
"It was such a wonderful feeling," he recalls. "I asked Lena, my aunt, to please forgive me. I heard that music and Eva playing and the singing, and it was a wonderful feeling of accomplishing a good deed. It was a feeling of a completion of a project of love."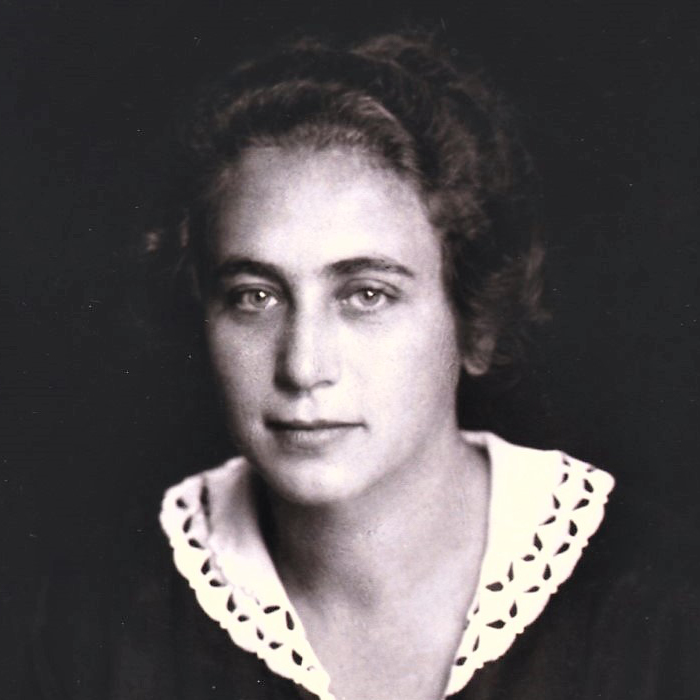 Maria Magdalene "Lena" Schoch was an extraordinary woman. Her intelligence and curiosity pushed her to the heights of her profession. Her strong sense of right and wrong shoved her into the footnotes of history for decades.
Born Feb. 15, 1897 in Würzburg, she grew up comfortably middle class, enjoying a rich experience in literature, theater, music, visual arts and architecture. She enrolled in the University of Würzburg in 1917 to study law, pursuing an educational track that had only opened to women a few years before. In an echo of her childhood steeped in the arts, Schoch took seven to eight courses a semester, including at least one on German, English or U.S. literature; philosophy; and/or art history, in addition to her law courses.

Her polymathic abilities and evident potential attracted law professor Albrecht Mendelssohn Bartholdy's attention. And admiration.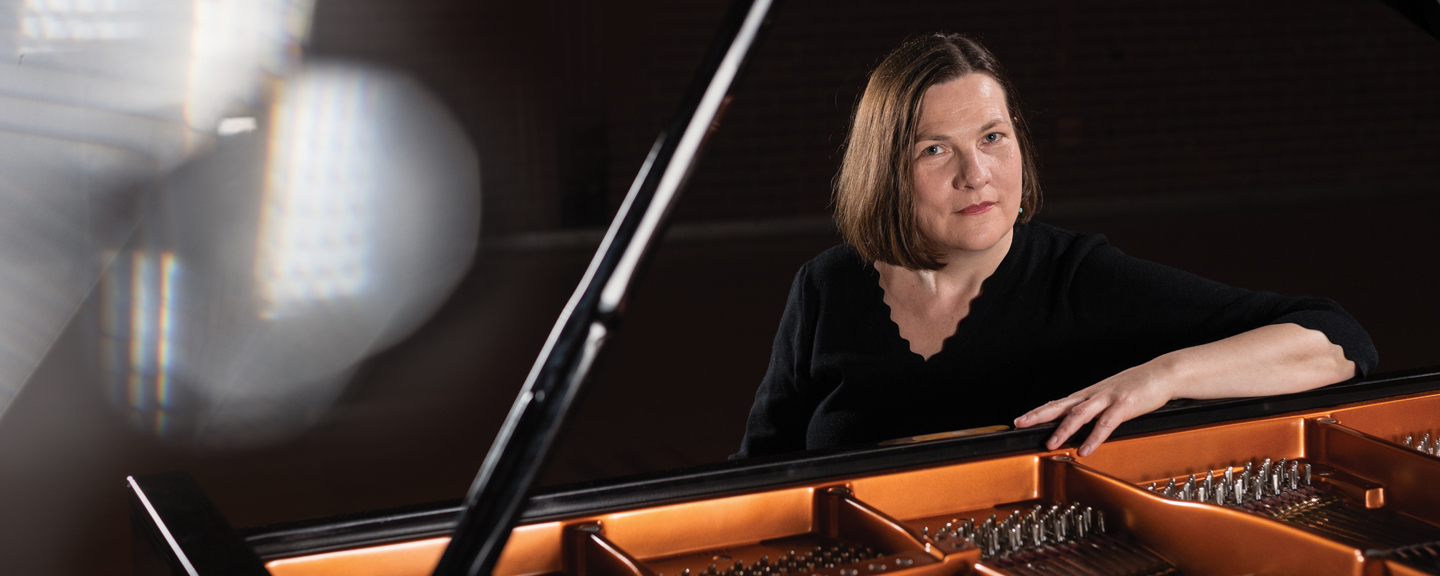 Known as AMB to friends, he was the grandson of renowned composer Felix Mendelssohn and grew up amidst a glittering crowd of arts luminaries like Johannes Brahms, Clara Schumann and Ethel Smyth, a composer and suffragist with whom he shared a strong belief in women's rights.
During his youth, he produced drawings, poetry, theater pieces, libretti, piano transcriptions and songs; appeared in piano duets with his cousin Nini Volz; and sang folksongs accompanied by his aunt on piano. Along with a friend, AMB published Schmetterlinge (Butterflies), nearly 200 pages of poetry about unrequited love and musings on nature. The volume horrified his relatives, who felt he had disrespected the Mendelssohn reputation by not using a pen name.
His uncle Adolph Wach, a top jurist in Germany at the turn of the century, encouraged AMB to take up a law career. Despite wanting to follow in his famous grandfather's footsteps, AMB heeded his uncle's advice: "If you become a musician, you will always be compared with your famous grandfather and never judged on your own merits." AMB eventually became a law professor, first at the University of Leipzig and then at the University of Würzburg.
After just eight semesters, Schoch earned a doctorate in 1920 with her thesis on English war legislation and joined AMB at the University of Hamburg. Colleague Fritz Morstein Marx later described their relationship as having an intuitive sense for one another. Schoch was involved in nearly all AMB's professional plans and projects, including the Institut für Auswärtige Politik (Institute of Foreign Politics), the first institute dedicated to international peace studies worldwide.
Schoch's work there was largely done in her free time since she was not an official employee. She had her own career achievements to keep her busy.

In 1927, Schoch was designated an official observer to the proceedings dealing with Germany's World War I reparations at the International Court in De Hague—where AMB served as a judge—in what later became known as the Dawes Plan. Her four-volume, annotated translation of the court's decisions soon followed, a document of which she once said, "I can only warn non-lawyers against reading [it]."
Schoch was also a member of the editorial team of the journal Europäische Dialog, in which she published and supervised many essays, reviews and bibliographies; a board member of the Society of Friends of the United States and editor of the Hamburg-Amerika-Post (after 1931, the Amerika-Post); and head of the new America-Bibliothek (American Library).

In 1931, Schoch founded and presided over Hamburg's first 10 Zonta clubs—a women's leadership organization much like the Rotary Club. A year later, she made history as the first German woman to complete a postdoctoral thesis and qualify to teach university-level law, after a unanimous vote of the faculty.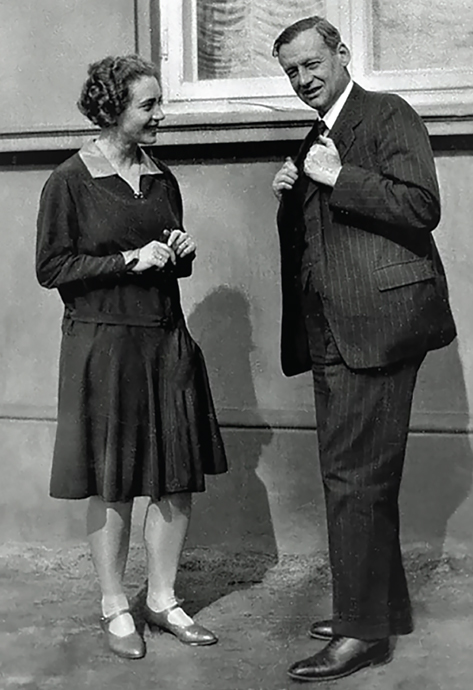 Despite the looming shadow of Nazi rule, his burgeoning law career and the fact his feelings for Schoch were unrequited, AMB continued to produce poetry and love songs that he dedicated to his protegee. Roughly one-third of his surviving, completed songs were created—and gifted to Schoch—from 1930–34.

AMB began lecturing across the United States in 1927, and, on his last tour in 1933, surprised his audiences by urging them not to jump to conclusions about Adolph Hitler and the Nazis, saying Germany didn't want another war so soon. But just months after returning to Hamburg, he lost his position and his pension under the "Law for the Restoration of Professional Civil Service," which stripped anyone with Jewish ancestry of jobs, money and status.
That same year Schoch's nephew and godson Lennie Cuje was born. She attended his birth in Giessen on Jan. 1, and insisted he be baptized immediately, "'before,' as she said, 'the Browns catch me,'" he remembers. The Brown Shirts was the colloquial name of the Sturmabteilung, the National Socialist German Works' party's paramilitary arm that played a large role in Adolph Hitler's rise to power.
Cuje remembers Schoch visiting several more times, including once after the family had moved to Frankfurt.
"I still have a very clear memory of that visit. We arranged chairs to make a 'steamer.' She was the stoker, and I was the captain on our way to America."
About 3 or 4 years old at the time, he had no idea how prescient the make-believe was.
A year after Cuje's birth, AMB, his wife and their two adopted daughters emigrated to England, where he took a senior fellowship at Oxford University's Balliol College.
Schoch remained in contact with her mentor, even as other friends and colleagues disavowed him to ingratiate themselves with the increasingly powerful Nazi party. She even dedicated a series of publications to AMB in 1934, when many others were erasing Jewish colleagues from their articles.

But Schoch quickly realized her position at the university was tenuous. She faced a direct threat from the university administration because of her steadfast refusal to abandon AMB even after he died of stomach cancer in 1936, devastating her.
In an undated family history, Schoch reflected, "One Friday morning in 1936, I received a wire notifying me that Professor Mendelssohn had suddenly died in Oxford. I'm not going to dwell on my feelings at this blow. I called the head of the faculty, told him the fact and that I could not attend the faculty meeting the next day because I was going to England for the funeral. 
He was practically speechless. 'Do you think this is wise? I'll have to notify the university.' Which he did and was told that this trip might have serious consequences for me. I told him I was not interested and asked him to cancel my lectures for the following week.
"I rushed to England by the night boat and caught a train in time to attend the funeral and spend a day with AMB's family. I found out that not one of his German colleagues nor his former university had sent even a token of sympathy."
Although Schoch received no direct punishment upon her return, her professional life became increasingly isolated.
In the same family history, Schoch wrote, "I cut off my connection with the Institut für Auswärtige Politik and restricted myself to teaching 'non-political' subjects. My office was a small annex to the university, where I could avoid contact with the Nazi administration. But one day we received a notice from the administration 'permitting' every teacher and employee to apply for membership in the party.
"The professor who was my superior at that time called me into his office in great agitation. He was not a Nazi but a remnant of the conservative party, and he was quite upset. 'My God, what shall I do? What are you doing, Dr. Schoch?' 'Me,' I said, 'I've thrown the notice in my waste basket.' 'But what about our future? I cannot live if I'm not permitted to teach!' 'Well, professor, that's your problem.' So he signed on the dotted line. I, of course, did not, and strange to say, nothing happened to me."
Her refusal to join the party was, as she noted, "professional suicide," and on June 28, 1937, Schoch submitted her resignation and began thinking of emigrating at the age of 40. She sold her household goods and had her life insurance paid out, giving the proceeds to her mother, who had lived with her since 1930, and set sail for America.
After five years at Harvard, Schoch moved to Washington, D.C., in 1943 to work as an expert on German law for the Office of Economic Warfare, where she contributed to the legal preparation of the U.S. post-war occupation policy. When that office disbanded in 1946, she began a 20-year career as an expert on international and foreign law in the U.S. Department of Justice. Numerous large cases are associated with her name, and in 1952, she was admitted to the U.S. Supreme Court bar.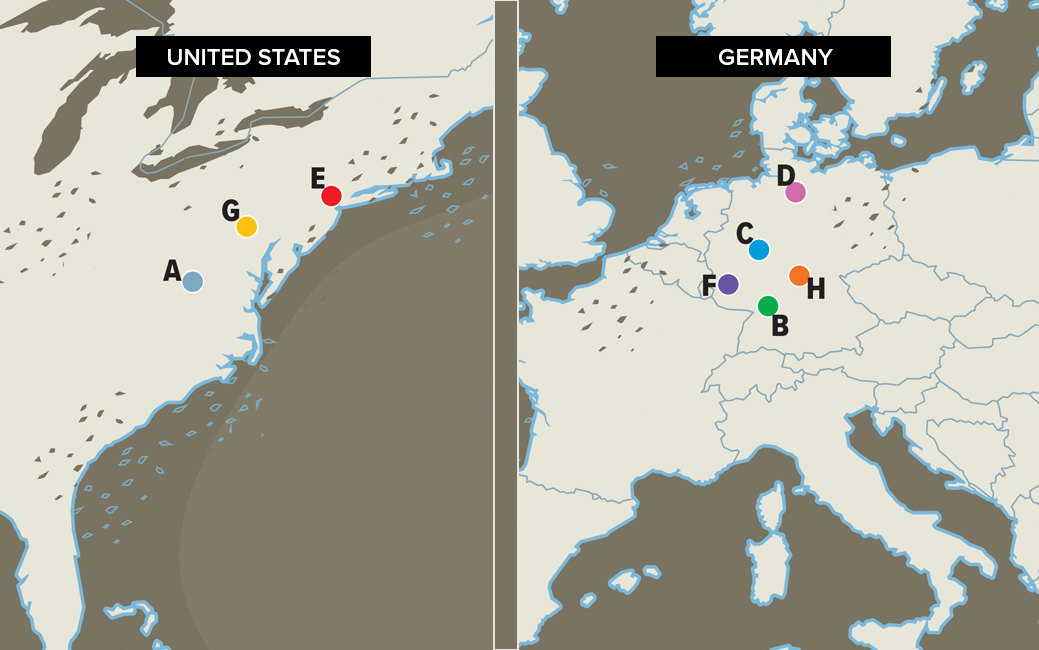 A
Arlington, Virginia
Where Lena Schoch settled after emigrating and brought Lennie Cuje
B
Karlsruhe, Germany
Albrecht Mendelssohn Bartholdy's birthplace
C
Giessen, Germany
Lennie Cuje's birthplace
D
Hamburg, Germany
Felix Mendelssohn's birthplace
E
New York, New York
Lennie moved there to become a professional jazz musician
F
Greater Trier area, Germany
Eva Mengelkoch's birthplace
G
Towson, Maryland
Where Eva, Ryan de Ryke and Julianne Baird recorded "Songs for Lena;" where Eva met Ryan who was on the voice faculty; and where Eva met Julianne who performed with Pro Musica Rara, then the artist-ensemble-in-residence at Department of Music/COFAC
H
Würzburg, Germany
Lena's birthplace, where Albrecht and Lena later met
In 1950, she brought her then-teenage nephew Cuje to the U.S. In the later part of that decade, he began a 60-year career as a jazz musician.
Nicknamed Snowflake, he was one of the few white musicians who played U Street in Washington, D.C., and on the "Chitlin Circuit" throughout the South. He also played in clubs like the Blue Note and the One Step Down Lounge as well as at the Kennedy Center and inaugurations and campaign concerts for George H.W. Bush, Bill and Hillary Clinton and 
Barack Obama. He recorded an album with the U.S. Navy Commodores, played with his inspiration Lionel Hampton and lived next door to Miles Davis in New York.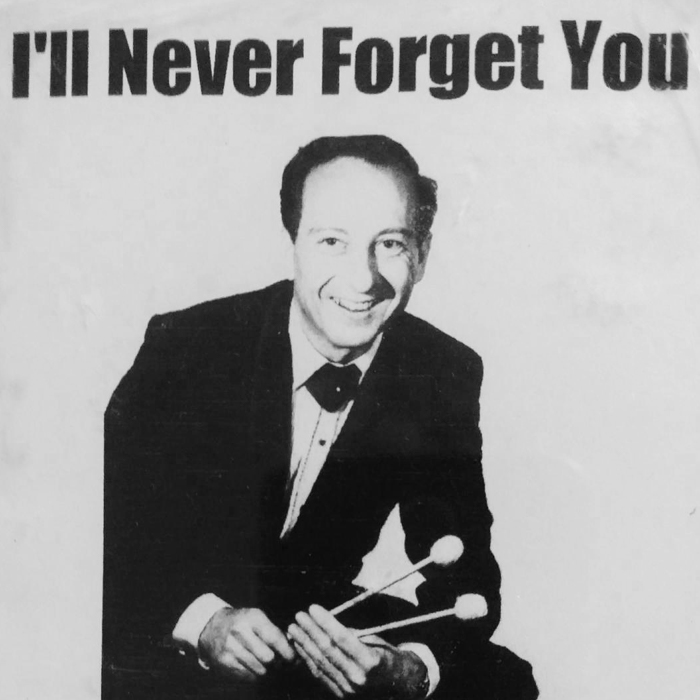 "His backyard touched into my backyard," Cuje says. "And I would go over to Miles' place and play over there. And he would show me how he liked to make gumbo and what stuff he liked to cook."
After Schoch's death in 1987, Cuje had no idea that what he calls "the treasures in the basement" were there. Schoch never said a word to her relatives about her connection to one of music's greatest families.
Cuje, thankfully, spoke at length to Mengelkoch as she worked her way through the manuscripts.
"I spent a lot of time in the Mendelssohn archives in Berlin and saw that the majority of those manuscripts that were found by Lennie in his basement were unique," Mengelkoch says. "So this was actually quite a treasure, then, that you have completed compositions in fair copy that are unique and that nobody has ever heard about.
"[Lena] packed up all this, all the manuscripts [when she emigrated]. There are other things that she brought along: photos of their professional life together, their personal life together, sketches and lithographs of the Mendelssohns, then also some poetry collections that Albrecht Mendelssohn had hand copied, and that he had meant to put to music.
"I think it is exciting to have found these pieces of music that nobody has heard before and that even relatives of Albrecht Mendelssohn didn't know existed," she says. "And performing Albrecht's songs in spaces connected to the Mendelssohn family's history, such as the Berlin Mendelssohn Remise, really inspired me. I feel so honored that Lennie asked me to do this."
Cuje is elated at how the album turned out.

Mengelkoch, he says, "brought Lena back to life."