Coffee With...Anthony Skevakis
We sat down with TU's associate vice president for student affairs and dean of students in April as he prepared for a full-bore return to campus in the fall.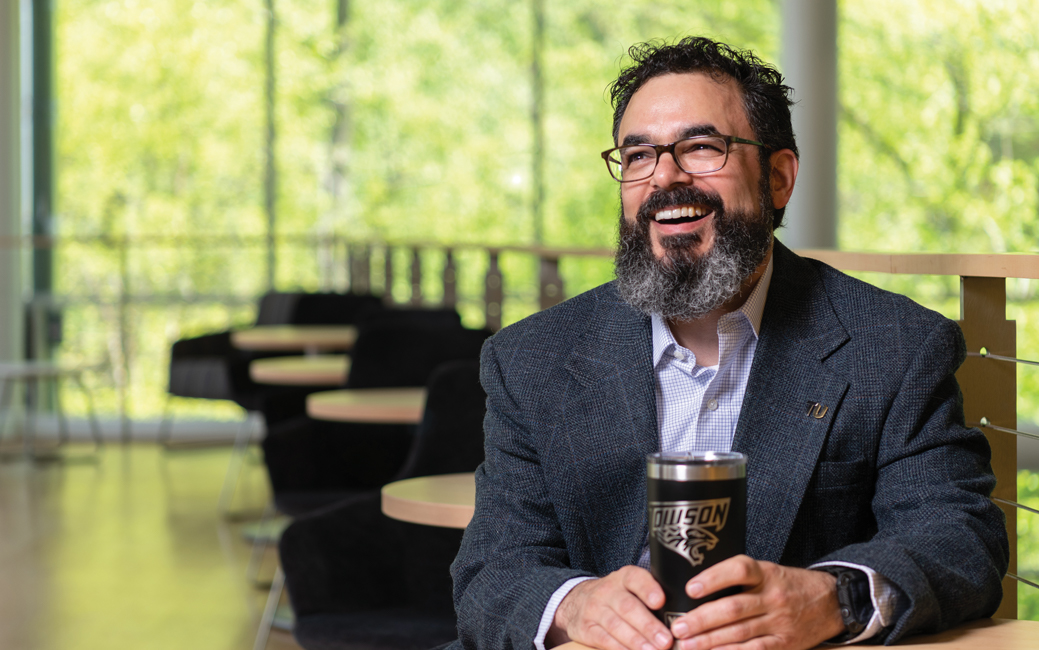 Q: What was your job like prior to COVID-19?
A: I worked with several different student support service areas across the Division of Student Affairs including emergency response, case management, CARE Team, Health Center, Counseling Center, Military & Veterans Center, civic engagement, student success program, Towson University in Northeastern Maryland (TUNE) and student conduct. I was the first person hired at TU as dean of students. I facilitate, help, guide and coach students through their experience. You have to
be able to directly connect with the students and the teams that support students on a daily basis.
Q: What's the CARE Team, of which you are the chair?
A: We are a group of multidisciplinary professionals from across campus who come together to help support students experiencing distress or other challenges. There might be a student who comes on our radar that hasn't attended class for two weeks. Then we might discover from a faculty member that a student has also missed an exam. We reach out to that student, and we help them work through their challenges and get back on track.
Q: What is the Towson University Medical Advisory Committee?
A: We have a member from the Baltimore County Department of Health, several highly trained doctors, administrators and practitioners skilled in epidemiology and nursing. We've been meeting weekly throughout the year. We discuss health data and trends that we're seeing locally and nationally then work to make recommendations to our leadership team. We recommend guidance and protocols to provide our community with the best opportunity to learn and thrive in this kind of rapidly changing environment.
Q: When did the university start thinking about a full-bore return to campus in the fall?
A: I think that a full fall return was always the goal. As the spring term progressed, the University System of Maryland came together and made the determination that we are at the culminating point where we can probably return, considering what we've learned from following medical protocols. The huge increase in the availability of the vaccines provided us the opportunity to make this an option.
Q: What will life on campus look like in the fall?
A: With the vaccination requirement, I think students, faculty and staff will feel more comfortable returning to campus and engaging in in-person experiences. I anticipate that with higher percentages of vaccinated persons, that the safety protocols for masking and distancing will be progressively withdrawn. But I also want us to be cognizant that there are different types of seasonal viruses out there. We've forgotten about the flu, so we still need to be cognizant of hand washing and other protocols.
Q: What's one thing you've learned from this tumultuous time?
A: You have to be able to be flexible and shape shift to the needs of the situation at the drop of a dime. If you're able to couple that with the ability to emanate empathy and understanding, you
can meet the needs of that person, whether it's a student, parent or colleague.