I so often gratefully say: I have one of the best jobs in the world. There are times throughout the academic year—move-in, Convocation, Family Weekend, Homecoming—that bring the university community together and remind us all that Towson University is so very special. And so often during Commencement, that feeling of gratitude is the strongest.
This year's Commencement week, when we celebrated our graduates of 2020 and 2021 at Unitas Stadium, was one of the most special times I have experienced in my 5 1/2 years as TU's president. It was a week full of pride and gratitude. And we were so happy to make good on our promise—first made over a year ago—to hold an on-campus, in-person Commencement for the Class of 2020.
Watching our staff, faculty and alumni working together to give the graduates and their families a joyous celebration over the course of 10 ceremonies at Unitas Stadium was incredible. This year's Commencement week was truly special. The weather was glorious and even the cicadas held off their arrival!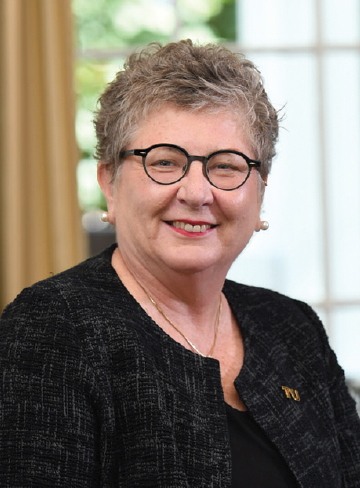 For so many families, this Commencement was something they looked forward to for more than a year. For some, they were unable to make it. When the family car broke down, Kendra Sargeant and her family missed the 2020 ceremony. We arranged to get Kendra into another ceremony later in the week so she could indeed cross the stage and graduate. Her parents were unable to get an additional day off work to share the moment, but to Kendra's family: We are all proud with you.
There was the graduate who shared that he was carrying his grandmother's ashes in his pocket, because she wanted so badly to see him graduate. I know his grandmother was watching him get his TU diploma and was filled with pride.
As I reflect on those 10 Commencements over five days—some 35,000 family members and friends were able to celebrate more than 9,150 graduates—I truly witnessed Tigers taking care of each other. Everyone was sharing in the joy and pride of our graduates and their families.
Commencement was a bookend to a whirlwind month for our university community—as May often is around here. Just a few weeks prior, we announced the launch of RISE, The Campaign for Towson University, that will capitalize on TU's momentum with an historic fundraising goal of $100 million. We are already more than halfway to that goal following a record year of philanthropy.
As Commencement puts our graduates first, RISE puts our students first. Events like these illustrate TU's capacity to make life-changing differences in people. I'm so grateful to all who make it possible for so many to be TU proud!
The momentum of this university is so very strong, and as we head toward a full campus experience—working, learning and living—together this fall, it is indeed a great time to be a Tiger!
Kim Schatzel, Ph.D.
Towson University President