A Responsibility to Help Others
Todd '87 and Melanie Feuerman share why they support the RISE campaign.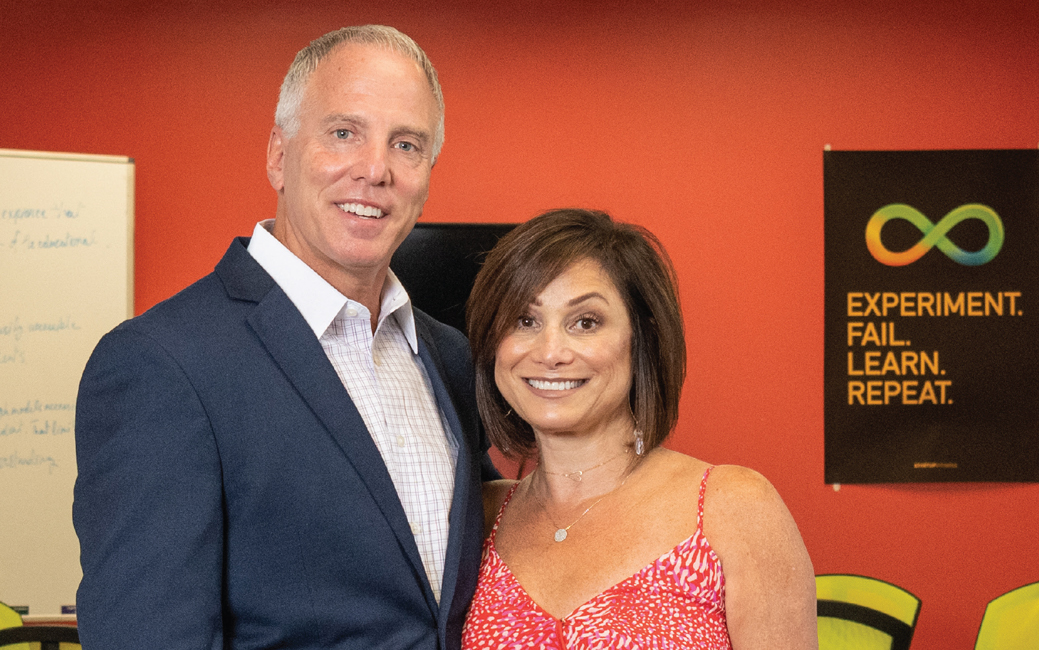 Todd '87 and Melanie Feuerman are intentional when looking for opportunities to put others first.

Their giving philosophy is based on how fortunate their family has been, with personal resources as well as their health.
"I try to live every day thinking, 'How would I want someone to help me?'" Melanie says. "Part of the reason we support St. Jude (Children's Research Hospital), for example, is because we don't have to. We are so thankful as a family that we don't have a child that has cancer. It's something that we wanted to do because it hasn't, thank goodness, touched our family."
Those values are behind the Feuermans' generous gift to Towson University's RISE campaign, a $100 million comprehensive campaign launched on April 29. It is driven by one of the university's main values—putting students first—and supports TU's mission to foster intellectual inquiry and critical thinking, preparing graduates who will serve as effective, ethical leaders and engaged citizens.
Todd is one of those engaged alumni. As he has risen in his 35-year career with Ellin & Tucker to a senior director in the firm's auditing and consulting practice, he and his wife still remember their humble backgrounds.

Growing up in Maryland—Melanie is from Montgomery County and Todd is from Baltimore County—neither family had the financial means to make big charitable gifts.
"My father died at 38. I was 9 years old, and I have an identical twin brother, Reese, and an older brother, Jason, who was 11 at the time," Todd says. "Even my summer camps were paid for by the generosity of various not-for-profit organizations in the Baltimore area."
Melanie's father served in the military, inspiring her to engage with the community through the United Synagogue Youth as a teenager. After she had her first child, she continued to volunteer through the family's synagogue.

Todd and his brothers started working very early, taking on odd jobs like construction work, mowing lawns and washing cars.
"I think what we learned from those experiences was how important it was to do really good work, work hard and make money for ourselves and to also help our family's limited resources since our family needed help," he says.
The Feuermans know money can be tight for some among the TU community. That's why their gift serves two of the RISE campaign's six foci: opportunity and leadership for students and innovative, real-world academic programs.
The campaign aims to extend and expand TU's rich legacy of student-centered educational excellence and enhance the campus experience for all students.
Todd attended TU on scholarships and loans and knows the financial burdens today's undergraduates face: 57% demonstrate financial need, and the average unmet need is $12,000.
So the couple has established the Todd and Melanie Feuerman Scholarship for full-time undergraduate students enrolled in the College of Business & Economics, majoring in accounting or finance with a 3.0 GPA or higher and demonstrated financial need.
"Towson has made me feel great about my contributions," Todd says. "Towson played a pretty big role in where I'm at. It's where I earned my accounting firm internship and where I met my current employer. Anything that I've been able to achieve professionally, it all comes back to Towson. And I think it's important for people to understand that if it all works out, and you can, you should give back to the school."
The RISE campaign supports TU's already strong efforts to encourage and empower students to participate in research and real-world learning, like internships.
More than 88% of students engage in experiential learning opportunities, like Todd did. He interned for a year and a half at the organization that is now RSM McGladrey, an audit, tax and consulting firm.
"The internship was definitely a valuable component to the early stage of my career because it did teach me about the professional world," he says. "It gave me exposure to the accounting field, to the type of work, to people, to interactions, to the professionalism that was taking place within the accounting world."
Funding from the RISE campaign will ensure that opportunities are available to students inside and outside the classroom—opportunities that activate student curiosity, creativity and engagement. By offering a wide array of programs that promote academic excellence and career readiness, TU ensures students graduate with the tools to achieve lifelong career success as alumni.
Academic innovation and new program development are the result of a constant commitment to enhancing, expanding and modernizing curriculum and student experiences. TU provides graduates with a strong technical foundation and bolsters their desires to contribute to organizations and communities and serve as leaders within their chosen career fields.
As part of their gift, Todd and Melanie are supporting the Student Launch Pad, TU's resource for students in all majors who have an interest in entrepreneurship and want mentorship and networking opportunities to develop or grow business ideas. The launch pad is just one of the many ways TU serves the greater Baltimore area as an anchor institution and entrepreneurship hub.
Funding programs that develop undergraduate entrepreneurs and those, like TU's Career Center, that guide students into more traditional career paths are essential to the region's economic development.
TU provides 25% of Maryland's education workforce and is the state's leading provider of health care professionals. TU is home to more than 18,000 undergraduate and 3,000 graduate students. And in an environment where competition is fierce for talented students, incoming classes are more diverse and academically prepared than at any time in TU history.
When Todd graduated, he had already accepted one of the employment offers he received from a national accounting firm. However, as a senior, he attended a university-run career event at the student union that changed his career trajectory.
"I was playing in a flag football game at Towson and got hurt pretty bad. And then I went to an accounting open house that night at the student union," Todd remembers. "And I tripped leaving the event, and I literally fell into Ed Brake—the Ellin & Tucker managing director and CEO—and the rest is history."
In Ellin & Tucker, Todd found a company aligned with his philanthropic beliefs.
"The managing director really instilled in our firm, and specifically within the shareholders, how important it is to give back to the community," says Todd.
The staff there offers time and services to the community and nonprofit organizations. The firm also encourages donations to entities that are important to staff, their communities and their families. Todd sits on three university boards, and the former TU tennis player has also donated to TU athletics through the United Way and directly to the Tiger Athletic Fund.
"Just because you do well doesn't mean you get to keep it all," Todd concludes. "You have to give some of it back to this world to help others. You have a responsibility."
For more on the campaign, visit rise.towson.edu.