A look back on the last—and first—time TU held Commencement at Unitas Stadium
On the face of it, spring 2021 Commencement looked very similar to the one held 16 years ago: waving graduates processing onto Minnegan Field wearing beaming smiles and black and gold regalia.
But it differed in pretty much every other way. This year's Commencement ceremonies, 10 held over five days to accommodate physical distancing and low-density protocols, celebrated two classes of graduates due to the novel coronavirus pandemic canceling both ceremonies scheduled for 2020.

Emily Wose '21, a music education major, spent the spring 2021 term student teaching, so she was glad for the opportunity to see her classmates in person one last time.
"It meant a lot to me, as the youngest of my siblings, for my parents to see me walk across the stage," she says. "[Commencement] was normal after a year of learning to be a teacher in a not-normal setting. It felt like a little ray of hope."
The 2020/2021 university Commencement speaker was leading health care executive Nancy Schlichting, who spoke to the College of Health Professions on May 17. She told grads, "Change is desirable and an inherent part of health care, as we always strive to do things better. The dynamic nature of health care will keep you challenged and engaged throughout your life."
The 9,150 graduates sat in physically distanced seats spread across Minnegan Field. Family and friends attended in reduced capacity, sitting on both sides of the field. Still, roughly 35,000 guests attended the university's first in-person ceremonies since December 2019.
"Since freshman year, I've played my trumpet with the faculty brass ensemble during all of the Commencement ceremonies," Wose says. "For my own ceremony, I played the processional and then slipped on my cap and gown and went to sit on the field. Seeing my family in the stands really felt like a celebration of the last four years, and getting to play for my own ceremony and for my friends was really special."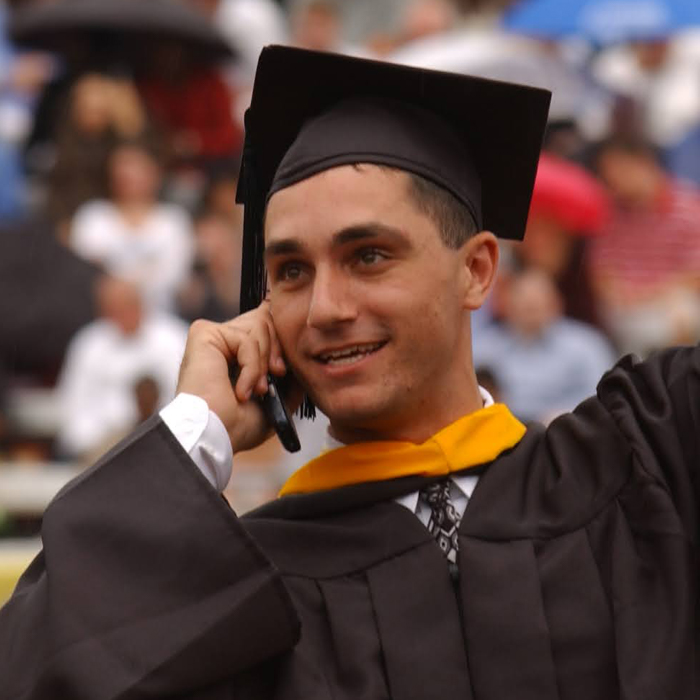 The ceremony on May 22, 2005—the university's 140th Commencement—marked the first time TU held Commencement at Unitas Stadium. Prior to that year, Commencement had been held in a variety of locations, including the Towson Center, main campus and what is now Royal Farms Arena in downtown Baltimore.

Around 11,000 friends and family attended—nearly reaching the stadium's 11,198 capacity.
"A few of us had met in my apartment in Kenilworth with their families and had an impromptu pre-party before caravanning over to campus," remembers Ryan Behnken '05. "There were droves of people walking up Cross Campus Drive and finding where to go [in the stadium]."
The 2,276 graduates awaited the start of the ceremony under enormous tents on the east side of the track before processing onto the AstroTurf into blinding sunlight.

"I wasn't ready for it to be over," Behnken says. "I remember taking the time to connect with friends and hang out until we were corralled to go sit. I think the excitement of graduation had taken over. It was a bit of tunnel vision walking in, chatting with friends. I was focused on people immediately around me versus the grander scale of the people in the stadium."
Classmate Leslie (Cox) Troy '05 remembers something similar.
"It was surreal to have so many people there," she says. "But no matter where I looked, I could always find a familiar face. As many people as there were, it still felt small and intimate."
Behnken, Troy, Mike Collins '05 and Terri Iacarino '05, '12 recall how hot and sunny it was that day. And all were grateful to graduate with classmates who weren't in their colleges.
"I remember thinking how lucky we were that it was going to be outdoors, which meant we could graduate with friends who weren't part of our majors," Troy says. "I cherish the photos we took of all of us who were part of different groups and activities on campus."
The stage party of faculty, USM regents and invited guests entered Minnegan Field down the short flight of metal stairs next to the field house and climbed the steps to the enormous stage, ringed by yellow potted flowers and situated in front of the giant video scoreboard.
"Being on the field at the stadium was a unique experience," says Sean Welsh '05, TU's interim vice president for marketing and communications. "I'd covered the football team as a reporter for The Towerlight, so I'd been on the field before. But being part of such a large celebration in that venue really felt big and special."
Music education major Iacarino remembers receiving her scroll with satisfaction.
"To walk across the stage and have that sense of pride within and to have people cheering for you was awesome," she says. "It was nice to have friends from other majors cheering me on. That sense of pride of just being a Towson Tiger, that we did it."
The enormity of the moment struck a chord with Collins.
"It was the culmination of so much. Your friends are there, your family is there and it was a big deal," he remembers. "I was looking forward to seeing everyone and our families. For [my friends], it was the first time our families had ever met, so we got to host each other. Because we were all graduating on the same day, we were able to come together."
Just like Collins, Wose reflected on the importance of family and friends on a day that marked a major milestone in her life.
"My sister graduated from TU in 2013, and I remember going to her ceremony and thinking it was the biggest event I'd ever seen, so my own TU graduation was surreal," she says. "My time at TU has prepared me so well for my career.
"I'll be the band director at Patterson Mill High School in Harford County this fall, but I'm already looking forward to coming back to TU as an alum to support my fellow TU Marching Band members and keeping in touch with the professors I was blessed to learn from."