New COVID Response Updates
The latest step-down measures beginning this week.
February 28, 2022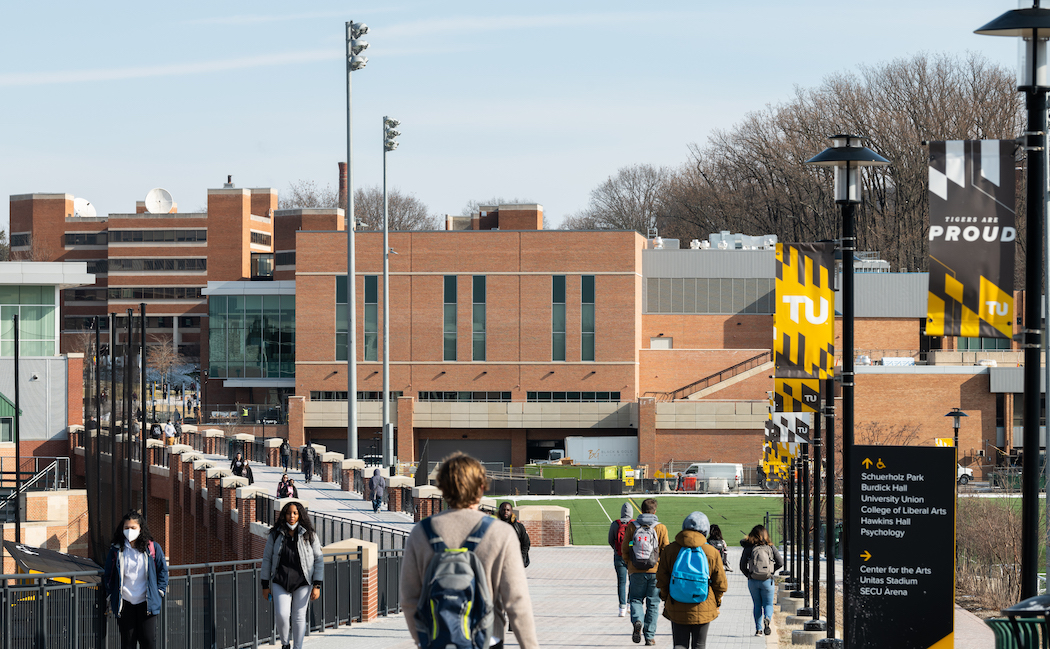 The following message was sent to the Towson University community.
Dear TU students, faculty and staff —
Following updated guidance from the CDC, and in alignment with Baltimore County, the state of Maryland and other University System of Maryland institutions, Towson University will enact additional step-down measures from COVID mitigation protocols beginning this week, as supported by University System of Maryland guidance. TU began this process in collaboration with shared governance and in consultation with USM leadership and medical experts, as well as the TU Medical Advisory Committee.
Effective Tuesday, March 1, TU will no longer require masks to be worn by students, faculty, staff, contractors and visitors inside TU buildings and facilities. However, masks will continue to be required in all campus medical settings, including the University Health Center or West Village Test Center, as well as settings with preschool aged children including the TU Childcare Center.
Mask-wearing will now be voluntary in all university buildings and facilities — including classrooms, offices, cubicles and work stations, residence halls and dining facilities, in performance venues or at athletic events, and on university shuttles and buses. We encourage those who are unvaccinated, immunocompromised or have chronic health conditions to seek advice from their medical provider about their personal choice regarding mask use.
These updates are subject to change in response to public health guidance at the local, state and federal levels. The changes come as Maryland's transmission rate is among the lowest in the country, and the case rate in Baltimore County has decreased by 95 percent in recent weeks. Mask-wearing is now voluntary in state buildings and became voluntary in all Baltimore County government buildings and facilities today, Feb. 28. The Maryland General Assembly also has rescinded the K-12 mask requirement, allowing local school districts to remove mask mandates, which Baltimore County has announced will be removed beginning tomorrow, March 1.
At TU, our campus positivity rate since the start of the spring semester remains less than 0.2 percent, as determined via sentinel testing by the University Health Center. With a COVID vaccination rate of more than 95 percent, TU remains a highly vaccinated community.
Last week, we provided the following updates to campus:
Events and Conference Services has fully resumed hosting on-campus events for third party non-affiliated groups and organizations
The sentinel testing protocol for those exempt from the USM's vaccination requirement has been changed from twice-weekly to once-weekly beginning this week.
The Campus Clearance Tool and the COVID-19 dashboard are being discontinued effective this week as a result in the changes to the testing protocols and to align with similar actions taken by other USM institutions.
Additionally, the following protocols continue:
Weekly sentinel testing and required daily Tigers Care QuickScans remain in place for those who are exempt from the vaccine mandate.
Anyone who is symptomatic or who has been exposed to COVID-19 should NOT report to campus but instead fill out the Tigers Care QuickScan, regardless of vaccination status, so you can be contacted and advised by UHS personnel as to appropriate next steps.
As throughout this pandemic, we expect Tigers to continue to show care for and support individuals who choose to continue voluntary mask-wearing in indoor spaces on campus. The university will continue to provide KN95 masks in West Village, the University Union, and in academic departments for those who decide to continue masking.
Vaccinations and boosters continue to be required and are widely available for free to those who are eligible. Find a vaccine site near you at vaccines.gov. All employees will be granted paid administrative time to get a booster shot during a regularly scheduled shift. Students are eligible for a booster through the University Health Center. As a reminder, non-compliance with the vaccination mandate can result in restricted access to facilities and progressive discipline.
If you have questions about COVID-19 mitigation protocols, you are encouraged to visit Towson.edu/Coronavirus or email AskTU AT_TOWSON.
Thank you for continuing to show how Tigers Care!
Sincerely,
Melanie Perreault, Ph.D.
Provost and Executive Vice President for Academic and Student Affairs
Vernon Hurte, Ph.D.
Vice President for Student Affairs
Steve Jones
Chief Human Resources Officer and Vice President for Operations