TU Volleyball headed back to NCAA Tournament
Tigers, who won their fourth-straight CAA championship, will head to Texas as a No. 8 seed
By Towson University on November 27, 2022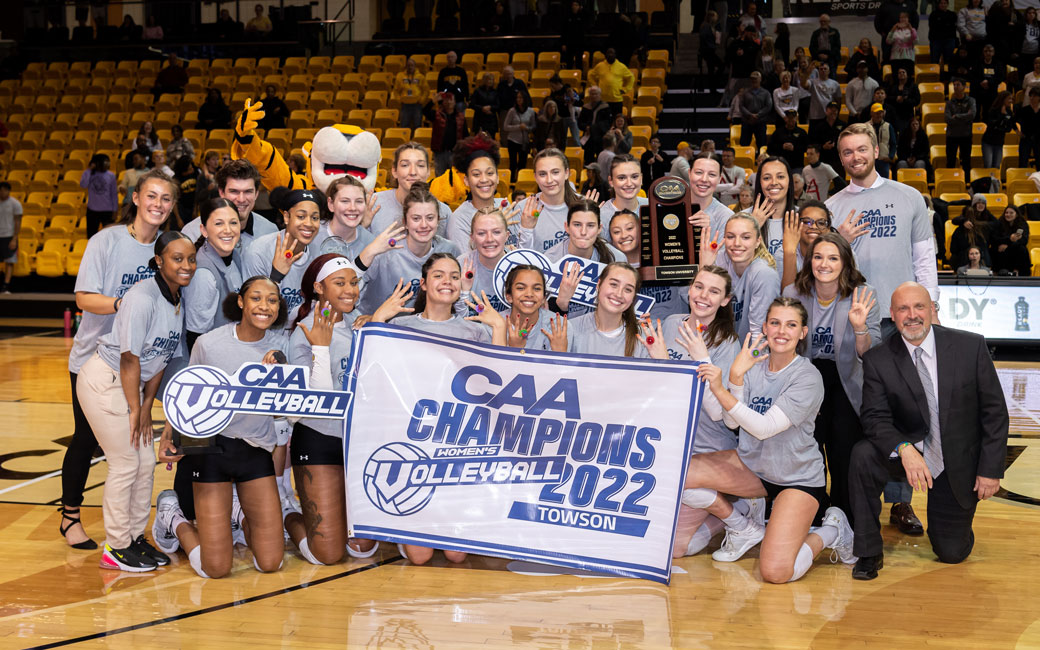 Towson University volleyball is going dancing—for the fourth year in a row.
Announced as a No. 8 seed, TU is headed to Texas to play Georgia in the first round of the 2022 NCAA Tournament, as the bracket was revealed on the NCAA selection show on Sunday.
The Tigers first-round game against Georgia will be on Thursday, Dec. 1 at a time to be announced later at the Gregory Gymnasium, hosted by the University of Texas. The winner will play the victor of Texas-Fairleigh Dickinson on Friday, Dec. 2 in Austin.
In earning a No. 8 seed, the Tigers are considered one of the top-32 teams in the country. It's also the first time in program history that the Tigers will enter the NCAA Tournament as a seeded team.
TU punched its ticket to the Big Dance by defeating Delaware to win its fourth-straight Colonial Athletic Association tournament championship. The Tigers swept the Blue Hens in three straight sets (25-15, 25-21, 25-22) to finish the season 29-1.
With the win, the Tigers went undefeated inside SECU Arena, and the team's 29 wins are the second most in program history (The 1983 and 1993 teams both won 30 games, but failed to make postseason play).
Victoria Barrett was named the CAA Tournament MVP after totaling 47 kills across three matches. Nina Cajic and Aayinde Smith also were named to the CAA Volleyball All-Tournament Team.
Keep tabs on the Tigers' NCAA Tournament journey, including schedule, game times and television announcements by going to TowsonTigers.com