By Megan Bradshaw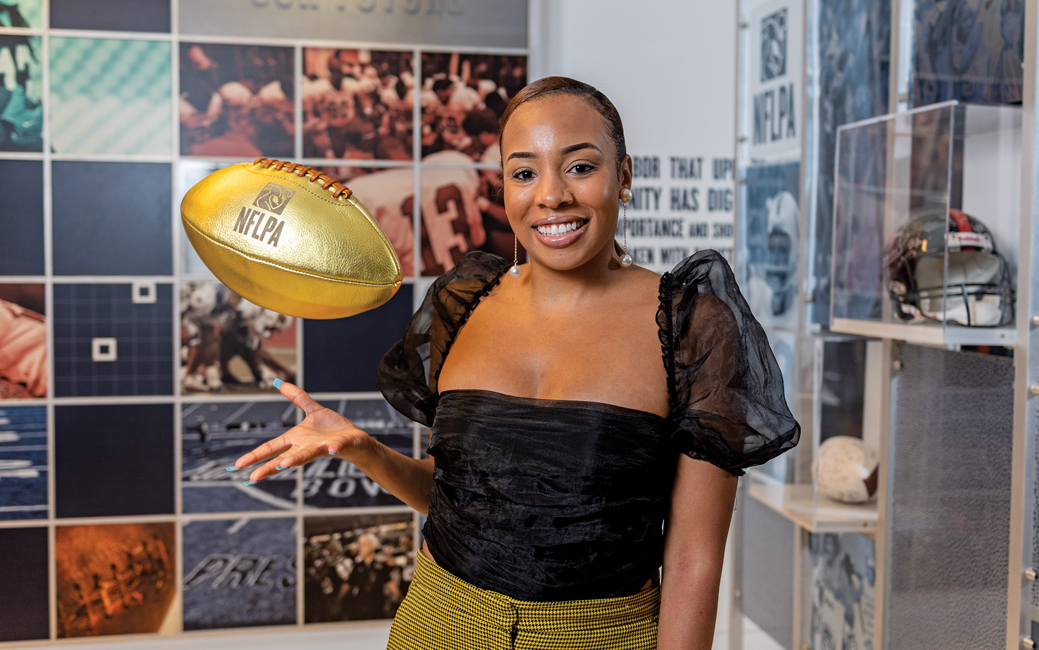 Looking at her life, Leslie Isler doesn't have to debate nature or nurture.
It was definitely nurture.
Named after her father—Leslie Isler II, who had no sons—the younger Isler can pinpoint the germination of her professional career to spending Sunday afternoons, especially Super Bowl Sundays, with her dad.
"He used to watch football," she remembers. "I'm like, 'Well, he's watching by himself. Let me just sit with him.' Then I was like, 'Oh, this is kind of interesting.' It turned into something that we did together. I found myself interested more in the players' stories than what was going on during the game."
Isler's curiosity about NFL players' backstories has come full circle in her role as a professional athletes' foundation manager with the National Football League Players Association (NFLPA) Foundation, a nonprofit that "supports, inspires and strengthens former NFL players and their families in unique and meaningful ways."
That memory of bonding with her dad over football resurfaced her junior year at TU, when she had lost her desire to pursue accounting, her major since she enrolled. Between midterms and finals, she made a tough phone call to her father to share her struggles and request to change her major to marketing.
"Once I switched, I was fully in," Isler '13 says. "I applied for the sports marketing internship with Towson Athletics. I realized I could use some of that love I had for marketing and sports to get some of our fans to support our teams."
Isler became more involved on campus, with Relay for Life and the American Marketing Association, but some of her fondest memories come from the year she spent working for the promotions arm of TU Athletics.
"Because the team was so small, you're doing anything from calling season ticket holders, to blowing up bouncy houses, to being security for Doc and not letting kids be too rough with him, to game day operations," she says.
Isler credits her internship and participation in TU's alumni phone-a-thon with helping pave her career path.
"[They] allowed me to be very teachable and flexible. I realized that I can't have the posture that anything is beneath me or that I'm not willing to do anything to help the team meet our goals," Isler says. "The phone-a-thon was definitely a good experience of advocating for organizations. It was a direct tie to my internship with the NFLPA."
Shortly after graduation, she started that internship in the NFLPA's former players department. There she reached out to retired athletes, informing them about affiliation benefits as well as handling inquiries about retirees' active memberships.
Andre Collins, Super Bowl XXVI winner with the then-Washington Redskins and Isler's current supervisor, remembers her from the beginning of her tenure.
"I remember how focused she was, how hard she worked," he says. "She was just crushing it every week. When I had a chance to hire her, I knew I was getting someone that was going to work hard and smart. Someone that was going to be innovative and able to connect with our membership."
"Our primary purpose is to assist former NFL players during their second act," Isler says. "Once they retire from the league, a lot of people don't really connect with the fact that they have to, most of the time, find a whole new career. Not everyone goes into coaching, not everyone goes into broadcasting. So we have a lot of resources and programming that help them figure out what that [next career] is."
Another of the foundation's tasks is to assist former players who've been struck with a hardship. Some of the foundation's funding comes from current player fines for misconduct.
Her responsibilities cover a wide area. She manages the website and social media; builds relationships with sponsors, vendors and members; helps develop communication strategies and plans and runs fundraising events.
"When we need her to roll up her sleeves and talk to players about some of their troubles or their needs, she's capable of doing that," says Collins. "But where she's really excelled for us is in developing a communication strategy for players that are in need and elevating our event space, creating these wonderful events where our players can come and engage each other, the NFLPA and the community."
Isler spends the start of Super Bowl weekend each year up to her elbows in acrylics. The Friday before the big game, the foundation hosts Painting with the Pros, an outreach event held yearly in the host city.
"A lot of our players are artists. So we like to showcase that with an event that pairs active and former players with high school students to make art," she says. "It's like a sip and paint night but with Gatorade."
The next day, she's back at it with Smocks and Jocks, a brunch and art auction.
"It's art from former players or individuals in the sports or nonprofit spaces," Isler says. "Most of the proceeds go back to the artists, and a smaller cut comes back to our foundation."
Her hard work at this event has not escaped Collins' attention.
"At our Super Bowl event in Miami Gardens, Florida, this year, Leslie put on an amazing show," he says. "Even though we had to pivot in the 11th hour because the rain was coming in, our tented outdoor area was a hit. It was probably one of the best Smocks and Jocks to date. Since Leslie's been on board, the event has tripled in size."
Collins calls Isler "supremely organized" and is aware of how much she "cares about the foundation's mission."
Isler's focus on helping others comes from, she says, her faith and her family.
"I was raised that if you're fortunate, it is your obligation to be of service to others, no matter where you are. So that's just been always been something that's been engrained in me," she says. "[As a family,] we would feed the homeless during Thanksgiving. My dad always stressed, "Yes, we have this, but let me remind you of others today who won't be sitting down.'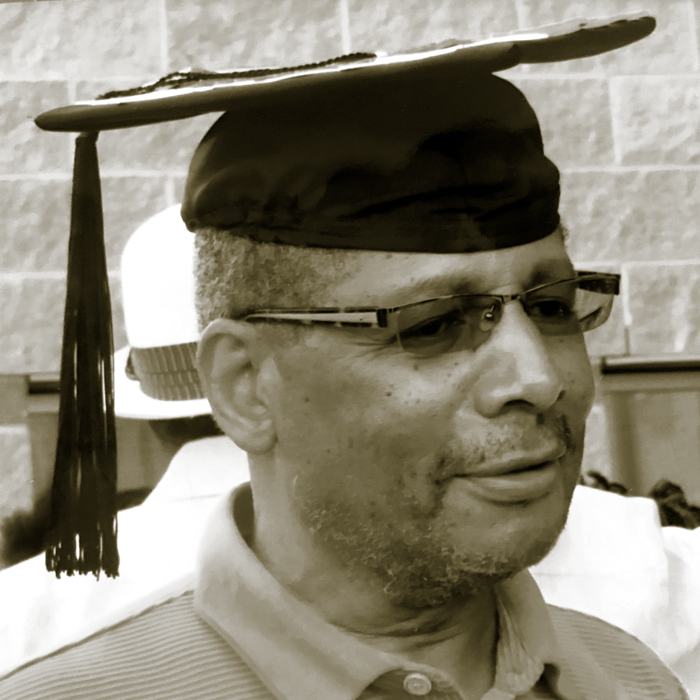 "My dad passed away in 2018. Without him, I never would have
gone to Towson. He didn't [attend TU] but in a way, he did. He made a lot of sacrifices for me. I'm pretty much the third person in my family to go to college. I know he wanted to go that route, so it's something that I was able to fulfill for him."
Isler has continued her father's educational legacy, earning a sports philanthropy graduate certification at George Washington University and a master's in public relations and corporate communications from Georgetown. Right now, she's in a nonprofit management certification program at Harvard Extension School to learn more about the business side of nonprofits.
It's an area Isler sees herself growing into.
"I want to take this social impact role within sports a bit higher. Linking athletes to causes and initiatives that they align with or pairing with causes and seeing how a partnership can leverage each side to achieve sustainable goals is something that I can see being in charge of."
Collins says the "sky's the limit for her."
"I could really see her running her own organization one day. Or becoming a senior leader at the NFLPA," he says. "Leslie's really the leader for our team when it comes to being able to break out of that silo, work with other divisions in our organization and create an all-around good feeling."
Regardless of where Isler heads next, she can depend on her father's example and her grounding in faith and helping others.
"I always wanted to pick something that was of service and that was making a direct impact. It keeps me humble and makes me realize I have a purpose outside of just myself and the things that I want to accomplish."