Fellow TU Tigers,
In the months since my appointment as president of Towson University, and during the transition process leading to my joining our university, I was very impressed by the people of TU I met and the passion for the university expressed by our students, staff, faculty and friends of TU. I am pleased to have celebrated with you a number of important recent milestones and major accolades including welcoming this fall the largest incoming freshman class in TU history; the successful culmination of RISE, the Campaign for Towson University; and recent recognitions as one of the best public universities in the country.
I want to thank Interim President Melanie Perreault for her outstanding leadership of Towson University. As provost, and interim president, she has served with distinction. I look forward to continuing to work in close collaboration with her as together we lead TU into the next era.
My knowledge of TU, and greater Baltimore, goes far beyond these last several months. My wife, Elaine Anderson, and I moved to Maryland in 1981, and it quickly became our forever home. Throughout the more than four decades of our living and working in the region, I've witnessed Towson University's incredible growth. I am sure many alumni share my experience of watching with pride as beautiful new facilities were built, academic programming evolved, recognitions piled up and athletic championships were won. Over time, we've watched TU transform from a local treasure to a national powerhouse.
As it grows, this university has become known for providing students with access to an excellent education and the opportunity for career and life success. Each year, thousands of young people, from all walks of life, join our university community and relish in all it has to offer. Here, they succeed. They go on to become leaders in their professions—continuing the standard of greatness the world now expects from Towson University graduates.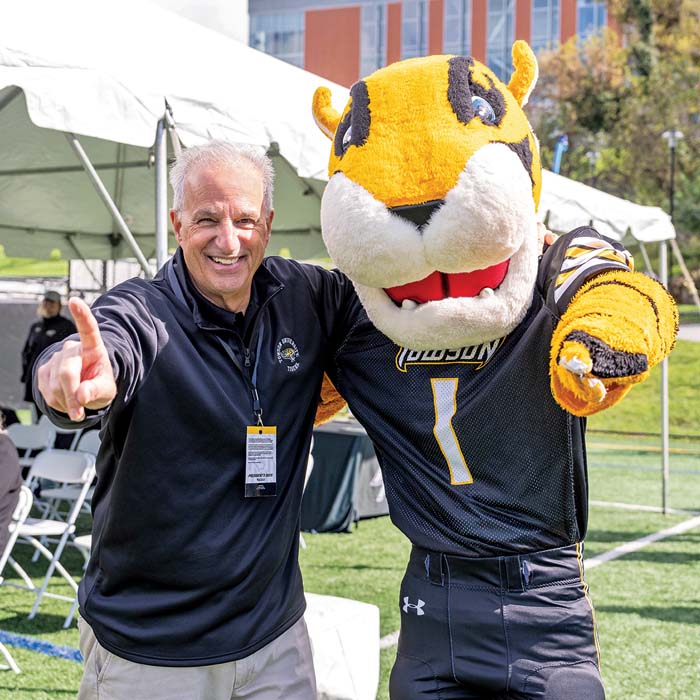 Today, TU is an engine for innovation, workforce development and economic growth—an institution that is changing Maryland every day for the better. Its historic success and current momentum made it an easy decision for me to join TU as your president. Now, I look forward to building upon these achievements as we together plan for a future that continues the very best of what is, finds the very best of what could be and takes TU from great to even greater.
We all will share in our success. Whether you are faculty, staff, a student or an alum, you are
not only a constituent of this university. Rather, you are essential to TU's every triumph we
will achieve, and working together as one, I know that our university will continue to
soar to new heights.
I hope you enjoy this issue of TU Magazine, which spotlights many people and programs that make this institution so incredibly special. From academics to athletics, philanthropy, business engagement and student opportunities, to how we tackle the great challenges that face our world—Towson University is sure to make you proud.
How we define the next era for TU will be up to all of us. I look forward to meeting and working with you in the years ahead to make Towson University the very best it can be—for the Tigers of yesterday, today and tomorrow.
Mark Ginsberg, Ph.D.
President