You might already know what Paul Stefano '96 sounds like.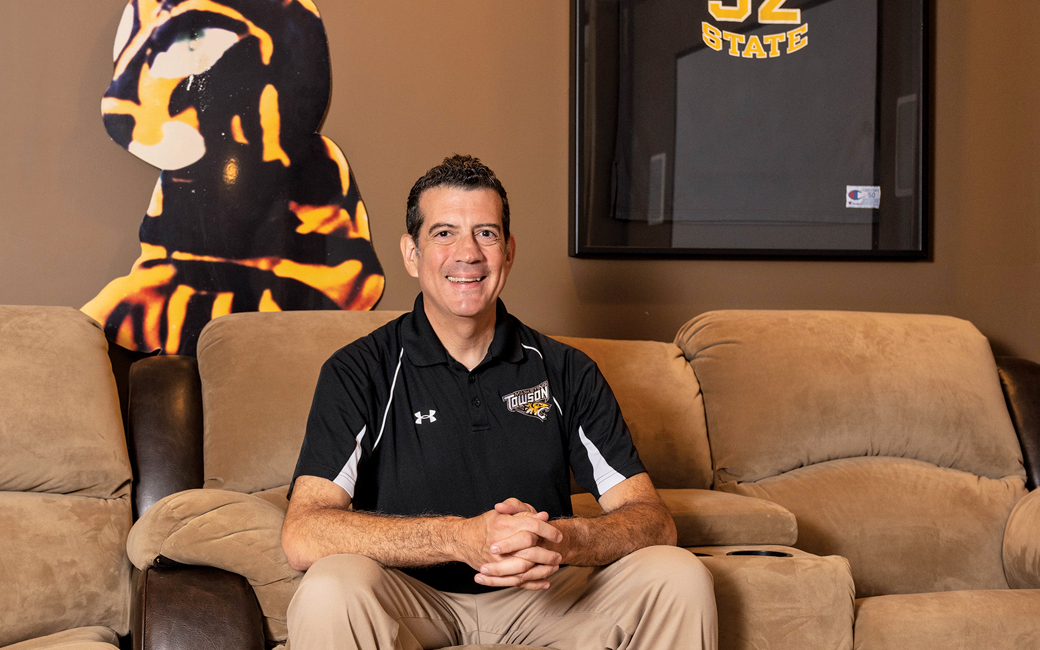 Paul Stefano might not be the proverbial "Voice of God," but he has certainly been blessed with one heck of a voice. A professional voice actor, Stefano has been heard in video games, audiobooks and TV and radio commercials. His pipes have been played on YouTube more than 25 million times and counting.
Growing up in the Philadelphia area, Stefano sounded like a normal kid until around age 15, when his voice changed. People noticed.
"I started doing the morning announcements at my high school, and people started telling me that I needed to do something [professionally] with my voice," he says.
Stefano, 49, was a DJ at WTMD and worked at the campus television station during his four years at TU. He earned a bachelor's degree in mass communication.
"I was trained at Towson to be a broadcast journalist," he says. "So knowing how to address the microphone, how to change the variations without either overmodulating or blowing out the mic—that helped tremendously."
Still, success in the voice acting world did not come quickly. He worked as a financial adviser and in sales until he started dabbling in voice acting about eight years ago. Five years ago, he quit his corporate job and jumped in full-time.
Stefano records out of a sound studio in the bedroom of the house he shares with his wife, Jennifer, and their three children in Lutherville. Just like an athlete or a musician, he warms-up his muscles before performing, running through a series of scales and exercises designed to loosen his vocal folds. He's recorded commercials for Hess, done corporate training videos for Samsung and Hyundai and been a featured voice in a video that plays at the top of the Burj Khalifa in Dubai. Tourists who dare to virtually jump off the skyscraper—a challenge that's been featured on The Amazing Race—hear his voice as the mission commander.
Athletics are also a big part of his career. He serves as a public address announcer for games at the Naval Academy, University of Maryland and occasionally TU. Becoming a full-time announcer for a pro team like the Orioles or Ravens is Stefano's ultimate dream, but until then, he's happy where his voice has landed him.
"I think if everybody could do what they love, the world would be a better place," he says. "Not everybody has that option, but right now I do."