Coffee With...Deion Broxton '15
We caught up with the East Baltimore native to discuss his career path and viral video fame.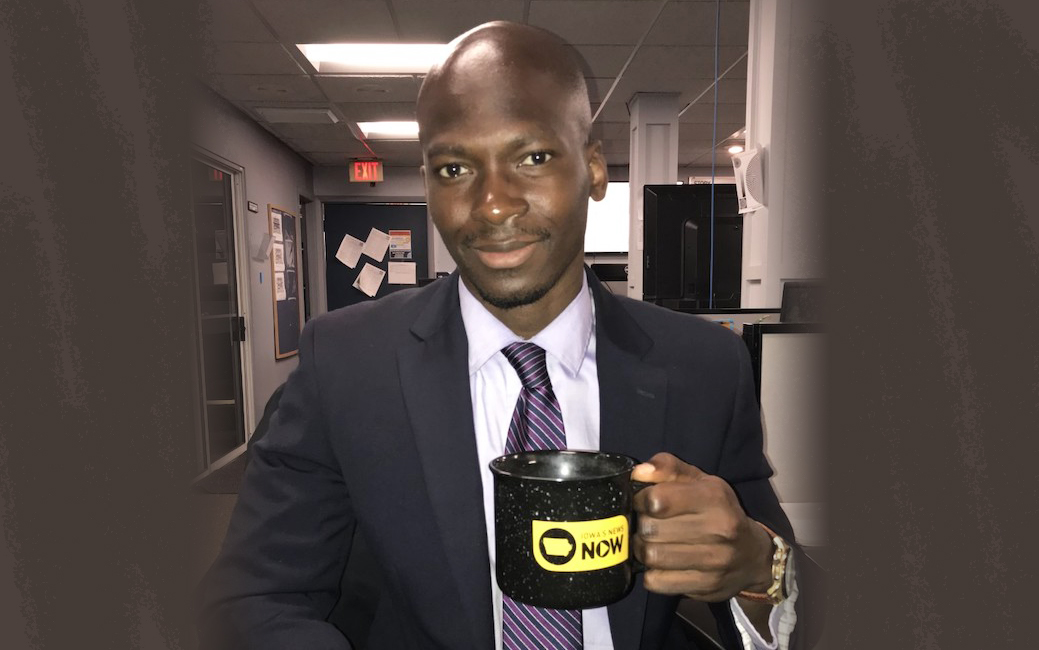 Q: Why did you pick broadcast journalism as a career?
A: I think sports did it. I've always been a big sports fan. My grandmother watched the news all day, every day and I hated the news when I was kid. I wanted to watch cartoons. But as I grew older I developed more respect for it.
Through my news reporting class at Towson, I learned I wanted to focus on news, because I covered the Freddie Gray protest. There were national news outlets, local news outlets, news outlets from all over the country there. After seeing that, I kind of got the news bug.
I couldn't imagine doing anything else. Just to be out and about, meeting people and making a difference. Because stories can make a difference.
Q: What has been your career path so far?

A: My first job was as an assignment editor at WMAR Channel 2, which is right down the street from Towson. I made phone calls and found story leads on social media and websites.
My professor, Jenny Atwater, was one of my references.
Then I became a web producer at WJZ. There I handled all the social media: Twitter, Facebook, Instagram. What I learned as an assignment editor helped me with that. I learned how to gather and report news, maybe not on air yet, but online.
The whole time I was shadowing reporters. I was shooting in the field for practice and crafting a demo reel to show potential employers.
Q: Did you come up against any obstacles?
A: The problem with me was, when I graduated college, I assumed I would become a reporter right afterwards. But that wasn't the case because I had a strong accent. I probably applied to close to 100 places and didn't get a single call back.
What I kept getting was, "You need to work on your voice. Your accent is strong." In 2017, I almost got a job in Gainesville, Florida. The news director told me he liked me, but my accent was too strong.
So I hired a speech pathologist. After four months, I put a new demo reel out on YouTube, and I had three job interviews in one week.
Q: How did you end up in Montana?
A: One of those interviews was in Montana. I got one in Peoria, Illinois, and at a TV station in Macon, Georgia. But then Montana called me out of the blue. I didn't even apply there. I didn't think I was going to go to Montana. Because I'm thinking, "I know nothing about Montana. It's a white state. I'm a black guy." I just kind of scoffed at it.
But I kept talking with the station, and I liked what I was hearing, so I took the job.
Q: What convinced you?
A: Bozeman, Montana, is a unique small town. Big Sky Resort and Yellowstone Club are about an hour away. That's where Justin Timberlake, the Kardashians, Tom Brady, a lot of famous people own winter homes.
So Bozeman is really unique because it's in between those resorts and Yellowstone National Park—two of the biggest tourist attractions in Montana and Wyoming. About four million people travel through Bozeman a year.
Once I got there, I met people from all over the country and realized Bozeman's one of the smartest towns I've ever been in. I'm not trying to be offensive to any other places, but I was impressed with how articulate everyone was there. I interviewed easily over 1,000 people, and everyone is very aware of what's going on. I appreciated the audience there.
Q: What is the backstory to the viral video clip?
A: My boss sent me to Yellowstone to do the story of the park closing because of the coronavirus. I hate going to Yellowstone because it's like a three-hour, round-trip drive. And you're on a deadline when you work in the news.
I'd been to Yellowstone probably like 30 times. So I was like, "here we go again."
When I got there, the bison were probably about 40 yards away. It had to be like 50 or 60 bison. But I felt comfortable enough with the bison at that distance. I was standing there maybe a minute or two before I felt movement.
Don't let data worries keep you from Twitter.
https://t.co/vt2K81Cnf3

— Twitter (@Twitter) August 13, 2018
I'm thinking to myself, "they wouldn't walk in my direction." But I was wrong. They wouldn't stop. That's why you saw me looking back and forth because I've never been in the park where the animals walked towards me like that.
And the one closest to me didn't break eye contact. He was staring at me the whole time. When I realized that he wasn't going to stop, I got out of there.
Q: What made you post the clip online?
A: The reporters I know post our bloopers online. I've posted bloopers that I think were funnier than this one.
I didn't really think it was going to go viral. I thought it would be a few likes, and that's it. Within five minutes, it had 100 likes. Within 10 minutes, it had 1,000 likes. After 30 minutes, it was in the tens of thousands.
Q: What did you think when it did go viral?
A: It was crazy. My phone—from the moment I posted that video on Wednesday, March 25—didn't slow down until about Saturday. It was so fast.
I called out of work that Friday because I had news outlets all over the country calling, emailing and messaging me. It was so hard to do my job because I use my phone for work.
I just wanted it to end. I appreciate the support and that I made so many people happy. But it was really overwhelming for me. I was so excited when it finally died down.
Q: What are your ambitions?
A: In reporting, you always want to move up markets. I've just taken a job at KGAN in Cedar Rapids, Iowa. I am a news reporter here, just like I was in Bozeman. But Bozeman was market 185; Cedar Rapids is market 90.
Originally, I wanted to get back to Baltimore. But now I don't know if I still want that because I enjoy seeing the country and getting out and exploring. I just want to be happy and enjoy my job. Obviously, people usually say getting on network news: CBS, The Today Show, CNN, things like that. If that happens, great. If it doesn't, I'll still be fine.
I am a big fan of film. If documentary filmmaking or something like that comes up, I would love it. But I think my goal is to keep moving markets and to get to a place where I'm getting paid good money and satisfied. Pursuing it is what keeps me going.
This bison video is just the beginning. Because I don't want to be remembered as the bison guy. I'm hoping 20 years down the road, people will know me as Deion Broxton for doing, this, this, and that. And then, "Oh, yeah. His first claim to fame was the bison video." I'm dedicated to upholding the standard that I've set for myself.