Sarah Elfreth '10, the youngest woman elected to the Maryland Senate, has plenty of time to make her mark on Annapolis. But she's not the patient type.
By Rebecca Kirkman
Photos by Lauren Castellana '13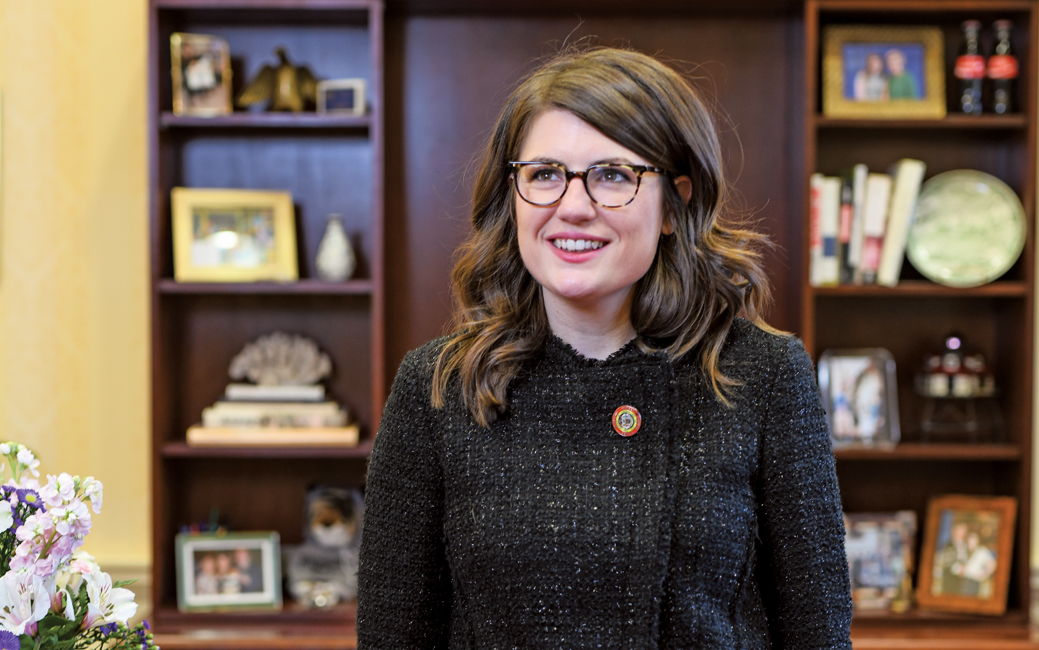 A peek at Sarah Elfreth's calendar
reveals a cacophony of colors. Blocks of color-coded events dominate each day, often overlapping.
From her desk in Annapolis' Miller Senate Office Building, the Maryland state senator's chief of staff, Johntel Greene, rattles off the calendar system with practiced efficiency. Elfreth '10 will definitely be attending events in green. Purple indicates community-focused events. Yellow, a hold on her time. Days from January to April, when the Maryland General Assembly is in session, are the most packed. Typically, Elfreth starts her day around 8 a.m. with 15-minute meetings and stays busy with session and committee meetings until well into the evening. She often eats dinner with her fellow legislators. But scrolling back in the calendar shows there is rarely any relief.
Take one Monday last July. Elfreth kicked off the day drinking coffee with Anne Arundel County's new fire chief, Trisha Wolford, then toured Anne Arundel Medical Center to discuss alleviating overcrowding in the emergency department, attended a farewell lunch with her summer interns, then hopped on a conference call on how to better support small businesses in Maryland. There's no offseason in Maryland politics.
Just 30 years old when she was sworn into office in 2019, Elfreth is the youngest woman to serve in the Maryland Senate and currently the youngest member at age 31. Senate President Bill Ferguson, who joined in 2011 at age 27, passed on a ceremonial "Baby Senator" trophy to Elfreth on her first day. A Democrat representing Anne Arundel County, Elfreth is one of 31 women in her class of 60 freshmen lawmakers, bringing the total number of women in the 188-member Maryland General Assembly to 72. That puts her among the largest group of women ever to serve in the State House—part of a nationwide wave of women elected in 2018.
"How Did I Get Here?"
The question echoed through Elfreth's mind as she took her place in the Senate chamber for the first time on Jan. 9, 2019. But it was just a moment of temporary incredulity. Elfreth's journey to public office was marked by years of dedication, from her time as an Honors College student at Towson University to her campaign for state Senate, during which she knocked on more than 12,000 doors to talk with District 30 residents.
"I didn't have an ounce of imposter syndrome when I got here, because I worked so hard to get here," she says. "But I also felt like, now that I'm here, I've got to prove myself. I only have four years to make an impact. What am I going to do with those four years?"
She's off to an ambitious start. Her first year in office, eight of the nine bills Elfreth introduced passed with bipartisan support, earning her "Freshman of the Year" accolades from The Baltimore Sun.
Such success out of the gate isn't typical. "Sometimes they take a little bit of time to get their feet wet and figure out what's going on, and there's nothing wrong with that," says Pamela Wood, a political reporter for The Sun.
"But Sen. Elfreth jumped right in. Someone coming in from the outside might not have guessed she wasn't a more experienced lawmaker. She didn't shy away from important topics and introducing legislation."
Elfreth shared a ticket with late House of Delegates Speaker Mike Busch, who died of pneumonia in April 2019. Campaigning with Busch, and later working with him on legislation, provided Elfreth with valuable experience running a successful campaign and working across the aisle. "She really benefited from having that mentorship," Wood says, noting that it likely aided the success of Elfreth's first legislative session.
While some during her campaign pointed to her age as a risk, Elfreth brings gender and generational diversity to the legislature. "When you're her age, coming in less than a decade out of college, you think about things like student loans, the challenges of homeownership," Wood says, "whereas lawmakers in their 60s might not think of those things. It's different for young adults now than it was for them."
In her Annapolis office

Elfreth reflects on what brought her to this moment. It's just over a week into the 2020 session, and a vase of fresh flowers and a stack of budget books rest on the table beside her. Elfreth serves on the Senate's Budget and Taxation Committee.
"It was just utterly encompassing," she says of her Senate campaign. "To do it well you need to give up every other aspect of your life."
Her status as a first-time candidate who began campaigning at just 28 years old was seen as both an advantage and a risk. "I had a lot of people wondering if I could do it," she explains. "Which was in itself a gift, because I got to prove them wrong. There's nothing quite like getting to prove people wrong."
The prints, framed photographs, diplomas and news clippings that cover Elfreth's walls hint at her story. A "Votes for Women" poster and a 2004 campaign sign for Sen. Barbara Mikulski, the Baltimore-born Democrat and first woman elected to the U.S. Senate from Maryland, honor those who paved the way for her entrance into politics. Her diplomas and a vintage poster from the National Aquarium show her path to office.
Elfreth graduated magna cum laude from TU with a bachelor's degree in political science, then earned her master's in public policy from the Johns Hopkins University in 2012. A year later, she graduated from the inaugural class of Emerge Maryland, a local chapter of a nationwide organization that recruits and trains Democratic women interested in running for office. For four years, she served as the government affairs director at the National Aquarium in Baltimore, where she was responsible for shaping organizational strategy-related public affairs and advocating on behalf of the aquarium at the local, state and federal levels.
The New Jersey native says politics didn't play a big role in her childhood.
"I come from possibly the least political family ever," Elfreth says with a laugh, noting that the most political thing her mom, a probation officer, and stepdad, a locomotive engineer, did was join labor unions. That afforded their family a middle-class lifestyle in Barrington, a borough of Camden County just outside of Philadelphia.
As a child, she often played in a forested area across the street from her home, catching tadpoles in the stream and learning to appreciate and respect nature. Her proximity to the Jersey Shore inspired an interest in the water, and she considered becoming a marine biologist.
"I didn't really ever think about politics," she says. "I liked history and reading about history, but I didn't really know where I was going to land."
Elfreth entered TU on an academic scholarship at age 17. She lived at Richmond Hall and developed a close mentorship with political science professor Alison McCartney, who also served as her academic adviser.
"Teaching Sarah was a dream," McCartney says. "I can go down the usual list of things—always prepared, well organized—but she was just really ahead of her time in terms of her personal maturity and the quality of work she produced."
McCartney says it was clear from the start that Elfreth was a go-getter. When asked some of her favorite memories as a Tiger, Elfreth, a residential adviser in Prettyman Hall and self-described nerd, recounts utilizing a 24/7 study room for political science students in Linthicum Hall. She and her classmates would pull all-nighters, sometimes working until 3 or 4 a.m.
Elfreth traveled to Annapolis for the first time to testify on bills during her freshman year, and was involved in the annual Tiger Pride Day, when dozens of TU students, faculty, staff and alumni convene in the state capital.
Spending time in Annapolis as a student made her want to put roots down in Maryland.
"I remember pulling into downtown Annapolis and seeing this historic district and architecture and knowing when I was 18 that I eventually wanted to raise a family here," she says.
Two undergraduate experiences sealed Elfreth's interest in public office. The summer before her senior year, she was nominated to the University System of Maryland (USM) Board of Regents by then-Governor Martin O'Malley. The 21-member board, which includes two students, oversees the system's operations, formulates policy and appoints the USM chancellor and the presidents of the system's 12 institutions.
Then, during her senior year, a visit to TU by Madeleine Kunin, the first and only female governor of Vermont, prompted Elfreth to seriously consider a career in politics. "She was talking about the lack of women in office at the time, and the difference that women can make from a policy perspective, but also just a general approach to a more balanced and collaborative style of leadership," Elfreth recalls. "She said if you're passionate and you're capable, it's your obligation as a woman to run for office. That really hit home. Thankfully, I've had the opportunity to see that through."
Elfreth wrote her undergraduate thesis on how the student role in governing boards can be more effective. In 2011, her research was published by the University of Alaska as a field guide for student board members.
"Her thesis was absolutely amazing—I still have a copy in both of my offices to this day," McCartney says. "When a student asks me, 'What does a truly excellent undergraduate thesis consist of?' I pull hers out and say, 'Take a look.'"
After graduation, McCartney and Elfreth stayed in touch. "Her path, watching her blossom, reminds me of the value of being a teacher," McCartney says. "It reminds me that when I invest my time, my energy, my efforts into teaching, it's going to bear fruit with Towson students. And she would be at the pinnacle of that. Watching her career develop, it's just been very professionally rewarding."
Elfreth has brought
the same focus and maturity she displayed as a student to her role as a state senator.
"To any degree I'm successful, I've been successful because of the focus that my staff and I have on the community, and on serving in the Senate," Elfreth says.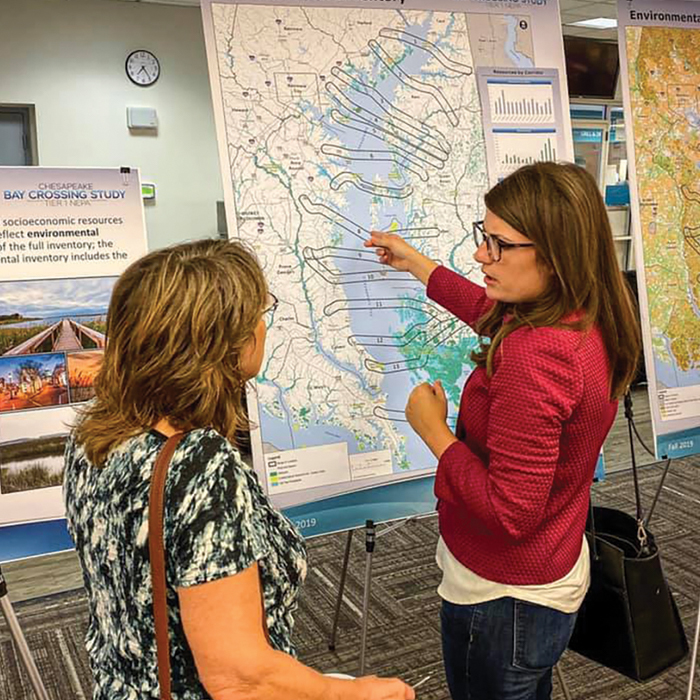 As a District 30 senator, she has the benefit of walking to work each day from her home in downtown Annapolis. But that also means she's always in her district, unlike many of the lawmakers who travel into Annapolis for the week to attend session, then return to their homes on the weekends.
"It's part of the job, but it can be difficult at times because it makes me accessible to my constituents in a way that I think few other legislators are, because I'm here all the time," she says. Over the past year, Elfreth says she's adjusted to being "on the job" not just when she's at the State House or official events, but also when she's shopping or grabbing dinner out.
"It's something you get used to, having to always wear makeup to the grocery store because I might run into somebody there," she says. "It can be funny, you know, when someone honks at me from across the street and waves. Or asks to take a selfie with me in a bar. We have to kind of step back and laugh at ourselves."
To handle the constant—and admittedly, sometimes self-inflicted—pressure, Elfreth has a standing appointment with her therapist. "There's a kind of weight that this position requires," she says. "To do it well is to feel and empathize with a lot of different people, and want to make everybody happy. In a place where everything is almost zero sum, it's very difficult to achieve that." Sitting down regularly with an impartial party has allowed her to talk through the pressures and competing interests inherent in the job.
She also makes a point to block out time with her partner, Evann, and her two dogs. "He is a calming, chiller presence—very different than I am," Elfreth says. "For the most part, I try to take Saturdays and Sundays during the session to rest and recharge, which is difficult because there are always really great community events going on."
When she's working on writing testimony or an op-ed for the Capital Gazette, you can find Elfreth hanging at out Galway Bay, an Irish bar and restaurant on Maryland Avenue. "Instead of sitting in my quiet office, I actually will take my laptop and have a Guinness and write at the bar," she says.
Elfreth's success is a product of hard work and key mentorships. With that in mind, she makes a point to give back to young people. Several times each week, she meets with groups visiting the State House, from elementary schools to political interns. She's also teaching political science courses for the TU Honors College as an adjunct professor.
Nina Bundy, a sophomore political science major who interned at the Comptroller's Office in summer 2019, had the opportunity to have lunch with Elfreth. She then enrolled in Elfreth's Honors Public Policy and Advocacy class in the fall.
"The experiences I gained from her class were invaluable," says Bundy, who plans to become an attorney in criminal or civil law. "It was exciting to discuss my political ambitions with her."
With Elfreth as a professor, Bundy says she learned how to effectively communicate and work with delegates. "Almost every class she would bring guest speakers, and she taught us how to advocate for issues I'm passionate about."
Bundy presented a legislative bill at the Maryland Honors Council Conference in February that she wrote in Elfreth's class on how to use restorative measures in schools to help dismantle the school-to-prison pipelines. It was just one of the many opportunities gained through Elfreth's mentorship of which Bundy took advantage.
"Her class challenged me to think outside of the box and enhanced my critical thinking, writing and analysis skills. I'll continue to challenge myself to become the best version of myself through what I learned."
When a group of Boy Scouts visited the State House in January, one asked how legislators get bill ideas, and when they know if an idea is good. "I tried to explain that there's really no such thing as a silly idea, as long as you can convince your colleagues that it's the right thing to do," Elfreth says.
"A parent came up to me a couple of days later at an event and said that their son was talking about that idea on the car ride home."
These are the types of small but meaningful interactions that inspire Elfreth. "Whether they're 8 years old or 80, I'm only as valuable to my community as I am at listening to them," she says. "So I try my best to meet with as many young people as possible and get ideas from them about what they think I should be working on, and get them inspired to try to solve problems in their community. I talk about how I started as a young person, too, and how everybody has a role to play in democracy."