A giant in Maryland education is lending her vision and philanthropic support to an innovative new institute.

By Mike Unger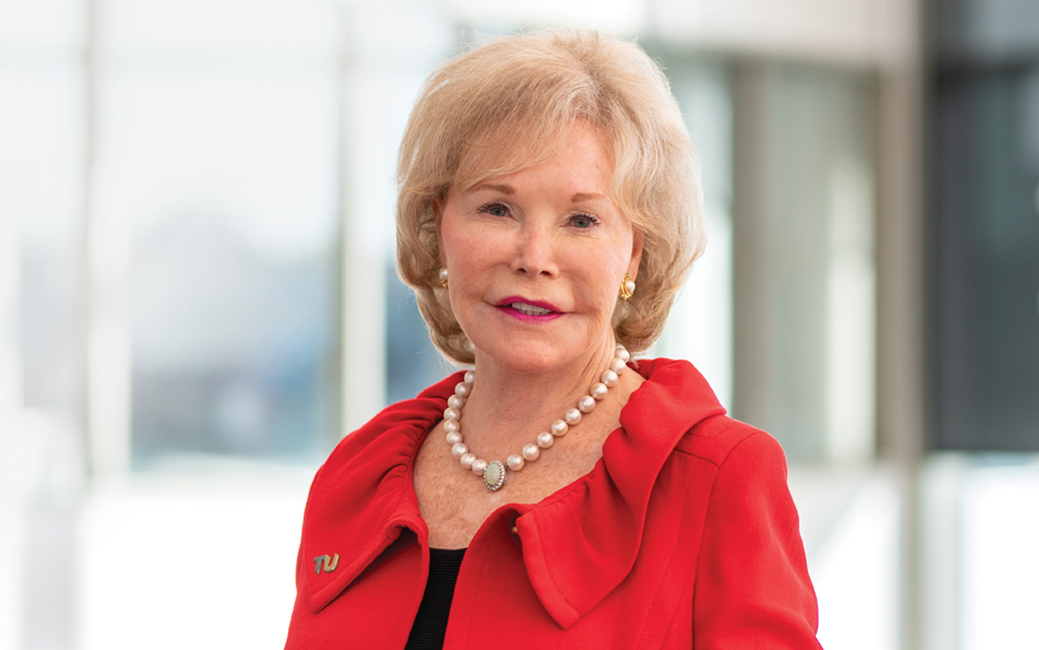 Nancy Grasmick is one of the most accomplished leaders in the world of education. As superintendent of Maryland Public Schools from 1991 to 2011, she got results: For five years in a row, the state was ranked first in the country by Education Week. In the last decade, she's become the first female president of the Board of Directors at the Kennedy-Krieger Institute and the first presidential scholar at Towson University.
But Grasmick '61, '92 has never forgotten her foundation. She'll always be a teacher, and she knows that leadership—like anything else—is a skill that can be taught and learned. That's one of the core principles of the new Dr. Nancy Grasmick Leadership Institute at TU.
"I was always struck with the idea that people frequently said 'Leaders are born,' as if they don't have to be prepared or cultivated," she says. "It became evident to me that one has such an advantage if you have very strong opportunities to advance your leadership skills. I thought there really needed to be a place that's highly organized, that speaks to people who aspire to leadership, to people who need specific coaching to improve their specific skill sets."
So Grasmick put her money where her heart is. She donated $1.5 million toward the establishment of the institute, which will be an outward-facing entity designed to attract professionals from diverse industries and backgrounds who want to establish, expand and hone expertise as highly effective leaders, team builders and culture creators.
"This is being realized because of Nancy Grasmick. She was absolutely the catalyst," President Kim Schatzel says. "This comprehensive institute will serve leaders across all industry sectors and throughout their professional journey. Dr. Grasmick's dedication to seeing the institute realized and her influence as a leadership visionary have truly had a profound impact."
Grasmick donated $250,000 to fund a planning phase that under the leadership of Daraius Irani, vice president of strategic partnerships and applied research, and Bobbie Laur, associate vice president of outreach, included in-depth review and interviews with dozens of leaders and institutes both in Maryland and across the nation over two years. It will culminate in the hiring of an executive director to lead the institute.
Grasmick's own leadership experience and achievements have inspired the blueprint for the institute, which will begin programming in July. Lately, that's been from her house near Towson, where she's been since the pandemic started. Like the rest of us, she's been using some of her downtime to go through her closets and take old clothes to Goodwill or the Salvation Army. Not that there's much downtime. She sits on the boards of about a dozen organizations, and her days are filled with more Zoom meetings than she can count. Even at an age when most people are content to kick back and relax, Grasmick is taking on one of the biggest projects of her life.
"I would like to see this institute flourish in my lifetime. That matters to me," she says. "A lot of people wait until they're dead and give something, but I wanted it to meet the standards that I set."
When Grasmick was 16 years old, she was stricken with a severe case of strep throat. An allergic reaction to the penicillin doctors gave her left her virtually deaf. "It was very traumatic for me because I was a very extroverted person, and I couldn't understand any speech," she says. "I remember my parents taking me to a movie thinking that would make me feel better, but it was horrible because I could only see the pictures. I could not interpret any of the sound."
Over the course of the next year, her hearing gradually returned, but the experience left her acutely aware of how the world was not designed for deaf people. She vowed to follow in the footsteps of Anne Sullivan, the renowned teacher of author and disability rights advocate Helen Keller. (When she was 21, Grasmick met Keller at a hospital in Boston. She was able to converse with Keller by placing her hands in Keller's and using sign language.)
As an undergraduate at TU, Grasmick worked at the William S. Baer School for the Deaf in Baltimore City and went on to receive a master's degree from Gallaudet University, where she learned sign language, and her doctorate from Johns Hopkins.
Grasmick's administrative career took her to the Chatsworth School in Reisterstown, Maryland, where she was the first principal. There, she learned some of her earliest lessons about leadership.
"Sometimes people in leadership positions fail because they only select the people who mirror their own strengths," she says. "What you need to do is to fill in all the missing pieces. Without a knowledge of yourself, you really can't do that. That school had both a medical component and an educational component. It was an amazing design. You won't find any public schools that have a dentist, a psychologist, pediatricians, a speech-language pathologist, all looking at children who have the potential of disabilities in such a coordinated manner."
After working in various leadership roles in Baltimore County Public Schools, then-Gov. William Donald Schaefer tapped her to run the state's Office for Children, Youth and Families. She later also served as the acting secretary of the Department of Juvenile Services. The legendary Willy Don, as he was lovingly known to his supporters, was another of Grasmick's leadership role models.
"Gov. Schaefer was so dedicated to the good of the people and so impatient about any failure on behalf of the citizens," she says. "We had cabinet meetings at 7:30 in the morning. If you got there at 7:31, the door was locked. He was there before anyone else."
Regardless of their discipline, great leaders all display similar attributes, Grasmick believes.
"Ethics are extremely important," she says. "When we look at some of the giant industries of this country, people haven't failed because they didn't have the skill sets. They were eliminated because they violated ethics. I think we take it for granted, but it shouldn't be taken for granted.
"You need a certain amount of resilience, because success is not a straight line. We all experience setbacks; how do you overcome those setbacks? You also need the ability to build relationships with employees. People are not homogenous. Strong leadership reflects a belief in understanding yourself. What are your strengths and weaknesses? How do you choose people on a team that surrounds you? No single person has every attribute."
Those are the types of lessons working professionals will receive at the institute, which, through interdisciplinary research and scholarship, will aim to provide all levels of leaders with demonstrated and dynamic skills and strategies to grow businesses and organizations. The hope is that this work will fuel a healthier economy, positively impact the region and serve as a hub for leadership development research and programming. It's obviously a passion project for Grasmick, who has a long record of philanthropy and is the co-chair of TU's RISE campaign.
"I hope that we can see, at a time when I think people are absolutely hungry for leadership, that we can develop the talent that does exist in people to be the kind of leader that's going to make every dimension of our world better."