Army Brig. Gen. Adam Flasch '95 supports the Maryland National Guard's response to the COVID-19 crisis as the state's first dual-status commander.

By Rebecca Kirkman
Photography by Alexander Wright '18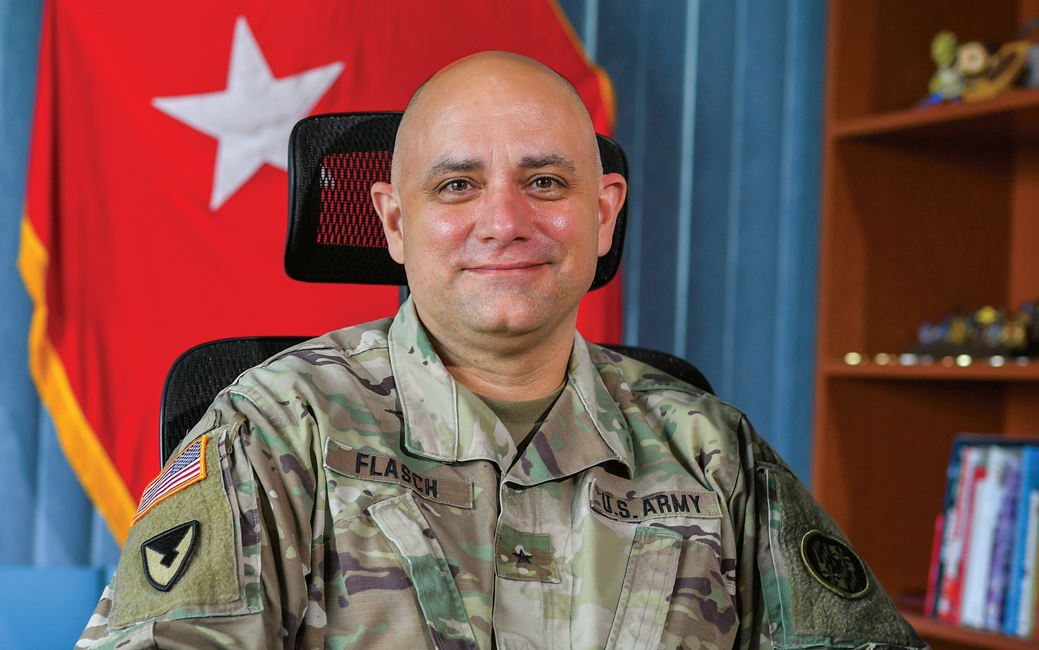 Heading to the office means something different each day for Army Brig. Gen. Adam Flasch '95.
On a rainy Wednesday in April, Flasch's office is the Greenbelt Community Vaccination Center—a collection of sprawling white tents that appeared in the parking lot of the Greenbelt Metro station in suburban Washington, D.C., over a period of three days earlier in the month.
The first and only federally run mass vaccination site in Maryland, the Greenbelt location is part of the White House's nationwide effort to target vulnerable populations with Federal Emergency Management Agency (FEMA)-run community vaccination centers.
Here, Flasch coordinates efforts between the federal government and the state as Maryland's first dual-status commander.
Typically appointed in large, complex efforts like major hurricanes or wildfires involving state Guard members and other active-duty federal service members, dual-status commanders are subject to the orders of the governor and adjutant general (who heads the state National Guard) as well as the federal chain of command.
During the pandemic, dual-status commanders have been appointed in at least 18 states as the National Guard continues to support COVID-19 response efforts throughout the country.
In this role, Flasch works with federal interests at the site—FEMA leadership and about 140 active-duty Air Force members from across the U.S.—and state resources like Guard troops and the Maryland Emergency Management Agency (MEMA).
"We are using Guard and active-duty forces at the same time, but with different missions," Flasch says from a seat at a plastic folding table in a walled-off section of the main tent. The area serves as a de facto break room where soldiers and airmen can get off their feet or eat a quick meal before heading back to work. "It's my job to make sure that we're using all our capabilities to do the best we can at this site."
Today the operation is running like a well-oiled machine. In a series of meetings with leadership from FEMA and the Guard in a smaller tent serving as a command center, Flasch runs through measures of performance for the Greenbelt site and comparisons from other vaccination centers around the state and country.
"That's the board of happiness," he says, smiling and pointing to a monitor. The dashboard displays how many vaccines have been given out so far for the day (nearly 700), in the past hour (more than 330), the number of missed appointments (58) and how many people are waiting in line to be vaccinated (14). It also shows the total number vaccinated since the center opened a week prior—20,463.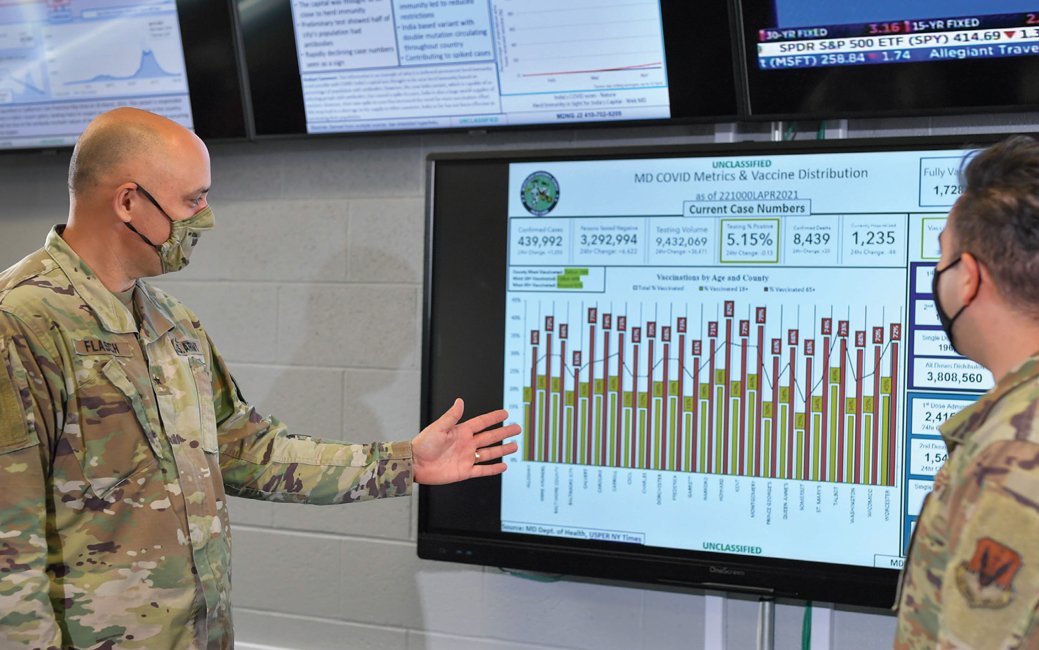 On average, the location vaccinates 350 people per hour—more than 3,000 per day.
"I'm proud of the site; we're one of the best-performing sites in the eastern region," Flasch says, noting a daily execution rate consistently above 95%. While such a high percentage signals success, Flasch continues to push for more. "I'm like, 'Let's close the gap to 100%. How do we do that, guys?' And the team came up with a really good solution."
Welcoming walk-ups, which helped the center recoup much of the 200 average missed appointments each day, was one of the ways the team optimized operations. Adjusting the process for intake, which is staffed by a combination of Air Force, Coast Guard and AmeriCorps members, streamlined the entire experience to an average of 22 minutes—including the mandatory 15-minute waiting period after receiving the vaccine.
While he relates streamlining the vaccination process to the product management skills he learned as a business major at TU, these days Flasch spends more time advocating for his team members to come up with innovative solutions than he does in the middle of the action.
"For me, it's hard because I'd rather be the guy sitting at the table punching out the vaccines," he says as he walks through a tent lined with folding tables where Air Force medics in camouflage fatigues administer the vaccine. "The staff that I work with, they really do the heavy lifting. A this
state of play, my job is just to ask the hard questions."
Pushing for that 100% rate is more than just an impressive statistic at the Greenbelt site, which was
designed to reach Marylanders from zip codes identified by the CDC's Social Vulnerability Index. While it's open to anyone, the site aims for at least half of its total patients to live
in those targeted areas. So far, that population has consistently made up 60–70% of the patients it serves.
"The governor and president are committed to getting after these disparities in a meaningful way. And it's not for politics, it's just so we can help people who very often get left out of a lot of solutions for our state," Flasch says. "I think there's an awakening that this has got to be a nation for everybody, not just people who do well or figure it out on their own. We've got to send the elevator back down and get as many people up as we can."
Some of the most important work the staff at the center does is the most basic: helping community members feel comfortable with the vaccine.
"A lot of this is just being able to get folks to understand, 'Hey, we can trust the vaccine,'" he says. "Throughout the day I'll walk the line and interact with the community coming through. A lot of our young airmen are helping someone just feel comfortable with the decision."
April Cummings, a division director at FEMA Region 3, worked closely with Flasch in her role as the site director of the Greenbelt Community Vaccination Center.
"I was in charge of the daily operations and the coordination, and he played a big, critical role as
the dual-status commander," says Cummings, who is typically stationed in Philadelphia at FEMA's Region 3 office, which oversees seven tribal nations, the District of Columbia and five states including Maryland. "Because he's from the state and is very well engaged with the local organizations, his experience and contacts really helped open doors for us."
She admires his ability to stay positive under pressure, too. "It was a great mission that we were on, but there can be high stress associated with it. You're working very long hours, often seven days a week," says Cummings, who left the site in early May. "So just his general nature and sense of humor made him a really valuable partner for us on the ground.
"He interacted with the most junior staff that we had all the way to the highest levels of leadership," Cummings adds. "He always found common ground and ways to connect with everyone. I would work with him again in a heartbeat."
When he's not at the Greenbelt vaccination site—and he's there Mondays, Wednesdays, Fridays and most weekends—Flasch is at Camp Fretterd in rural Reisterstown, where he has served as director of the joint staff for the Maryland National Guard since October 2018.
Similar to his active-duty appointment as dual-status commander, directing the joint staff involves
coordinating among the agencies within the Maryland Military Department, including the Maryland Army and Air National Guards, MEMA and the Maryland Defense Force.
"My staff's job is to take the requirements that the state has and put them into specific assignments that the Army and the Air can carry out," Flasch says. "Every day, we work with our state partners to develop those mission profiles and then hand them off to the Army and the Air, and they go out and do the work."
As Maryland responded to COVID-19, Guard members supported every effort, from directing traffic at drive-through testing centers to operating mobile vaccination clinics and staffing mass vaccination sites. By April 8, the Maryland National Guard had helped get 170,000 shots in arms around the state, with about 1,200 members on active duty supporting the state's pandemic response.
Jumping into action during a crisis has become second nature to Flasch over three decades with the Guard. He coordinated deployment to protect the U.S. Capitol when it was stormed by rioters on Jan. 6, when floods swept through Ellicott City in 2018 and during the 2015 unrest in Baltimore over the death of Freddie Gray. He also works closely with the Maryland National Guard partner countries of Estonia and Bosnia and Herzegovina as part of the ongoing National Guard Bureau's State Partnership Program following the dissolution of the Soviet Union.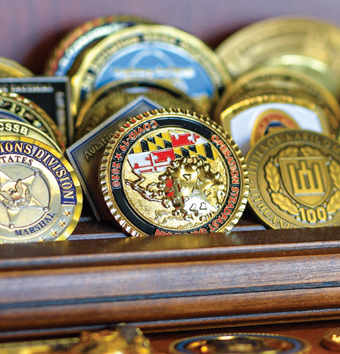 "There hasn't been a snowstorm or hurricane since 1989 that I've missed," says Flasch, who enlisted at 18 years old when he gave a high school classmate a ride to the Fifth Regiment Armory in Baltimore City. He rose up in the Maryland Army National Guard's 229th Support Battalion before moving into supply management, operations and logistics roles. In 2011, as deputy commander he worked as part of a team supporting combat aviation brigades in Kuwait, Iraq and Afghanistan during Operation Enduring Freedom. While working at the Maryland National Guard Joint Force Headquarters, he was promoted to brigadier general and assumed his current role in
October 2018.
Army National Guard Col. Jeffrey Knepshield, an adviser to Maryland National Guard leadership, first served with Flasch when the two were young second lieutenants. They have been close colleagues and friends ever since.
"When I was in command of the Maryland Army National Guard recruiting effort, I used to challenge my recruiting teams to 'find me the next Adam Flasch,' and they knew exactly what that meant," Knepshield recalls. "When it comes to the Maryland National Guard responding to a state emergency or federal mission for the past three decades—and now as his primary duty every day—Brig. Gen. Flasch has always been out front in any effort. Simply put, he's our sharp end of the spear."
As COVID-19 rates decrease and vaccination rates increase in the state, Flasch hopes he'll have the chance to catch his breath and spend more time with his family this summer.
"In a perfect year, I've got the most boring job in the organization," he says. "That hasn't been the case for the last year. There's not a lot of time at home. And, luckily, I've got a wife who clearly understands and supports that."
He credits Stephanie, his wife of 26 years and a former National Guard officer, for pushing him and their two sons to aim higher.
"My wife creates high-performing males, there's no question," he says with a smile. "I'm one of them. I would not be here today if it weren't for her."
Despite the challenges, Flasch wakes up each morning knowing that he's making a difference in the lives of his fellow Marylanders. That knowledge is what keeps him going.
"Nowhere else are you going to have such a global impact. Showing up matters every day. I've got 135 airmen here that are helping vaccinate 3,000 people a day," says Flasch, gesturing to the men and women in uniform around him in the tent in Greenbelt. "Are we saving lives? I don't know. We're certainly helping, and that's what matters most to me."